Asana S-1 & IPO - Teardown
Breaking down Asana's S-1 ahead of it going public on Sept 30, 2020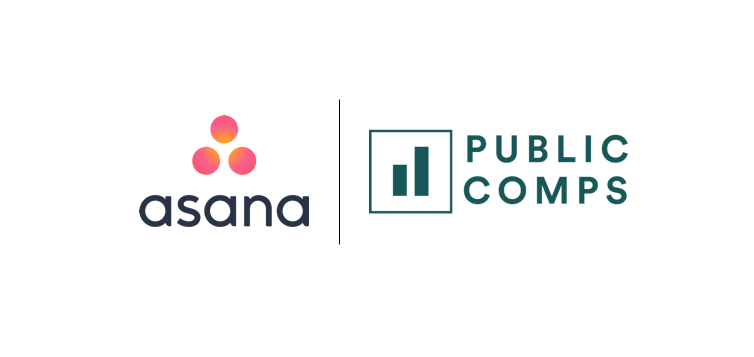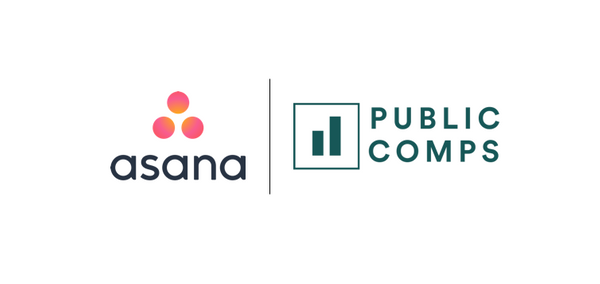 Overview:
Asana's mission is to enable the world's teams to work together effortlessly.
Asana is a work management platform that helps teams orchestrate work, from daily tasks to cross-functional strategic initiatives. Over 75,000 paying customers use Asana to manage everything from product launches to marketing campaigns to organization-wide goal setting. The platform adds structure to unstructured work, creating clarity, transparency, and accountability to everyone within an organization—individuals, team leads, and executives—so they understand exactly who is doing what, by when.
Founding story:
Co-founders Dustin Moskovitz and Justin Rosenstein were early employees at Facebook who experienced, first-hand the growing problem of work about work.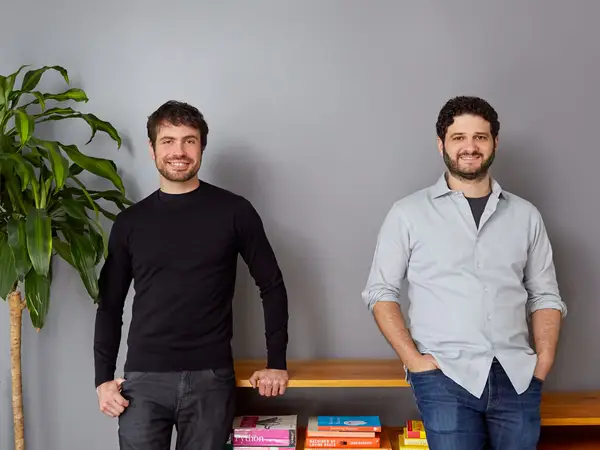 While at Facebook, they saw the coordination challenges the company faced as it scaled. Instead of spending time on work that generated results, they were spending time in status meetings and long email threads trying to figure out who was responsible for what. They recognized the pain of work about work was universal to teams that need to coordinate their work effectively to achieve their objectives. Yet there were no products in the market that adequately addressed this pain. As a result of that frustration, they were inspired to create Asana to solve this problem for the world's teams.
Pain points:
Work continues to get harder to manage as organizations try to move faster to respond to changing market demands. Today, 60% of knowledge workers' time is spent on "work about work". To minimize work about work, reduce chaos, and give individuals time back to focus on the work that matters, teams need a purpose-built solution for coordination.
Teams need to be coordinated - teams need to navigate work that is increasingly cross-functional, matrixed, and distributed, while also moving quickly to meet the objectives of their organizations. With product lifecycles shorter than ever, organizations cannot afford slow, inefficient processes.
Communication overload hurts productivity - businesses have adopted a number of applications to improve communication such as Skype, WeChat, WhatsApp, Microsoft Teams, and Slack, among others. While these applications help teams communicate, they were not designed to provide a system of record to track and coordinate units of work or set up processes for rapid execution. The average knowledge worker receives 121 emails per day—70% of which are opened within six seconds. People have become prisoners to email and messaging applications, using their inboxes as makeshift to-do lists.
More time is spent coordinating work than actually doing work - Productivity gains can occur when individuals and teams have the opportunity to focus uninterrupted. However, employees spend less than half of their day on critical work. According to a survey conducted by McKinsey Global Institute of a broad set of knowledge workers: 28% of time is spent answering email, 19% of time is spent gathering information, 14% of time is spent on internal communication.
Teams need tools to orchestrate work - Communication tools lack the purpose-built functionality required for teams to collaboratively plan, manage, and execute work. Spreadsheets quickly become outdated, lack automation capabilities, and cannot provide multi-dimensional views of multiple projects or real-time insight. Email cannot build workflows, assign tasks, or track progress.
Legacy project management tools are not flexible - These tools were primarily designed for dedicated project managers, not everyday users who often lack the skills to design a project, make customizations, or integrate third-party applications.
Since inception, millions of teams in virtually every country around the world have used Asana. With Asana, users experience higher productivity, which has led to rapid adoption across teams, departments, and organizations. As of January 31, 2020, Asana had over 1.2 million paid users.
Product
Asana prides themselves on being customer obsessed and believe that artisanship lies at the heart of all great experiences. Asana takes pride in crafting the product experience they deliver to customers, the underlying technology that powers it, the interactions that teams have with their employees, and the environment in which they work.
Asana is a system of record for work, it collects and structures institutional knowledge about how past work was completed and provides a real-time plan and roadmap for current and future initiatives.
Asana's platform is built on their proprietary, multidimensional data model called the work graph which captures:
Units of work - tasks, projects, milestones, portfolios, and goals
The people responsible for executing those units of work
The processes in which work gets done—rules and templates;
Information about that work—files, comments, status, and metadata; and
Relationships across and within this data.
Like the social graph Moskovitz and Rosenstein helped create for Facebook, the work graph is a flexible data model—of people, tasks, goals, projects, portfolios, conversations, files, and the relationships among them—powering Asana. The work graph enables each Asana user to see information in the format that makes most sense for them.
Why Asana wins
Easily adoptable: new users can easily import existing workflows from spreadsheets. Asana provides an intuitive interface—incorporating common language navigation, flexible views, and easy point-and-click and drag-and-drop functionalities—that allows users, across any role or level of technical proficiency, to easily set up and navigate a process or project.
Applicable to every level of the organization: multi-dimensional data model allows individuals, team leads, and executives to work the way they want, in the interface that is most applicable to them. Users realize different benefits from our platform, depending on their role: individuals can view a task list to prioritize their work across projects and see how the work they depend on is progressing in real time; team leads can view the status of a project to identify dependencies or bottlenecks and manage workloads; and executives can see real-time updates on how their organization is tracking toward strategic objectives.
Adaptable to virtually any use case: customers typically adopt Asana initially for a specific need within a department. Teams can then extend their usage to new use cases and departments as a result of collaborating on cross-functional projects. Organizations can also use Asana for organization-wide processes such as new employee on-boarding, goal setting, and meeting agendas, which can lead to rapid expansion as employees see their peers using the platform.
High performance: the platform to be easy to use, extremely fast, and powerful. Asana has a modern architecture with proprietary intellectual property that enables flexible and fast queries. All user data is maintained in our cloud-native platform and changes are immediately synchronized to allow real-time collaboration.
Business Model
Asana has a hybrid self-service and direct sales model that allows them to efficiently land customers and then rapidly expand the use of the platform within their organizations. A majority of their paying customers initially adopted the platform through self-service and free trials. Once adopted, customers can expand through self-service or with the assistance of the direct sales team, which is focused on promoting new use cases of Asana.
Asana generates revenue from the sale of subscriptions on their cloud-based platform. They offer three levels of paid subscriptions to serve the varying needs of our paying customers: Premium, Business, and Enterprise.

Pricing is based on the number of users and increases with each subscription level as more features and functionality are included.
Asana introduced Enterprise subscriptions and Business subscriptions in Dec 2016 and Nov 2018, respectively. These subscriptions have grown to represent approximately 42% of revenues during Q4 2019, up from 11% in Q4 2018.
Asana's also experienced a shift to larger subscriptions, with subscriptions of over $5,000 representing 54% of our revenues in Q4 2019, compared to 43% in Q4 2018. Paying customers typically pay on a monthly or annual basis, with the majority of our Business and Enterprise level customers on annual plans.
Additionally, Asana offers a free version for teams of fewer than 15 people, with limited access to Premium features along with a 30-day trial of the paid subscription plans. Asana noted that among their 100 largest customers today, virtually all came to Asana initially using the free trial or through an upgrade from the Basic level.
Users: 25 million users have registered on Asana since inception, representing a significant number of users associated with accounts that may convert to paying customers over time. As of January 31, 2020, they had over 1.2 million paid users.
Free-to-paid conversion rate of registered users, as measured by the number of paid users divided by the total number of then-registered users, has increased from 3.6% in Q4 2017 to over 4.8% as of Q4 2019.
Asana serves a large and diverse customer base, including over 75,000 paying customers, across all industry verticals and market segments, and over 30% of the FORTUNE 500. They define a customer as a distinct account, which could include a team, company, educational or government institution, organization, or distinct business unit of a company, that is on a paid subscription plan, a free version, or a free trial of one of the paid subscription plans. A single organization may have multiple customers. A paying customer is defined as a customer on a paid subscription plan. No single customer accounted for more than 1% of revenues, and Asana's top 100 customers accounted for approximately 9% of revenues for fiscal 2020. For fiscal 2020, 41% of revenues were generated outside the United States with limited international sales presence or major product customization.
Go-To-Market
41% of revenues were generated from customers outside the US.
The hybrid self-service and direct sales model enables Asana to efficiently reach teams everywhere and then rapidly expand adoption of Asana. By providing a free version of Asana, a free trial option, and a feature where customers can invite guests outside of their organizations, Asana can seed the market with existing users.
Once individuals and teams within organizations adopt the platform, Asana's direct sales team follows up with an opportunity to strategically expand offerings across the organization.
Traditional business software is sold top-down with expensive enterprise sales reps and slow sales cycles. A new generation of vendors have taken a bottom-up approach, allowing small teams within large organizations to try and purchase business software online. Asana takes an unusual hybrid approach. Its optimized self-service engine allows them to land rapidly in teams all over the world, and the direct sales team can expand that bottom-up usage into company-wide deployment much faster than through organic growth. Asana can close deals much more quickly by showing buyers the successful and happy Asana users that already exist within their organizations without needing to cold-call and "wine and dine" CIOs.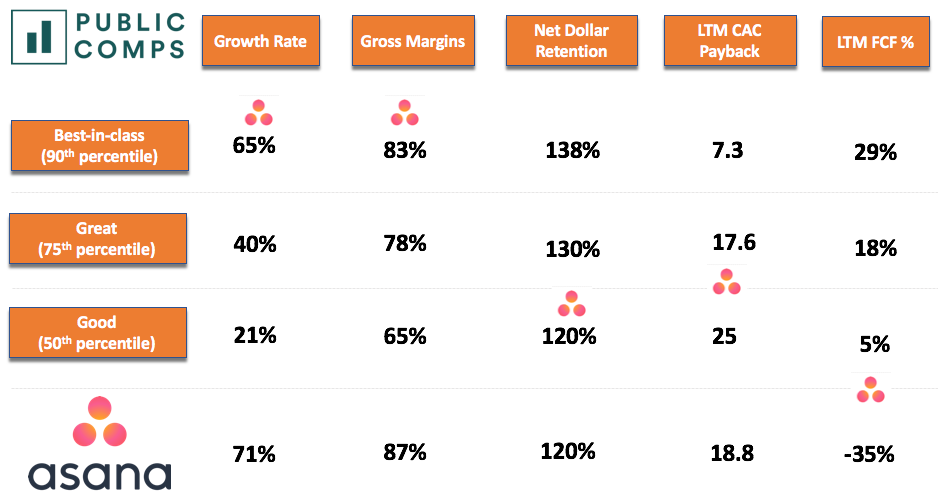 Industry & Market Opportunity
The market for work management solutions is increasingly competitive, fragmented, and subject to rapidly changing technology, shifting user and customer needs, new market entrants, and frequent introductions of new products and services.
According to a June 2019 IDC report, the TAM for collaborative applications and project and portfolio management  is expected to grow from $23B in 2020 to $32B in 2023 (11.6% CAGR).
In a September 2019 report by Forrester Research, they estimated there to be 1.25B global information workers. Asana believes they are "less than 3% penetrated among addressable employees in our existing customer base, indicating a significant whitespace opportunity".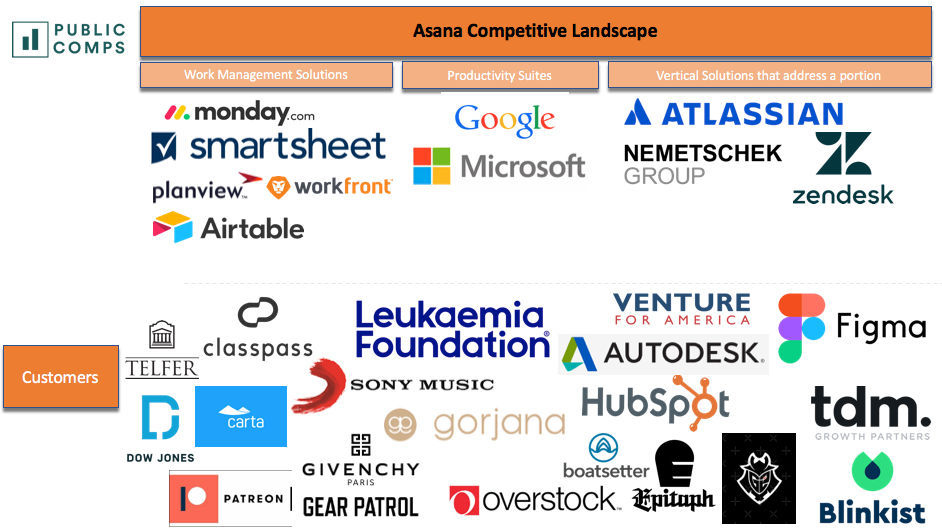 Asana vs. Smartsheet on key metrics:
ARR Growth: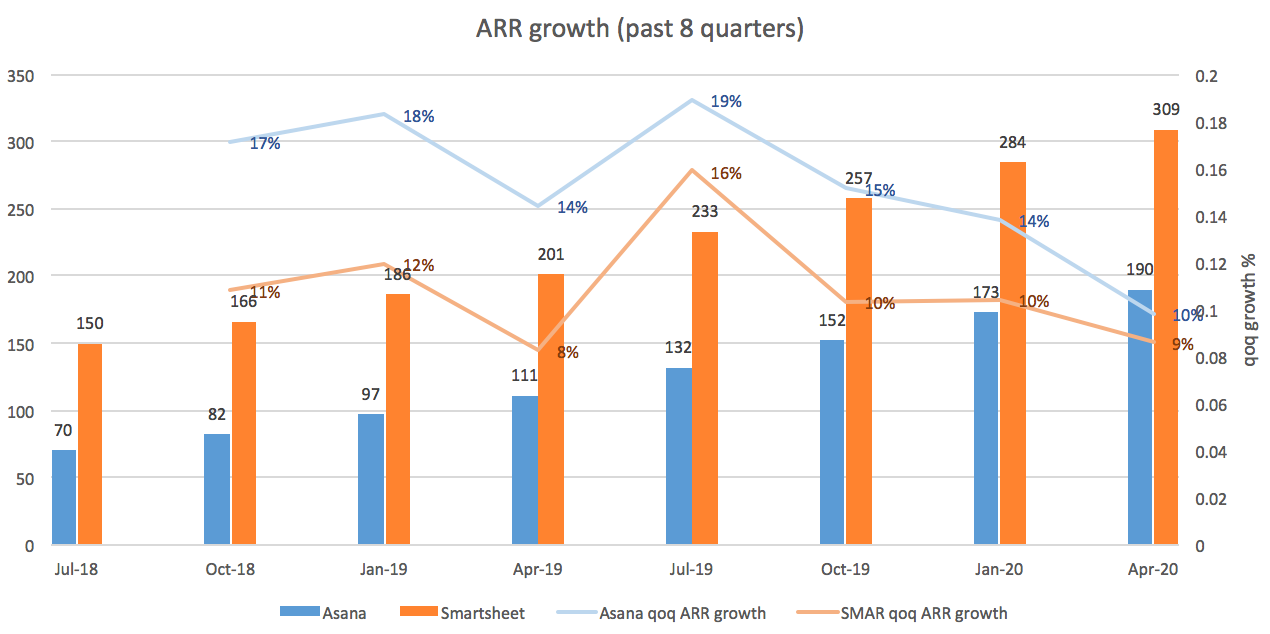 Scaled to when both were ~70M in ARR: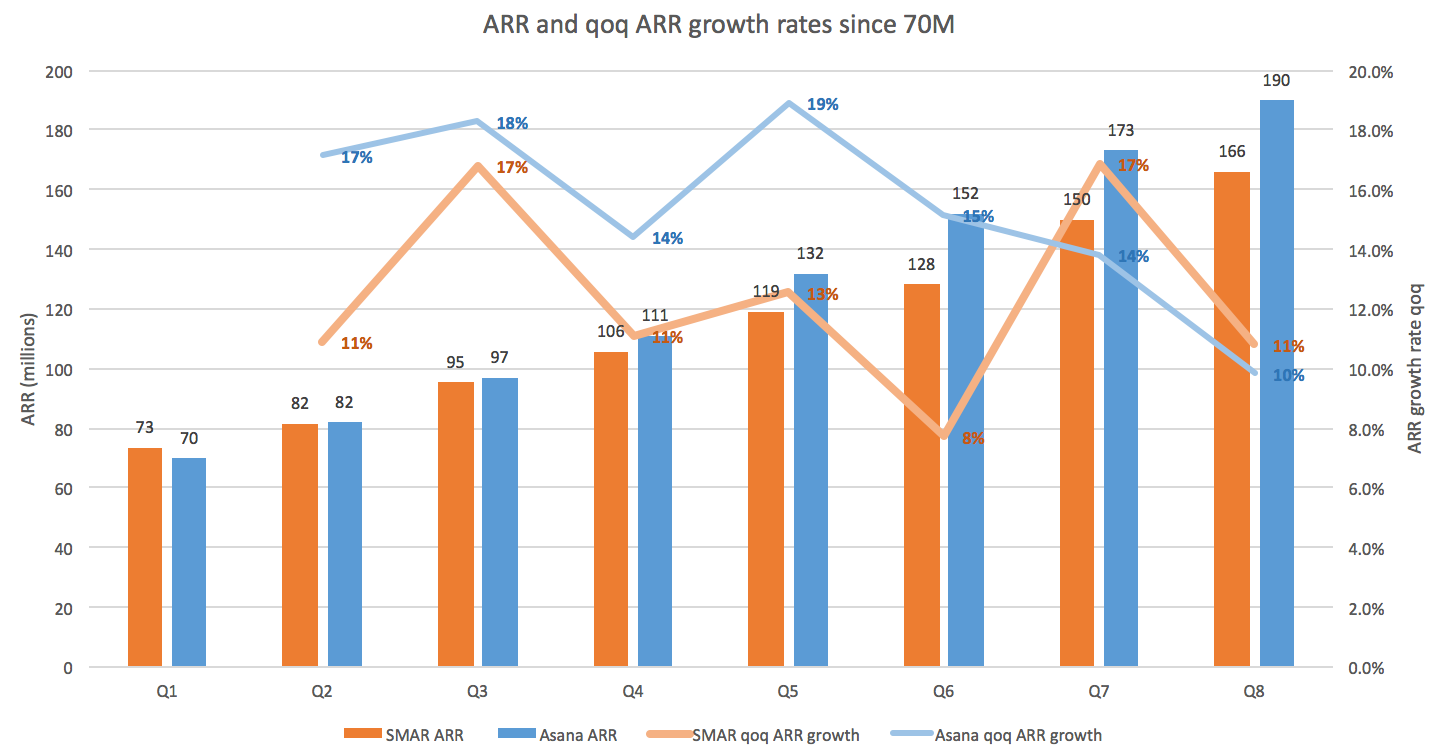 Net Dollar Retention:
Asana reported a net dollar retention of 120%, while Smartsheet reported net dollar retention of 128%. Its worth noting that workplace collaboration software that cater towards enterprise such as SMAR, have higher potential for "land and expand" and thus naturally have higher net dollar retention rates from expansion within existing customers.
Sales Efficiency: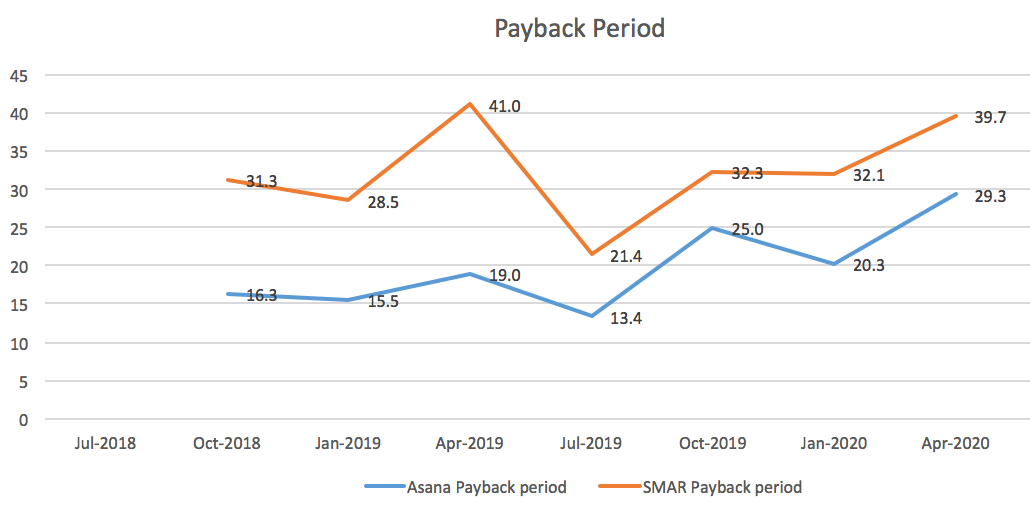 Other Financial Stats:
4.4M+ total accounts, with 1.2M+ paid accounts and 3.2M+ free accounts.
41% of revenues were generated from customers outside the US with customers in 190 countries.
Benchmarking Asana vs. other high growth SaaS
Growth metrics: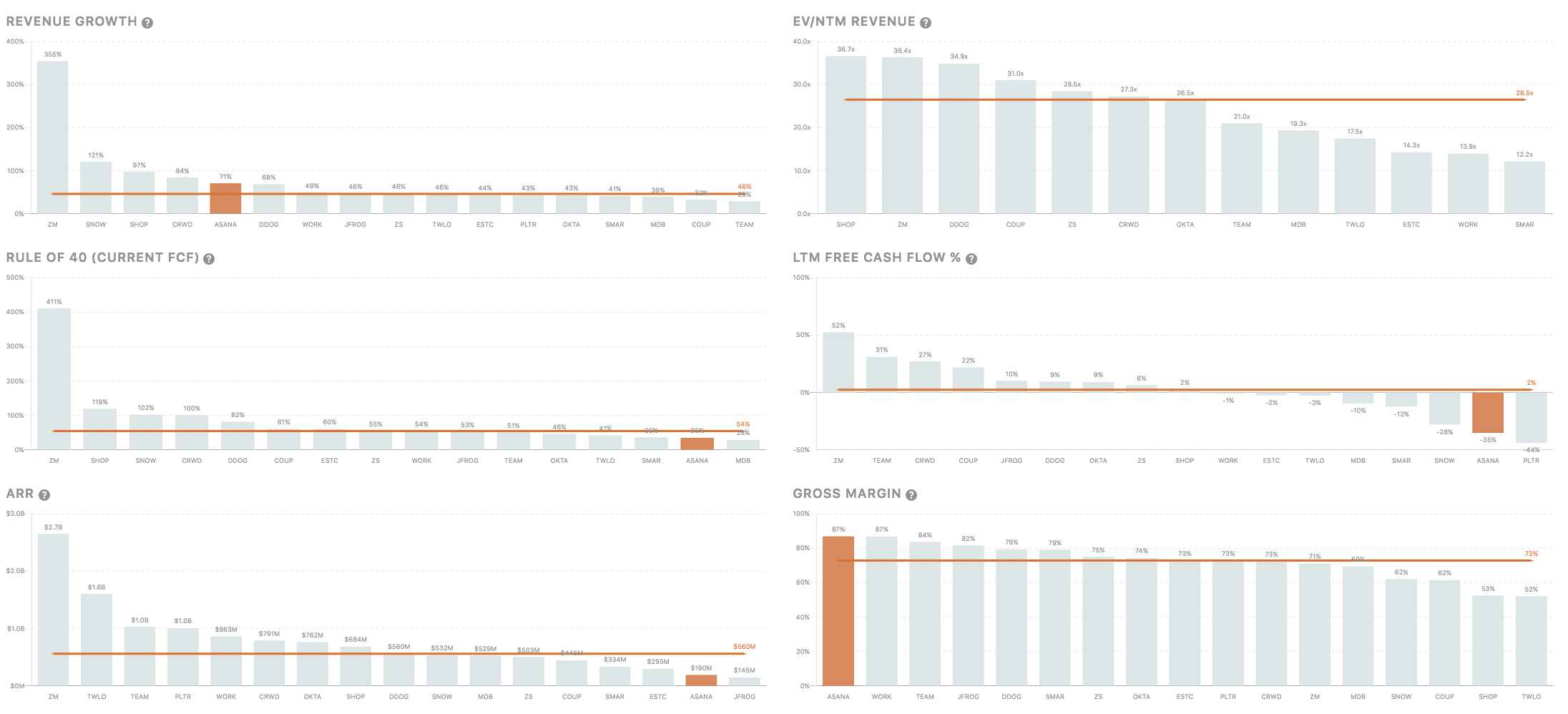 Key SaaS Metrics: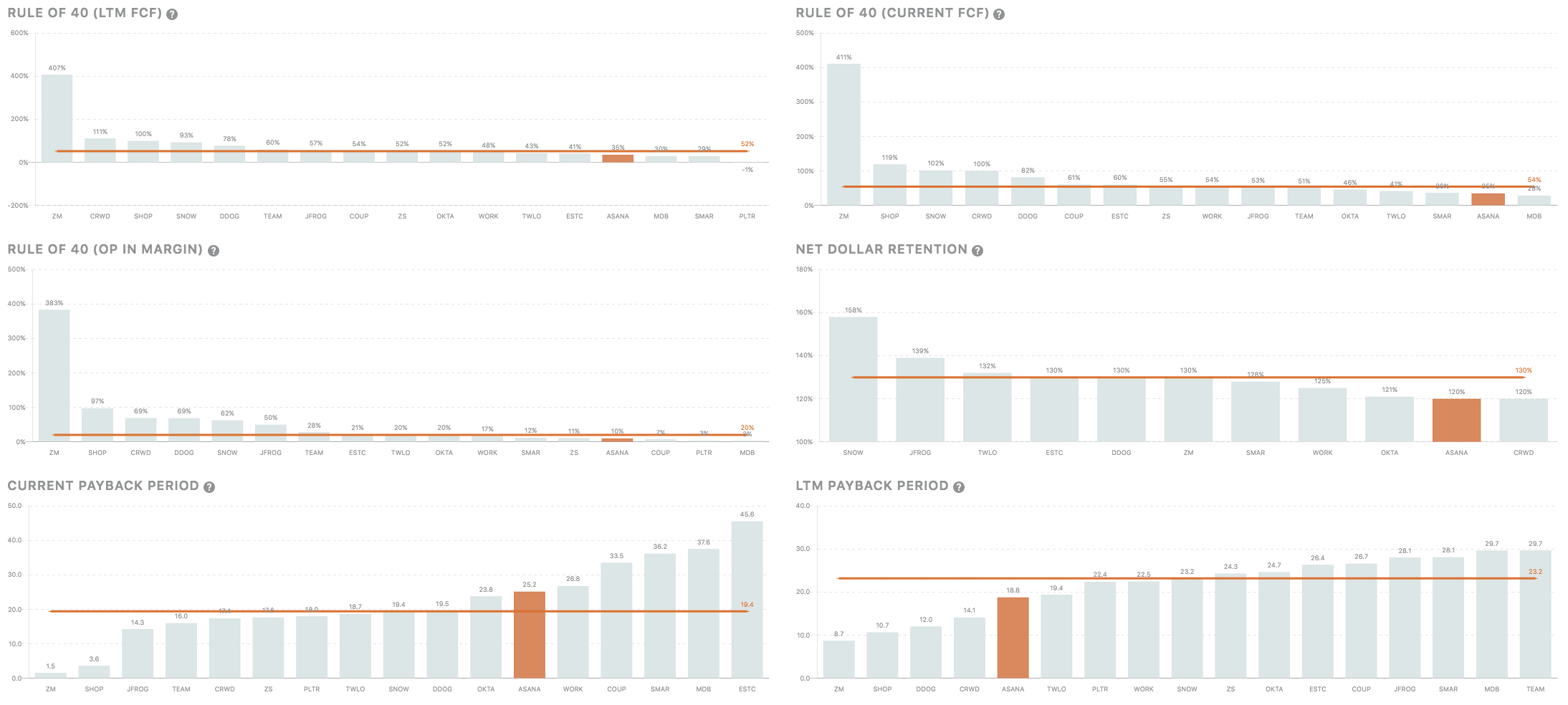 Risks:
Failure to show path to profitability: operating margins and free cash flow margins are very negative, -75% and -36% respectively. With no clear sign of improvement.
Lacks significant operating leverage (in the short-term): Given the competitiveness of the industry, and margins of its competitors, its not likely Asana sees significant operating leverage anytime soon. Gross margins are already extremely high, and Asana has little room to increase prices because of the competitive pricing within the industry.
Top-line growth and churn are heavily impacted by COVID-19: there were 38 mentions of COVID-19 in Asana's S-1, as they raised execution, sales, and expansion risks associated with the pandemic. As seen in other companies' earnings calls, SMB sales were most impacted and many deals are being pushed out to future quarters as sales cycles have lengthened.
Historical P&L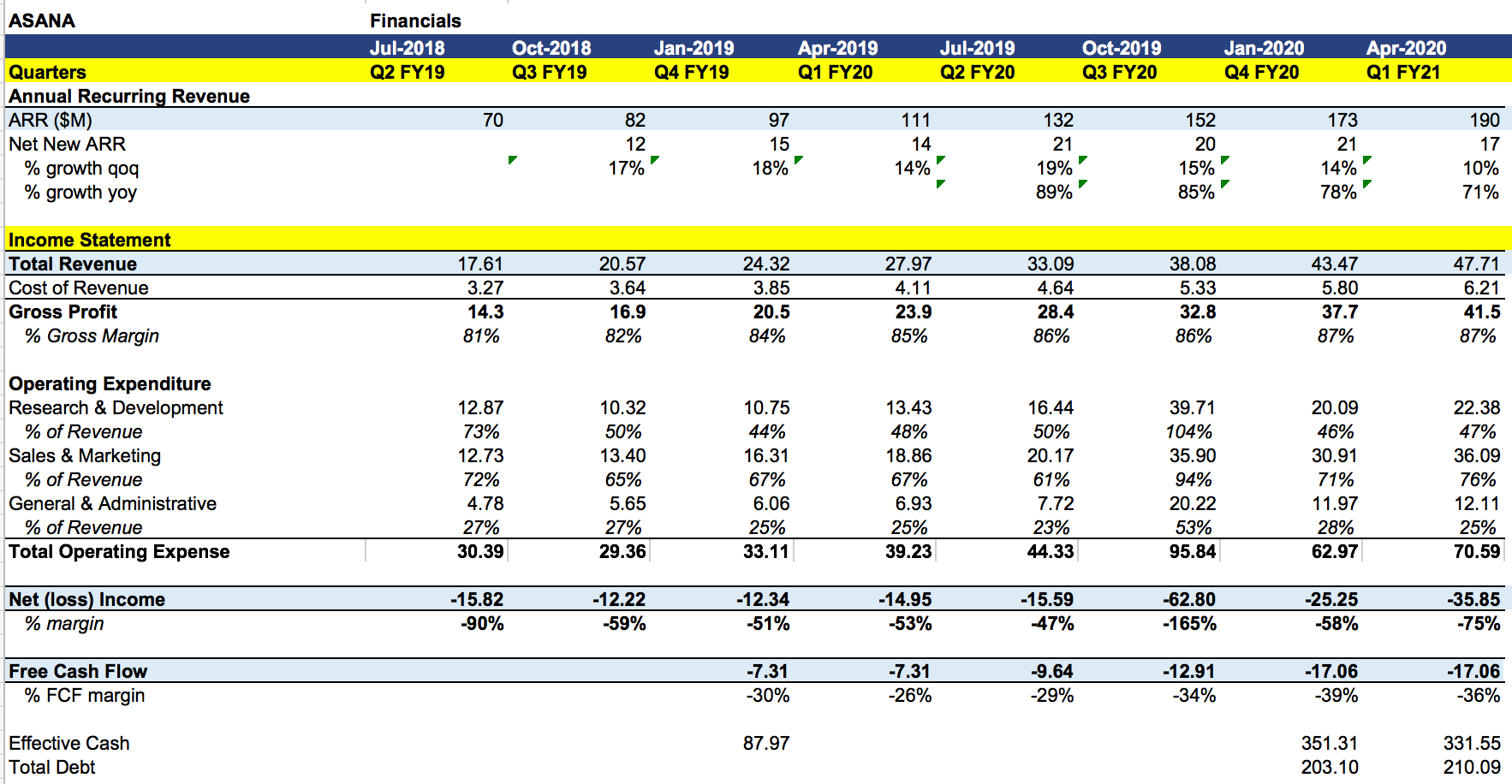 Valuation
2020 IPO markets have been incredibly "frothy" lately, and as such, its smart that Asana has chosen to do a direct listing.
Asana currently does 190M in ARR, and grew 71% yoy. As COVID-19 has dramatically slowed down sales and most dramatically hurt SMBs, I expect revenue in the next few quarters to slow down into the low 50s/high 40s for the fiscal year. Unlike some other upcoming IPOs: JFrog, Snowflake, Sumo Logic, Palantir, a good thing about Asana is the fact that its easily understood by investors.
On an EV/NTM revenue basis, I think the IPO will push multiples higher than normal, but I see SMAR's valuation (5.7B today at a 12-13x NTM rev multiple), which is doing about 2x more in ARR, and still growing at a decent pace (334M ARR, 41% growth yoy) as a ceiling for Asana. Asana's IPO will likely boost SMAR's valuation as well, so I think its possible Asana opens trading at a multiple in the 20-24x range, and could push even higher due to the limited float. This would give Asana a valuation of ~$5.5B, a slightly lower estimate than others have predicted.