Hubspot (HUBS) Q4 2020 Earnings Teardown
Hubspot Q4 2020 earnings teardown.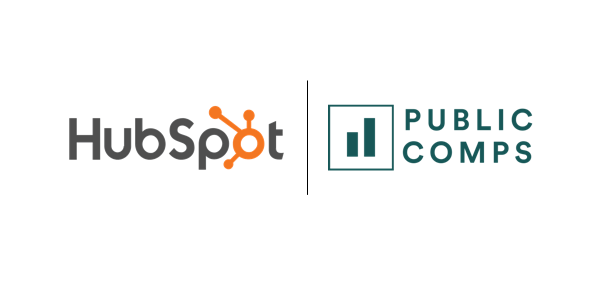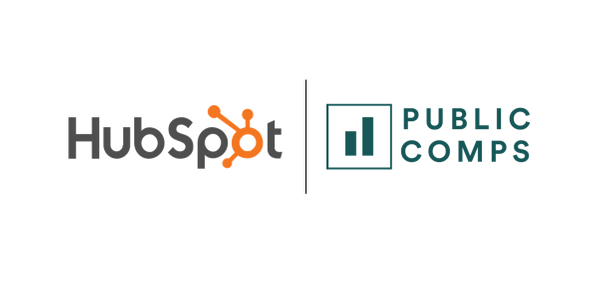 Hubspot Earnings Teardown Summary
Revenue re-accelerated 35% YoY to $252M, while SaaS revenue grew 36% YoY and services revenue grew 9% YoY.
Grew customers to 103,994, +42% YoY and added 8360 net new customers.
Generated 45.8M of free cash flow (18.2% margin).
Average revenue per customer was ~$9,800, up slightly sequentially.
Surpassed 100,000 customers and crossed $1B in ARR for the first time.
Company Overview
Hubspot is a cloud-based marketing, sales, and customer service software platform that enables businesses to grow better. The platform features a central database of lead and customer interactions and integrated applications to help businesses attract visitors to their websites, convert visitors into leads, and close leads into customers.

Product
Hubspot is a complete CRM platform with the tools customers need to scale their businesses: increase leads, accelerate sales growth, streamline customer service, or build a powerful website.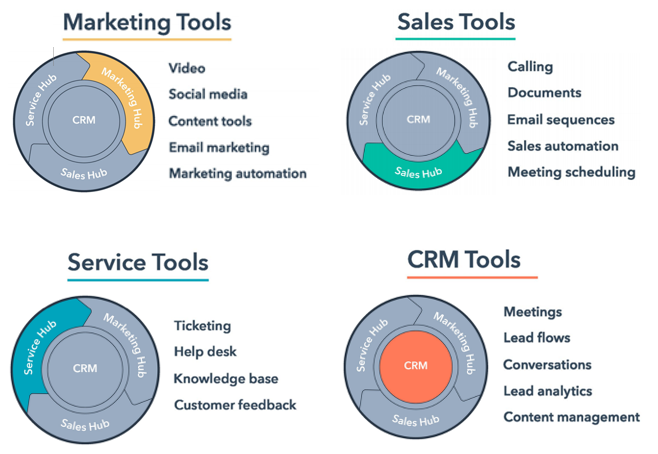 Hubspot's platform incorporates their marketing, sales, service, and CMS hubs built on a set of shared services underneath. The UI is the same, and its a single data model. The platform has a beautiful consumer-like frontend but also a powerful enterprise backend. The company sells subscriptions priced at starter, pro, and enterprise tiers.
Marketing Hub - automation software to help customers attract the right audience and run complete inbound marketing campaigns at scale.
Sales Hub - software to help teams manage their contacts and pipeline for sales deals and relationships with their customers.
Service Hub - allows teams to scale their customer support, and provide proactive service to manage customers.
Content Management System (CMS) Hub - allows teams to create and manage website pages personalized for different visitors.
Why Hubspot wins:
Category-leading platform - Hubspot is widely considered the category leader of cloud-based marketing, sales, and customer service software. Their INBOUND conference is one fo the largest inbound industry conference events.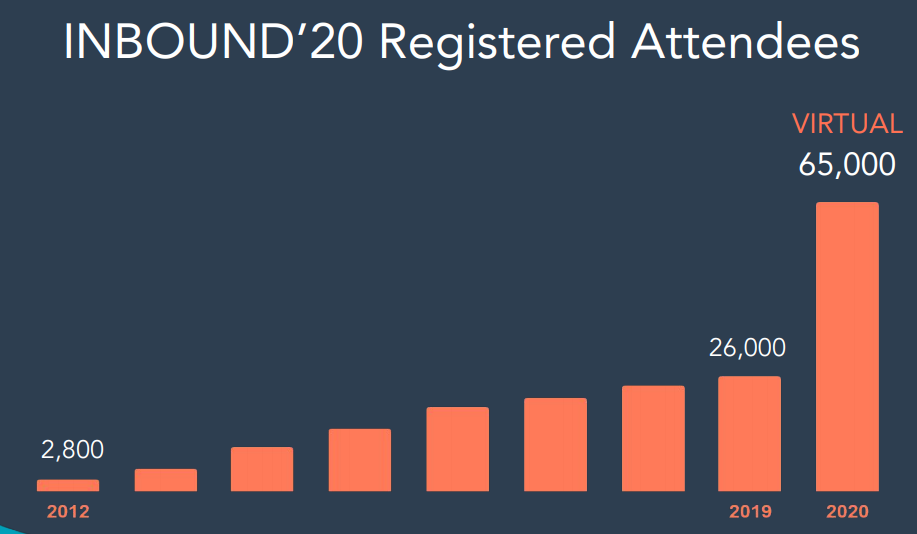 2. Partner program - Hubspot's solutions partners promote their brand and offer the growth platform to their clients. These accounted for ~36% of total customers and 41% of total revenue in 2019.
3. Mid-Market focus - the market for Hubspot's growth platform is large and underserved. Mid-market businesses are underserved by point application vendors and often lack sufficient resources to implement complex solutions.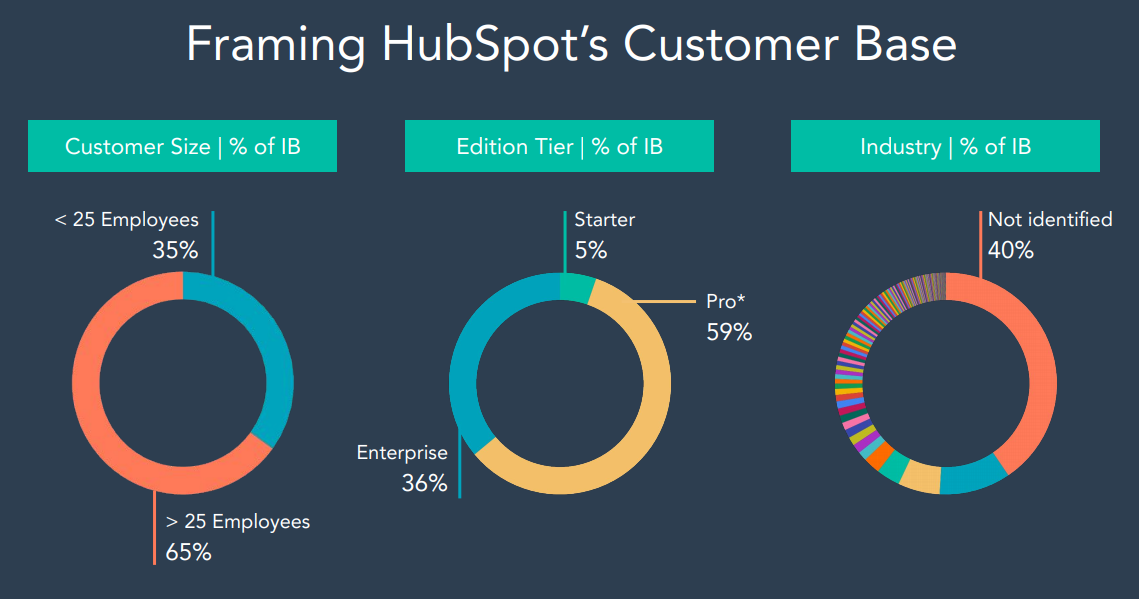 4. Consumer-like UI matched with scalable enterprise backend. This approach resonates better with customers as software increasingly becomes a source of competitive differentiation since customers want to interact with businesses over digital interface.
5. Network effects - Hubspot's done a great job of building an ecosystem around their product. Customers will integrate third party apps into their platform which drives more businesses and users to embrace their platform.
Financial Highlights:
Q4 2020:
Total Revenue: $252.1M +35% YoY
Subscription Revenue: $244.3M +36% YoY
Professional services and other revenue: $7.7M +9% YoY
Non-GAAP operating margin: 9.8%
Free Cash Flow: $45.8M (18% margin)
Customers: 103,994 +42% YoY
Full Year 2020:
Total Revenue: $883M +31% YoY
Subscription revenue: $853M +32% YoY
Professional services and other revenue: $30M +5% YoY
Non-GAAP operating margin: 8.5% vs. 8.1% in 2019
Free Cash Flow: $79.1M (9% margin)
Valuation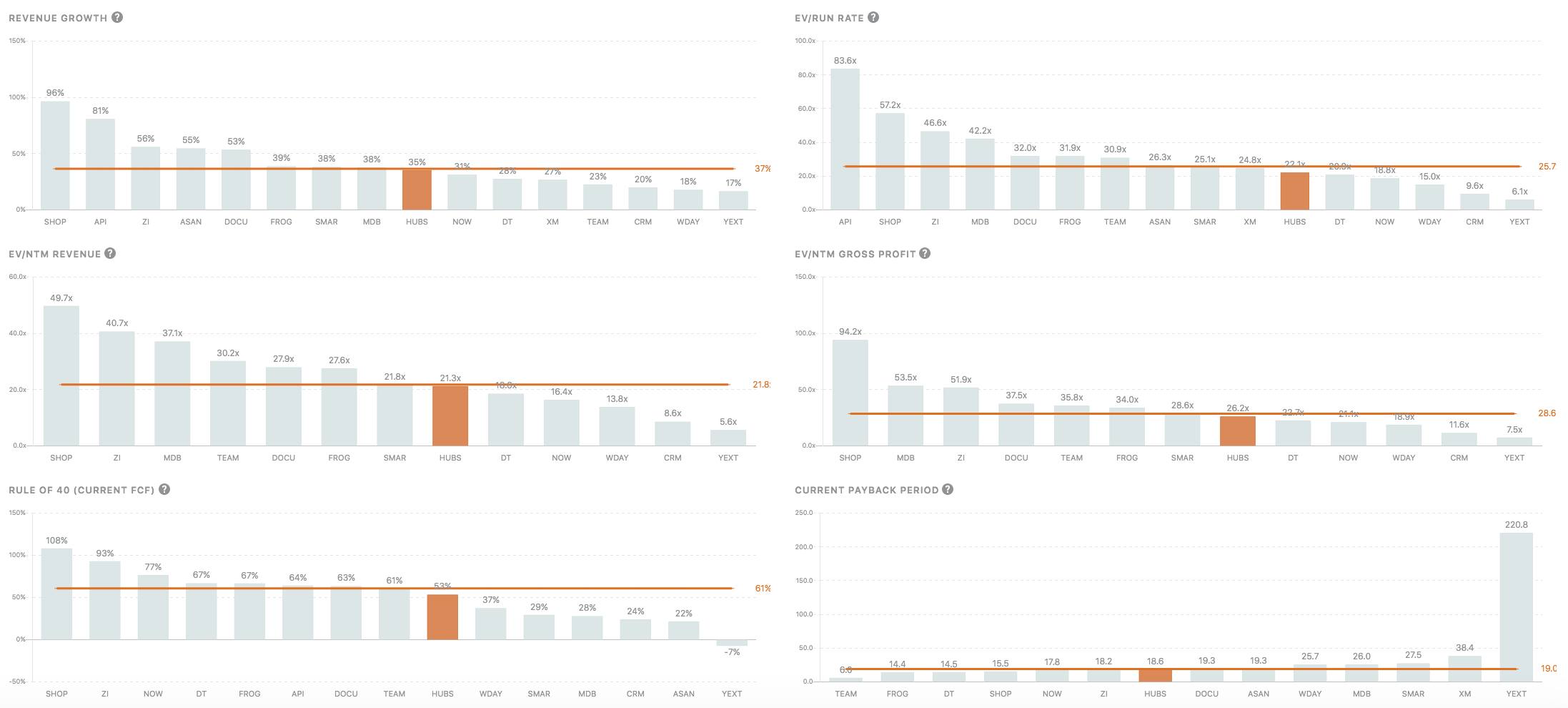 Hubspot currently trades at 21.3x NTM revenues and 22.1x ARR. For a company seeing nice top-line inflection, with strong potential for increased operating leverage as they continue their upmarket push along digital transformation trends in the future, I believe the valuation looks reasonable but relatively cheap to other SaaS. At ~1B ARR, and steady state FCF margins of 30-35%, the company trades at ~50x LT FCFs, not unreasonable in this environment.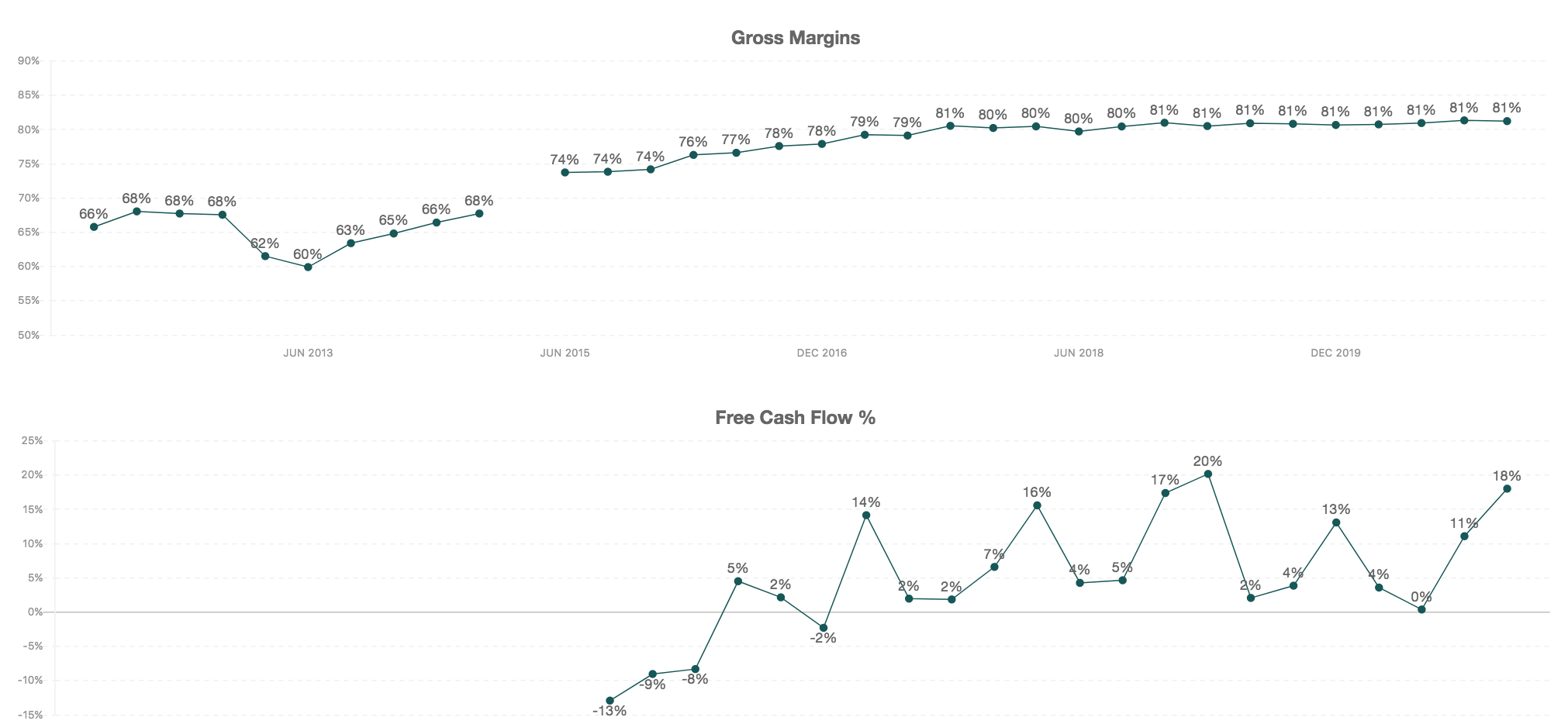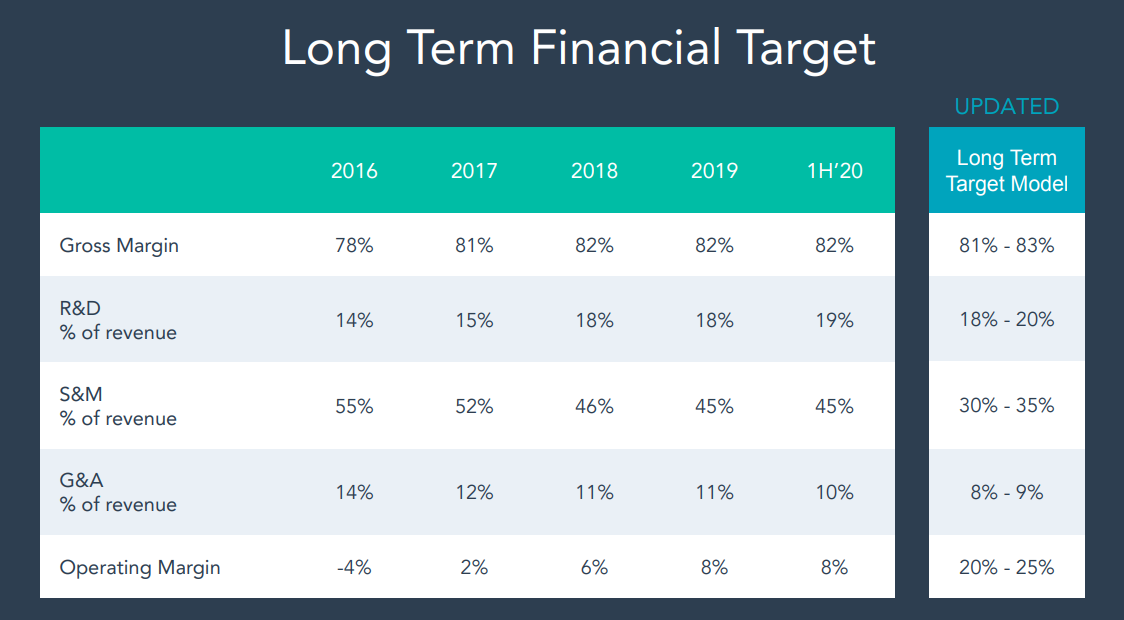 Key Takeaways from earnings call
1. Growth is inflecting, driven by digital transformation taking effect in larger enterprises, which is still a very unpenetrated TAM.

"New startups we work with, while they're born digital, older scaleups we work with who may have only been partially online in the past have begun to fully digitize their end-to-end experience.
Selling and marketing spend seems to be rebounding after being one of the hardest hit areas within enterprises at the onset of COVID-19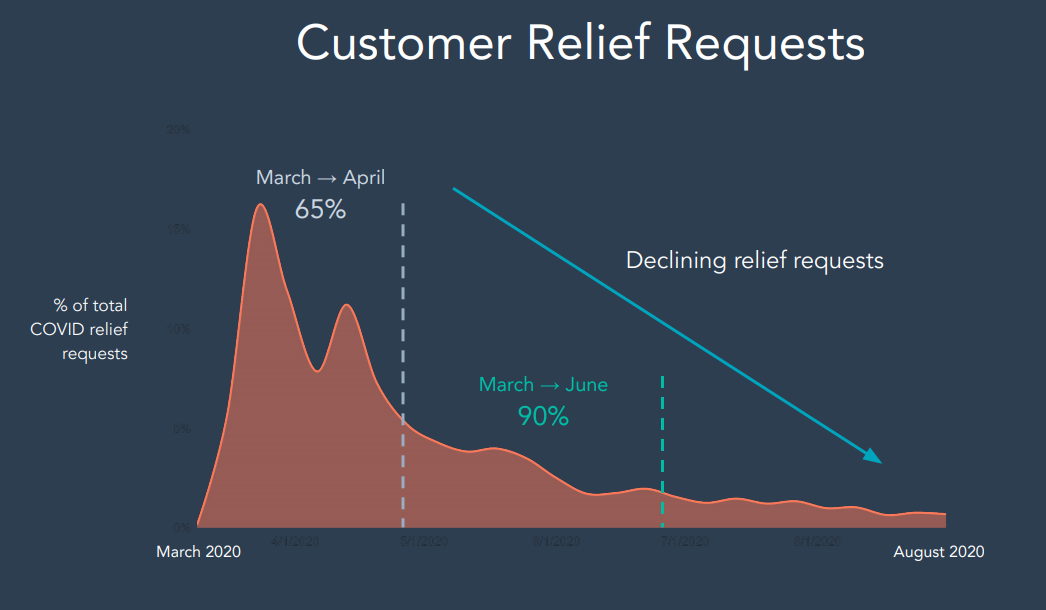 However, in the most recent earnings call, management's commentary on the strong guidance:
"there's a couple drivers going on, COVID accelerated people's digitization moves. Everybody knew they needed to completely digitize their GTM, and this sort of accelerated it. The demand has been strong, and I don't think that demand is going back." - CEO Brian Patrick Halligan
Billings grew 43% YoY, reacceleration was driven by strong revenue performance and a positive mix shift toward professional and enterprise subscriptions in the quarter.
"we're moving from a marketing app to a CRM platform, that CRM market is much bigger than the marketing app market. And we're starting to do really well and making a lot of progress there. The market is large and growing, and so we're just kind of really well positioned to lean into it." - CEO Brian Patrick Halligan
"We're seeing nice adoption of [our platform], a nice pickup from new customers who are buying the whole suite, particularly the Starter suite, and lots of existing customers who are marketing hub or Sales hub, buying the other hubs. So we're getting really good traction on, particularly with new customers, but also the installed base." - CEO Brian Patrick Halligan
2. Management's investments have improved general retention and customer satisfaction.
Hubspost posted a record quarter for retention, record customer dollar retention. Upgrade rates are also hitting new and record levels.
NPS improved dramatically over the past year, management cited that the power added to the platform is really paying off and customers are sticking around longer.
Management has specifically made more investments to go upmarket:
"we're really strong in the very middle of the market, like 20-200 employees. I give us like an A+ on our product market fit, and our go-to-market fit there. Where we're working hard on is that 200 to 2000, what we call the enterprise and then the two to 20. Lots of investments going in last year and this year in those areas, and we think we're going to make a lot of progress there." - CEO Brian Patrick Halligan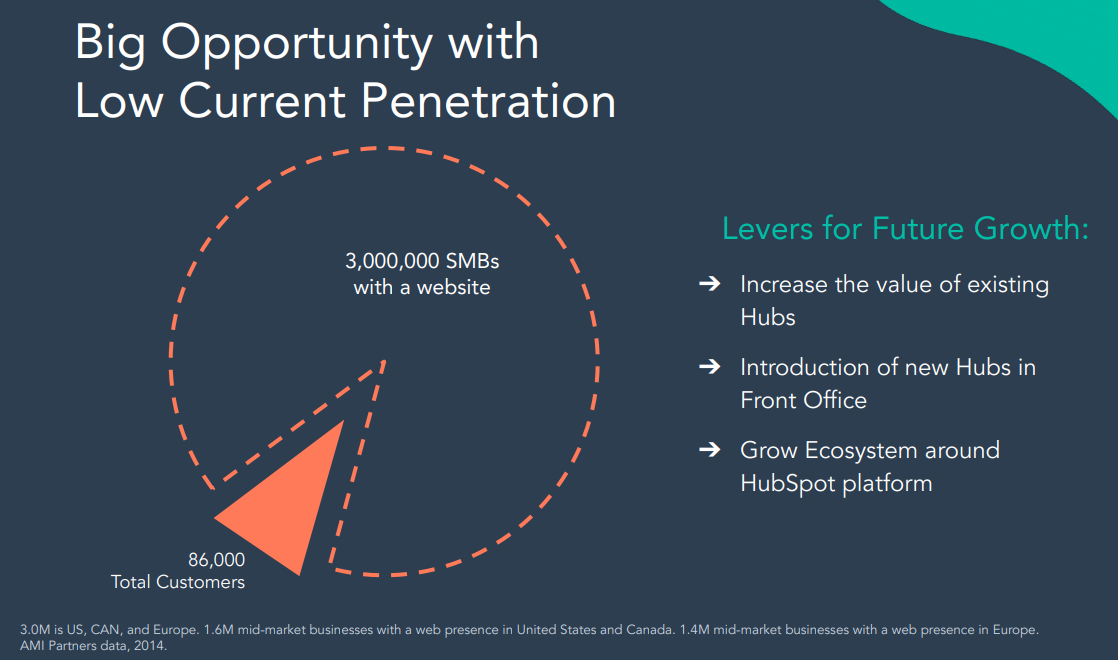 3. Adoption for B2B software is changing
Management cited consumerization of SaaS on the demand side: re: point above but management mentioned that "they've seen a shift in the market's expectations for B2B software. People now expect it to work like the consumer software they use in their personal lives."
"Our CRM is crafted internally with a consumer-like UI matched with a scalable enterprise backend. This approach is resonating very well in the marketplace. All of our products in all of our geographies performed well in Q4". - CEO Brian Patrick Halligan
Traditional enterprise CRM vendors are getting displaced because of usability: re: point above, management cited that "traditional enterprise CRMs are cobbled together through lots of acquisitions, and the resulting user experience is pretty rough"
Albert Wang, Public Comps Team
albert@publiccomps.com
https://twitter.com/albertwang23
Like this analysis? Subscribe to the newsletter here where we send out investment memos, market maps and analysis on the broader SaaS market.
Disclaimer: The author owns stock directly in CRWD, TWLO, DDOG, FB, ZM, COUP, FSLY, SHOP, PLAN, BABA, TDOC, BILL, ESTC, DASH, SQ, ANGI and SE. Public Comps (SaaSy Metrics LLC) provides financial and industry information and analysis regarding public software companies as part of our weekly dashboard, our blog, and emails. Such information is for general informational purposes only and should not be construed as investment advice or other professional advice.