Public Comps Dashboard 7/25/2021: Zoom + Five9
Public Comps Dashboard 7/25/2021 and analysis of Zoom + Five9 acquisition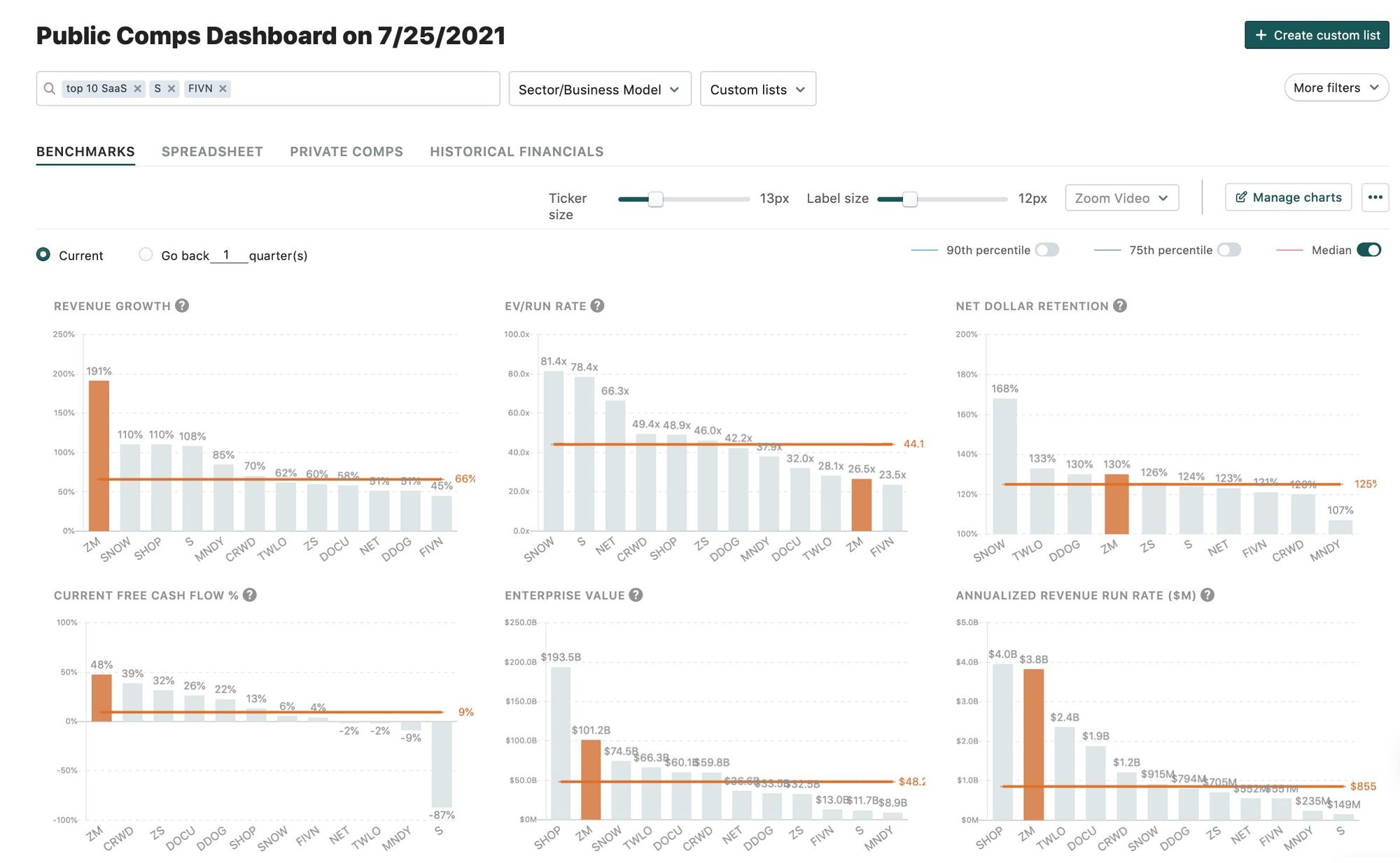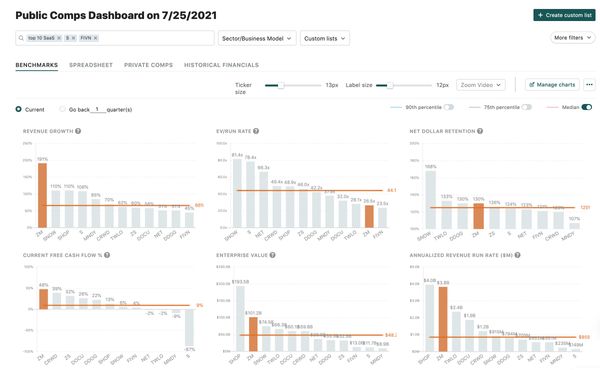 Hey Public Comp-ers!
🔥 Big news in the high growth SaaS week with Zoom acquiring Five9 for $14.7B (~14-15% of Zoom's market cap)! 🔥
Public Comps Top 10 SaaS Dashboard
​
Zoom is still the fastest growing SaaS company: Zoom is still the highest growth SaaS company at 191% y/y growth and yet it trades at 26.5x EV/ARRR (Quarter Revenue * 4) which is below the median of ~44x for our Top 10 SaaS index.
Crowdstrike vs SentinelOne: We included SentinelOne in the comp set as its $161m ARR ($149m run rate rev) growing 116% y/y. Its interesting to note that Crowdstrike added $144m net new ARR last quarter which is roughly the total ARR SentinelOne has. Its a reminder the beauty and power of large companies that have distribution, brand and
Some fascinating quotes from Tegus on Sentinelone customers or partners (keep in mind there's a slight positive bias towards SentinelOne since they're customers/partners)
Crowdstrike wins mostly but SentinelOne wins in oil and gas: "we have a number of oil and gas companies that were between 5,000 and 15,000 users that went with SentinelOne. SentinelOne team tends to do a very good job in the oil and gas sector. We've seen a few losses to CrowdStrike. A lot of retail has been going CrowdStrike. And then some of the local government, education, they've been going with CrowdStrike as well just because CrowdStrike is fairly prominent in the government space."
SentinelOne wins by claiming lower cost: "Today, SentinelOne differentiates versus Crowd by saying, "We can do all those things and we're half the cost." That's a qualitative half, but the clients that I've worked with who've had it or who have gone through SentinelOne's sales process have said that they can get comparable proposals from the two companies."
SentinelOne has better performance: "I think SentinelOne performs better than CrowdStrike and you can see these in tests when loading applications."
Different GTM channels: "CrowdStrike is going to market with a largely direct-to-customer strategy. And SentinelOne is going to market with channel strategy."
​
SaaS revenue multiples are increasing again: EV/ARRR (Quarter Revenue * 4) had a swing back up in the last few weeks to roughly 33.5x for SaaS companies with >40% y/y growth and 28.3x for our standard high growth SaaS company
With COVID-19 cases back up in places like Los Angeles due to the Delta variant, investors may be piling money back into COVID "winners". But it's unclear if even with the Delta variant if this will slow down offices re-opening and the shift of employees back to in-person offices.
Zoom acquires Five9: The Bull's View
Zoom ($3.8b ARR +191% y/y) + Five9 ($550m ARR +45% y/y)= $4.35b +157% y/y business 🤯
Here's what's to like about the Zoom + Five9 acquisition:
1. Zoom is able to grow TAM from $62b -> $86B: Previously, Zoom was sending Zoom Phone customers to Five9, inContact, Talkdesk, Twilio Flex as contact center solutions. But clearly Zoom was leaving money on the table in not monetizing customers that needed a contact center solution despite Zoom's massive GTM advantage of having ~500k customers and 1.5m Zoom Phone customers.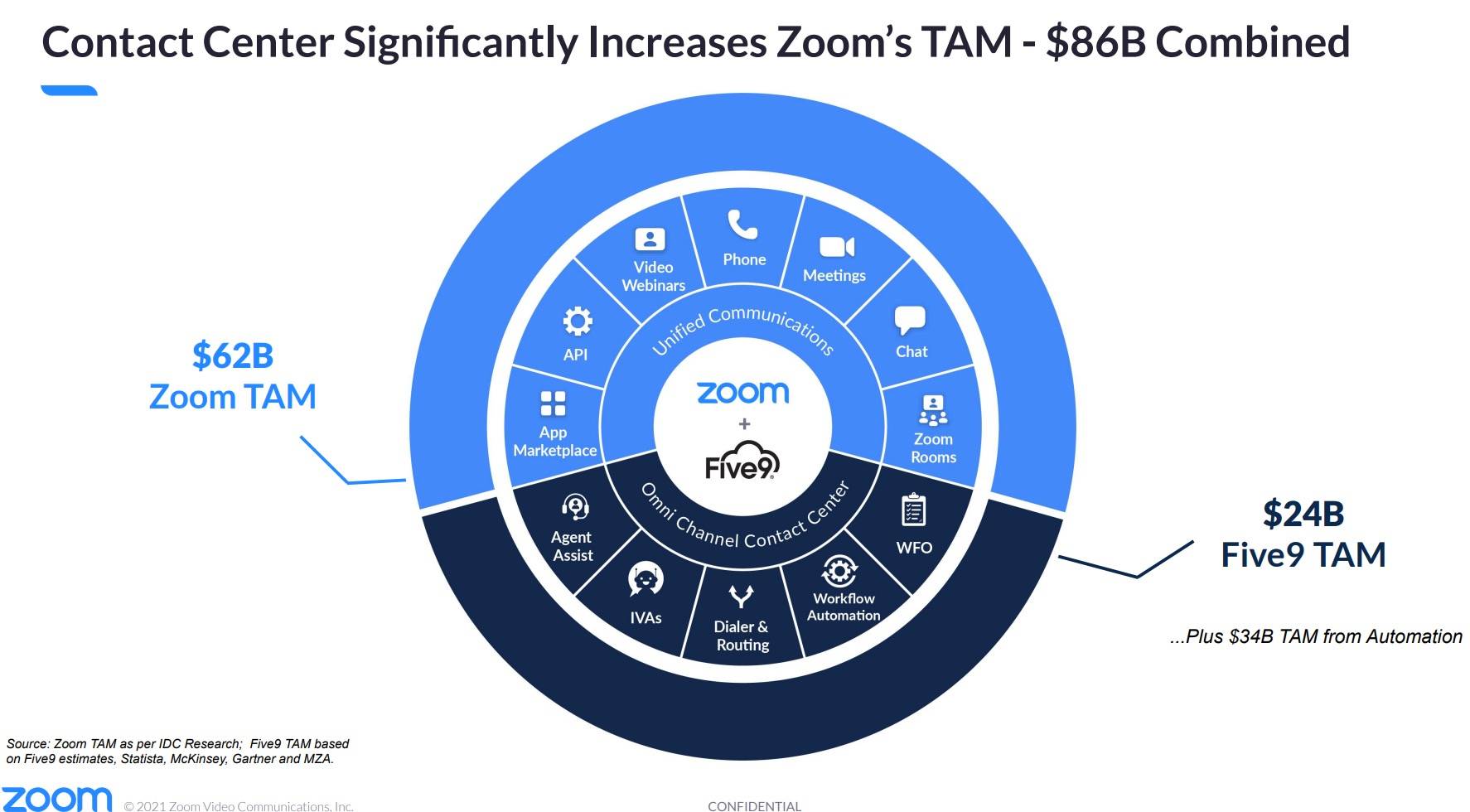 2. Five9 is able to drive up Zoom ACVs significantly: Five9 is about $550m ARR and has 796 upmarket/enterprise customers which make up 83% of revenue. So assuming $456m ARR is for upmarket/enterprise customers, we can assume Five9's ACVs are roughly ~$572k which is incredibly high considering Zoom's ACVS is roughly $4.6k ACV for customers with >10 employees (I assume at $3.8B ARRR, 37% of revenue is for customers <10 employees so 63% are customers with >10 employees and there are 497K customers with >10 employees). Granted not all 497k Zoom customers will pay $500k+ ACV for a contact center solution nor may need one, but what's exciting is as Zoom goes up market and focuses on larger enterprises, it'll have a enterprise and attractive offering that's already dominating in that segment -- Five9 generates 83% of its revenue from large enterprises!
3. Five9 is a great business: In Q1'21, Five9 reported that it's $550m+ ARR growing 45% y/y, 121% net dollar retention, and 61% for its Rule of 40. In addition, Five9 had some great enterprise customers like IBM, Chick-fil-a, Coca Cola, Paypal, Walgreens, etc. The fact it was able to close two deals worth $14m and $6m ARR last quarter likely made the acquisition even more attractive for Zoom as it looks to close large enterprises.
​
​
Product Announcement
We're releasing a beta version of Public Comps in Gsheets! If you're interested, please send us an email and we'd love to onboard you and get your feedback.
​As always let us know if you have any questions!
Cheers,
Jon Ma (@jonbma)
Views expressed in theses emails are ours and ours alone and don't represent that of our previous or current employers. Public Comps provides financial and industry information regarding public software companies as part of our weekly dashboard, our blog, and emails. Such information is for general informational purposes only and should not be construed as investment advice or other professional advice.
Disclosures: The author has holdings in ZM, CRWD, FB, PDD, ESTC, AYX, SQ, DOCU, ZS, TWLO, MDB, DDOG, TEAM, NOW, FSLY, BILL, COUP, PYPL, SNAP, SE, FROG, DASH, TSLA, NET, API, SNOW, ETSY, SHOP.