Public Comps Weekly Dashboard 8/4/21
Public Comps Dashboard 8/4 and analysis on Square + Afterpay acquisition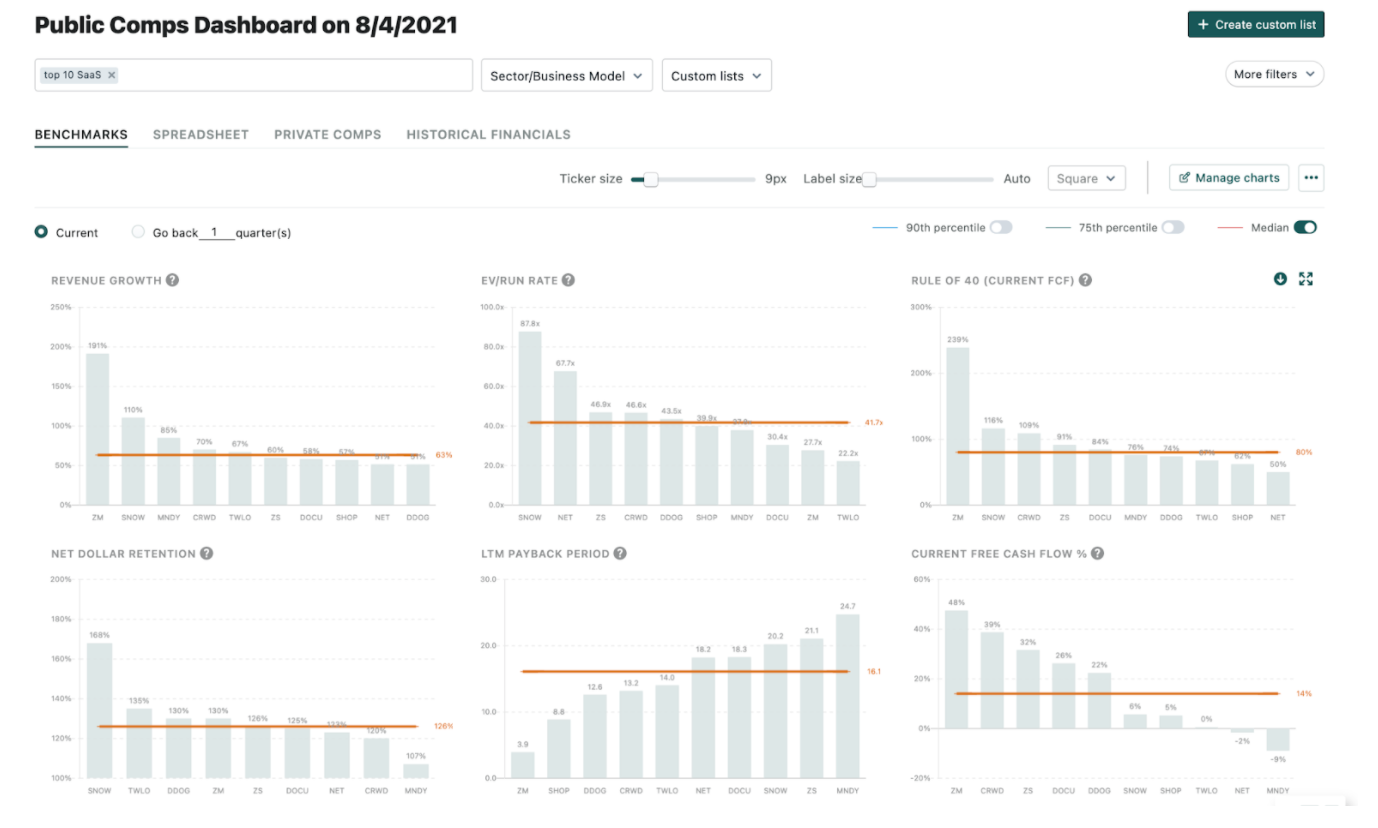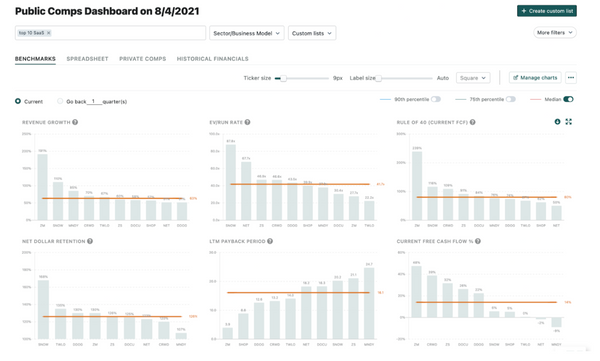 Hey Public Comp-ers!
Aneesh filling in for Jon.
🔥Big news in the fintech space this week with Square $SQ acquiring Afterpay for $29B (~25% of Square's market cap)🔥
1. Public Comps Top 10 SaaS Dashboard
High growth SaaS multiples remain constant: EV/ARRR (Quarter Revenue * 4) has remained relatively constant for the majority of June and July with high growth companies defined by >40% y/y growth having a 33.5x multiple.
As earnings continue, August may prove to be a difficult time for high-growth SaaS as every company continues to battle lofty priced-in investor expectations.
Square $SQ acquires Afterpay for $29B: Afterpay is an Australian buy now, pay later (BNPL) company that competes with European giant Klarna and the American-based Affirm $AFRM. The BNPL has been hot this year with industry heavyweights PayPal launching their own installment program in late August. Even before the Square acquisition announcement, Bloomberg reports that Goldman Sachs and Apple are developing a BNPL service that allows Apple customers to use a BNPL service anytime Apple Pay is used. To understand Afterpay's value we must understand that Square is a company with two largely independent product ecosystems: Cash App and Seller (includes new Square Banking division, point-of-sale systems, and other merchant services)
​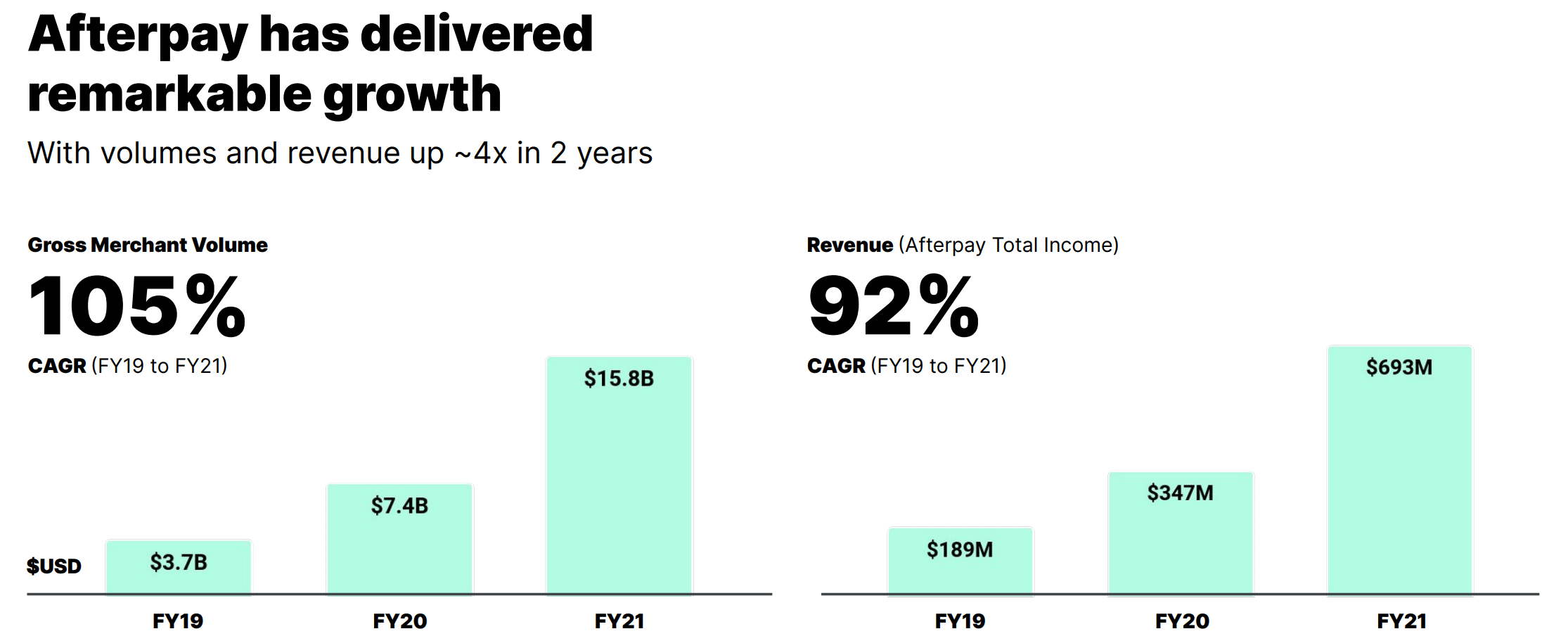 Afterpay connects both Cash App and Seller ecosystems and creates a flywheel effect that boosts margins and accelerates customer adoption: Afterpay will be seamlessly integrated into Square's online and in-person point-of-sale solutions for merchants. This will further catalyze Afterpay's explosive growth and make Afterpay's BNPL offering one of the most widely available in the United States. Additionally, consumers using Afterpay will manage their installments directly within Cash App and use their balance as the primary method to pay each installment. Payments made from consumers' Cash App balance or linked bank account will be very high margin for SQ as they don't have to pay the fees associated with credit or debit cards. Square can pass a portion of these potential savings back to merchants which will further drive the number of merchants using Afterpay powered by Cash App. As the number of merchants increase the number of consumers using Afterpay increase creating a flywheel effect that should greatly accelerate Afterpay adoption and therefore Cash App's adoption.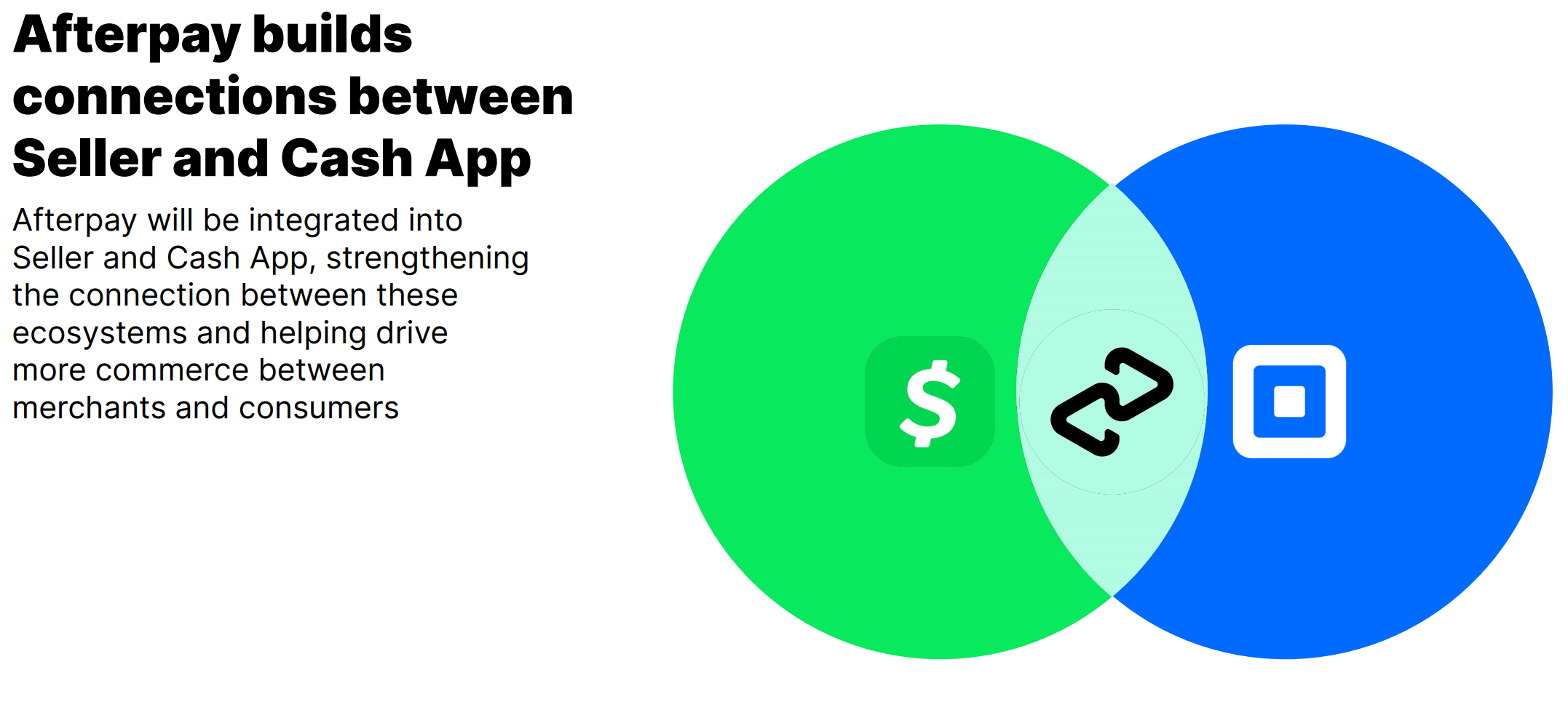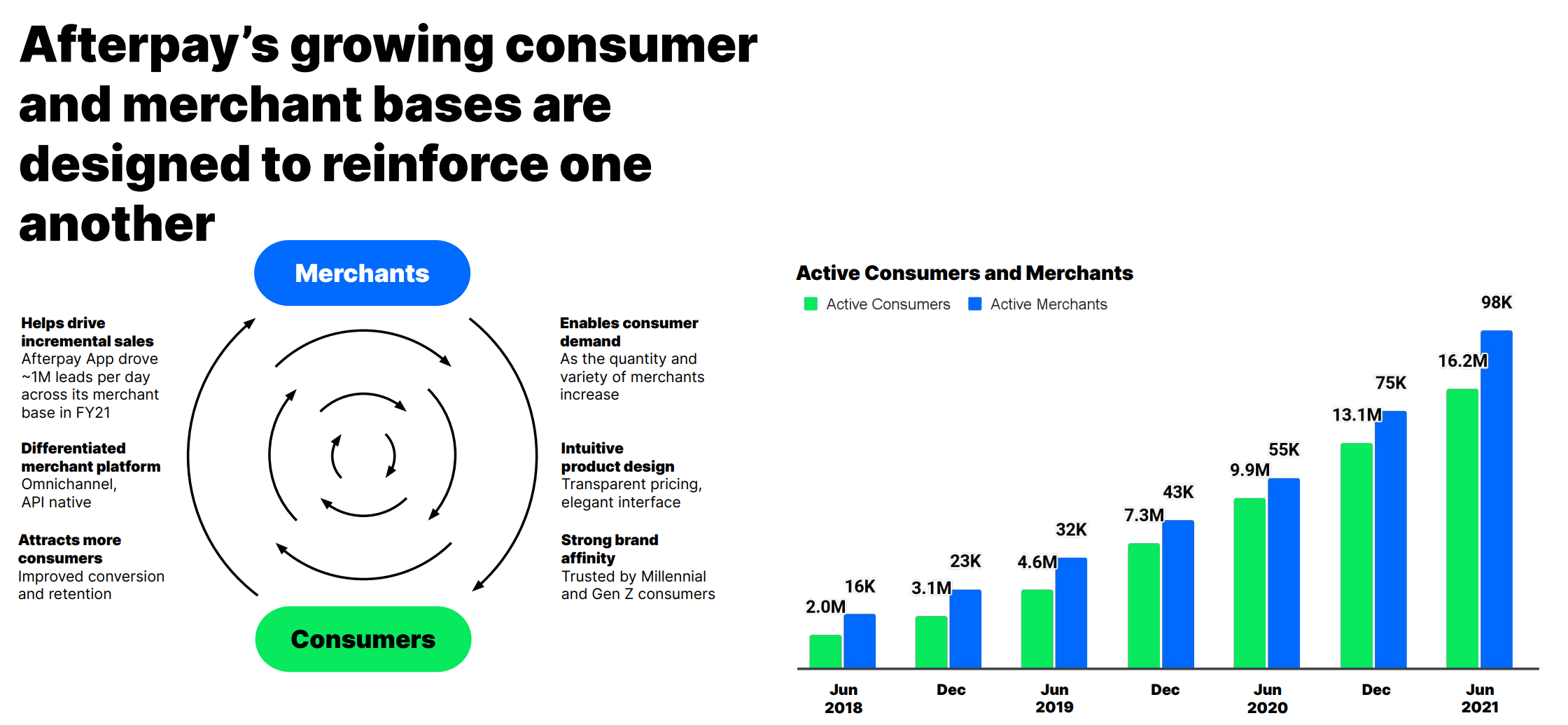 Cash App is becoming a financial/commerce super app: Commerce discovery from the Afterpay App will be integrated directly into Cash App. Cash App started as a simple peer to peer payments solution like Venmo or Paypal, but has quickly expanded to include other banking services. In recent quarters, Cash App has become akin to a full-fledged checking account, stock brokerage, and crypto brokerage combined. Cash App allows consumers to share, invest, and now spend their money with Afterpay directly in the app which should further catalyze user engagement. ARPU for Cash App has doubled between 2017 and 2019 and with the Afterpay acquisition the ARPU CAGR should accelerate. At an industry leading customer acquisition costs (CAC) of $20 compared to the average retail bank CAC of $100, Afterpay will further reduce Cash APP's CAC and can make SQ the de facto finance/commerce product for millions.
Afterpay brings ~100k merchants and 16M consumers to Seller and Cash App respectively: With Afterpay, SQ can upsell its Seller services like point-of-sale systems and Square Banking to Afterpay merchants that are significantly larger than the average Square merchant. As SQ moves upmarket, ARPU for the Seller division will slowly increase. Afterpay also brings millions of customers to Cash App and allows merchants to target the 70M+ Cash App consumers. Afterpay allows Cash App to target a higher-income and coastal US consumers that are different from Cash App's historical southeast US demographic. This will drive incremental increases in ARPU as well for the Cash App ecosystem.
Affirm becomes an acquisition target: Upon the Afterpay acquisition news, Affirm $AFRM jumped 14% as investors speculated it could be the next acquisition target.​
2. Unity Software Q1 2021 Earnings Teardown
Financial Highlights
• $234.8M revenue (+41% YoY)
o $70.4M create solutions revenue (+51% YoY)
o $146.6M operate solutions revenue (+40% YoY)
o $17.8M strategic partnership revenue (+12% YoY)
• 837 customers generated >$100,000 of revenue (+25.3% YoY)
• $939m ARR (+41% YoY)
• 140% net dollar retention (up from 133% a year ago)
Summary
Despite its inception nearly two decades ago, Unity remains one of the fastest growing B2B SaaS companies, growing at +41% YoY to $939M ARR. Their products are among the stickiest best-in-class SaaS solutions with a net dollar retention of 140%, currently fetching a 29.0x ARR multiple. Unity is very much in "growth-mode": LTM FCF margins are (10%) with 66% and 30% of Q1'21 revenue spent on R&D and S&M as they focus on gaining traction in nascent markets. As end users desperately seek home entertainment through games built on Unity's engine, the pandemic has served as a secular tailwind for the industry. Furthermore, as the imperative to digitally transform legacy industries is strengthened by the pandemic, U is in a strong position to capitalize on the adoption of real-time 3D products through continued investment in use cases outside of gaming. They have made several acquisitions throughout the pandemic to bolster their core video game development business and several offerings in adjacent industries, and are continuing to strengthen their dominance (45% market share) in global game development. Looking forward, management is optimistic coming off of recent momentum, raising guidance to ~$1.0B ARR for FY21 (+30% YoY).​
· ARR growth is among the fastest software companies: ARR is currently $939M growing at 41% YoY, and have grown from $465M ARR from the past 3 years at consistent rates of 35%+ YoY. Unity continues to aggressively invest to maintain growth, however management expects to begin to seek profitability within FY 2023.
· Best-in-class net dollar retention: Unity has consistently posted NDR rates of 130%+ driven by the quality of both content and monetization products. They are the clear go-to engine for mobile game development, and their moat is further strengthened by the switching costs associated with the industry.
· R&D spend remains substantial: At the same time, Unity remains hyper-focused on growth: they are at the forefront of breaking into new industries with R&D spend at 66% of Q1'21 revenue. Traction is gaining as Unity establishes its brand equity beyond gaming, among the construction, retail, and art industries.
Look out for the full teardown which will be sent out shortly ahead of Unity's Q2 earnings next Tuesday!
3. Product Announcement
We released an earnings calendar for this very busy week! You can check it out here: https://www.publiccomps.com/calendar​
The earnings calendar is a centralized location where you can see earnings dates for all your favorite SaaS companies. We are still in beta now, but expect to be able to add your own events to the calendar and other customization tools upon release in the next few weeks.
The Public Comps Earnings Calendar is meant to be a free tool, so anyone with a Public Comps account can check it out! It looks like August is gonna be a busy month so keep your eyes out for some earnings teardowns 👀​
Last week we also released a beta version of Public Comps in GSheets! If you're interested in checking it out, feel free to shoot us an email and we'd love to onboard you and get your feedback!
4. If you're a SaaS company and need help with taxes
Check out Anrok! Did you know software companies need to remit sales tax? SaaS companies are often subject to sales tax based on physical presence (like remote employees) or economic nexus (based on revenue and transactions) in a given state. This is something that can make a direct impact on your company's bottom line. Anrok is the modern sales tax solution built specifically for SaaS. Learn why they are the easiest way to get started here.
As always let us know if you have any questions or comments!
Special thanks to Jimmy Zhou (@jimmynzhou) for working on the Unity portion of this newsletter.
Cheers,