Weekly Dashboard 9/25/2020: Five9 (FIVN) Investment Memo
We break down Five9, a leader in cloud contact center solutions.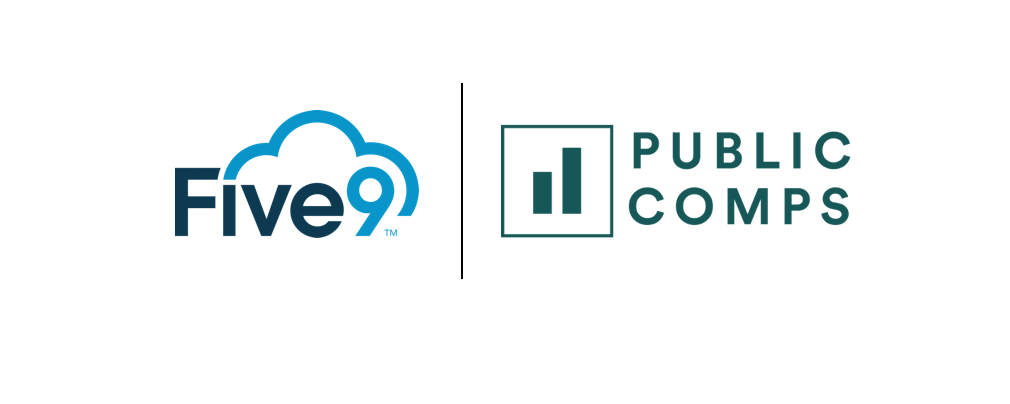 👋 Public Comps Customers 👋
tl;dr This week's newsletter breaks down Five9's (FIVN) business and outlines a high-level investment thesis on the company!
1️⃣ SaaS Stock Prices vs. Benchmarks 📊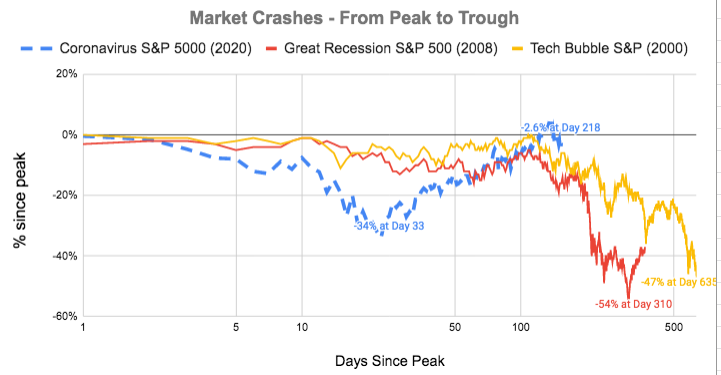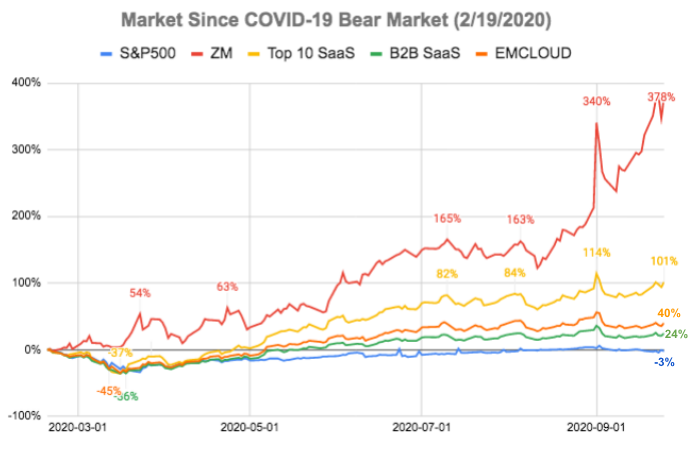 Change since bear market start (2/19/2020):
ZM: +377.7%
Top 10 SaaS: +101.3%
Bessemer Cloud Index (EMCLOUD): +39.8%
B2B SaaS: +24.2%
S&P 500: -2.6%
Change in the past week:
ZM: +13.2%
Top 10 SaaS: +8.3%
Bessemer Cloud Index (EMCLOUD): +4.6%
B2B SaaS: +4.1%
S&P 500: -0.6%
Market update 📉: This week, large caps continued their fourth consecutive week of declines – the longest such stretch in over a year – which sent the S&P 500 Index briefly into correction territory (down more than 10% from its recent peak on September 2nd). Nike's rebounding sales report helped give a boost to consumer discretionary, while tech also proved resilient, falling midway through the week but ending on a high note. Energy stocks continued to suffer the biggest declines in response to falling oil and natural gas prices, while declines in regional bank stocks due to concerns over depressed lending margins put pressure on financials shares.
2️⃣ Median B2B SaaS EV/NTM Revenue Valuations
High growth SaaS: 21.2x

All B2B SaaS: 9.4x

3️⃣ Highlighting - Five9 (FIVN) 💸
With no SaaS earnings this past week, I thought I'd visit the top returning B2B SaaS of the last 5 years: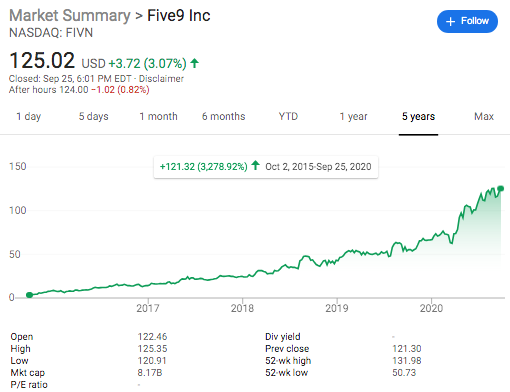 2019 Annual Report | Q2 Earnings Presentation | 2019 Analyst Day Slides | Q2 Earnings Transcript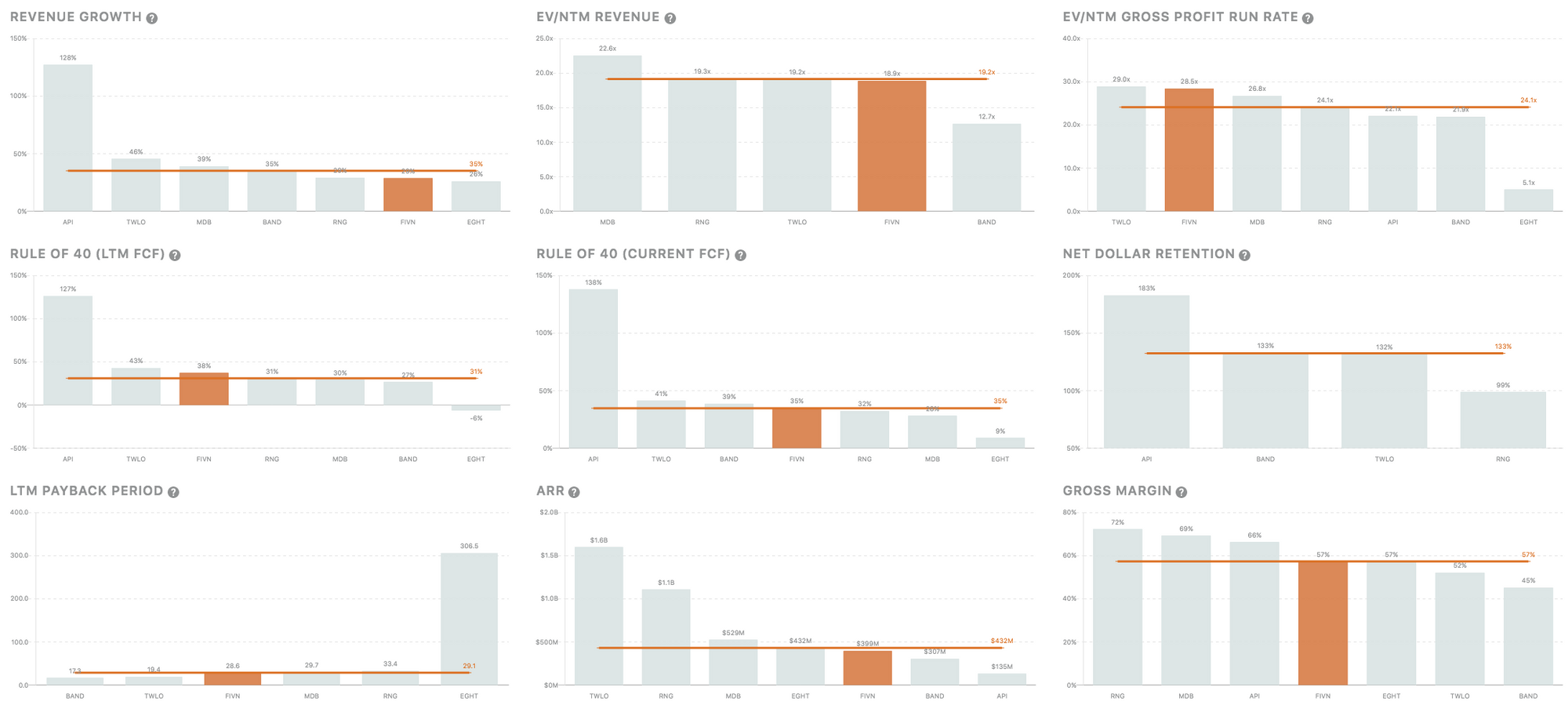 Company Overview
Five9 is a leading provider of intelligent cloud software for contact centers. Five9 was "born in the cloud," and since inception has been exclusively focused on delivering their platform in the cloud and replacing legacy on-premise contact center systems. Contact centers are vital hubs of interaction between organizations and their customers and, thus essential to delivering successful customer service, selling & marketing strategies.
Product
Five9's solution is comprised of their VCC cloud platform and applications, which allows simultaneous management & optimization of customer interactions across voice, chat, email, web, social media and mobile channels, either directly or through APIs. The VCC cloud platform matches each customer interaction with an appropriate agent resource and delivers the relevant customer data to the agent in real-time through integrations with adjacent enterprise applications, such as CRM software, in order to optimize  customer experience and improve agent productivity.
Using Five9's platform, customers can quickly deploy agent seats in any geographic location with only a computer, headset and broadband internet connection, and rapidly adjust the number of contact center agent seats in response to changing business requirements. Unlike legacy on-premise contact center systems, the solution is flexible to customer needs, requires minimal up-front investment, can be rapidly deployed and is maintained in the cloud.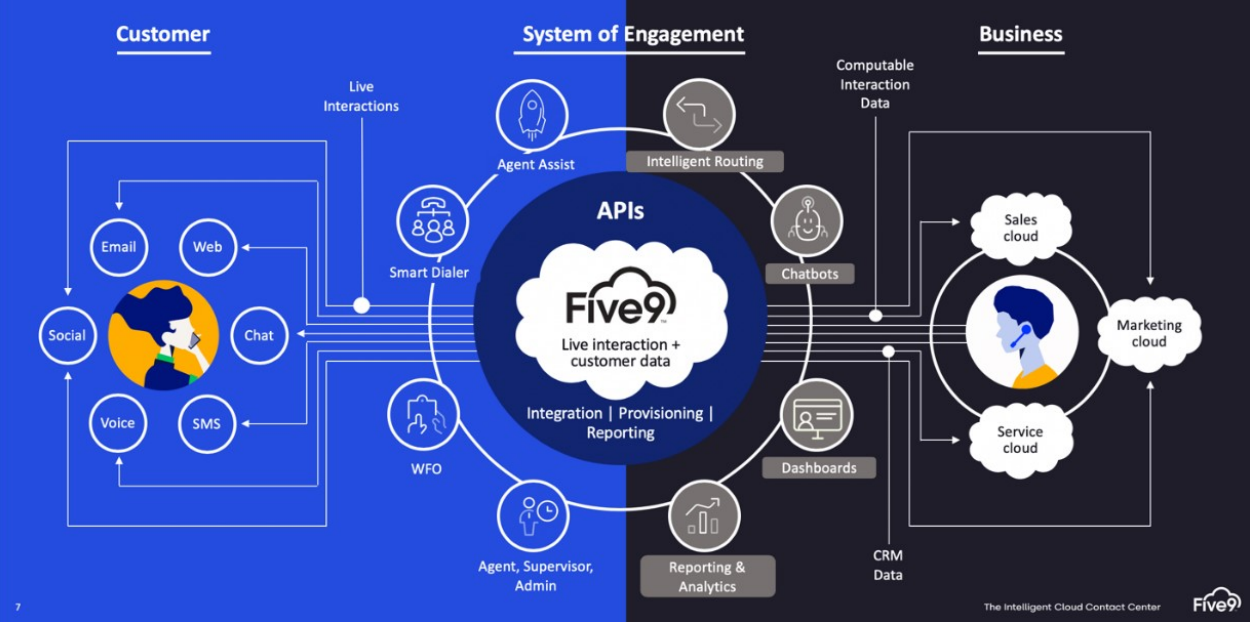 Financials
ARR of 399M (+29.1% growth  y/y)
RPO of 242M (+78.7% growth y/y)
Gross margins of 57%
Free cash flow: 5.9M in Q2, (6% margin, +132% growth y/y)
686M of cash
Net dollar retention of 105%
LTM Payback Period of 28.6 months
Why Cloud Contact Centers are the future:
On-premise systems require large up-front investments, long deployment cycles and are burdensome to maintain. As a result, cloud contact center software solutions are replacing legacy on-premise contact center systems.
On-prem contact centers systems have long and complex implementation and upgrade cycles. Implementation requires long deployment timelines and complex integrations with other enterprise systems. Once these systems have been deployed, integrated and customized, upgrades and modifications can be extremely challenging. Due to these customized solutions and complex integrations, clients will often forego or postpone upgrades for fear of disabling key functionality. If they do choose to upgrade, clients are often required to rebuild integrations in order to retain full functionality, which frequently results in significant expenditures of time, resources and capital.
On-prem has inflexible resource deployment. As organizations expand globally, they require the ability to easily manage remote agents and quickly adjust agent seats to accommodate peak call volumes. Most legacy on-premise contact center systems do not provide these capabilities and, as a result, their clients are typically unable to quickly scale their contact center operations in response to changing business needs. This often results in costly over-building of additional capacity to accommodate peak volumes.
On-prem results in duplicative technology stacks across multiple sites. Organizations must integrate multiple contact center sites to drive efficiency and create a unified customer view. Organizations running on-premise systems often find themselves with dissimilar systems at each site resulting in non-integrated and inefficient silos of technology. Moreover, technology at each site is in a constant state of change over time. Thus, the initial & ongoing integration of these contact center sites for such organizations requires significant ongoing investment.
Market Opportunity
The contact center space is incredibly large & fragmented.
Market Size:
I generally pay little attention to TAM sizes, and think its both difficult & meaningless to try and quantify, with precision, an accurate value for something extremely large and growing; however, Five9 repeatedly cites their serviceable contact center software market to be 24B, of which they believe cloud has only penetrated 15%. More importantly, they believe theres a 234B obtainable market based on an additional $210B of contact center labor spend that they can further penetrate.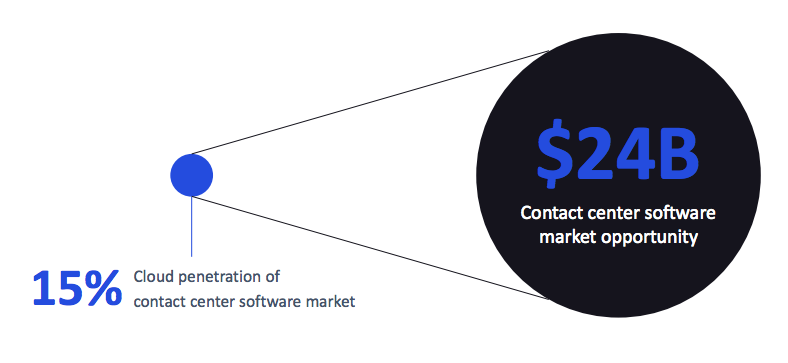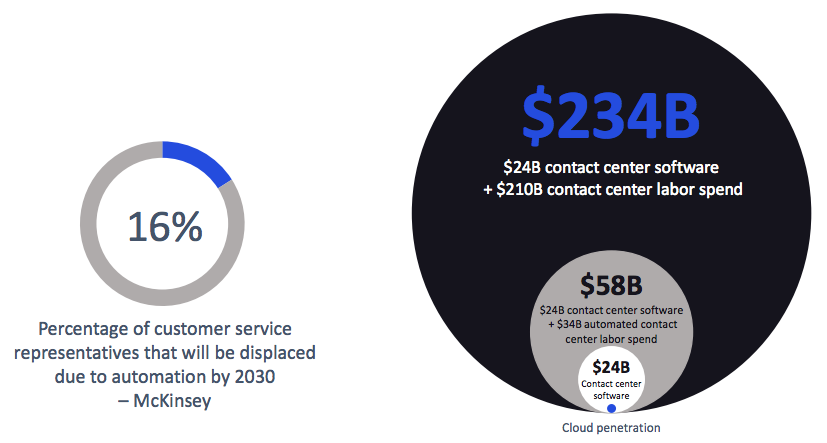 Industry Overview:
Five9 cites significant opportunity to win market share from legacy on-prem contact centers, which includes large players Avaya and Cisco. These legacy technology and software companies are increasingly supplementing their traditional on-prem contact center systems with competing cloud offerings, through a combination of M&A, partnerships, and in-house development. However, a faster growing threat are the solutions aimed at companies who wish to build their own contact centers with in-house developers, such as Amazon or most notably, Twilio Flex – these allow customers to become their own builders of software and represent the supply chain to do so.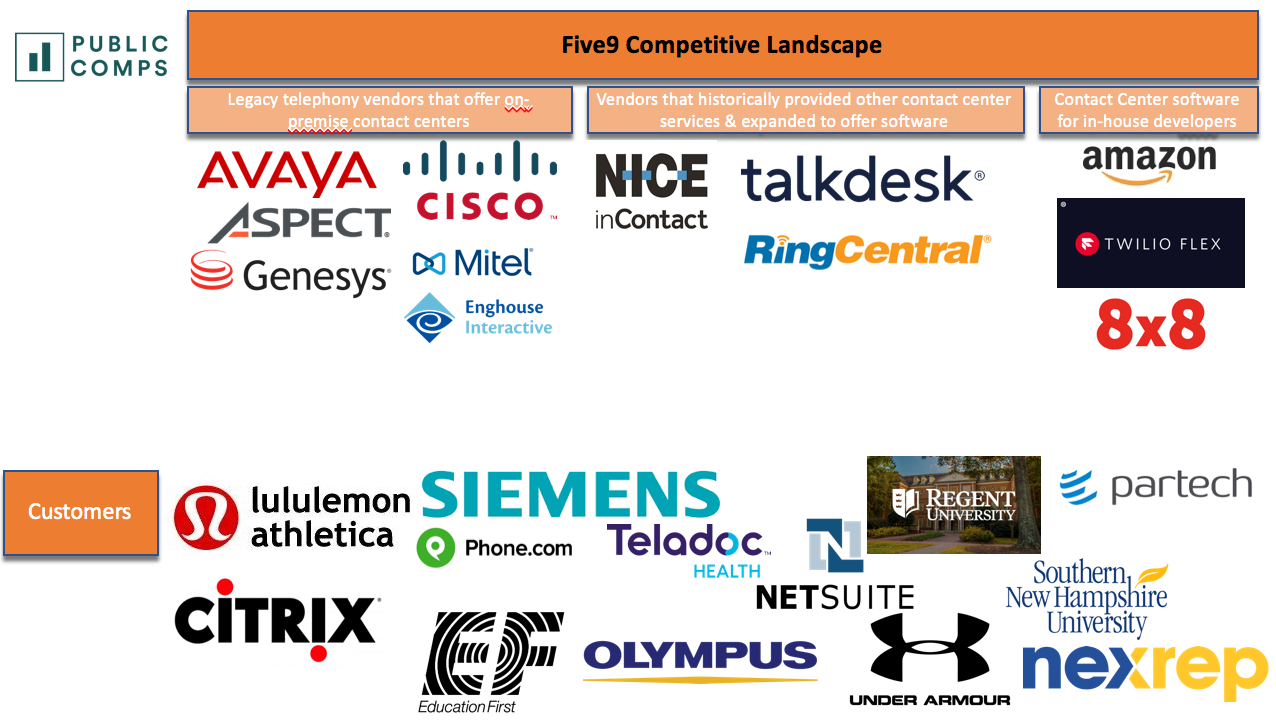 Why FIVN wins:
Rapid implementation - FIVN's solution is designed to be deployed quickly and seamlessly with minimal disruption to a client's operations. The pre-built integrations with leading CRM and other enterprise applications reduce the complexity and burden of-effort of integrating with the client's business applications.
Breadth of integrations:
Highly flexible platform - FIVN's solution provides easy administration, configuration and role-based functionalities for agents, supervisors and administrators enabling the rapid adjustment of contact center resources to meet a changing mix of contact channels and peaks-and-troughs in contact volumes.
Higher agent productivity - FIVN empowers agent productivity and effectiveness by allowing agents to handle both inbound & outbound calls and interact with customers across multiple digital engagement channels, including voice, chat, email, web, social media and mobile. This gives agents the ability to switch between media channels through an easy-to-use, unified interface that provides agents with all of the relevant content and tools needed to complete the task at hand.

Improved customer experience - FIVN's intelligent contact routing and self-service IVR capabilities, pre-built CRM integrations, and multichannel engagement ensure that customers receive an omni-channel experience.
Management
CEO Rowan Trollope is a proven industry veteran who joined Five9 in 2018 after serving as Senior Vice President & General Manager at Cisco, and Group President & Senior Vice President at Symantec.
High-level Thesis
1. COVID-19 accelerated removal of barriers to adoption, and cloud contact centers, historically early on the S-curve is seeing inflecting demand which creates a de-risking event and improves unit economics
Customer service and customer retention have become even more critical: Contact center engagements are moving to the forefront of customer experience. COVID-19 has effectively converted jobs from brick-and-mortar retail sales and service people to contact center agents, making contact centers the new front door for many businesses. Management noted in their Q2 earnings call that they'd also heard from enterprise customers that they see this as an "opportunity to disperse their agents geographically for risk management purposes and to access a wider talent pool".
Five9 is winning market share from legacy on-prem players Avaya and Cisco: FIVN highlighted two of the biggest deals they closed in Q2, closing a logistics company that failed to provide them the automation and the operational efficiencies they desired as well as a retail servicing company which switched from Cisco to Five9 because of it's robust omni-channel solution along with a full WFO suite, including speech and desktop analytics, workforce management and performance management. both of those deals were ones that we've been working for some time and that were in the pipeline already prior to COVID.
This has increased net dollar retention rates: LTM DBRR increased to 105% from 103% last quarter. Management noted that their continued success in winning larger and larger enterprise customers is expected to continue to cause fluctuations as these customers come on to the platform at different times and ramp at different rates.
Switching costs are high: in the context of winning market-share from customers previously using on-prem vendors, this has been difficult because on-prem solutions have deeply integrated workflow with in-house information systems. However, once acquired, customers generally have high retention. The compelling contribution margins lead to attractive unit economics. Five9 estimates that for every $1 of CAC, they get $6 of gross profit dollars over the next 5 years.
There's plenty of runway ahead: organizations typically refresh their on-premise contact center systems every eight to 10 years, which provides an opportunity for cloud solutions to replace legacy on-premise contact center systems when these replacement decisions arise.
Inflection point is de-risking: The inflection point not only creates incredible unit growth, but it also reduces risk because one of the biggest drivers of tech company failures is faltering demand or demand well below expectations. It's very hard for that to happen in the middle of an inflection point on the S- curve.
2. FIVN's breadth of partners creates strong competitive differentiation, especially from solutions that enable the development of their own contact centers.
As our economy has turned into a digital economy, and every company is becoming a software company, customers want to engage over digital interface. Solutions that enable the development of their own contact centers represent the supply-chain for companies as they become builders of software and represent the biggest threat to Five9's business because software is a source of competitive advantage.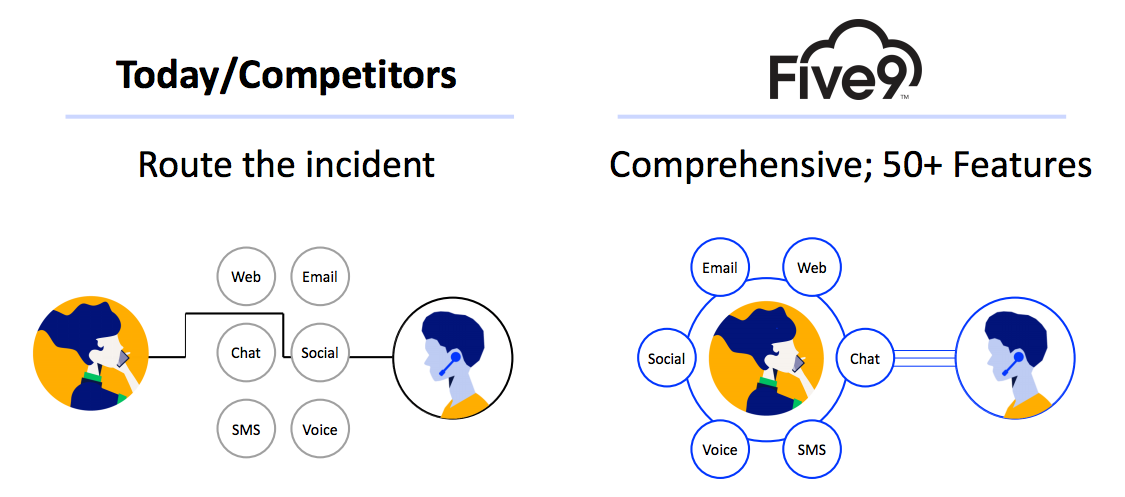 Increased customization of contact center software through integration partners has lower friction and fast time to deployment. Despite typically longer sales cycles, Five9 is disproportionately benefited during the outset of COVID-19 as a large number of enterprises were forced to digitally transform, turning to cloud vendors and revenues will continue to accelerate as some deals were pushed out of the quarter.
RPO acceleration: management noted that not only were bookings from global SIs more in Q2 than all of 2019 combined, but it also represented an all-time record as Five9 continues to strengthen partnerships with Deloitte, IBM, Slalom, EY and Accenture. This momentum validates the number of large enterprises embarking on digital transformation and cloud migration projects. In addition, our master agents and resellers continue to execute with an increase of 53% y/y in bookings and strong pipeline growth in the near-term future.
Five9's breadth of partnerships also provides them operating leverage as they can afford to spend less on R&D:
This leads to an attractive long-term margin profile:
and continued confidence in their demonstrated path to profitability:
3. Five9 has historically catered to the SMB market, but COVID-19 accelerating digital transformation & Five9's acquisition of Whendu make them well-positioned to capture enterprise customers, which is a largely unpenetrated market.
Five9 announced the acquisition in late 2019: Whendu is an iPaaS (platform for building & deploying integrations within the cloud and between the cloud & enterprise) designed to address the requirements of the contact center — built by executives with solid contact center (and Five9) credentials. Ray Soto, CEO of Whendu, was a co-founding engineer of Five9, in 2001. Gus Laredo and James Southworth joined Soto at Five9 as founding salespeople. In 2014, the three founded Whendu.
Acquiring Whendu highlighted management's focus on penetrating enterprise customers, an area they're still very early on.
Whendu expands customization abilities, a key factor for enterprise customers: With Whendu, Five9 wants to empower the citizen developer to address the integration challenges in their operations,Whendu supports citizen developers with a no-code solution. The design tool solves an important problem for the segment of the customer base that doesn't have developers in their IT organizations to write code but also provides customization to larger enterprises that have developers and want to build their own software – helping them combat Twilio Flex.
I also like this move because it demonstrates that management is forward-thinking with their product, and recognizes that the future of cloud contact centers isn't just in the cloud, but a platform that enables customers to build their own software.
Risks
Competition: Twilio Flex, Amazon, RingCentral all represent significant threat and contact centers are still an early & large market.
Payment extensions: Management noted that in Q2, they ultimately received a "meaningfully larger amount of $4.7 million in payment extension requests due to COVID related challenges. However, a large majority of the customers became current on their accounts, resulting in reserves of $800,000, which represented only 17% of their requests. This $800,000 was a headwind of approximately 1 percentage point on the Q2 year-over-year corporate wide reported revenue growth."
Lengthening sales cycles: as expected, payback period has been increasing as COVID-19 pushed many enterprise deals out of the quarter.
Valuation
Based on the target margin profile that management guided for (shown above), I estimate long term FCF margins to be 31.5%. I think operating margins continue to improve as FIVN has demonstrated a path to profitability. I believe revenues continue to see slight acceleration in 2H2020, and 2021 to be strong from large enterprise deals that were pushed out of the current quarter.
I chose EV/NTM Rev multiples based on comps, with their profit margins growing at those rates and sanity checked with both EV/FCF and LT EV/FCF multiples valuations assuming 31.5% long term FCF margin.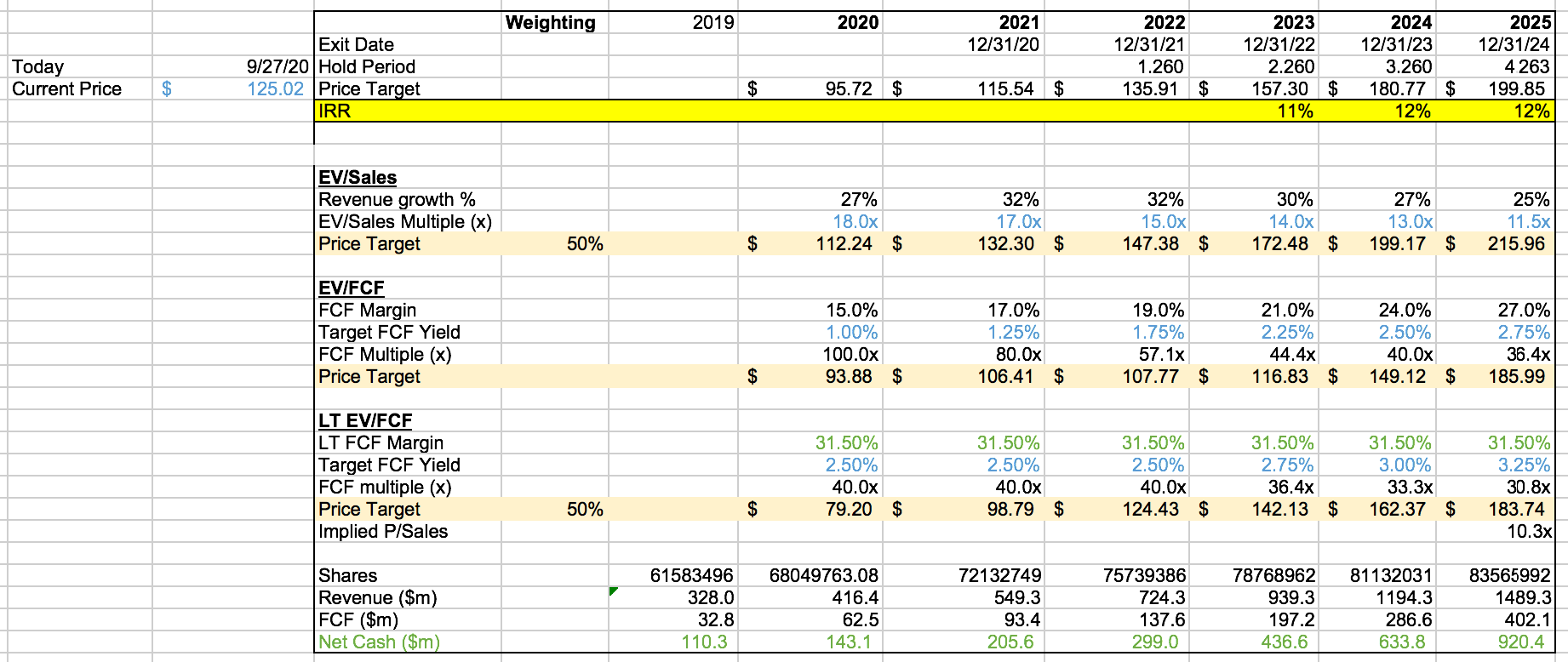 I don't find the current valuation compelling enough to take a position (I'm typically looking for 20+% IRR), and don't think the short-term reward/risk is favorable, especially if sales cycles continue to length and top-line doesn't accelerate to the expectations of the buy-side.
If anyone has any questions/feedback, feel free to reach out!
Stay safe everyone,
Albert Wang, Public Comps Team
albert@publiccomps.com
Like these weekly dashboards? These are for Publiccomps.com customers only but you can have your friends subscribe to the newsletter here where we send out investment memos, market maps and analysis on the broader SaaS market.

Views expressed in theses emails are ours and ours alone and don't represent that of our previous or current employers. Public Comps provides financial and industry information regarding public software companies as part of our weekly dashboard, our blog, and emails. Such information is for general informational purposes only and should not be construed as investment advice or other professional advice.
Full disclosure: I own CRWD, TWLO, SHOP, LVGO, FB, MSFT, DDOG, ESTC, AYX, SMAR, PLAN, ZM and BILL.