Public Comps - Sample Weekly Dashboard 2/28/2020
For our paying customers, we send out weekly dashboards of what EV/NTM SaaS multiples are, what are best in class metrics, and analysis on earnings & IPOs.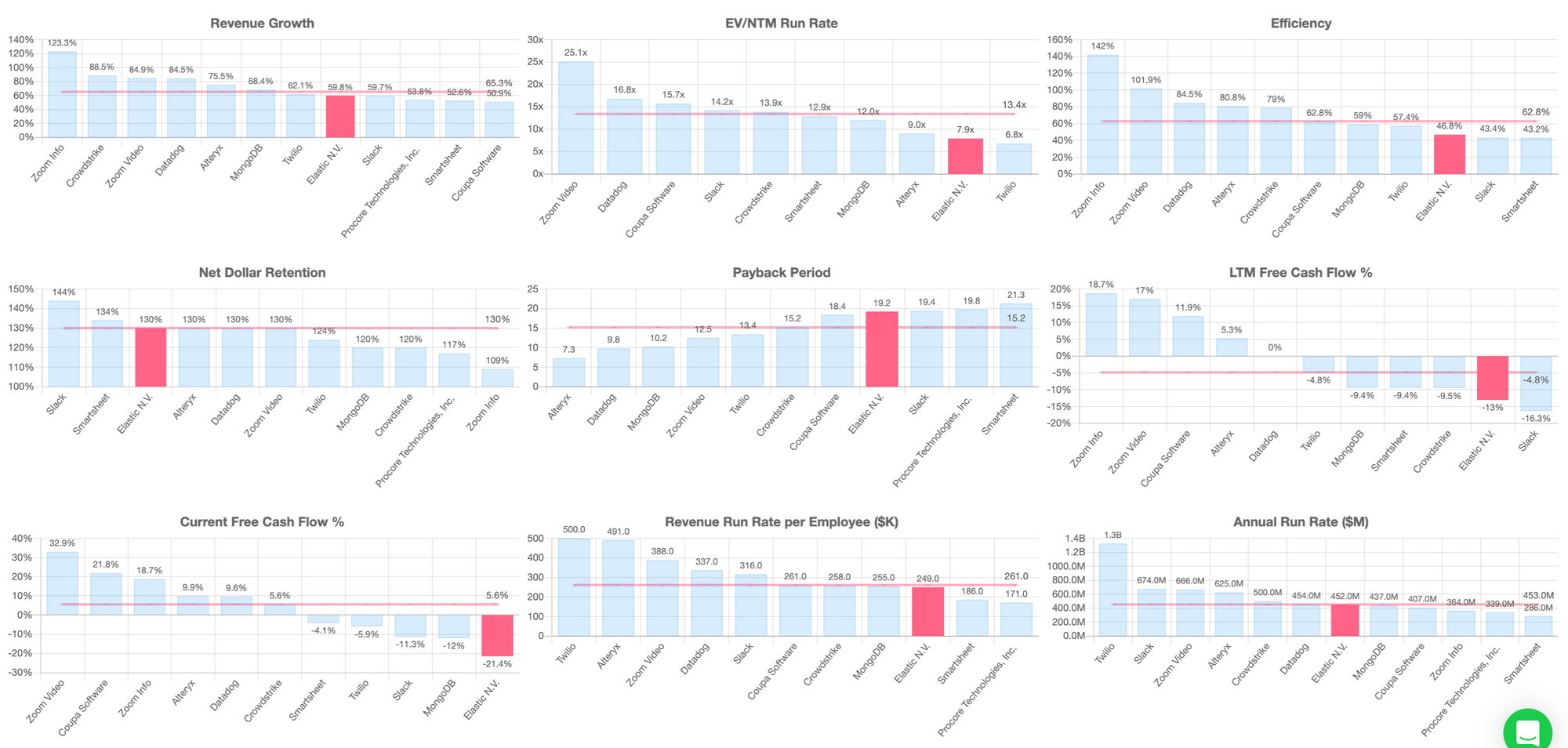 Here's a sample of what we send out to our paying customers every week. If you're interested, you can subscribe here https://www.publiccomps.com/#pricing
Median B2B SaaS Valuation Multiples: 8.0x

B2B SaaS Multiples dropped due to Coronavirus concerns: -10% from last week (8.8x 2/21/20)
Despite the drop in SaaS multiples, we're still well above the 7.2x EV/NTM Revenue at the trough of Oct'19 during the Q4'19 SaaS selloff
Note: we're getting our NTM Revenue source from Zacks.com which we take the median analyst estimate of NTM revenue.
You can see the list of our 80 Public B2B SaaS Companies here
SaaS Earnings & IPOs:
Earnings: we had quite a few earnings but highlight 2 that stood out.
Elastic (2/27/2020: The Developer focused Search & Analytics company reported for Jan'20 $416m ARR growing 60% YoY with -13% LTM FCF margins. Growth rate decelerated by 85% from 70% YoY in Jan'19. Stock price went up significantly given the reacceleration from previous quarters of 58% and 59% YoY in the last 2 quarters. It's worth noting the business has >130% Net Dollar Retention and one of the true Product-Led Growth companies where you can swipe a credit card and start playing around with their product. https://ir.elastic.co/financials/quarterly-results/default.aspx.
Adyen (2/27/2020): Payment Platform reported $496m of revenue in FY19 growing 43% YoY with 56% EBITDA margins 😮. Rule of 100 anyone? Growth primarily driven by enterprises. Launched Adyen Issuing in Q4'19 to allow merchants to issue pre-loaded debit cards to, say, drivers for payment at pickup at a restaurant. https://www.adyen.com/investor-relations/H2-2019#section1
IPOs: we had two high growth SaaS companies release S-1s this week. Note, we did teardowns and added the metrics to our database within a few hours of the S-1 getting released. You can't get this quality & timely SaaS metrics anywhere via CapIQ, Bloomberg, Pitchbook because Howard and I literally sit in front of our computers and enter these metrics ourselves 😂.
Procore: see our teardown here. $339m ARR growing 55% YoY with -10% LTM FCF % with 117% NDR. Reminder that software is still eating the world and just getting started in the $10T construction market.
Zoom Info: see rundown here. $360m ARR growing 123% YoY with 10% LTM FCF % with 109% NDR. Note DiscoverOrg acquired a bunch of players so a lot of growth is from M&A.
Benchmarks:
See how Elastic, Procore, and Zoom Info stack up against the other top fast growing SaaS companies here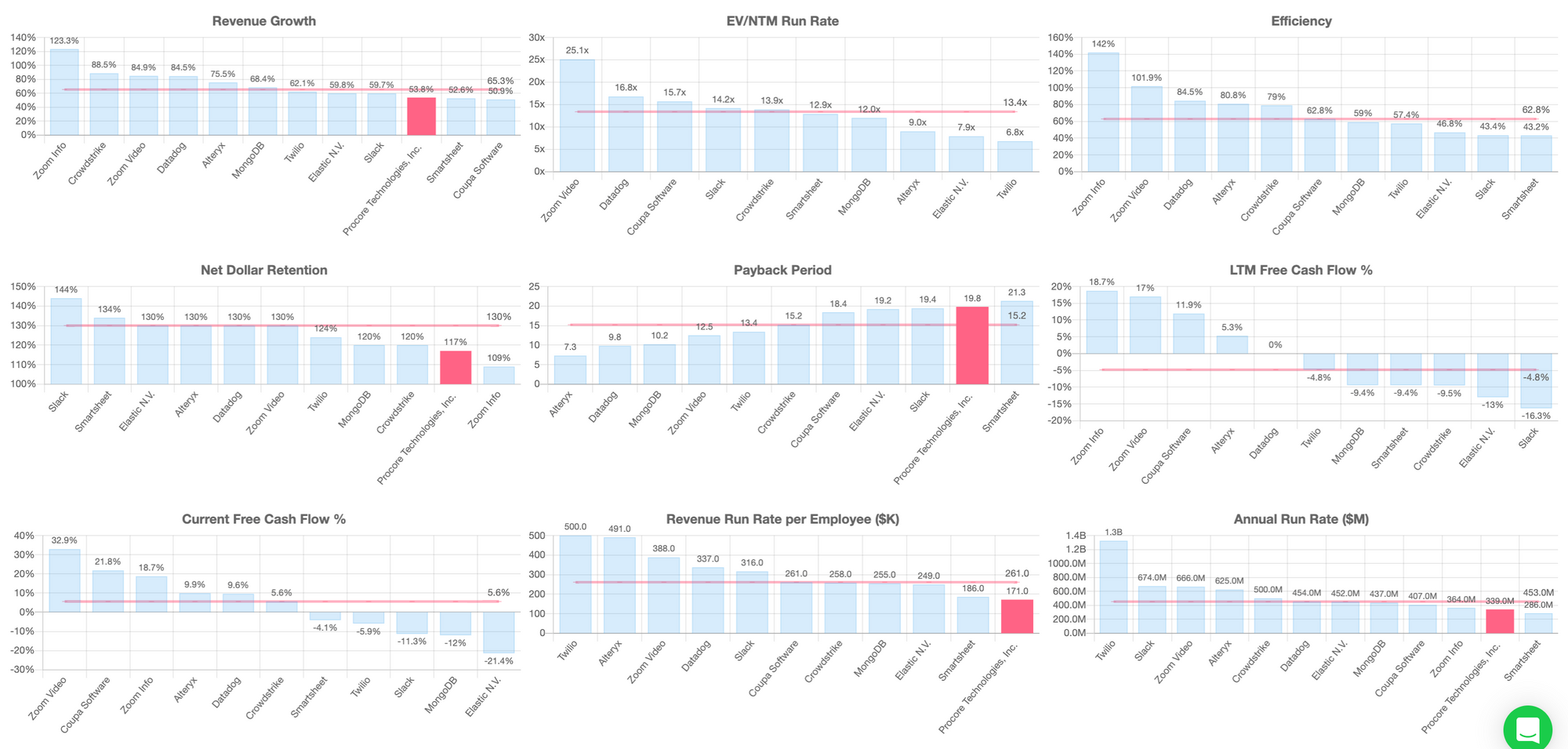 Customized Dashboard
Prefer quarterly dashboard reports or a certain category like "Data & Analytics" or "Developer Tools"? Email me and I'll switch you to our quarterly reporting cadence or customize your weekly dashboard.