Public Comps Dashboard 10/17/2021: Zoom's Post-Five9 Fallout
We break down a variant perception of Zoom $ZM in the shadow of the Five9 acquisition fallout.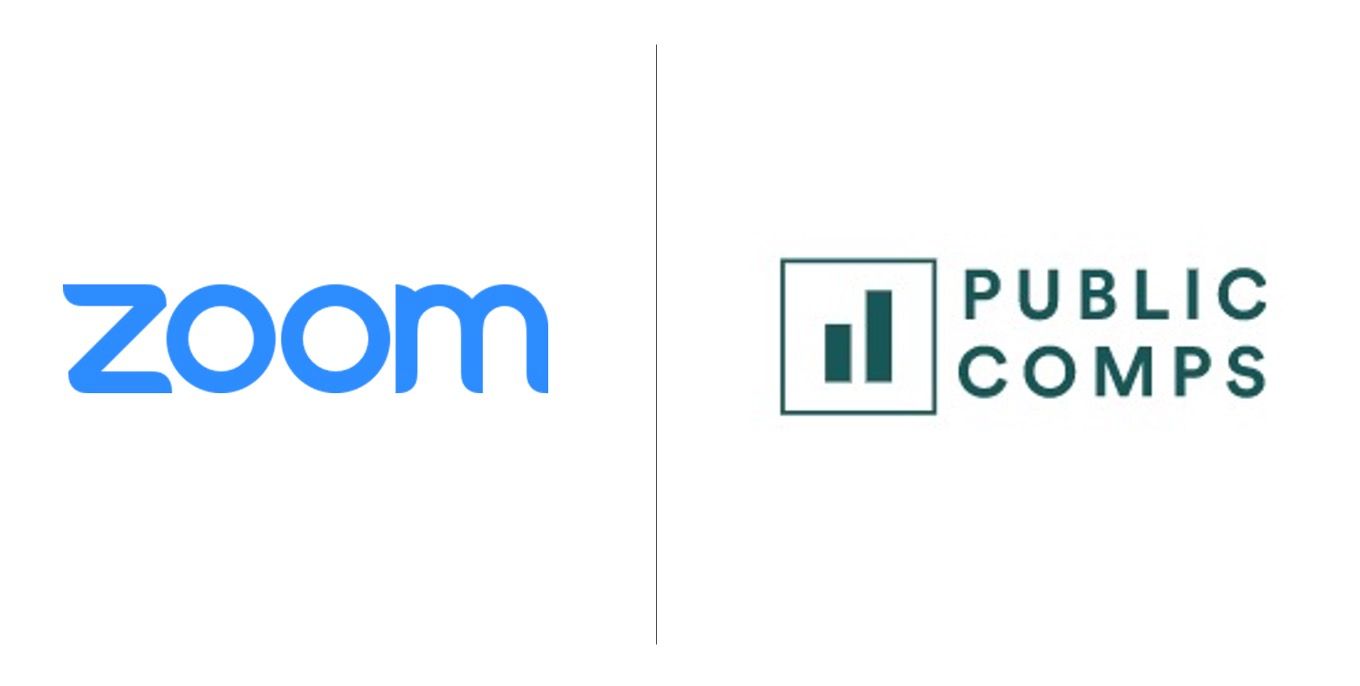 👋Public Comp-ers!👋
After seemingly endless hypergrowth fueled by the pandemic, investors think Zoom's engine is coming to a stall ❄️
In the shadow of the Five9 deal fallout and a slow Q2, we break down a variant bull view on Zoom.
Read the full post in-browser here 🔥
1. An Update on SaaS Performance 📈
But first, a brief update on software multiples: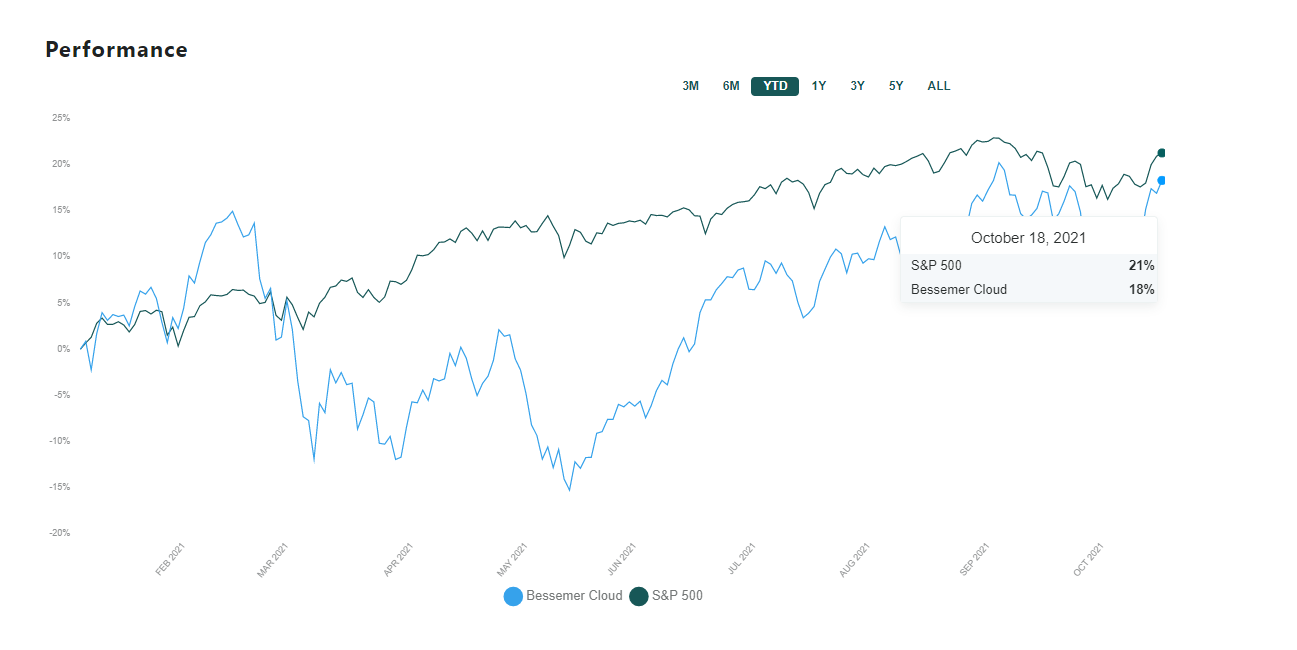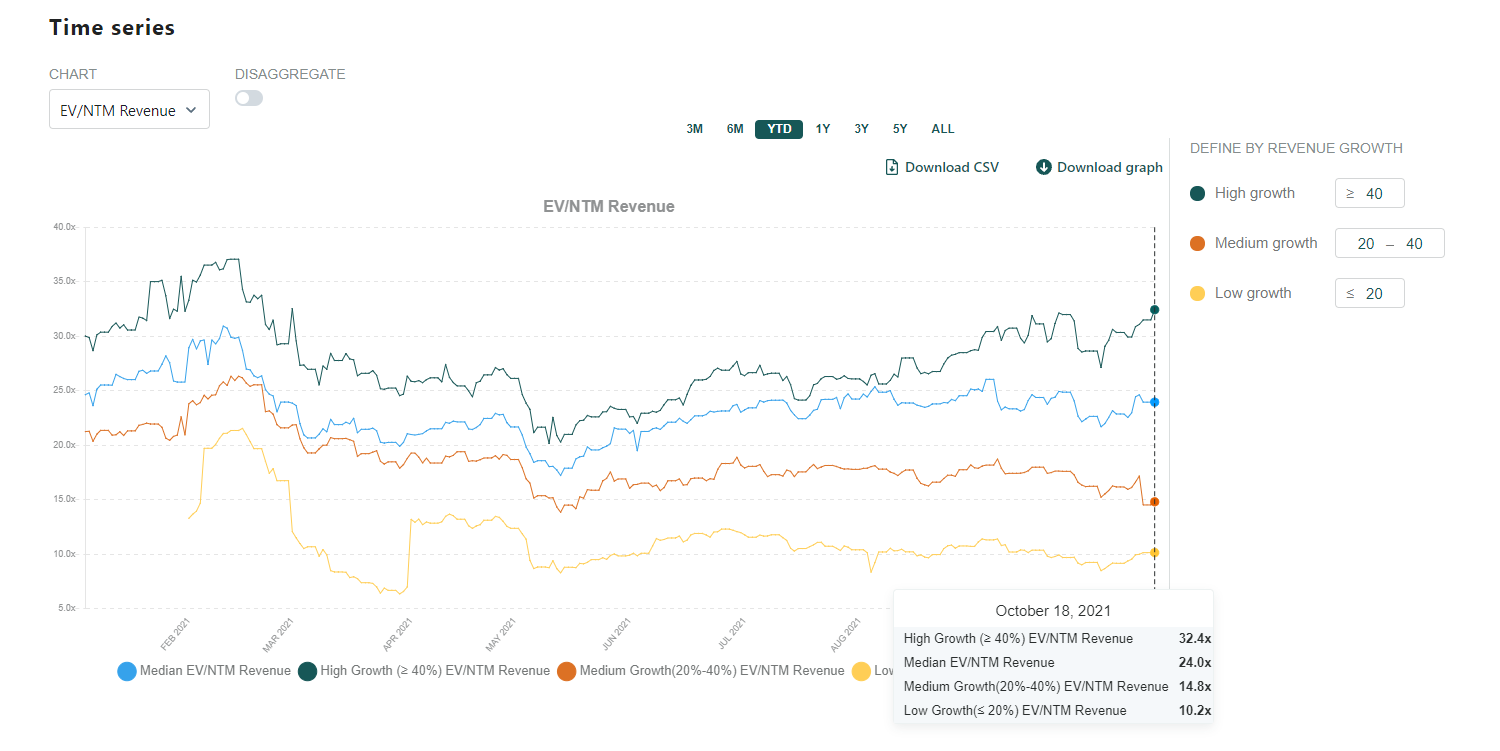 Bessemer Cloud and S&P 500 performance are matched: YTD performance and volatility of the Bessemer Cloud Index is somewhat expected, given that the tailwinds for virtually every software company are being scrutinized by investors as vaccination rates rise and offices reopen.
Software multiples inch closer to Q1 2021 highs: Coming off of a huge Q2 earnings season, investors are reaching toward levels of optimism closer to what we had seen at the beginning of 2021. High growth companies (defined as >40% revenue growth) on average trade at 24.0x NTM Revenue, which indicates many tailwinds from the pandemic may indeed be secular as the line between the present and "back to normal" is blurred. November will be another big earnings month for best-in-class software names to defend the thesis of perpetual change due to the pandemic.
2. The Bull View on Zoom Entering 2022 🔎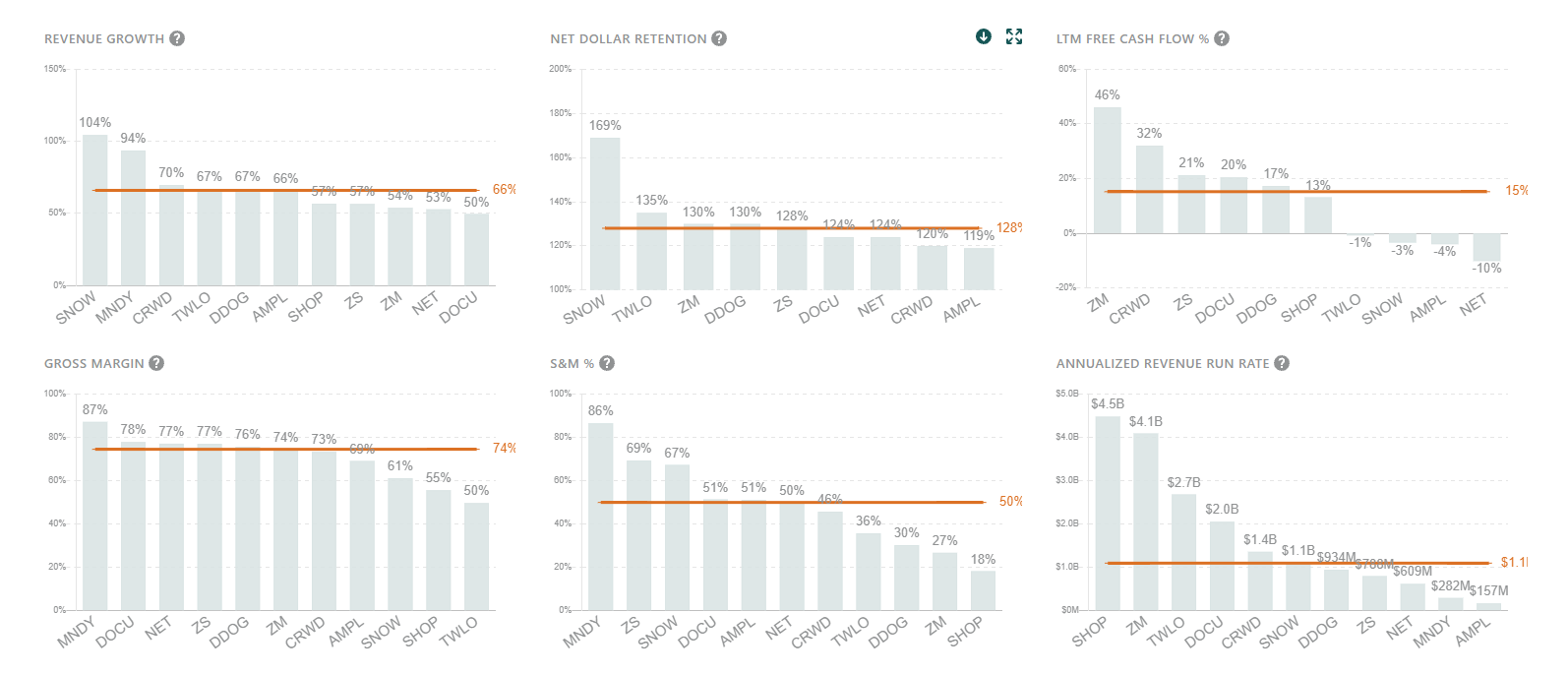 Overview
Founded in 2011, Zoom was founded by immigrant Eric Yuan, who has spent his the majority of his entire career striving to make virtual connections between loved ones more personal than ever.
Before Zoom, Eric was one of the first 20 hires at now-competitor Webex during the tech boom, but decided to leave to start Zoom after 10 years.
His reasoning: Webex simply "wasn't very good". It was choppy, had scaling issues, and the product experience was not the best. The last point is a vital part of software businesses that I think is easy to underestimate, but Eric felt he had the experience to make a better alternative.
Before diving in, I'd like to share quote to help understand the strength of Zoom's founder-led management team. This was Eric's mindset after having his visa rejected eight times:
"I'll do all I can until you tell me that I can never come here anymore. Otherwise, I'm not going to stop."
I can't speak for all, but that's mindset I'd want to have in any operator.
And he's backed it up with the team: Zoom initially faced endless amounts of criticism around scalability and security, but they've done an excellent job and continue to iterate from customer feedback. The importance of execution is another easy factor to underestimate; in reality, it's one of the most important considerations for a strong software business.
Product
Zoom is best known to be the leading cloud-based video conferencing software that has beautifully become a verb during the pandemic.
Zoom Meetings: the bread and butter, best-in-breed videoconferencing software. Anecdotally and across almost every software review site, Zoom is most reliable for its quality and frictionless user experience.
Everyone knows and loves Meetings, but other notable solutions include:
Zoom Phone: a full phone system on the Zoom platform. In-office desk phones can seamlessly be transferred to a video Zoom call, mobile Zoom call, or a Zoom room.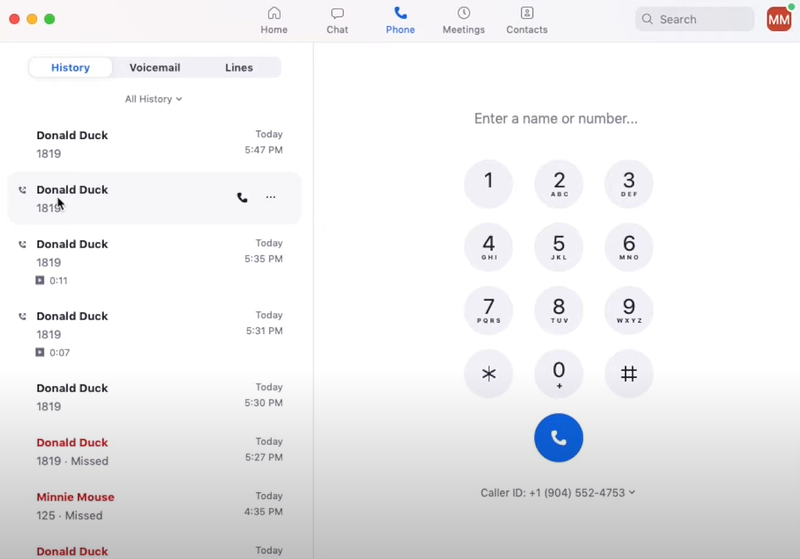 Phone is a big area Zoom is looking to expand into and they've just hit 2 million Zoom Phone seats in Q2. It's a very natural upsell as organizations look to unify their digital communications, and it's also Zoom's entry point into the contact center market they plan to organically tackle in 2022 now that the Five9 deal is off.
Zoom Rooms: software/hardware solution for Zoom meetings to be configured for in-person huddle rooms to interact with virtual participants. Zoom has hardware partners that make it easy to set up (hardware-as-a-service is an option) or compatible devices work.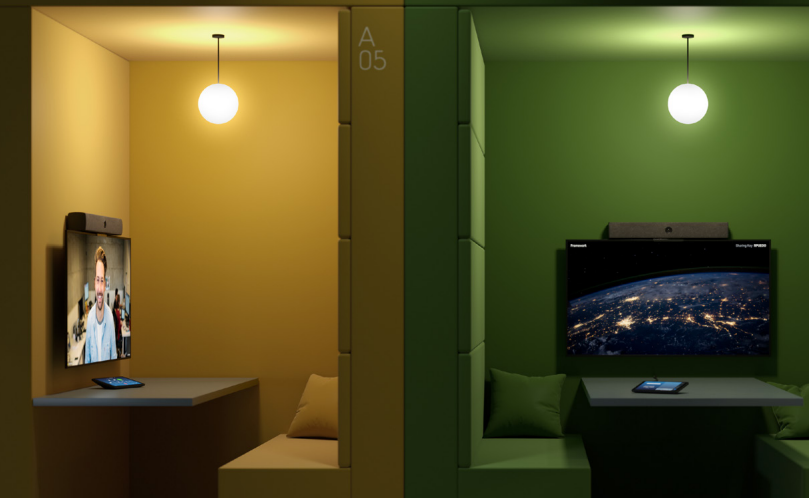 Zoom Developer Platform and Zoom App Marketplace: developers can integrate Zoom products with their applications, which can then be downloaded by users to enhance experiences.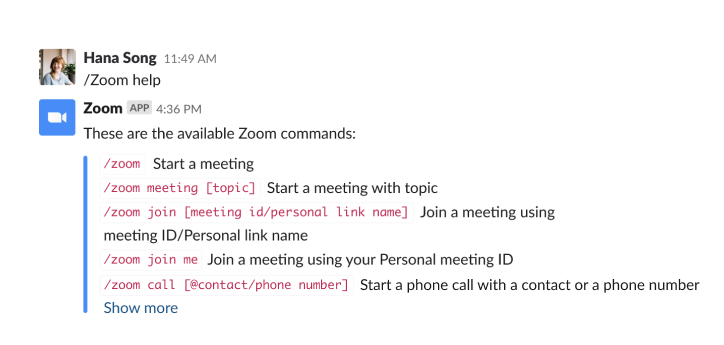 Competitors like Teams also offer a similar #5, meaning switching costs for both products are higher because swapping out integrations takes time.
In actuality: Zoom is the leading pure play videoconferencing software solution, but are expanding to become the go-to platform for enterprises and individuals to communicate digitally.
Business Model & Revenue Breakdown
Per the S-1: We generate revenue from the sale of subscriptions to our communications platform.
Zoom's business is almost entirely recurring with subscription revenue from Zoom Meetings, Rooms, Video Webinars, Phone, Events, and Hardware-as-a-Service products.
Higher tiers of pricing offer incremental functionality, which is consistent across the board. Pricing tiers for almost all products are similar, as tiered usage-based subscription models: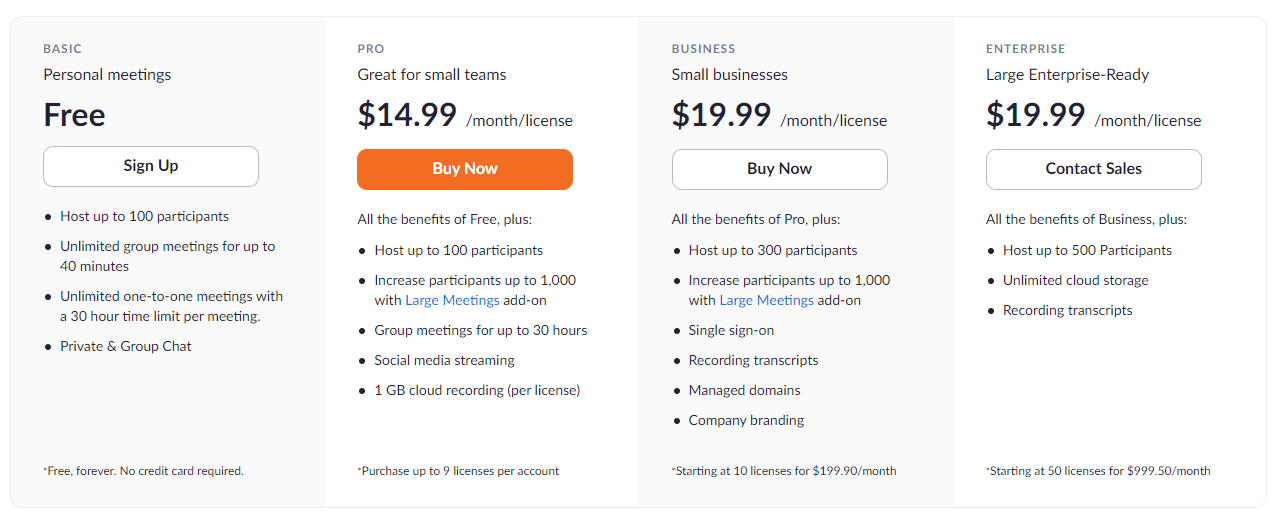 Unsurprisingly, Zoom has the biggest head start in what it became known for during the pandemic. Back-of-the-envelope calculations estimate Meetings is 85%-90% of the business, Phone is 5%-8%, with the remaining for other existing products.
Management's goal is for that breakdown to be a more diversified, in the spirit of being a true unified communications platform:
But in the future, [I think] Zoom Meetings should be approximately 50% of our revenue and Zoom Phones should then be contributing somewhere in the range of 25% to 35%. And then that leaves 15% to 25% of revenue to be coming from Zoom Rooms, Zoom Events, Contact Center, Zoom Apps... – CFO Kelly Steckelberg
The Bull Case for Zoom Entering 2022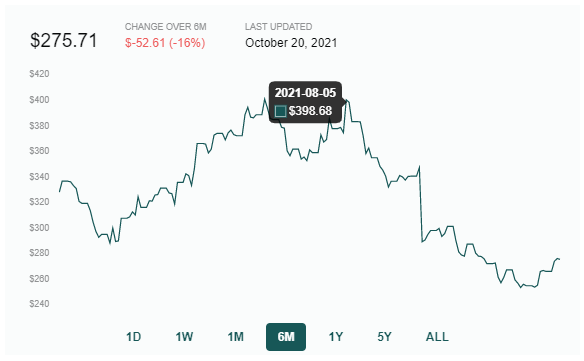 With ~47% of the world having received at least one dose of a COVID-19 vaccine, ~56% of the US population fully vaccinated, and recent approvals of booster shots, investors are only becoming more wary of a world where there's a significantly lesser need for video communications. Down 16% post-Q2 to $275/share in the shadow of recent revenue deceleration, I don't believe that anyone doubts slowdown in growth when compared to 2020 explosiveness. However, the impact on Zoom's multiple may be overstated relative to other similar growth comps given its current growth rates.
The market has a few valid reasons to view Zoom from a more pessimistic lens than its peers due to 1) growth slowing because of offices reopening; 2) fear of churn because of a purported lacking moat in a competitive market; 3) termination of Five9 acquisition. They are fair concerns, but the current share price may be reflective of overly pessimistic views relative to Zoom's steady-state intrinsic value, addressed below.
High-Level Bull Case
1. Flexibility for a hybrid workplace, if not fully remote, will remain for ubiquitous in almost all industries post-pandemic.
Likely the most debated topic: how the world will look after herd immunity (>90% infection or vaccination) is reached, which is critical to continue fueling Zoom's growth over the next five years. There is a substantial amount of evidence that supports the bull case – an updated report done by McKinsey this May showed that 90% of executives said they would combine remote and on-site working post-pandemic because of increased productivity.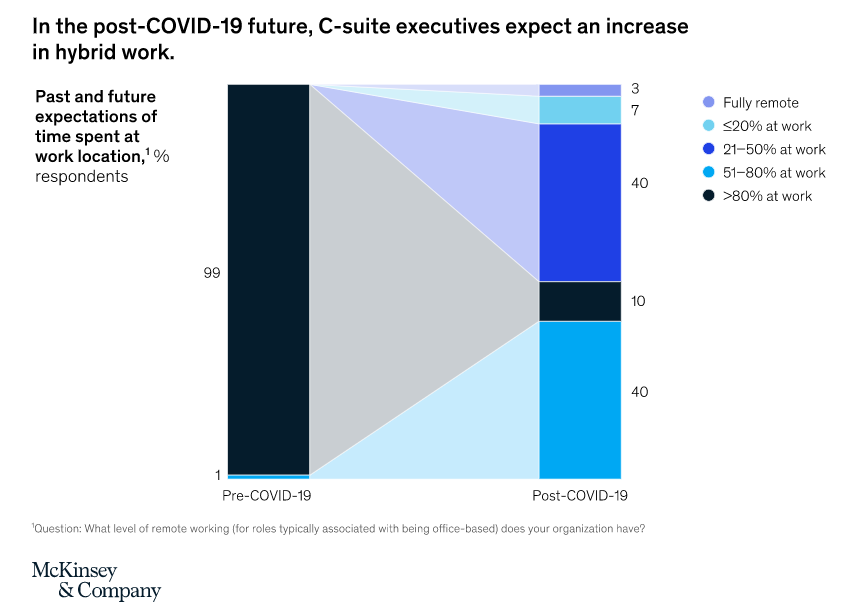 For most executives, it seems the question isn't whether or not hybrid will be an option; it's instead a question of "how much", and organizations will need to accommodate for those who choose to do so.
It's worth noting that many tech companies and their employees around the world are opting for fully remote / hybrid workforces. It seems as if startups and smaller tech businesses are following in the footsteps of the behemoths like Twitter, Google, Square, Shopify, and others, as companies realize the habits their employees prefer from a productivity standpoint.
Zoom Phone will also benefit from hybrid because integrating Phone with Meetings unlocks much more value by being an end-to-end communications platform for organizations. Work-from-anywhere requires a great internal organizational communication system, and companies are realizing that:
We started to see this momentum growing with Zoom Phone as everybody is now thinking more strategically about the work-from-anywhere strategy -- thinking about desk phones that are sitting in offices, how do we get the phone into the hands [mobile] of our employees? – CFO Kelly Steckelberg, post-Q2 earnings call
More data pointing to hybrid being perpetual is that the number of existing customers expanding into Zoom Rooms doubled from Q1 to Q2, meaning that companies are equipping themselves to include WFH users during in-person meetings.
2. Zoom's growth will continue to be driven by "invisible" and underestimated moats.
The market overexaggerates the threat of churn and competition because investors underestimate the stickiness inherent with Zoom's product. Specifically, enterprise switching costs are substantially much higher than what may seem as easy as an individual user switching to something like Google Hangouts.
For educational institutions or corporate organizations, picture the difficulty/practicality of swapping to Teams or Webex. An enterprise account would need to 1) have a substantial enough reason to switch off of Zoom; 2) spend months acclimating an entire organization to extract the most value from a new product; 3) re-integrate (if available) applications like Dropbox, Canva, Slack, etc.
Zoom's biggest invisible moat is dynamic: it's the combination of a frictionless sticky product and a phenomenal management team that never stops iterating for its customers. The combination of factors in Zoom's invisible moat results in:
a) Customer trust that enables upselling: attach rates for Rooms (+ a similar dynamic for Phones) increasing 2x from Q1 to Q2, and case studies show countless times where Zoom achieved a ~4x upsell multiplier beginning from an initial Meetings purchase. And there's a tremendous opportunity for existing customer upsells: account penetration (Zoom accounts with >10 customers and at least one paid license) is only 5% and 4% for Rooms and Phone, respectively.
b) Low long-term cohort churn: data on churn provided by Zoom refers to customers that are acquired via the "online segment" (think self-service where you download Zoom to try it for free). Zoom has also made it easy for larger teams to try the product for free, which explains sharp levels of churn at earlier stages. However, what's most compelling to note is that older-tenure cohorts drastically fall to ~3% levels in the long-run, which shows how sticky of a product it is once enterprises have fully integrated Zoom's solutions. Those are the accounts that will will organically drive substantial growth and upsell opportunities.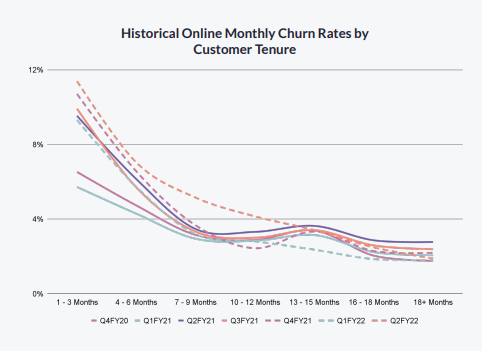 3. The termination of the Five9 acquisition means Zoom is poised to make a meaningful acquisition elsewhere.
"[The deal] was in no way foundational to the success of our platform nor was it the only way for us to offer our customers a compelling contact center solution." – Eric Yuan, Founder and CEO
It's unlikely Zoom will make another attempt at inorganic expansion into the contact center market since they've already announced they will launch an in-house product Video Engagement Center in early 2022. It's also nearly impossible to predict which area Zoom will try to inorganically expand into, but there are a couple of options.
I've always been optimistic that Zoom would expand to have its own scheduling functionality, since it's one of the most common ways a Zoom appointment is created. Zoom could acquire Calendly, the de facto scheduling app during the pandemic that raised at a $3B valuation earlier this year which would reduce friction in arranging virtual meetings. Another area I can think of is digital whiteboarding startups like Miro that have had plenty of tailwinds during the pandemic, which would suit the thesis of hybrid collaboration using Zoom Meetings + Zoom Rooms.
Growth Avenues Post-Q2 FY2022
Top-line: total revenue grew +54% YoY. Revenue deceleration in Q2 was a clear drive of the stock's underperformance, which ultimately led to the termination of Five9 deal. Zoom's slowdown in growth has been consistent...

...but less dramatic from the perspective of QoQ revenue growth:

And much of that growth is driven organically by new customer accounts.
New customers accounted for approximately 74% of the incremental revenue, and existing customers accounted for 26% of the incremental revenue. – CFO Kelly Steckelberg, Q2 earnings call
Potentially surprising to some, there's still a large market out there for Zoom to capture from either 1) customers that don't rely on videoconferencing (instead relying on things like traditional PBX phone systems); 2) customers using solutions like Webex they've had in place before the pandemic; 3) enterprises that don't have access to Zoom for internal communication but have certain customer-facing departments/individuals that do.
There's a particularly large opportunity with #3, especially as Zoom unlocks more value for internal communication through offerings like Zoom Phone.
Jon highlighted a great response by Kelly Steckelberg (Zoom's CFO) on how they think about the opportunity left to run:
Remaining performance obligations (RPO): It's important to note that Zoom is still adding an enormous amount of committed revenue from new/existing customers. RPO growth was much slower at the end of 2020 compared to Q2, which indicates that there's indeed growing demand from enterprises to retain Zoom for hybrid workforces.  

Conclusion
It's true that revenue will be far from hypergrowth levels we saw at the onset of the pandemic, but it's worth considering if the slowdown may be clouding the strength of Zoom's best-in-class fundamentals.
Zoom is undoubtedly the story of the pandemic, but the market's sensitivity to any signs of deceleration makes it difficult to justify a long position. The pandemic has fundamentally changed the way that organizations and employees work, and Zoom will remain entrenched in enterprise communication systems for as long as hybrid work persists.
That's it for this week. As always, don't hesitate to shoot over a message for any feedback or if you'd just like to chat!
Cheers,
Jimmy Zhou (@jimmynzhou on Twitter)
Like these weekly dashboards? These are for Publiccomps.com customers only but you can have your friends subscribe to the newsletter here where we send out investment memos, market maps and analysis on the broader SaaS market.
Views expressed in these emails are ours and ours alone and don't represent that of our previous or current employers. Public Comps provides financial and industry information regarding public software companies as part of our weekly dashboard, our blog, and emails. Such information is for general informational purposes only and should not be construed as investment advice or other professional advice.