Sample Public Comps - Weekly Dashboard 3/20/2020
Here's a sample of the weekly dashboard we send our paying customers at Public Comps.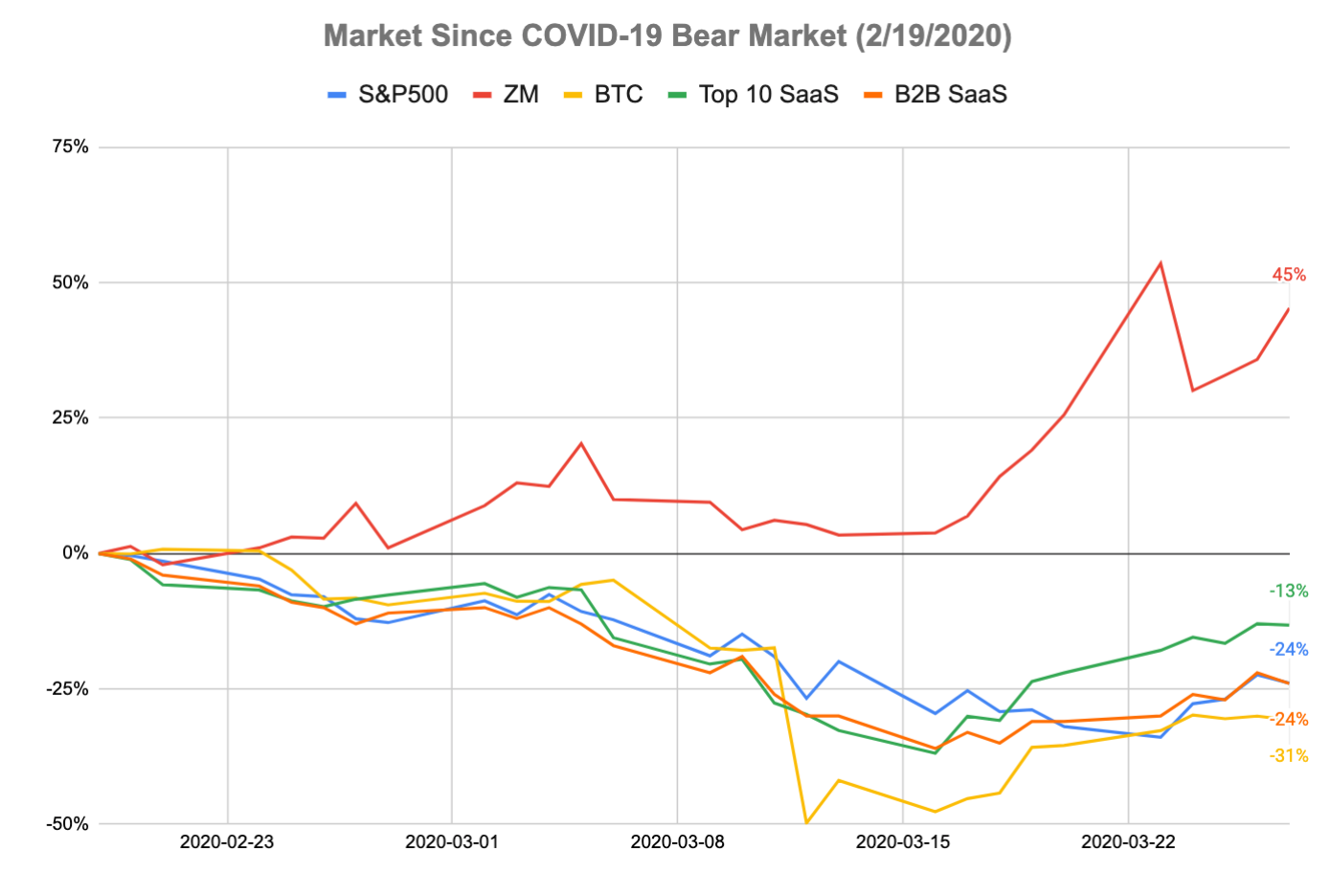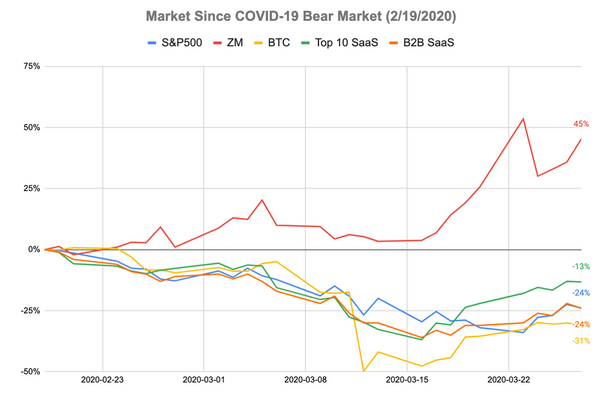 Here's what we send to our paying customers of Public Comps
---
​👋 Paying Customers 👋
​Here's your weekly dashboard of Publiccomps.com data as well as insights on the market with COVID-19 top of mind.
​This week we cover Crowdstrike's Q4'FY2020 earnings which suggest some companies like security software businesses may continue to do well during COVID-19 or perhaps we don't yet know as their most recent quarter ended January 31st, 2020.
​1️⃣SaaS Stock Prices
​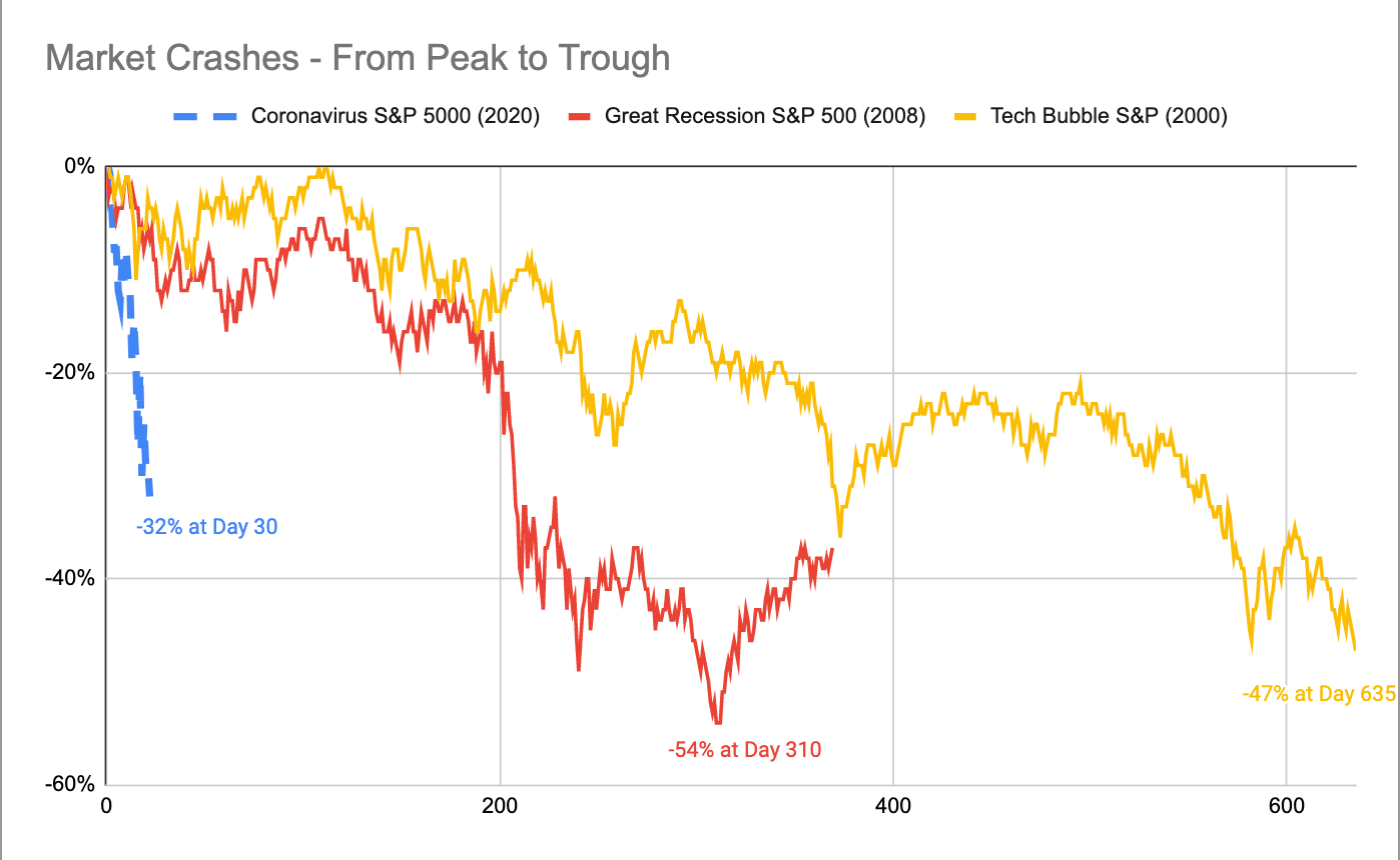 ​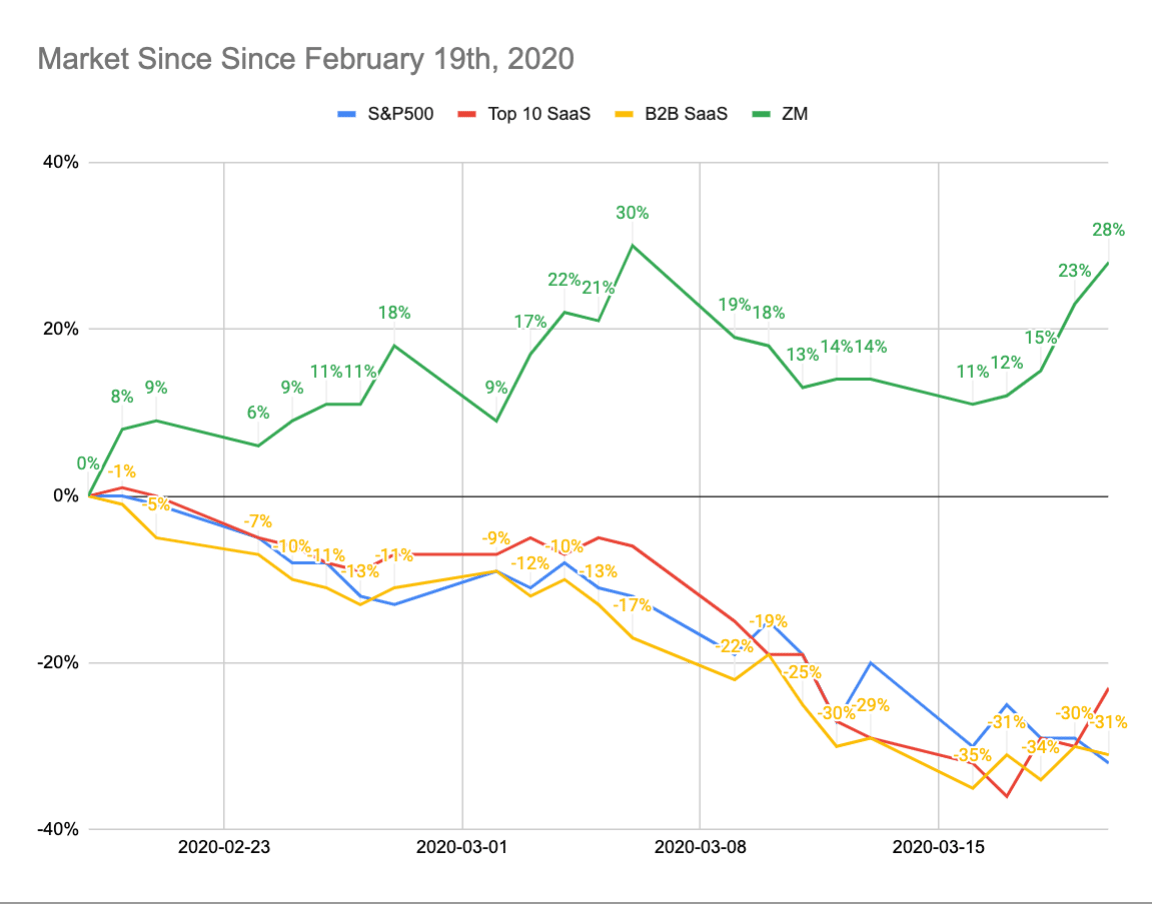 SaaS Stocks Down: SaaS stocks are down 31% in the last month (roughly the same as S&P 5000). Top 10 Fastest Growing SaaS companies recovered a bit toward the end of this week so is down 23%.
Zoom, Zoom, Zoom: Zoom is up 28% during the last month or so and now trades for 47x ARR and is $35b of EV versus Atlassian which is 2x Zoom's revenue scale and $31b of Enterprise value 😂
Fastest time period to a bear market: to put COVID-19 effect on the SaaS market into context, it dropped precipitously in the last 21 days versus the Great Recession and the Tech Bubble took much longer to get to >30% drop.
2️⃣Median B2B SaaS Valuation Multiples: 6.3x ( -32% from the peak of EV/NTM Revenue of 9.4x on 1/29/20)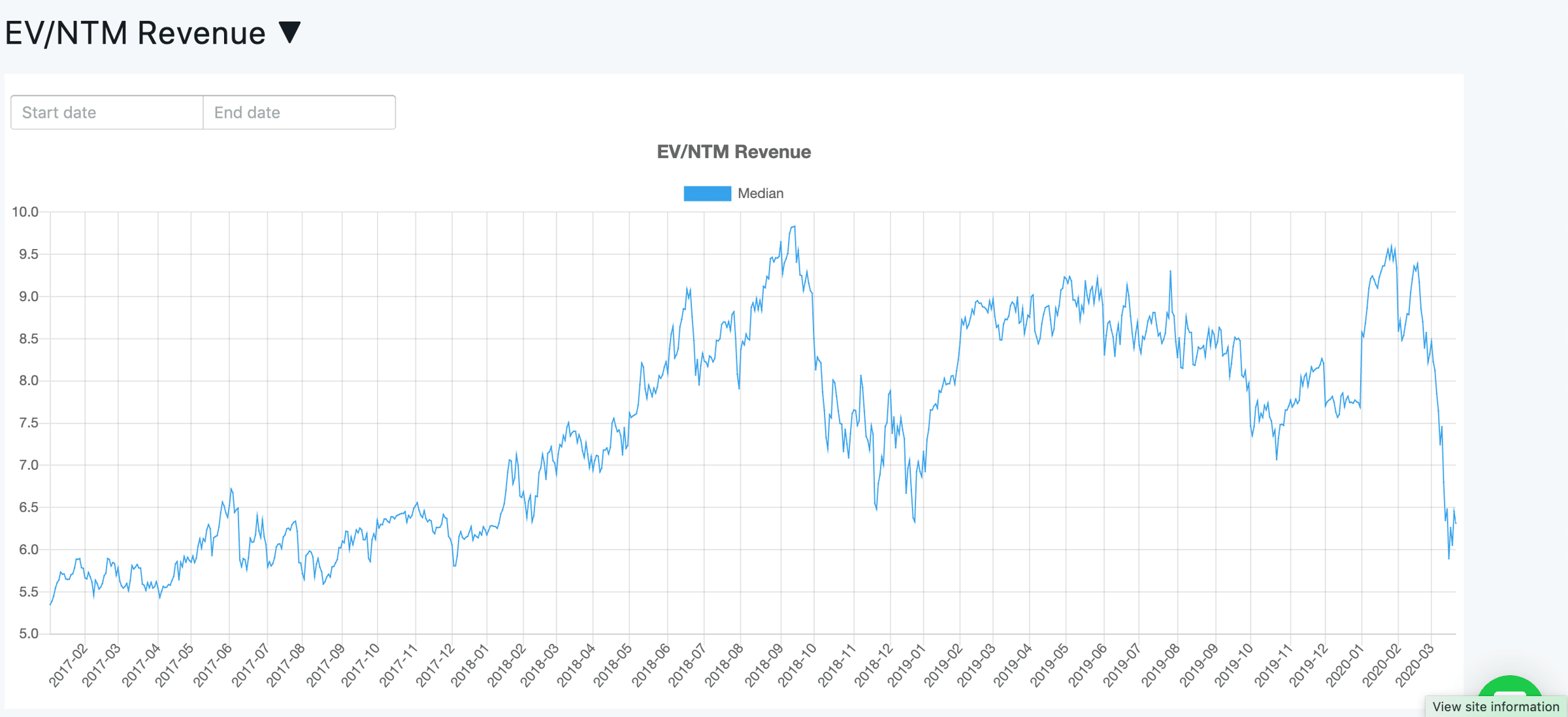 The above are similar: a 31% drop in stock price is reflected similary in a 32% drop in EV/NTM revenue multiples
How much will revenue actually fall? What's interesting is how much analyst end up cutting forward revenue estimates due to COVID-19's effect on buying behavior that we covered last week. Goldman Sachs forecasts 2020 GDP to be around -3%. Time will tell.
Data Source: we're getting our NTM Revenue source from Zacks.com where we take the median analyst estimate of NTM revenue. You can see the list of our 80 Public B2B SaaS Companies here​​
3️⃣SaaS Earnings & Benchmarks:
Crowdstrike, MongoDB, Smartsheet, Pagerduty released earnings this week. We try to update our database <24 hours of a company releasing its earnings.
🔥Let's talk about Crowdstrike🔥
​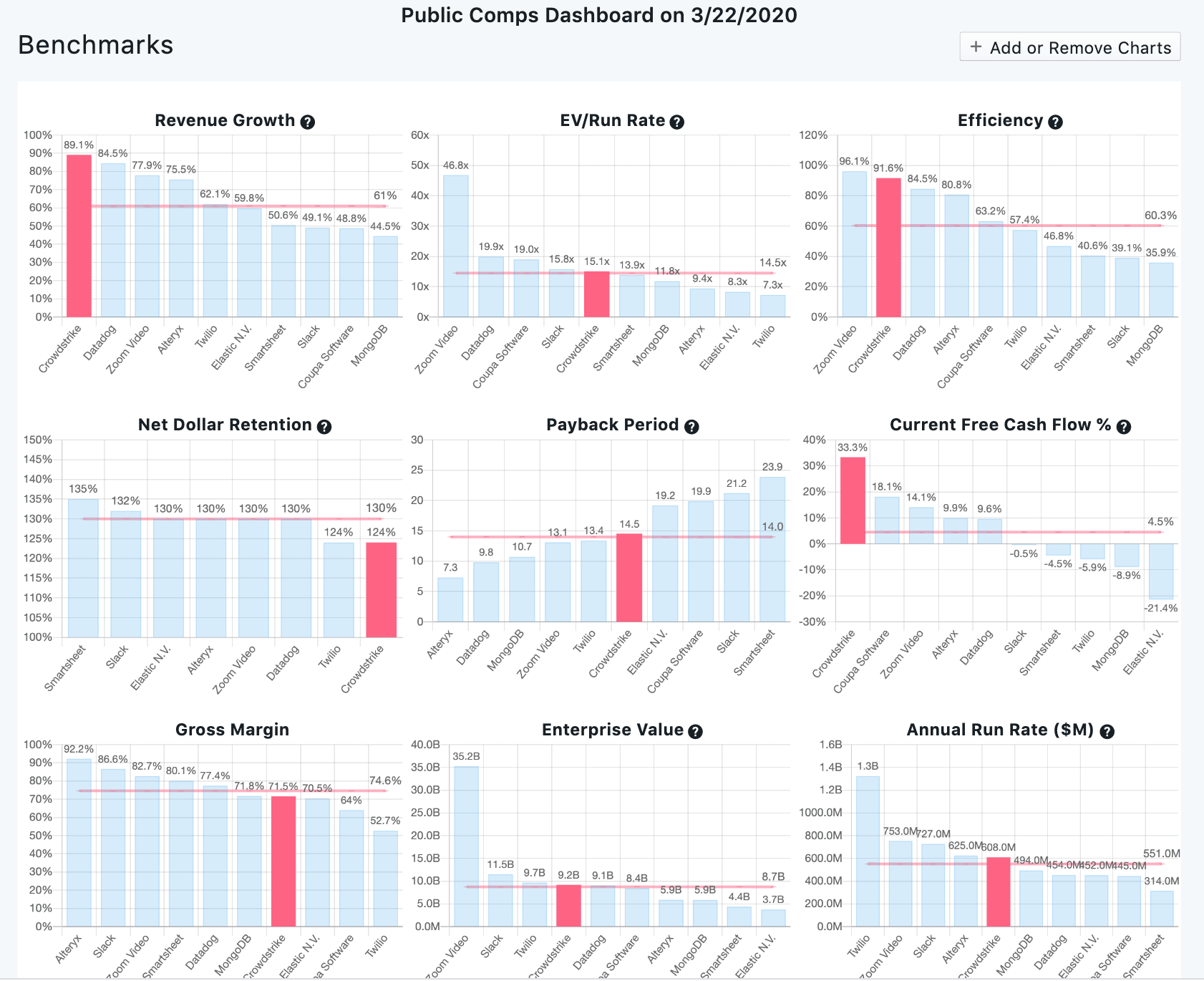 Crowdstrike Summary
Summary: Crowdstrike is $600m ARR growing 92% YoY and 20% QoQ which makes it the fastest growing SaaS company among all SaaS companies and historically all SaaS companies at quarter 11. Company posted 30% FCF margins in the most recent quarter with almost $900m+ cash on its balance sheet. CRWD has best-in-class retention with 124% NDR and 98% Gross Retention. Business trades for 15x ARR and what we estimate to be roughly 8-10x NTM ARR. The business is benefiting from Symantec's acquisition of Broadcom and Crowdstrike having a uniquely high time to value proposition, companies still needing protection from breaches even during COVID-19, the growth of AWS as a marketplace channel (up 32% QoQ).
Why Crowdstrike keeps growing: we think its because 1) Crowdstrike is cloud-based and easily deployable across an enterprise via their single agent model and CRWD consolidates security vendors into one platform which saves their end customers a lot of money and headache from managing different security tools. Simply put Crowdstrike has one of the best products in the market 2) Companies still need security to protect them from breaches even as workers are WFH or during a recession or COVID-19. The CEO talked about how adversaries are preying on enterprises with phishing campaigns as more and more workers are work from home 3) Crowdstrike has a self-service product that allows users to trial their AV product which further reduces the friction for buyers to try before buy 4) Company is capitalizing on Broadcom acquisition of Symantec and Symantec customers worrying that they're being ignored or not adequately serviced 5) AWS marketplace is huge driver for customers that have AWS production environments in a world where customers are living in the cloud and transitioning from on-prem 6) Crowdstrike Complete offers a managed security service solution that matters a lot in a world where businesses are struggling to hire security talent.
Caveat: Crowdstrike's earnings are for Nov 1st -Jan 31st, 2020. We don't yet know the true impact of COVID-19 and most likely won't know until Crowdstrike's Q1'FY2020 (Feb 1st-April 30th, 2020) earnings and for other software businesses.
Crowdstrike Earnings Teardown
Description: Crowdstrike is a cloud-based security product that protects companies from breaches. The businses differs from on-premise legacy by offering a solution in the cloud and that requires just a single agent to install. Crowdstrike is able to update its database of threats via its threat graph (captures 3 trillion events per week) and that learns as more and more customers encounter threats and is able to push out these updates instantly to its Falcon Platform. The Falcon Platform spans from Endpoint Security (Anti-Virus, Device Control, Firewall Management, Endpoint Detection Response) to solutions for Security & IT Operations (Threat Hunting, Vulnernability Management) and to Threat Ingellience (Malware Search, Malware Analysis, etc).
50% of 52 week high at $9.2b EV: Crowdstrike is trading at nearly 50% of the 52 week high at $9.2b enterprise value ($49/share)
Shares Up: Shares surged nearly 17% after dropping its earnings.
Valuation: Business is trading for roughly 15x ARR which puts Crowdstrike in the middle of the pack (Zoom trades for nearly 47x) despite being one of the best SaaS companies by SaaS metrics.
ARR is accelerating: $600m ARR growing 92% YoY and added nearly $100m Net New ARR in Q4'FY20.
Fastest Growth among all SaaS: At 11 quarters after crossing $100m ARR among all high growth SaaS, Crowdstrike is growing the fastest at 92% YoY. Crowdstrike is also the fastest growing SaaS company in the public markets period.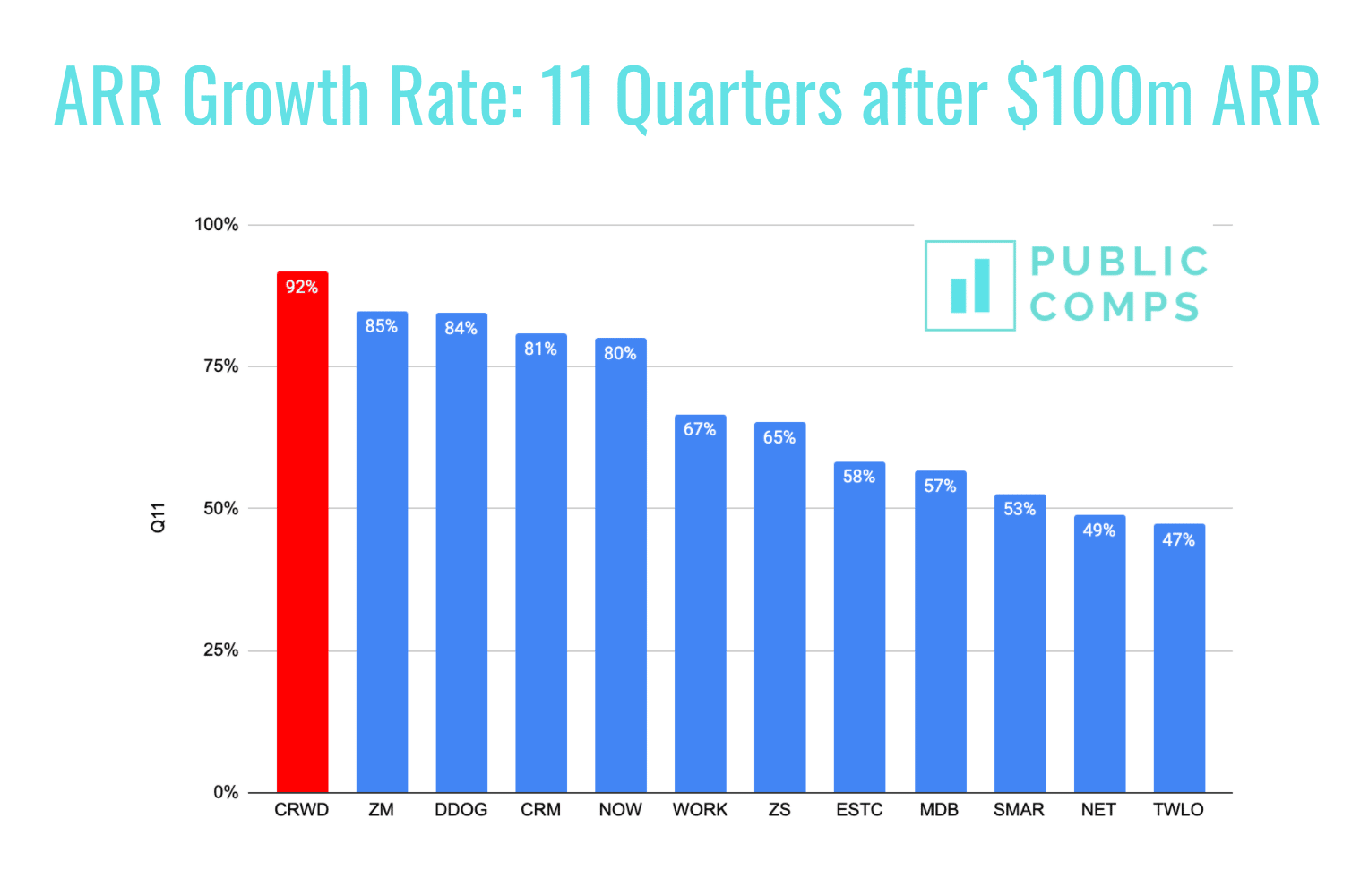 Crowdstrike and Zoom lead the pack: very few companies continue to grow as quickly 11 quarters after crossing the $100m ARR mark like Crowdstrike Crowdstrike is in this rare group of companies like Zoom and Salesforce that continues to grow quickly at that scale.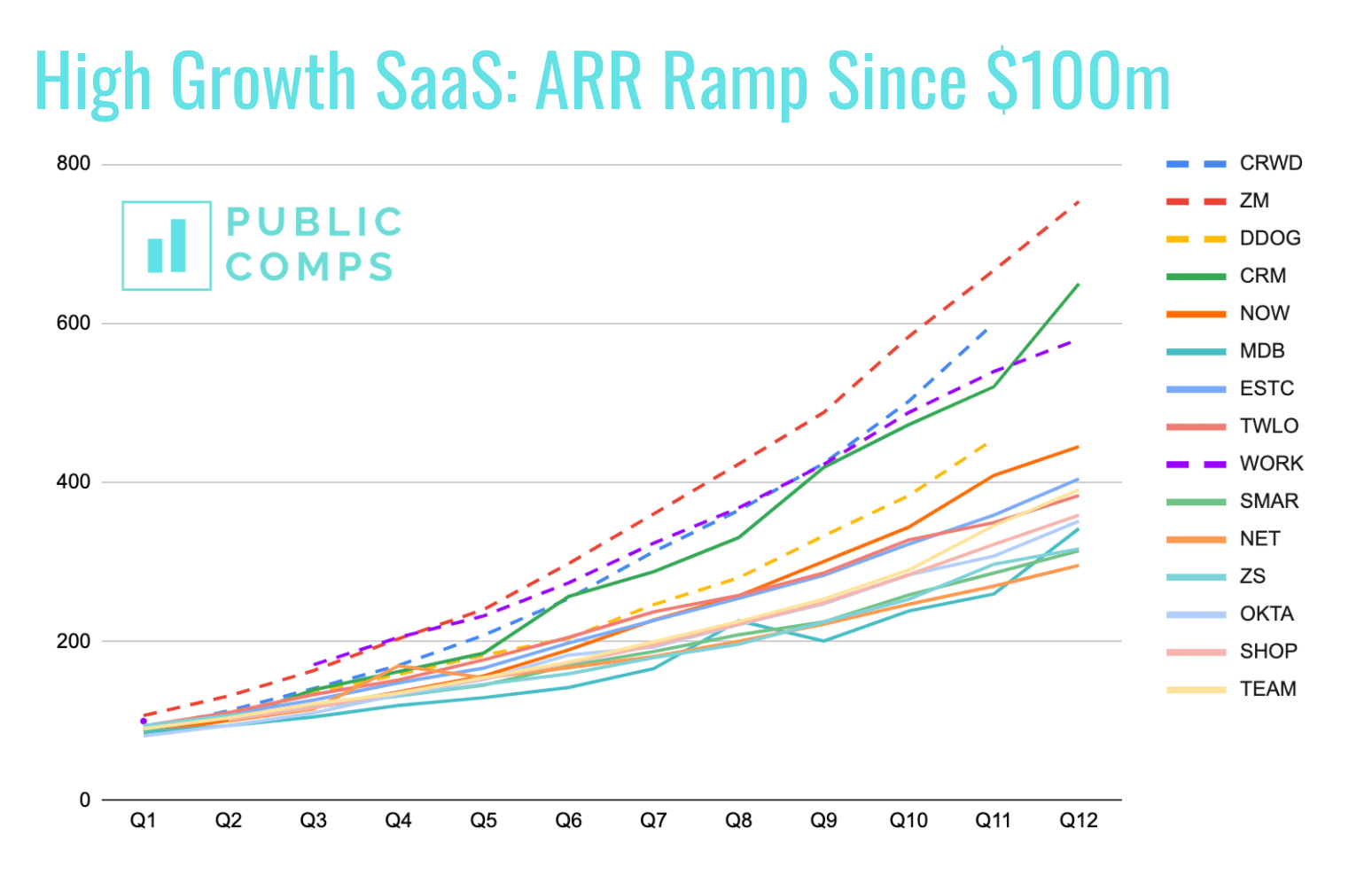 Gross Margins continues to go up: Non-GAAP Subscription gross margins is now up to 77% up from 69% a year ago and Total Gross Margins is 73% up from 66%. A concern about Crowdstrike when it went public was that it had lower gross margins due to the services component of their business. That seems to be less of a concern now.
Growing customer base and lower ARPA: Customer base is now 5,431 (up 116% YoY) which implies $107k Average Revenue Per Account (ARR/Customer) which is down from $124k ARPA a year ago. I suspect this is because of lower initial ACV with a higher velocity of customers coming from AWS marketplace.
Gross Dollar & Net Dollar Retention still strong: the business has 124% net dollar retention and 98% gross retention which are still considered best in class metrics. The high net dollar retention is driven by Crowdstrike having more than 50% of their subscription customers with >4 cloud modules and 33% of customers having >5 cloud modules. Wow.
Very Cash Flow Positive: In its most recent quarter, Crowdstrike posted nearly 33% FCF margins which is the 2nd highest among a select group of SaaS companies. Crowdstrike is 2.5% on a LTM FCF basis.
​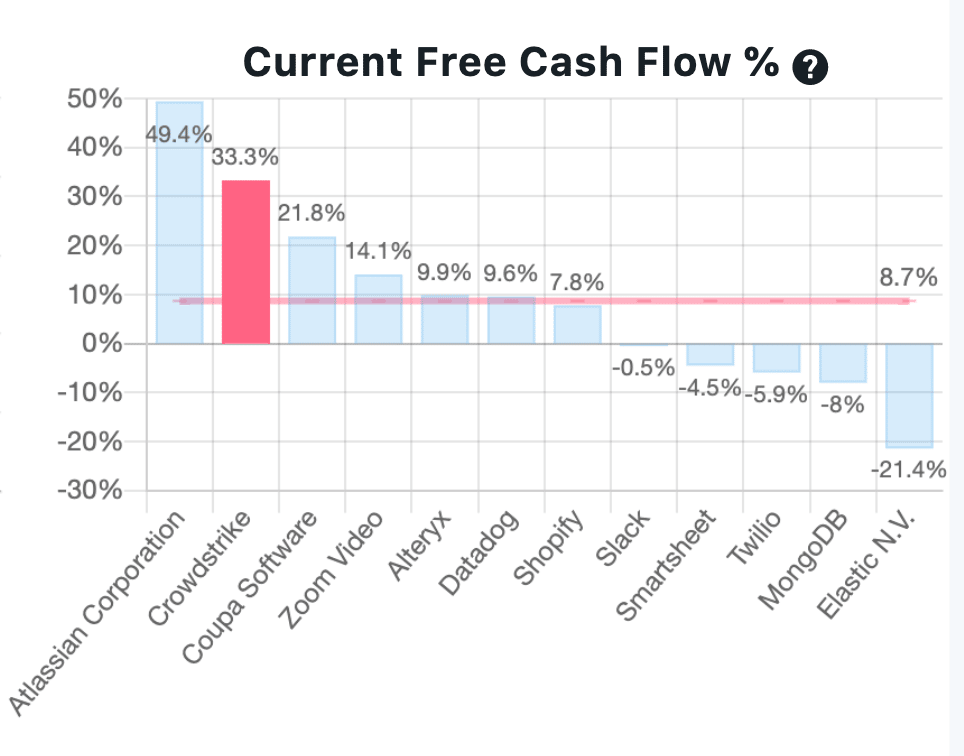 Rule of 80+: Given that LTM FCF % is +2.5% and LTM revenue growth rate is 89%, Crowdstrike has a Rule of 40 score of ~92% only rivaled by Zoom at 96%. Its incredible if a business can outpeform the rule of 40 let alone the rule of 80!
Payback Period: LTM Median payback period is down to 14.5 months and in the most recent quarter payback period is 12 months.
Winning against Broadcom/Symantec and Competitors: Broadcom acquiring the $2.3b revenue Symantec Enterprise seems to be a boon for Crowdstrike.
CEO of Crowdstrike: "As Broadcom began integrating Symantec, we saw an increase in inquiries among both customers and partners. We believe these dynamics have contributed to an expansion in our pipeline, an acceleration in our overall customer adoption and increased engagement with our partner. More specifically on the partner front, we have seen significant demand as they look to protect customers who are left searching for better alternatives as Symantec abandons large segments of the market. Several partners in the United States and abroad have launched Symantec replacement campaigns. We are closely collaborating with them to put together robust solutions at compelling price points. One of our partners submitted a list of several thousand of their customers that will be migrating away from Symantec in the next year and we found that there was very little overlap between these prospects and our existing customer base."
Fascinating that a large part of what's fueling Crowdstrike's growth is simply a weak competitor that got bought by a business that's trying to shift from semiconductors to software.
Market Landscape for Endpoint Security:
​Carbonblack (VMWare): before getting acquired by VMWare, Carbonblack was about ~$210m ARR growing 33% YoY. VMWare hasn't disclosed how Carbonblack is doing since acquisition.
​Cylance (Blackberry): Blackberry reported that Cylance is doing $108m revenue over 9 months in Nov '19. That's very low considering Blackberry paid nearly $1.4b for Cylance.
​Symantec (Broadcom): Broadcom bought Symantec for ~$10b and $2.5b of Symantec's revenue is focused on the enterprise security side (endpoint, network, email security, cloud application security, etc). This is a large pie for upstarts like Crowdstrike and Sentinelone to go after.
Sentinelone: Sentinelone is one of the few next-gen AV/endpoint security companies out there. The company claims its growing revenue 113% and recently raised from $200m at $1.1b from Insight (full disclosure: I used to work at Insight but I'm not privy to the numbers here) and Tiger. Sentinelone has about 487 employees and assuming ARR/employee is roughly $100-200k, the business is likely $50-$100m ARR. Its worth noting that they state that "win rates against every competitor are north of 76%" which seems quite high. Crowdstrike does make a slight dig at Sentinelone in their earnings call: "The first customer win is with a leading online marketplace where we displaced an autonomous next-gen anti-virus vendor. " -- the vendor is clearly Sentinelone which brands itself as an autonomous next-gen AV vendor.
McAfee (Intel): this article suggests that McAfee is $2.6b of revenue and profitable but this article seems to suggest the company laid off 200 employees: https://www.crn.com/news/security/mcafee-lays-off-200-employees-americas-sales-leader-exits-report​
​Kaspersky: $726m revenue growing 4% YoY and 16% YoY in enterprise segment.
Microsoft: I couldn't find any metrics for Microsoft's security product line but presumambly its quite large given the reach of Microsoft's suite and ease of distribution. I assume its $1b+ of revenue growing 20%.
​
4️⃣Product Updates
Formula for Different Metrics: if you hover over the to the tooltip you can now see the formula we use to calculate the formula!
​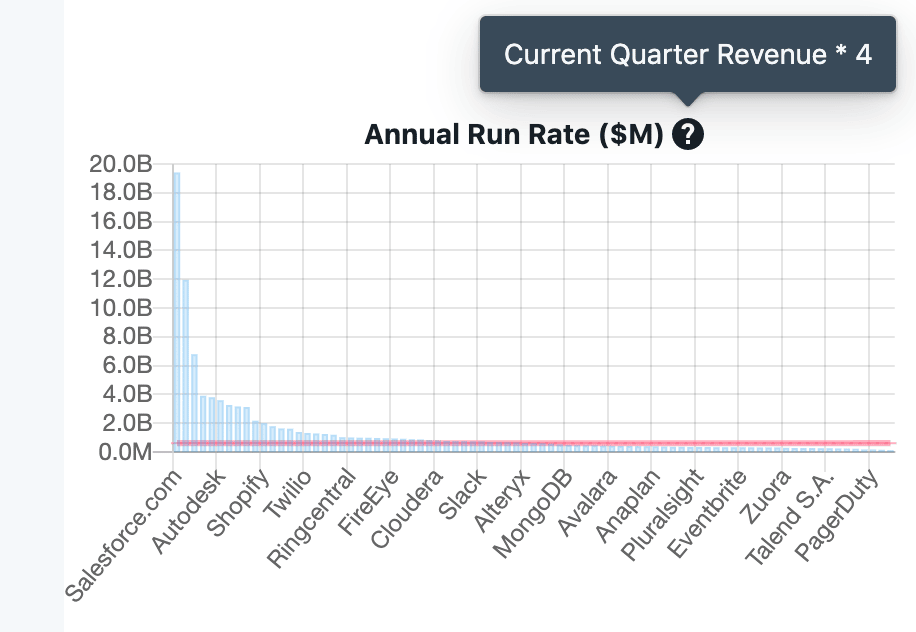 ​
Design changes to main dashboard: Howard has been working with our designer on improving the usability of our main dashboard. Let us know what you think!
​
Stay safe everyone,
Jon & Howard
​
Like these weekly dashboards? These are for Publiccomps.com customers only but you can have your friends subscribe to the newsletter here where we send out investment memos, marketmaps and analysis on the broader SaaS market.