Snowflake S-1 & IPO - Teardown
Overview of Snowflake's S-1 & IPO. We review Snowflake's product, market, competitive landscape and benchmark the company's key SaaS metrics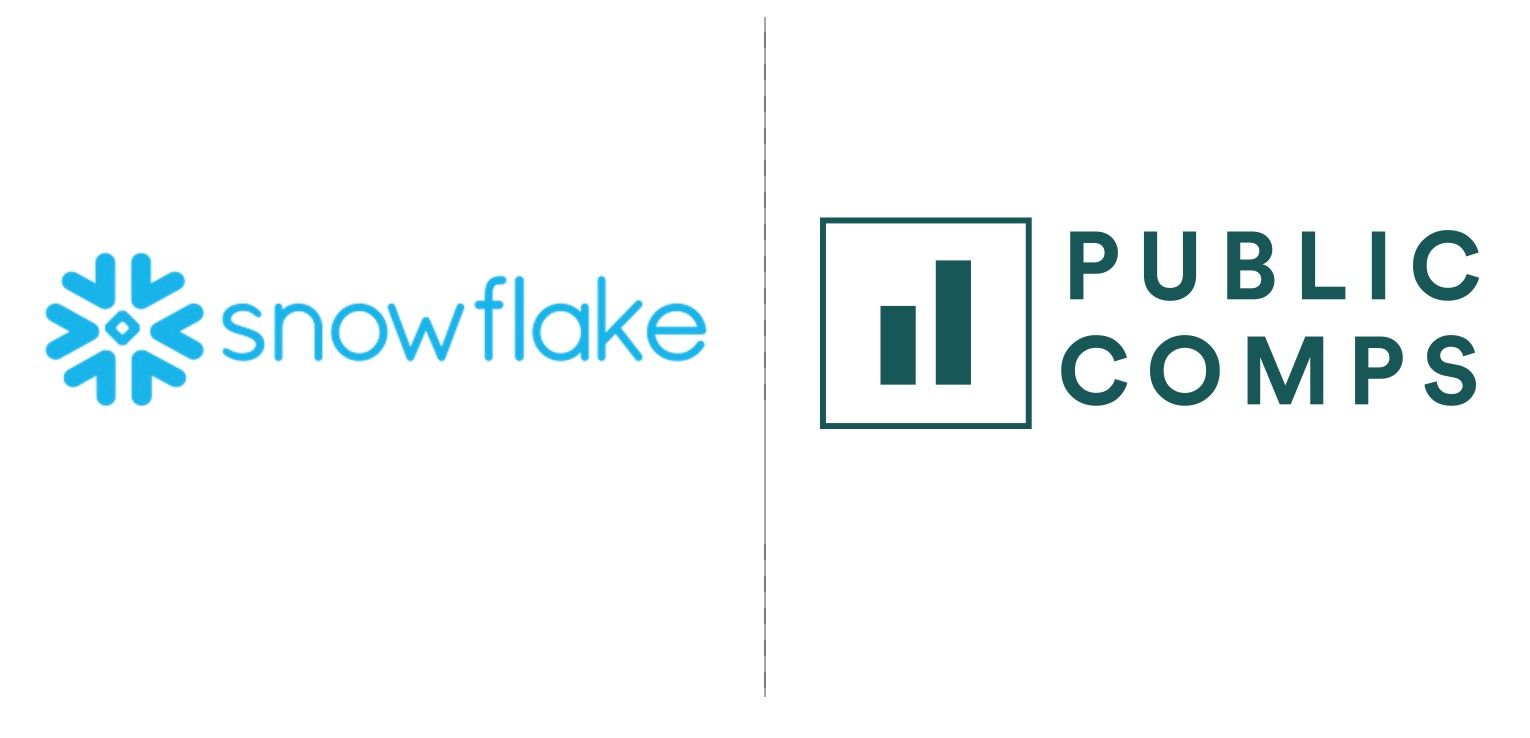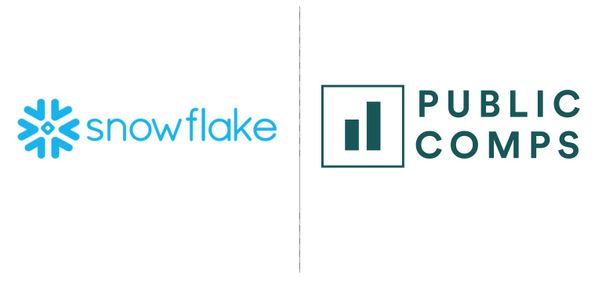 At Public Comps, we go through and summarize  S-1s and contextualize the company's product & market as well as their financial performance against other best in class Public SaaS Companies.
In this post, we summarize Snowflake's S-1.
Summary of Snowflake's S-1
Snowflake, a Cloud Data Platform, released its S-1 and will be going public with the ticker SNOW. The business raised $479m from Dragoneer in February 2020 at $12.4B.
Founded in 2012, Snowflake is #2 fastest growing SaaS Companies ever at IPO and #3 fastest growing Public SaaS company currently with ~$532m annualized run-rate revenue (ARRR) growing 121%.
Our guess is Snowflake will go public at least $26-30b which is 26-30x EV/NTM run rate revenue given its explosive growth, best in class metrics, and the high valuations in the public SaaS markets.
Unlike other founder-CEO led companies like Zoom, Datadog, Twilio, Crowdstrike, Snowflake is led by the former CEO of Servicenow after being founded by former Oracle engineers and led by Bob Muglia, a long-time Microsoft executive
The business at its core is a data warehouse built for the cloud and is the one place where companies can pipe in all their application and SaaS data to analyze and make business decisions quickly and reliably using SQL or a different reporting tool like Tableau.
Snowflake is a fascinating case study where the company is dominating in a market where cloud vendors (e.g AWS Redshift) have competitive offerings while at the same time Snowflake is built on AWS, GCP, Azure and use their cloud infrastructure for compute and storage.
Pricing model is usage-based unlike the typical per-seat SaaS model. Snowflake shows that a consumption-based pricing model aligns the customer with Snowflake. In turn, Snowflake has #2 highest net dollar retention among all Public SaaS companies, following Agora (API) which is a usage-based pricing model too.
Snowflake is enabling an ecosystem of companies built around the CDW like dbt (transform data already in CDW), Fivetran (move data into CDW), Sigma (BI/Analytics for CDW). Expect more companies to be built around Snowflake.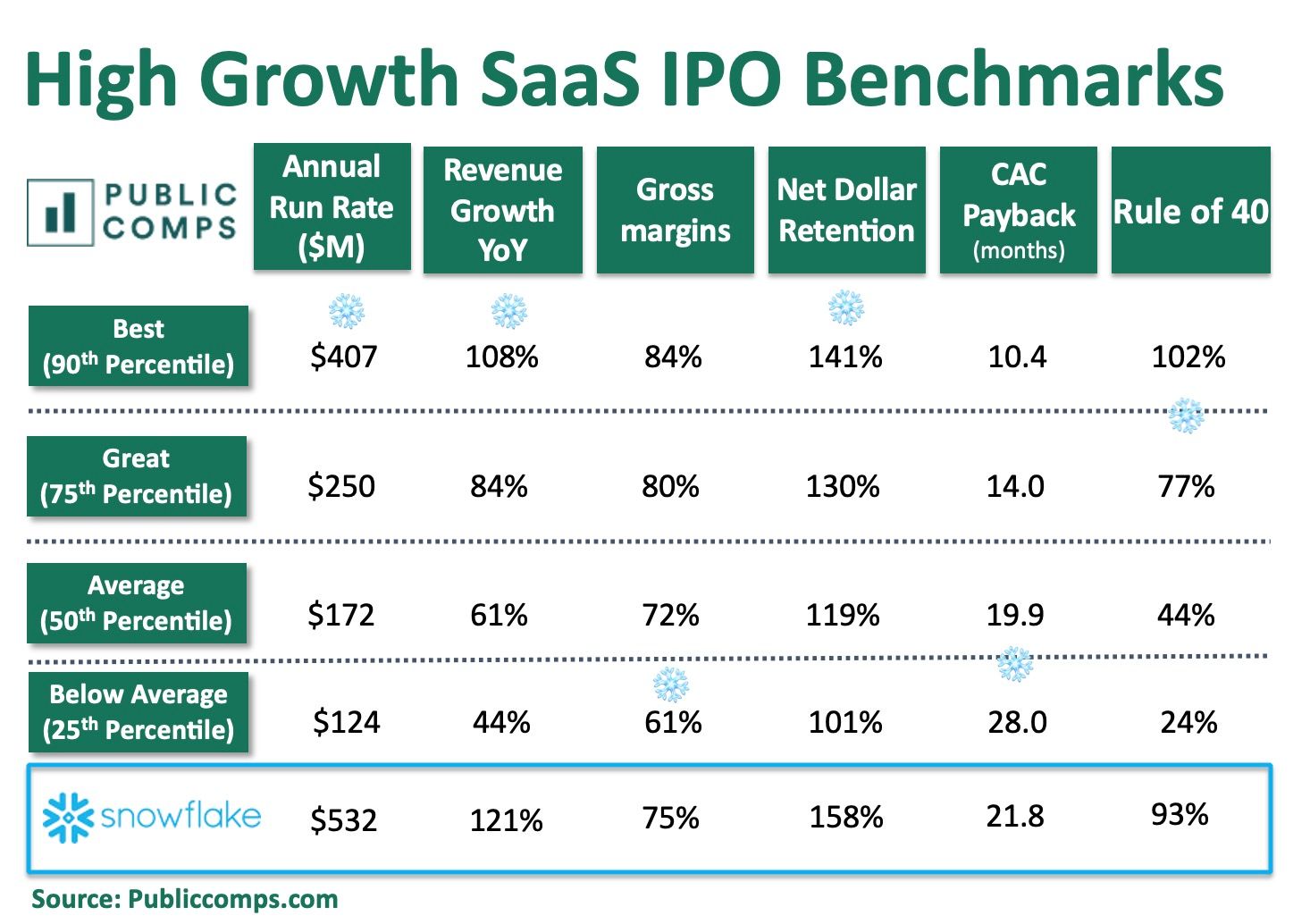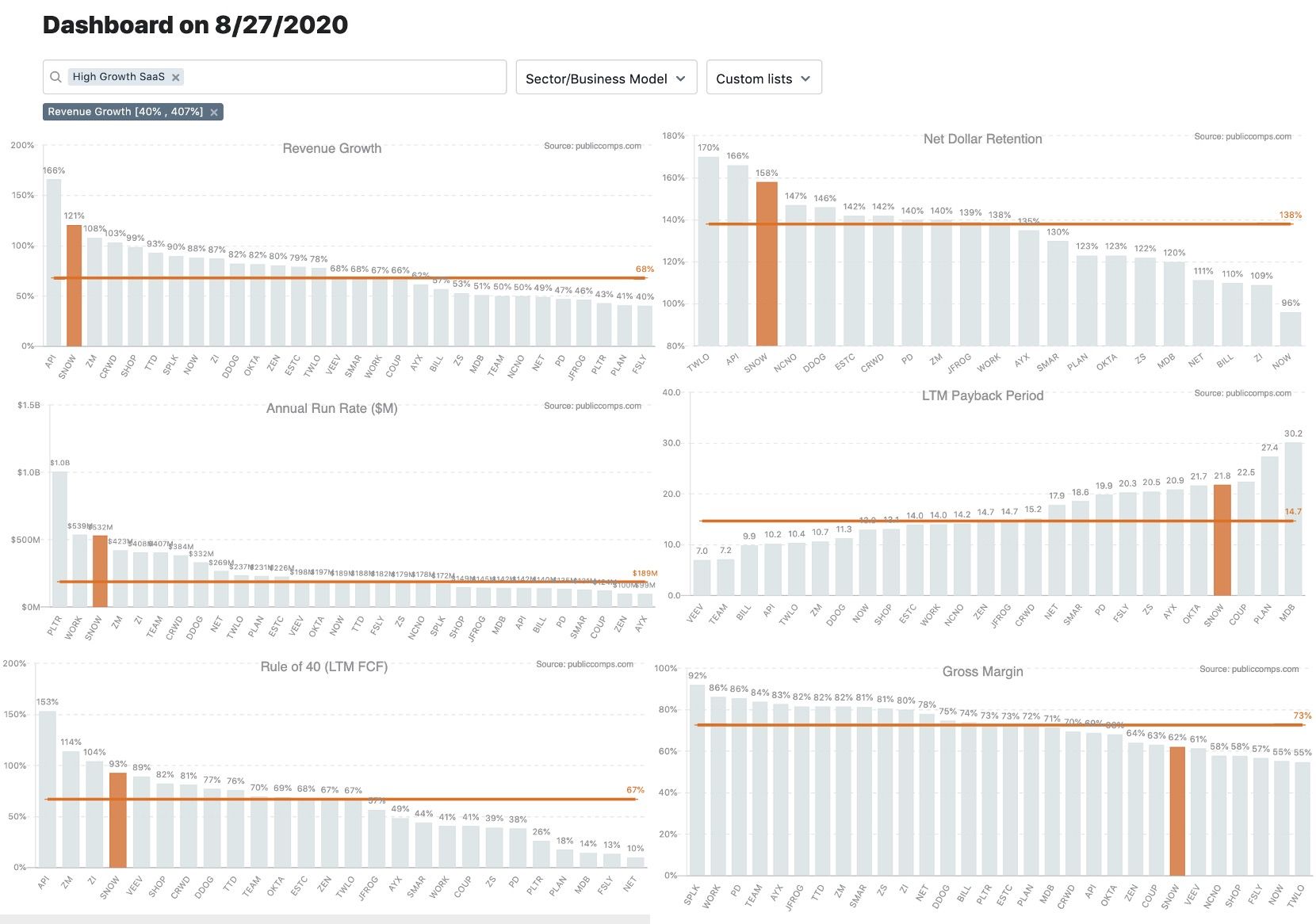 Overview

Snowflake was started in the summer of 2012 by French co-founders Thierry Cruanes and Benoit Dageville, two long-time Oracle engineers and colleagues. They were joined shortly thereafter by database performance expert Marcin Zukowski.
The co-founders chose Snowflake as the company's name because of their love for ski sports and because "Snowflakes are born in the cloud" and Snowflake built a cloud data warehouse from the ground up for the cloud.
The founding team's insight was that traditional on-premise data warehouses from Oracle, Teradata, and Netezza were rigid and difficult to use and limited in computation & storage because data warehouses were constrained by the amount of hardware and physical server space companies had. Hadoop was quite popular but they believed Hadoop was too hard to use for most, inefficient, slow and missing key features. Customers they surveyed were not happy with existing solutions. The Snowflake team sought out to build a data warehousing system rearchitected for the cloud that was 10x faster than traditional data warehouses and could leverage the effectively "infinite" scalability of the cloud – companies could store and process as much data as they needed on demand by relying on cloud vendors like Amazon's S3 which had an estimated 1.4m servers globally as of 2014.
Sutter Hill Ventures was the first investor in Snowflake and the investment partner Mike Speiser was Snowflake's first CEO from 2012-2014 until they brought on long-time Microsoft executive Bob Muglia on as CEO in June of 2014. Bob Muglia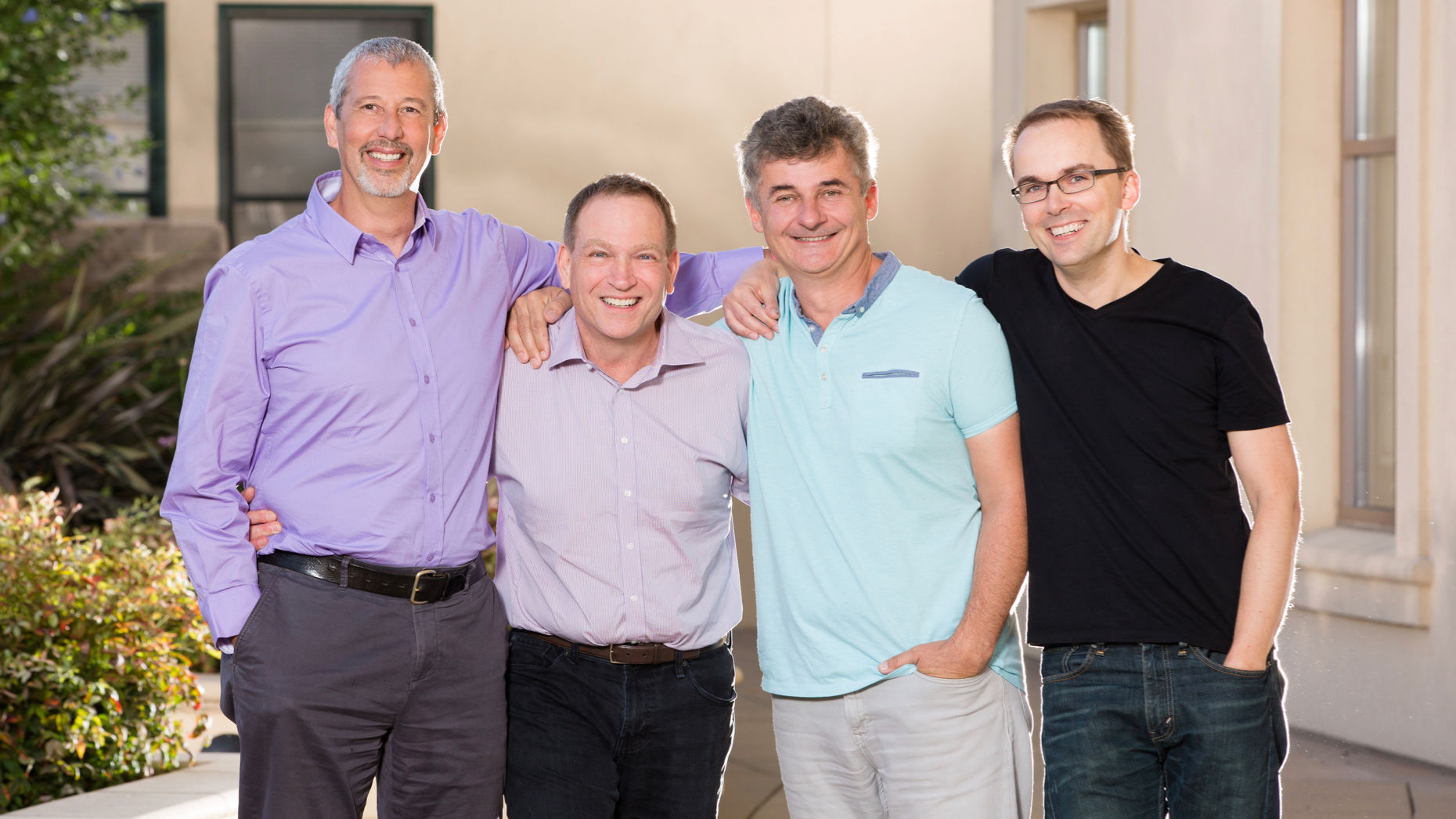 Snowflake brought Frank Slootman on as Snowflake's CEO in mid June. Frank who was the former CEO of Servicenow and helped scale the business from $100m revenue to over $1.4b revenue in his 6 years with Servicenow.
Problem
Here are a few examples of pain points real-life customers ran into prior to switching over to Snowflake.
Chime - Getting data into one place: You're the director of operations at Chime, a smarter digital bank for the mobile generation. You want to understand how to get more users to engage with a feature to locate fee-free ATMs using the Chime mobile app. However you have terabytes of customer data across different data sources from mobile/web traffic data on your production database, Google Analytics, iOS/Android, and you want to centralize all your data in one place so you can have your analytics team query the data and figure out exactly how users are using Chime.  However, running queries on your existing legacy data warehouse takes forever and ingesting semi-structured data like JSON takes a long time too. Additionally, you want to use the best-in-breed reporting and visualization tools but your legacy cloud data warehouse doesn't provide out of the box integrations with Tableau or Looker. Your analytics team is frustrated.

Strava - Speed & Maintenance: You're a data engineer at Strava (social network for athletes) and your analytics team is complaining that queries that should take 15 seconds are taking 15 minutes with your existing cloud data warehouse vendor. Your analytics team is trying to understand how and why athletes enjoy using Strava to figure out what new features to build. Additionally, you have to spend hours maintaining the cloud data warehouse every time a query takes a while and you wish you could spend time focusing on building additional data features for your athletes as opposed to hoping your cloud data warehouse runs properly.
EA Sports - Speed & Cost: You're the chief architect of Electronic Arts one of the largest sports gaming video studios in the world. Data from your customers is projected to grow from 16 TB or over 100 TB due to new users, more usage and new platforms. You're existing infrastructure is an Oracle database  with Oracle and Informatica middleware to move data from external vendors like Xbox, Sony, Apple, Google and your own internal data from your ERP into your Oracle data warehouse. However, when your analysts want to run reports on the number of users that are, say, playing FIFA at a given time, getting data into Tableau up and running takes 9-12 hours a day which is frustrating for your analysts. Additionally, the cost of Oracle is growing even when you aren't running analytics and just storing your data.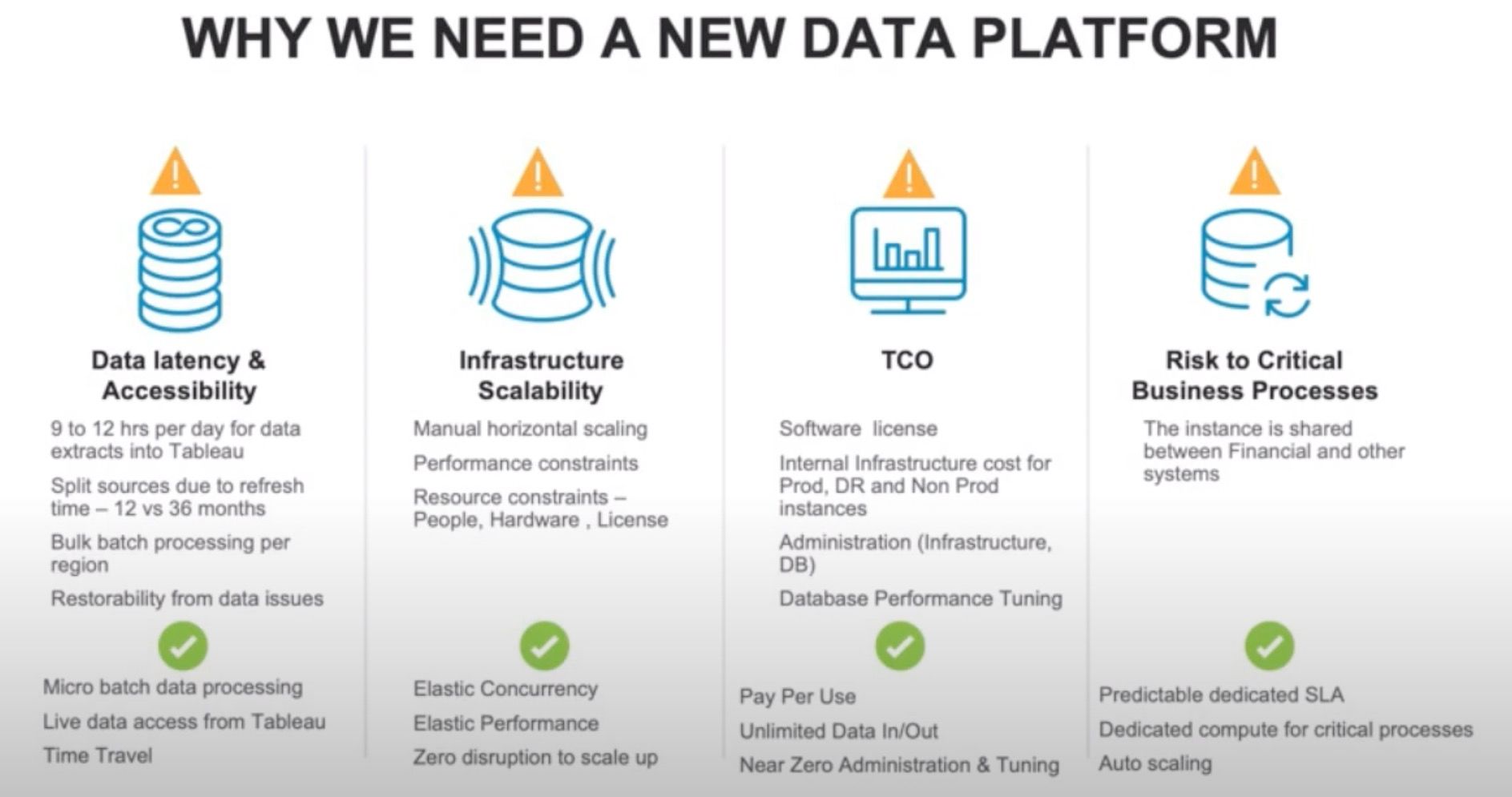 Snowflake's Product
Snowflake is a data warehouse built for the cloud. Simply put, Snowflake allows organizations from growth stage startups to large Fortune 500 companies to centralize all their analytics data from various SaaS applications, production databases and data silos into one place so analyst can write SQL or use Tableau to get insights and make business decisions.
Justin Gage at Technically does an awesome job explaining what a data warehouse is exactly and how that's different than, say, a transactional database like MongoDB or Postgres.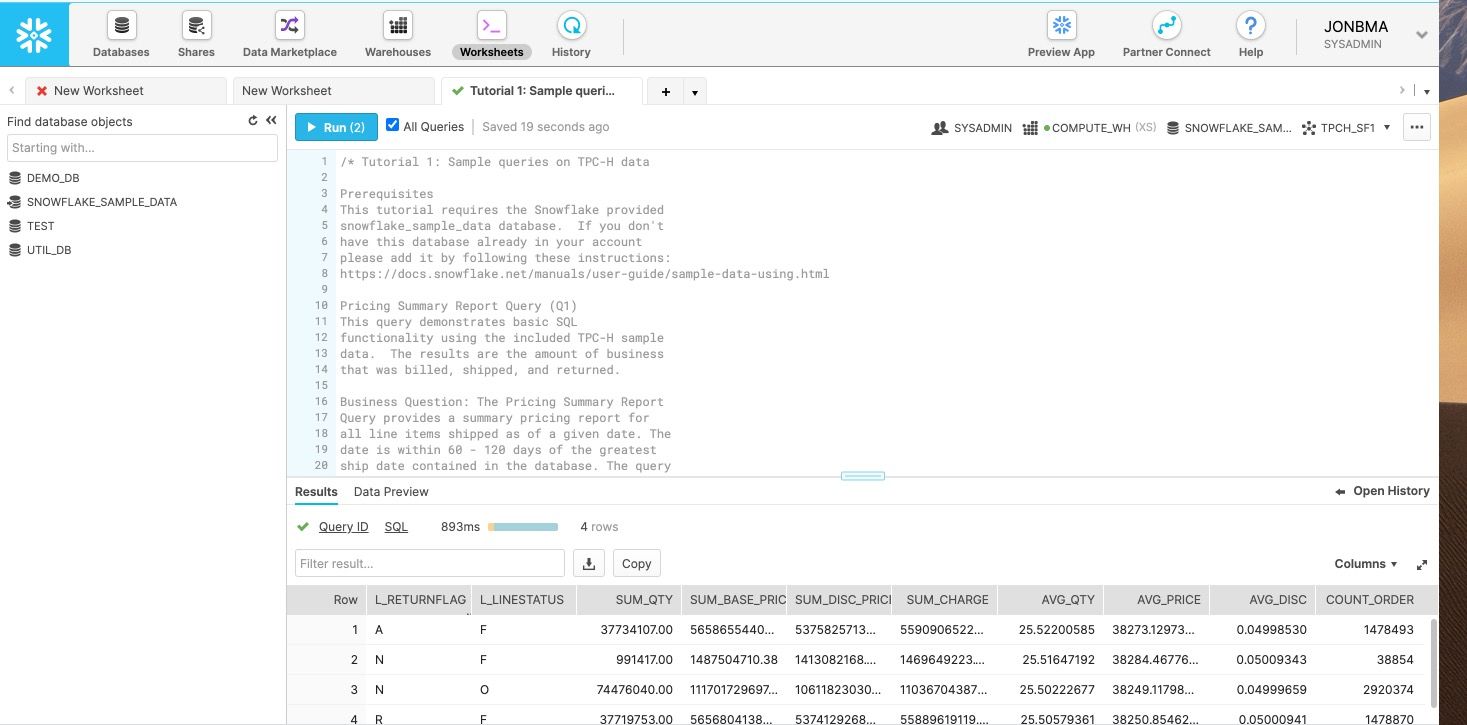 Here's why customers choose Snowflake
Cloud-Based: Unlike legacy databases or data warehouses, Snowflake is software-as-a-service so instead of having to maintain physical hardware and equipment or update to the most recent MySQL server, Snowflake is able to update its cloud data warehouse that users can access through their web user interface (see above screenshot of their SQL editor) without users having to manually update versions locally on their servers or computer.
Scalability: Because Snowflake uses AWS, GCP and Azure, Snowflake is able to scale up and down when customers need more storage or to process a large query – this differs from traditional on-premise data warehouses which have physical limitations based on actual physical server size.
Ease of Use: Snowflake enables teams like Chime to use a familiar querying language in SQL to extract and analyze data vs complicated programming languages that other cloud data warehouses provide.
Speed: The Head of Analytics at ASIC claims that Snowflake was 20x faster than other solutions – "loading a dataset was a couple of lines of code and operations were 20x faster". The Director of Data Analytics at Rakuen Rewards claims "we've definitely seen instances where Snowflake produces a 95% faster run time compared to our previous data warehouse". Chime talks about how "A lot of platforms have challenges handling an SQL query that is 80 or 90 lines long, when you're joining 6 tables, but Snowflake handles it very nicely."
Run queries, ETL jobs concurrently: Companies like ASICS are constantly running data pipeline jobs in the background moving data from, say, Google and Facebook into their data warehouse. A problem they previously ran into was they couldn't concurrently run data cleaning and transformation scripts and query their data at the same time (how frustrating!) – Snowflake allowed Asics to do that by having a separate warehouse so the analyst don't have to wait for the data engineers ETL jobs to finish before running their report.
Easy Integrations: Chime mentioned that "Snowflake's flexibility made integration with other tools, such as Tableau, quick and painless."
Cost Effective: Instead of having to pay a data warehouse vendors an annual contract even if there's no usage of the product, Snowflake charges for the compute and storage you actually use. See more on business model for more.
Get Up and Running Quickly: Because of 3rd party integrations with Matillion and Fivetran, Snowflake makes it a lot easier to get started with piping data from 3rd parties (your production database, Stripe for billing and customer information, Facebook & Google Ads, sales and customer data from Salesforce) to your warehouse.
Additional Product Notes
Use Cloud Vendors for Storage Layer: It's worth noting that Snowflake is built on top of AWS, GCP, and Azure and used AWS S3 heavily as a way to store tables, query results and such.
Separating Compute and Storage: A key architectural decision by Snowflake was to separate compute and storage by leveraging the "elasticity" of the cloud which basically means Snowflake is able to store data on AWS S3 and leverages AWS EC2 compute clusters to process data. This gives customers the ability to add more compute power on demand even in the middle of, say, running a complex SQL query and upgrade from a small warehouse in Snowflake to an extra large in order to get a report done in demand. Previously in the on-premise data warehousing world, once a customer bought a certain amount of storage and compute, they were stuck with those resources and didn't have the "elasticity" of the cloud to spin up compute resources on demand.
Secure Data Sharing: Snowflake allows customers to share data tables with others outside of their organization in a secure way. There are numerous interesting examples from Rakuten Rewards working with their 3,000 merchants to have access to Snowflake so the merchants can see how Rakuten Rewards is helping the merchants with conversion. S&P (company behind CapIQ) uses Snowflake so customers can get access to S&P Global data for faster queries.
Business Model
Usaged-Based Pricing: Unlike traditional SaaS companies that price by number of users, Snowflake is priced based on usage. This is a big reason for why customers love Snowflake – customers only pay Snowflake for the compute and storage they use.  
Customers have the option to pay on demand or for pre-paid capacity to get volume discounts.
Pricing is broken out by storage, compute (virtual warehouse), and cloud services:
Storage: Snowflake customers are a monthly fees based on the average terabytes per month of customer data is stored in Snowflake.
Compute: When a customer wants to spin up a virtual warehouse to run a query and do analysis on their data, they can pay anywhere from 1 credit for a XS server to 128 credits for a 4XL server. The larger the data warehouse, the faster the query. It's worth noting that when a user stops running a query, they are not charged. Billing is by the second.
Cloud Services: When using Snowflake's cloud product, customers also incur fees for state management and the coordination of the Snowflake product.
Here's an example of what pricing could look like for 4TB and 955 credits per month – it comes out to $23k/year and notice how much more expensive compute (the virtual warehouse) is at $21k/year compared to the cost of storage ($1k/year).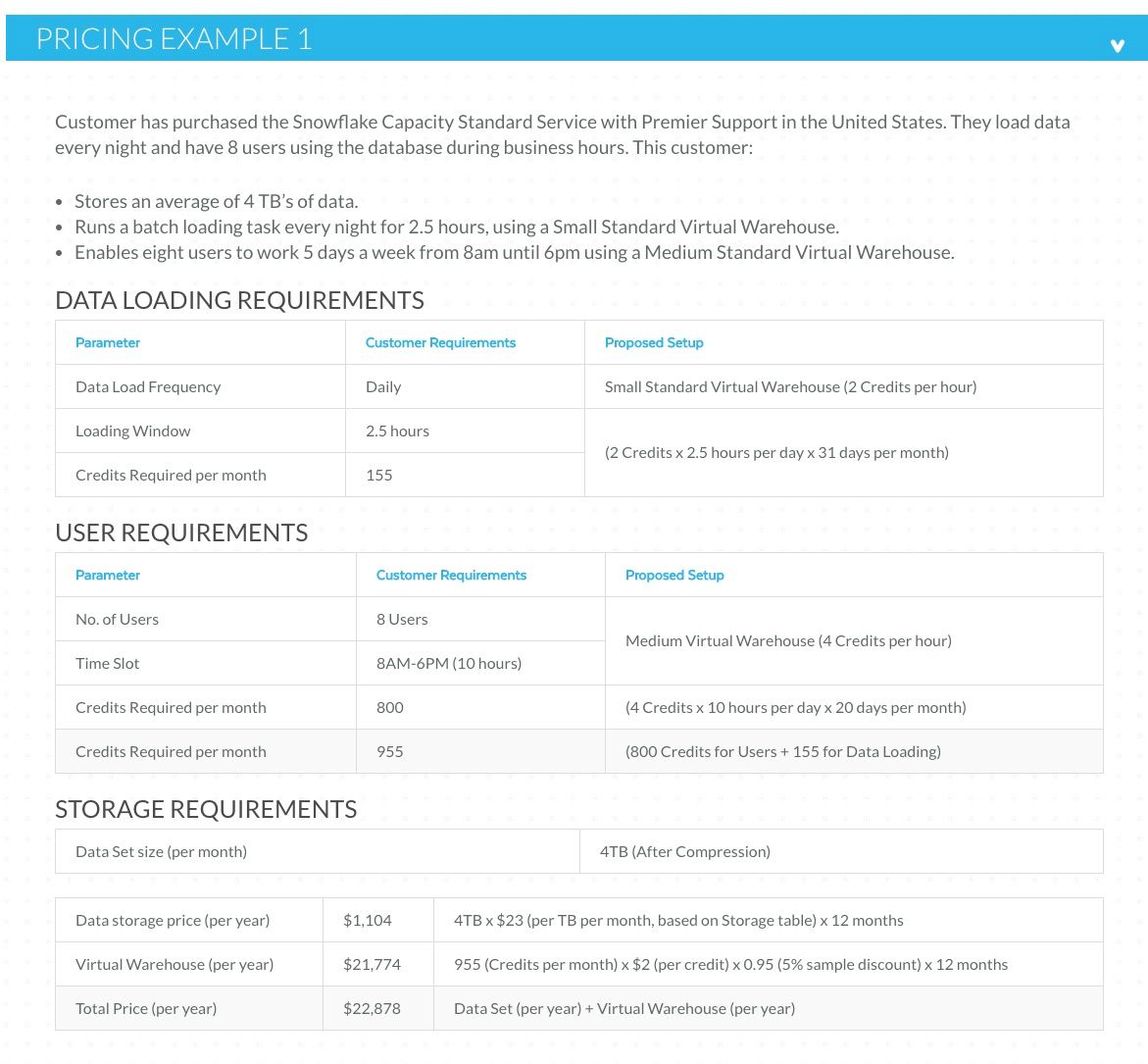 Professional Services: Snowflake does not have a lot of services revenue (6%) but is a reminder that some mission critical software companies need to hand hold their customers to make them successful.
Go-To-Market
Direct Sales: in its S-1, Snowflake says their GTM strategy is focused on selling to larger enterprises via a direct sales force "which targets technical and business leaders who are adopting a cloud strategy and leveraging data to improve their business performance". Their sales organization is comprised of sales development, inside sales, and field sales personnel and is segmented by the size of prospective customers. Its worth noting Snowflake has the highest Sales and Marketing spend as a % of revenue among all Public SaaS companies though the payback periods are quite reasonable at 21.8 months for a top down sales motion.


Self-Service with Demo & Trial: they don't call this out in their S-1 but I'd argue Snowflake is successfully transitioning their sales motion in a COVID-19 world where sales needs to be more frictionless and driven by the buyer. If you go to Snowflake's website, you'll find the following graphic which shows the user journey on how to get started with Snowflake. A lot of these are scalable marketing & product channels that don't require additional sales headcount: I signed up for a Snowflake account and could play around with the product  without having to talk to a rep in <5 minutes and could attend product demo series on Zoom. That said, it's clear from the pricing page that they're aiming for mid market and enterprise customers not the every day start up like Public Comps.
Upselling Existing Customers: Given the high net dollar retention (among the highest for Public SaaS companies!), Snowflake has a big focus on increasing the migration of  customer workloads (presumably AWS Redshift or a customer's on-premise data warehouse) to Snowflake to increase consumption which leads to more compute and storage and hence spend on Snowflake.

Successful shift towards higher ACV customers: The average revenue per customer is roughly ~$160k which is quite high for a Public SaaS company. They claim the number of customers with $1m+ is 56 customers growing from 22 customers up 154% YoY. I'd imagine the number of $1m+ customers will only continue to grow as more and more customers move more workloads into Snowflake.

Customers: Snowflake has 146 of the Fortune 500 and 7 of the Fortune 10. Business has 3,117 customers as of July 2020 up 101% YoY. They have an impressive list of large companies ranging from technology like Doordash, Square, Adobe, Instacart to financial services companies like Capital One and entertainment companies like Sony and EA.

Market
Large market opportunity for cloud data platform:  Management claims the total addressable market for Cloud Data Platform is $81 billion and the markets for Analytics Data Management and Integration Platforms and Business Intelligence and Analytics Tools is $56 billion by the end of 2020 and $84 billion by the end of 2023.
Cloud Adoption is accelerating: The biggest tailwind that Snowflake is riding is the shift from on-premise databases and data warehouses to the cloud. They cite an IDC report that 49% of data will be stored in public cloud environments by 2025, an increase from approximately 30% today.
Explosion of Data: Snowflake makes a fairly straight forward argument that the amount of data is increasing which warrants a solution like theirs: "The rise of cloud-based workloads has led to a proliferation of connected devices, applications, and social media, resulting in an explosion of digital data. According to IDC, there will be 175 zettabytes of data by 2025, representing a CAGR of 27% from 33 zettabytes of data in 2018. This data contains valuable insights for organizations, including key business and performance metrics, customer attributes and behavior, and product strengths and capabilities."
Data is Important in Decision Making: Bob Muglia put it well in his keynote that "data is so critical to our business" and that "data is having an major impact across our globe". From their S-1: "Data is at the heart of business innovation. It helps set new standards for managing customer relationships, delivering engaging and personalized customer experiences, anticipating new market trends, predicting customer behavior, and informing new business strategies. We believe organizations everywhere are seeking ways to transform their businesses by capturing, analyzing, and mobilizing data."
Competition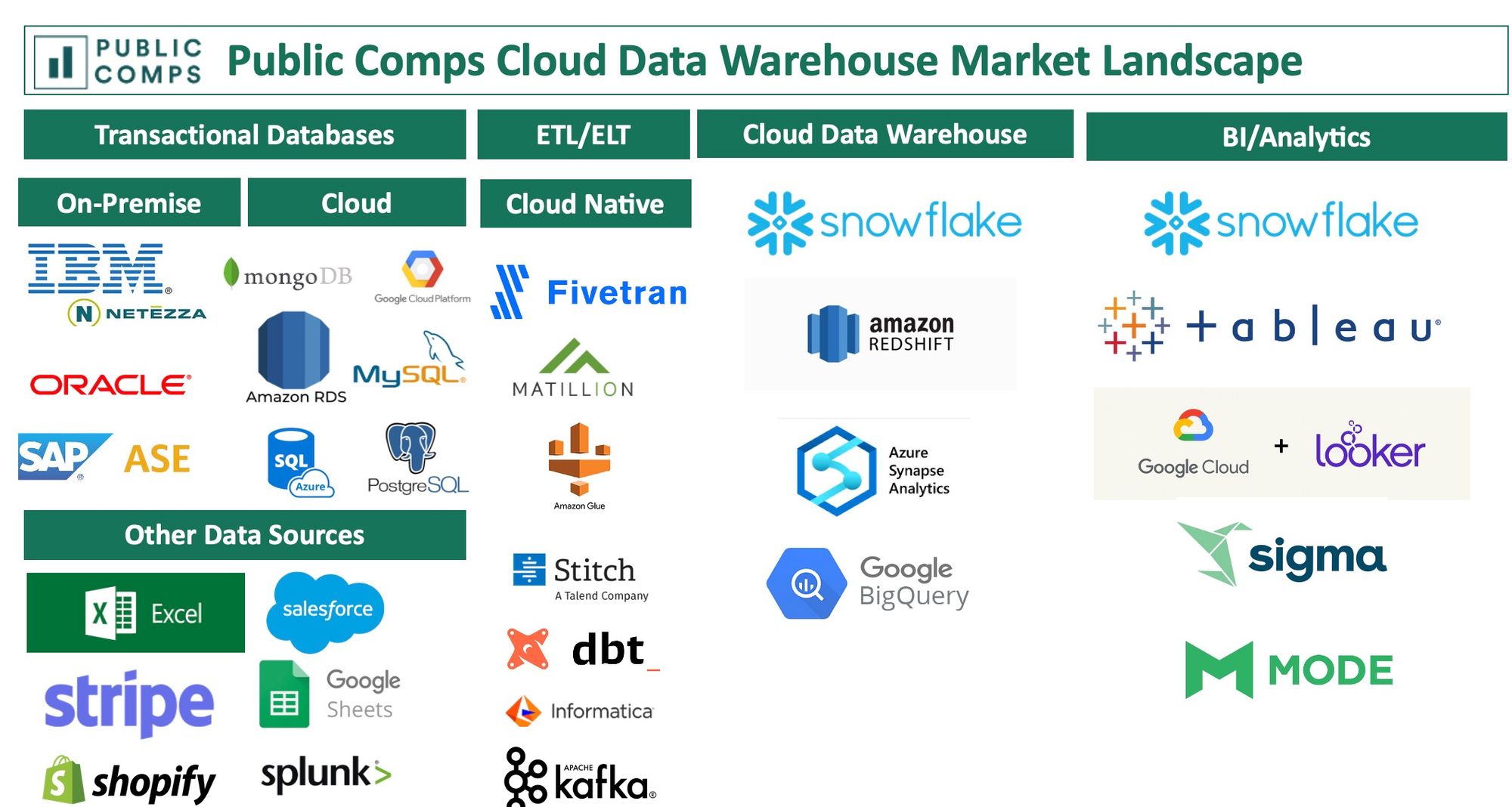 Data Warehouses: Snowflake really competes with enterprises with deeply entrenched relationships with legacy on-premise data warehouse providers like Oracle, Netezza and Vertica and with the cloud vendor giants like Amazon Redshift, Azure Synapse and Google Big Query. It seems like anecdotally a lot of customers tried Redshift as their cloud data warehouse but due to cost or ease of use, they ended up switching over to Snowflake. An important strategic positioning is that Snowflake works with all cloud vendors and so Snowflake benefits from a neutral third party that can work with Amazon, Microsoft and/or Google.
Here's the breakdown of the number of customers per company according to HG Insights: Snowflake is clearly growing the fastest among all cloud data warehouse vendors
Some interesting quotes online about Snowflake vs the other cloud vendors:
"Snowflake is the go to data warehouse in my opinion. Redshift and BigQuery are fine, but Snowflake is head and shoulders above." https://news.ycombinator.com/item?id=24265041
"In this setup, Postgres is the operational DB and Snowflake is the Data Lake/Data Warehouse. We're seeing big benefits to this architecture. It is new for us, we tried Redshift previously and really did not like it."
"We really enjoy being able to throw everything into Snowflake as a data lake with raw data and transforming into a [data warehouse] also within Snowflake without having to maintain bulky ETL methods. In addition, the separation of compute/storage and compute nodes has been great for us. Being able to process requests in parallel without slowing each other down is very powerful for us. Both postgres and redshift has struggled with parallel compute which our users experience first hand."
"When we migrated from Redshift [to Snowflake] we also saw a huge increase in performance due to the improvement in the way that concurrency impacted our looker instance. I highly recommend!"
"We migrated from Redshift and immediately began to see benefits to both performance and cost - the same queries were running in less time on less resources."
BI/Analytics: It's worth noting that Snowflake is making significant investments into their query UI and acquired Numeracy back in March 2019. Looker seemed like a big partner of Snowflake until the acquisition by Google – Snowflake seems to be pushing the stack of Snowflake, Informatica, Tableau quite a bit in their material around accelerating analytics. With Snowflake Snowsight, I wonder if Snowflake is making a more active role in bringing more of the reporting and non-coding related capabilities in-house so there's less dependency to use a third party like a Mode, Sigma, Looker, or Tableau. See below screenshots from a Snowsight webinar: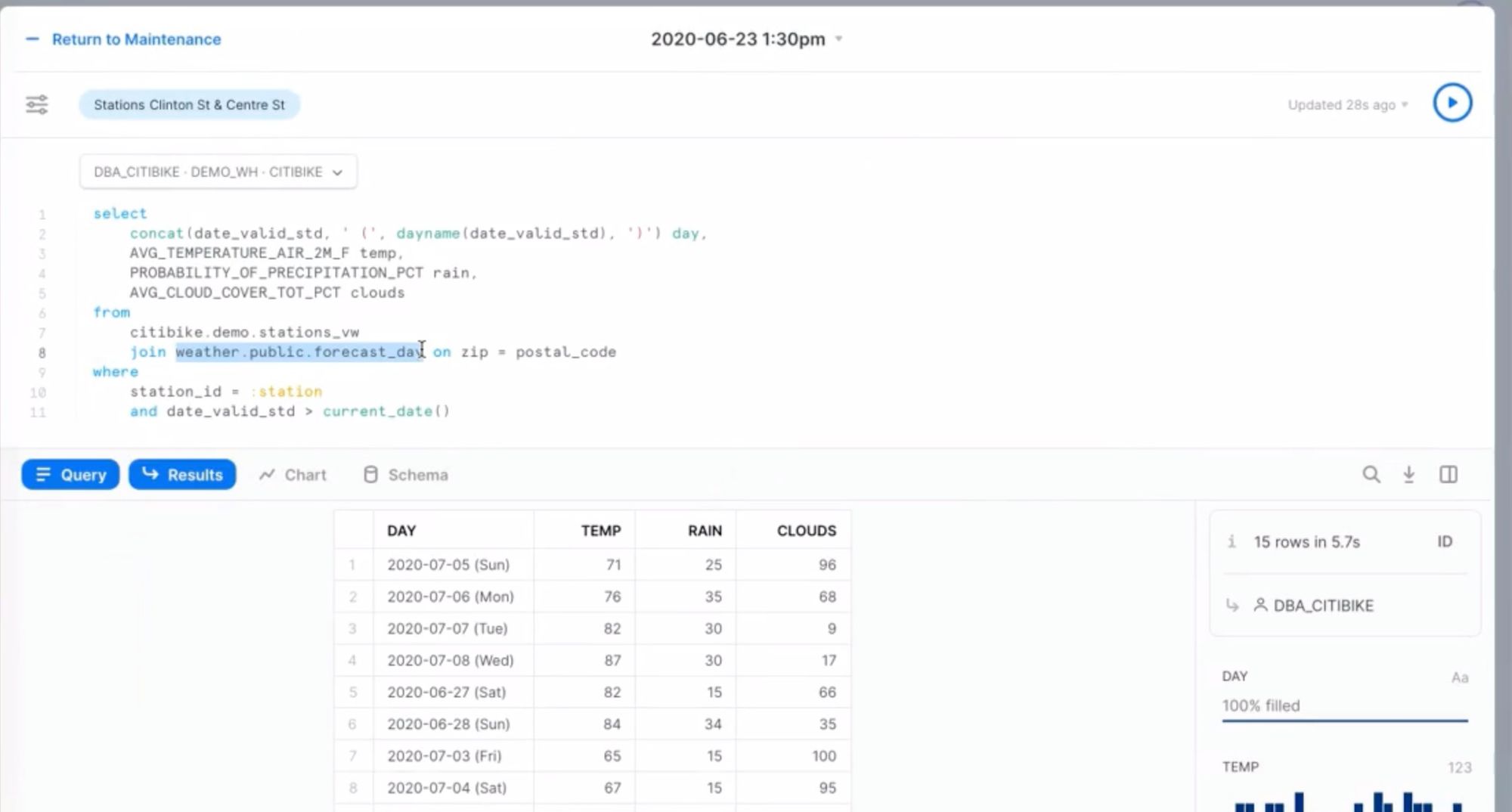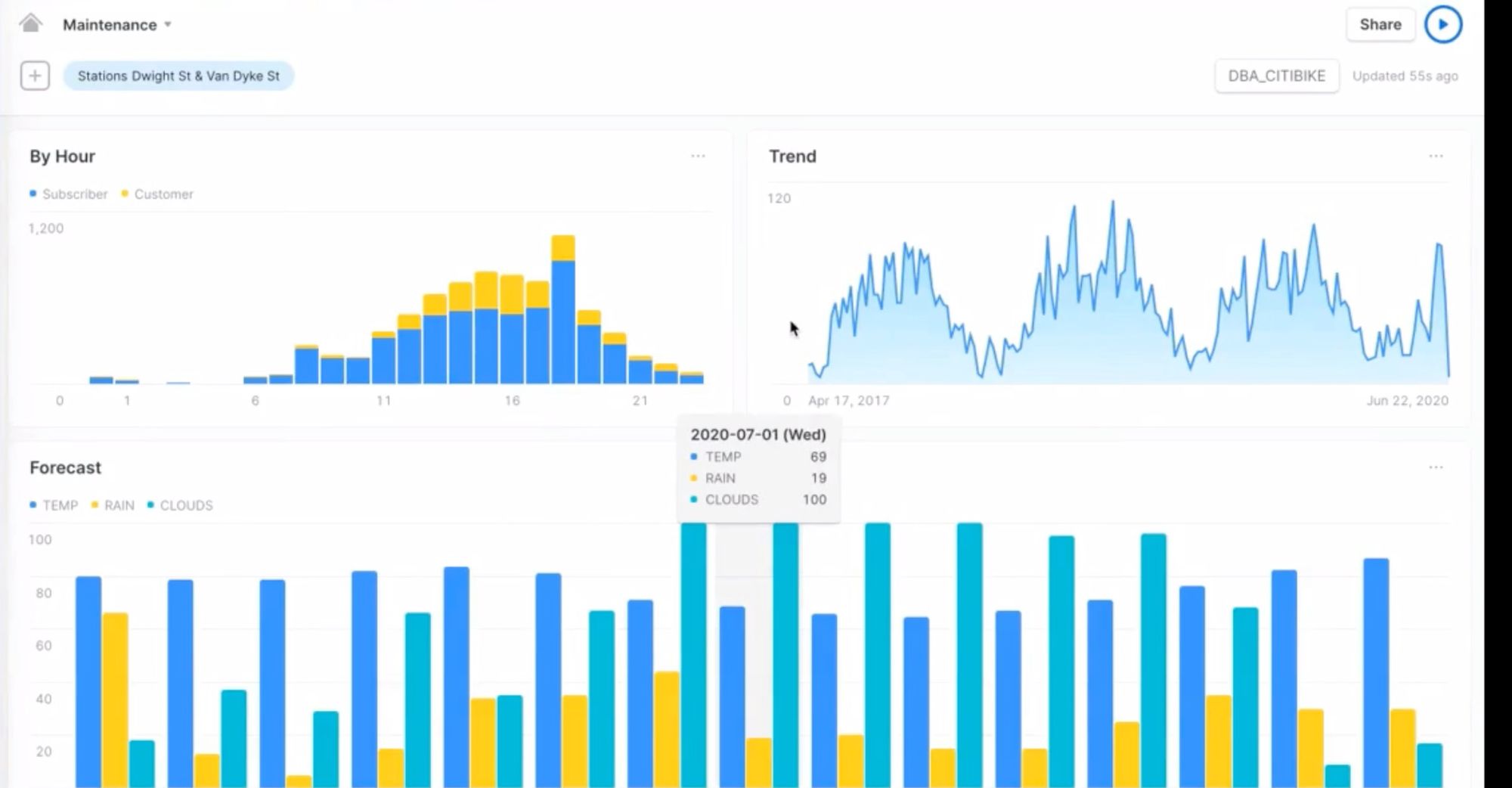 ELT/ETL: Fivetran recently raised at $1.2b post and the company plays a crucial role in increasing the time to value of Snowflake: Fivetran pipes application data into Snowflake and the various cloud data warehouses so customers don't have to build individual connectors again and again. It's interesting that Snowflake fueled the growth of Fivetran and Matillion as channel partners and featuring both pretty heavily in their documentation and integrations page but one wonders if Snowflake will build these connectors themselves as some point to capture a larger piece of the pie.
Business Performance & Benchmarks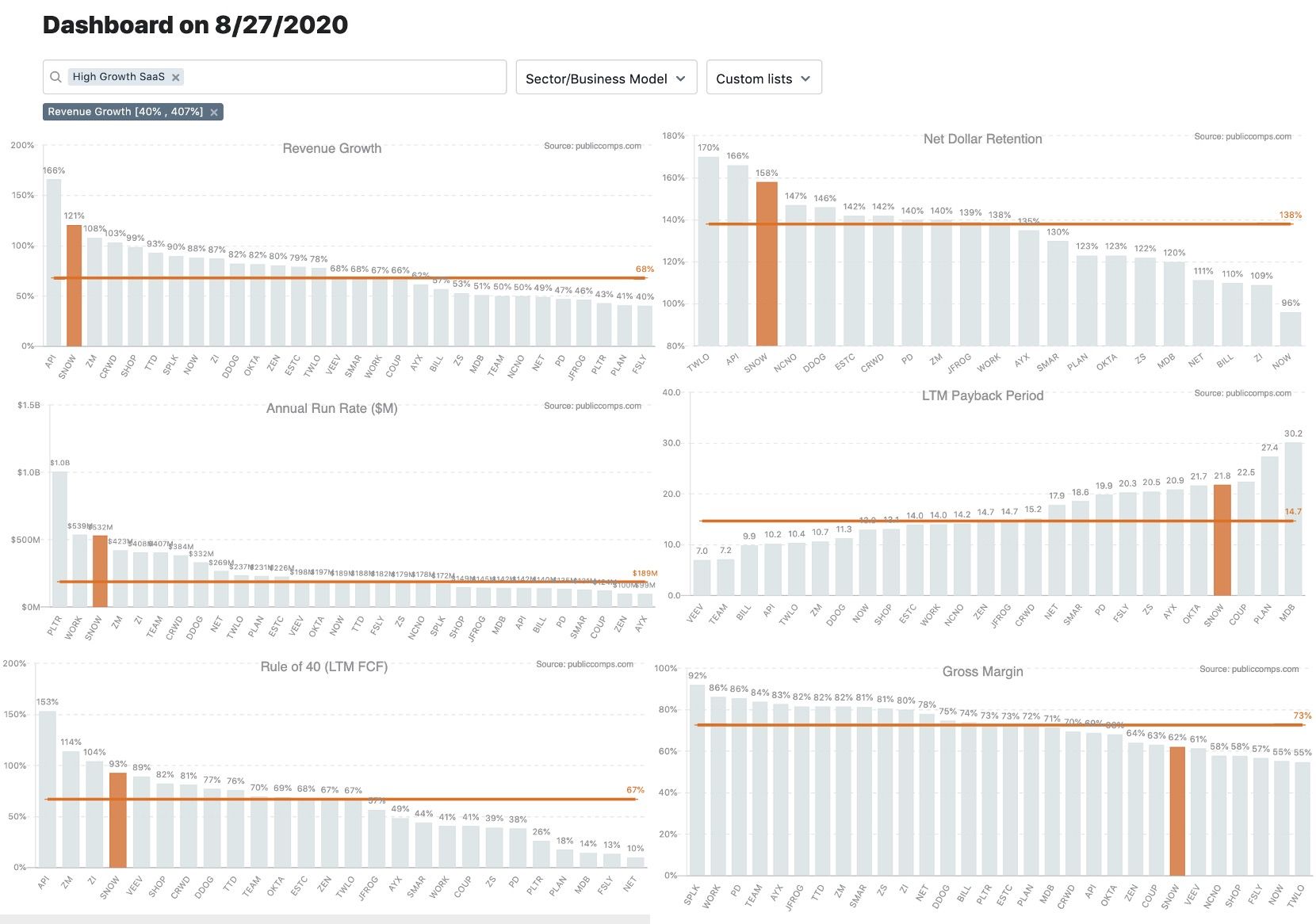 Snowflake is a generational and best in-class software company. We benchmark Snowflake against other software companies at IPO across key SaaS metrics.
Fastest Revenue Growth Rate: Snowflake is the 2nd fastest growing Public software company at IPO growing 121% YoY at a pretty significant scale at ~$542m ARRR – only Agora was growing faster but at a much smaller scale at ~$142m ARRR. At 8 quarters out since hitting $100m ARR, Snowflake is also the fastest growing company and at the largest scale which is incredible.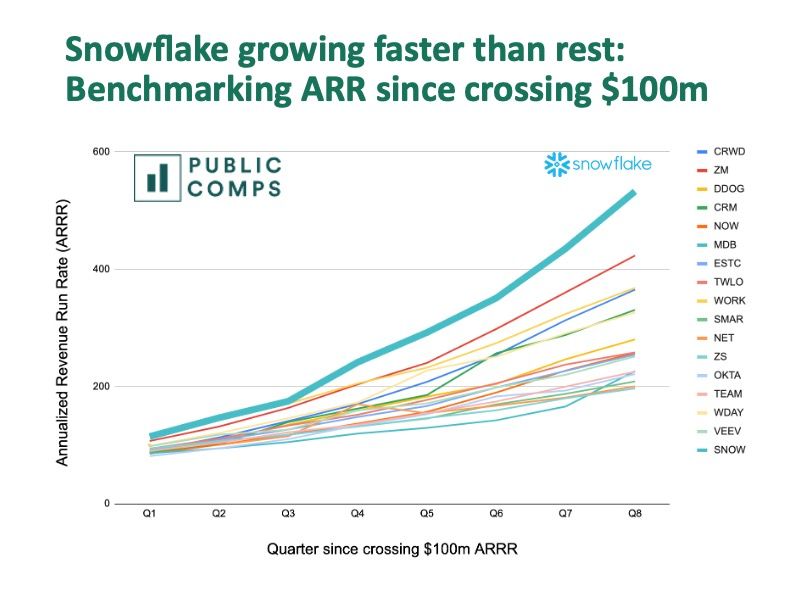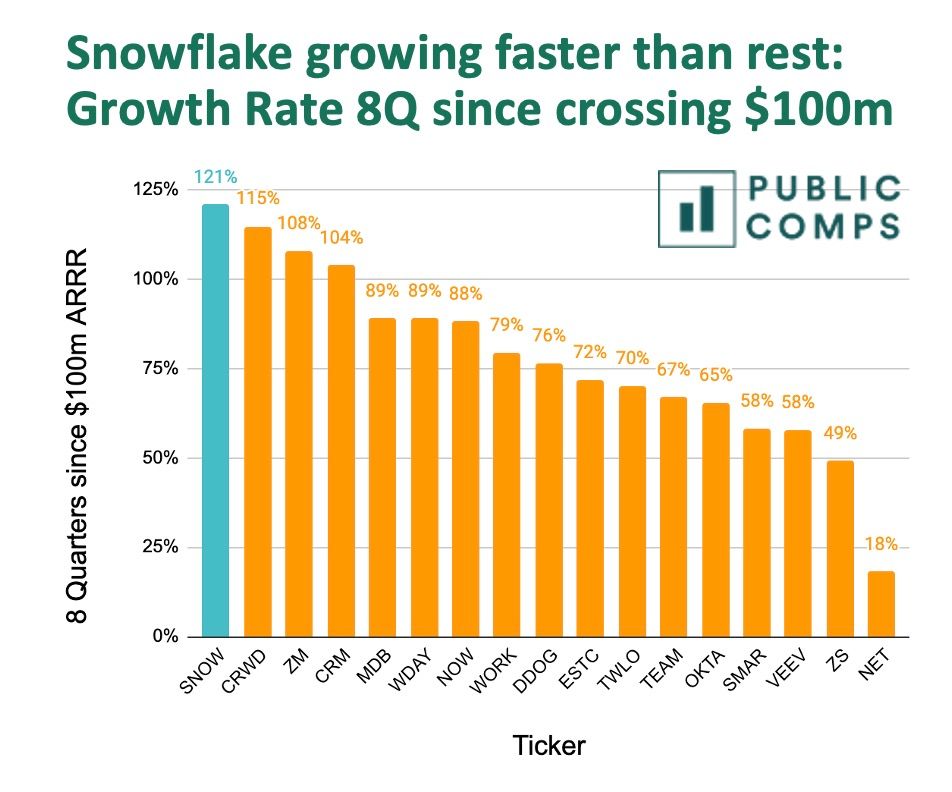 Rule of 40: Snowflake has the 4th highest rule of 40 at 93% (quarter revenue growth % + LTM free cash flow %) with -19% FCF margins in the most recent quarter. While Snowflake isn't profitable, its growing top line incredibly quickly (100%+) and is in the exclusive club of rule of 90+.
Net Dollar Retention: Snowflake has the 3rd highest Net Dollar Retention at 158% among these high growth SaaS IPOs– looking at their financials you can see that Snowflake was >200% net dollar retention just a year ago! The key insight here is note that Agora, Twilio and Snowflake all have usage-based pricing that sell to developers and engineers. There's something unbelievable with the upsell motion when delivering a product to developers who need more and more of your product overtime.
Payback Period: the company's 22 month payback is quite impressive given the high average spend per customer at $160k and 50+ customers paying $1m+
Capital Efficiency: While Snowflake has -58% operating income margins in the most recent quarter and -20% FCF margins, Snowflake raised $1.4b to date and consumed $800m in capital to get to $532m ARRR implying 0.57x cash efficiency (for a dollar of capital raised, generates 0.57 incremental ARRR). This isn't bad considering Snowflake continues to be the fastest growing company 8 quarters since hitting $100m ARRR.
Lower Gross Margins because of Cloud Vendor Fees: Gross margin is roughly 60% which is lower for a typical SaaS business. This is because Snowflake has to pay 3rd party cloud providers like AWS, GCP, Azure for using their storage or compute infrastructure. This is definitely a weakness in Snowflake's business as a lower gross margin limited how profitable it can be at steady state. Its interesting to note that Gross Margins have trended up significantly in the last 2 years from 44-45%.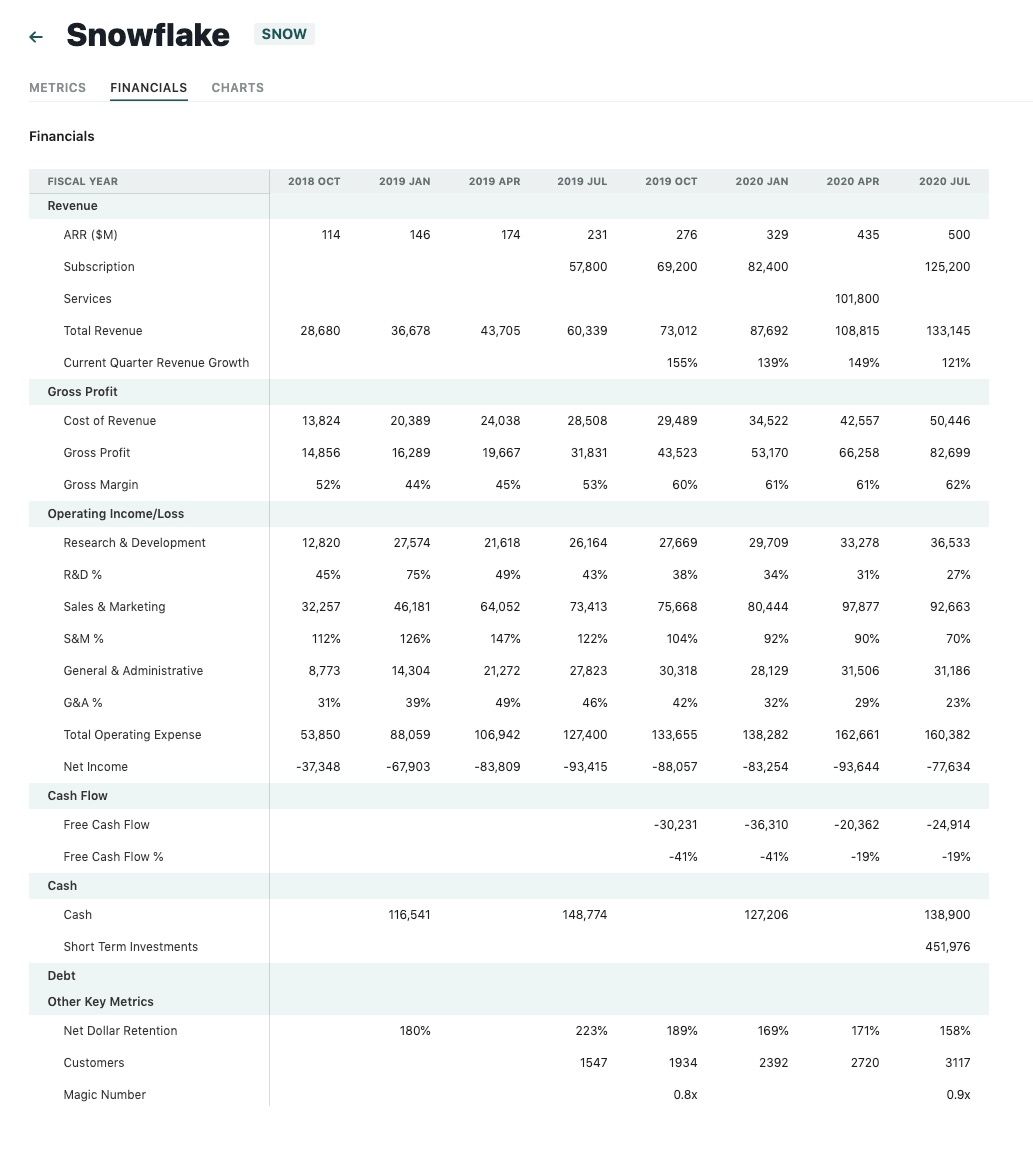 Ownership
Sutter Hill Ventures owns nearly ~20% followed by Altimeter at 14.8%,  ICONIQ at 13.8%, Redpoint at 9% and Sequoia at 8.4%.
If Snowflake were to go public at $30b, Sutter Hill Venture's 20% stake will be worth a whopping $6B for the firm. Wow.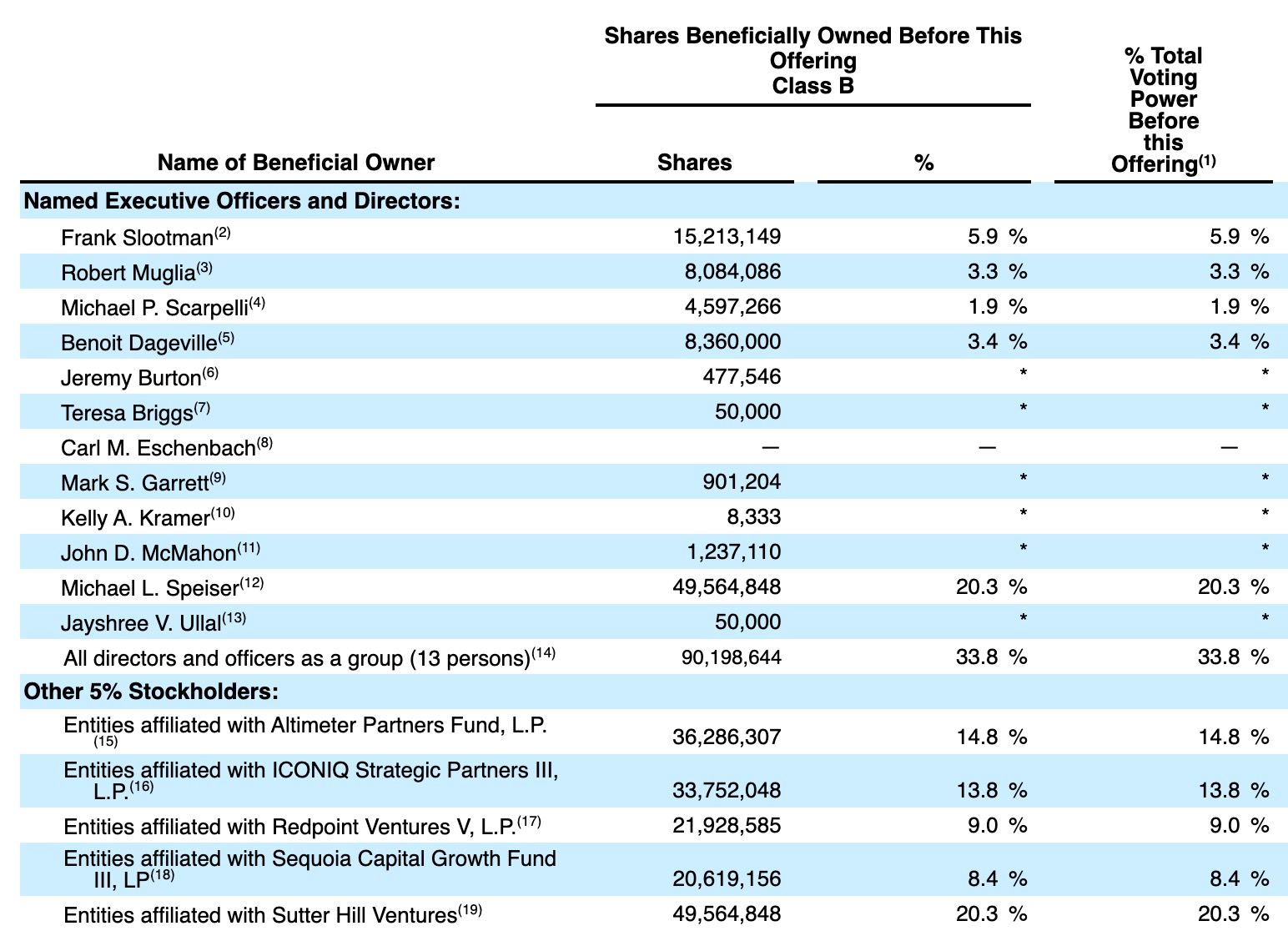 Valuation
For the average high growth SaaS company, EV/NTM Revenue (analyst estimates) is 23.4x and EV/NTM Run Rate Revenue (our estimates) is 18.6x as of August 27th, 2020. You can find real-time valuation multiples here.
On the high end, Datadog, Zoom, Coupa, Bill trade for 26-32x EV/NTM Run Rate Revenue.
Snowflake is currently ~$532m ARRR growing 121% – assuming Snowflake grows another 100% YoY, Snowflake will be roughly ~$1b ARRR in a year.
Applying the 26-32x EV/NTM Run Rate Revenue, we believe Snowflake will price at $26-$32B when the business goes public.
(Aside: That's a 2x+ for Dragoneer who invested just in February 2020!)


Conclusion
Snowflake is a generational company that we think will continue to grow as more and more companies centralized their analytics data into a cloud data warehouse like Snowflake. The trends of more data, the shift from on-prem to cloud, and data becoming an important part of decision making should continue to fuel the company well beyond their IPO.
Congratulations to the Snowflake team and to their investors!