UiPath S-1 & IPO Teardown
UiPath is one of the fastest-growing software companies ever. We summarize the S-1 filing and walk through Ui Path's story, key metrics, product, market, competition, and valuation.


At Public Comps, we go through and summarize S-1s and contextualize the company's product & market as well as their financial performance against other best in class Public SaaS Companies.
Summary
UIPath, the leader in robotics process automation and enabling the fully automated enterprise, filed its S-1 to go public with the ticker name PATH
The company is one of the fastest growing SaaS companies of all time: the business went from $1m revenue to $600m revenue in 5 years.
As the COVID-19 pandemic necessitates companies to think about cost control, UIPath is enabling companies to use digital robots to automate mundane processes.
UIPath is $580m ARR growing 65% y/y after growing 107% y/y a year ago and is cash flow positive (4% LTM FCF margins).
There's a large enterprise focus at UiPath: 80% of the Fortune 10 and 61% of the Fortune Global 500 are customers. Customers range from Chipotle, CVS Health, Chevron to Crowdstrike, Adobe, EY.
The company boasts a best in class net dollar retention of 145% with an average revenue per customer of ~$72K. Enterprises are continuing to add UiPath bots and to automate more processes.
Unlike most high growth SaaS companies, UIPath took a bit more of a windy road: the business started in 2005 originally as an outsource tech firm in Romania before focusing on automation and raising their seed round in 2014.
Daniel Dines, the CEO/co-founder of UIPath, is a self-taught developer and worked at Microsoft for 5 years prior to starting UiPath.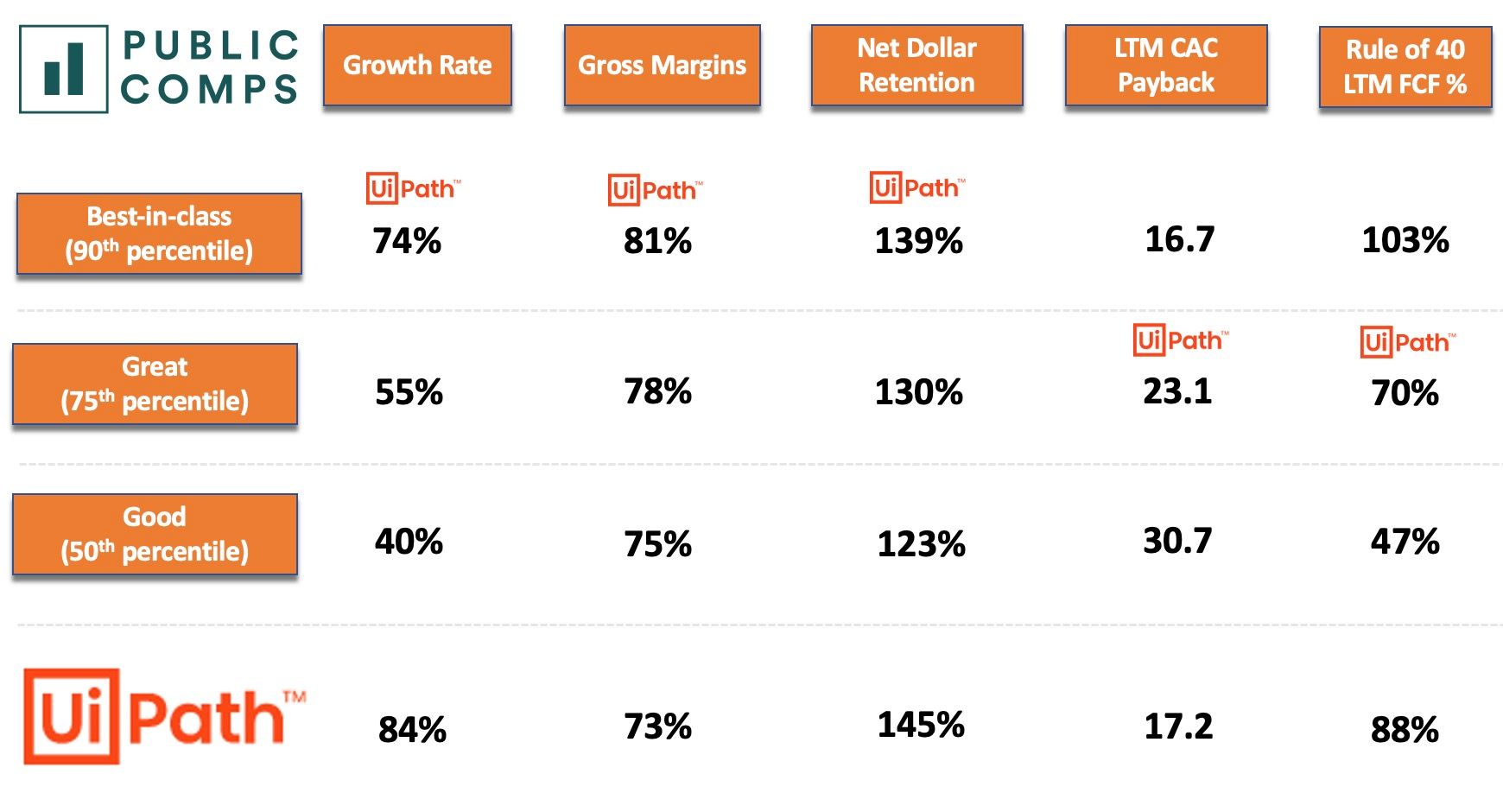 Background
When I started my venture career in 2014, very few people talked about RPA or knew of UIPath. It's incredible to see how in such a short period of time, Daniel Dines and the UIPath team have built such a large and fast growing software business by helping companies automate mundane tasks and enabling the vision of becoming the "fully automated enterprise".
How did a company that started in 2005 as a tech outsourcing company, took 14 months to raise a $1.6m seed round and even momentarily considered calling it quits, become a $30B+ company and one of the hottest and most anticipated software IPOs of the 2020s?
Origin Story

"At that time, we were building an engine and selling that engine to other garages. We had a good product and were always busy with it, but we didn't yet know what we could do with it. Until somebody came and told us 'you can use it to build an airplane.' - Daniel Dines

Unlike a lot of the recent high growth SaaS IPOs like Snowflake (founded in 2012), Datadog (2010), Crowdstrike (2011), Zoom (2011), UIPath's story starts much earlier in 2005.
A self taught programmer, Daniel Dines was an engineer at Microsoft in Seattle for 5 years before deciding to move back to Bucharest, Romania to start a tech outsourcing company, DeskOver.
DeskOver was a consulting firm that offered automation libraries and software development kits to companies like IBM and Google to build apps faster.
The insight for UiPath came in 2013 when an Indian Business Processing Outsourcing (BPO) company that was looking to automate tasks for their clients came to DeskOver. Dines's company, despite not focusing on RPA, came out on top and won the bake off against many other vendors including Blue Prism, founded much earlier in 2001 and the leader in RPA at the time.
DeskOver was soon renamed to UiPath,  a technical term in the company's codebase, and the business focused their efforts on virtual robots and RPA. Soon after, UiPath launched a desktop automation product and Daniel team were off to the races.
History of UiPath's revenue growth
2005: Started as a tech outsourcing company
2013: Focus on RPA and Automation
2014: $500k rev. $1.6m seed round
2015: $1m rev.
2016: $3.5m rev
2017:  $30m rev.
2018: $155m rev.
2019: $336m rev
2020: $607m rev
2021: File S-1 to go public
Today, UiPath is the leader in Robotics Process Automation with the stated mission of accelerating human achievement by helping automate the repetitive and monotonous work that we face.
UiPath positions itself as providing an end-to-end automation platform that spans identifying tasks and processes to automate, building these bots and scripts, to managing and measuring the impact of said bots. The company's vision is enabling enterprises to be fully automated as workers continue to observe, interact, identify, and build automation into their company using UiPath.

Robotics Process Automation (RPA) is basically the automation layer that sits on top of other software products that allows companies or workers to automate mundane and repetitive tasks by recording or replicating the steps a knowledge worker takes across applications on the user interface.
For example, say you're in the finance department and your job involves invoice processing at a large Fortune500. Your job is to open your email, download a PDF, find the invoice number, billing information, amount, etc and enter these data fields into SAP, your enterprise software product at work.
What RPA does is process these invoices in PDFs, pull out the relevant fields (document type, invoice number, total amount, etc) using optical character recognition (OCR) and then enter these data inputs into the specific fields in SAP. For example, you can see from the UiPath product that the invoice number was pulled from the PDF as 1,162 and then entered in the following screen int SAP Invoice Management System.

What would've taken an individual 5 minutes per document now takes seconds and there's less likelihood for human error.
There are a ton of other use cases that RPA is well suited for but just think if a process is manual, repetitive and requires using various software applications, RPA can likely automate said process.
Problem & Customer Value Proposition
Let's put ourselves in the shoes of UiPath customers to understand what problem UiPath solves and what value they deliver to their customers.
Coca Cola Bottling Limited Canada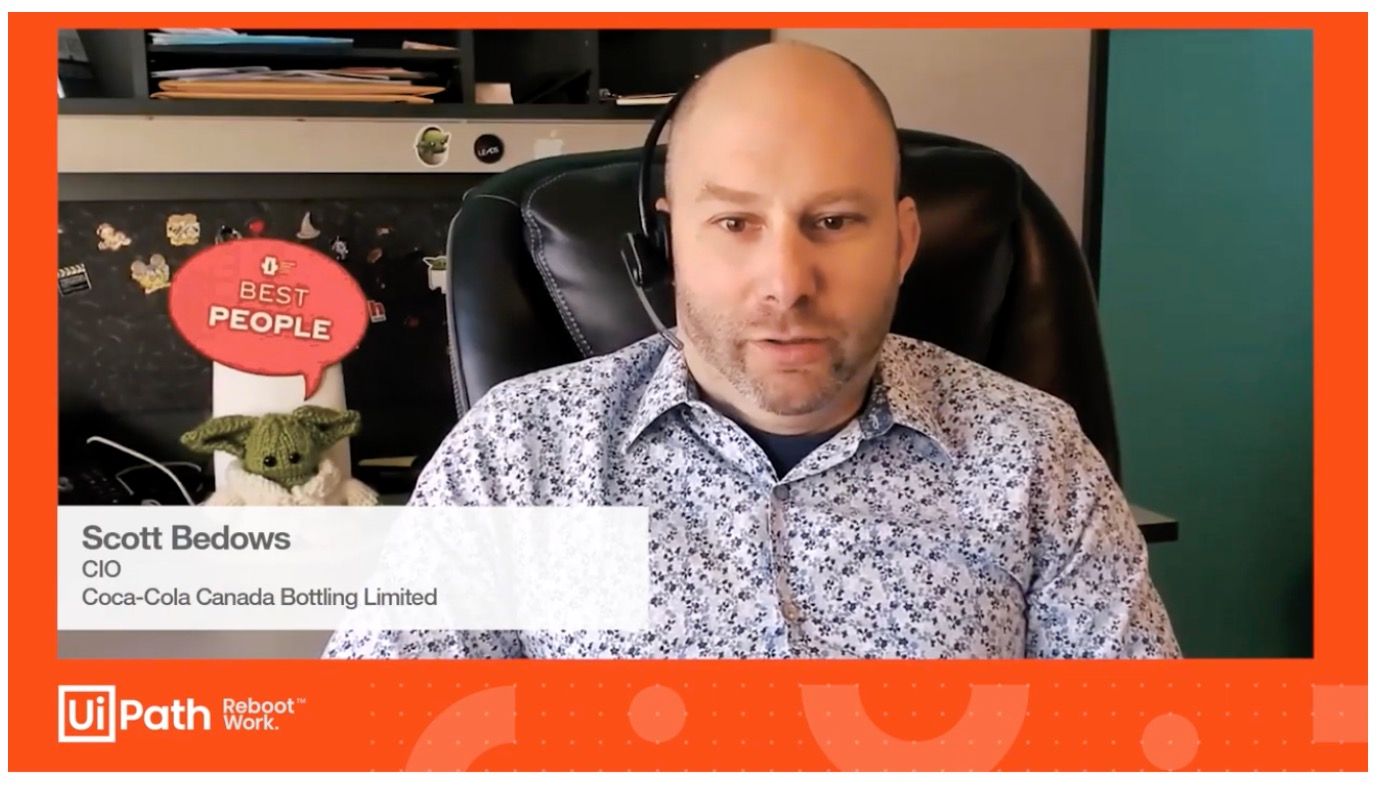 You're the Chief Information Officer of Coca Cola Bottling Limited, a 5,500 employee independently owned family business. Your business manufactures, distributes, sells Coca Cola, Sprite, Fanta, Powerade, Dasani, etc to Canadians.

Your team receives 100 emails a day from stores looking to do product samples which takes 8 minutes of manual processing  (~13 hours a day!) from opening up and processing the email, creating the sample order, and then entering the sample request into your financial system for accounting purposes. This is time consuming, error prone, and expensive for your team.
Your team is pitched all the time from various consulting agencies and firms that they can automate your processes. You outsource most of IT support so don't have the engineering resources internally to automate time consuming tasks like the product sampling requests. You're afraid to commit to some of these agencies that cost a few $100,000 and could take months if not a year to implement.
Ui Path comes in by helping your company partner up with a UiPath Canadian partner Greenlight Consulting which specializes in RPA consulting.
Greenlight is able to partner up with your company by providing RPA expertise and developer resources to automate the product sampling request taking what used to take 8 minutes per task to 30 seconds, saving nearly 1,600 hours or 1.5 workers work time.
In less than 12 months, you have 11 RPA projects up and running and saved your team 7,500 hours so they can focus on talking to customers and the core business versus manual time consuming tasks.
In short, Ui Path is the software that allows you to save a significant amount of time so your team can focus on talking to customers and selling.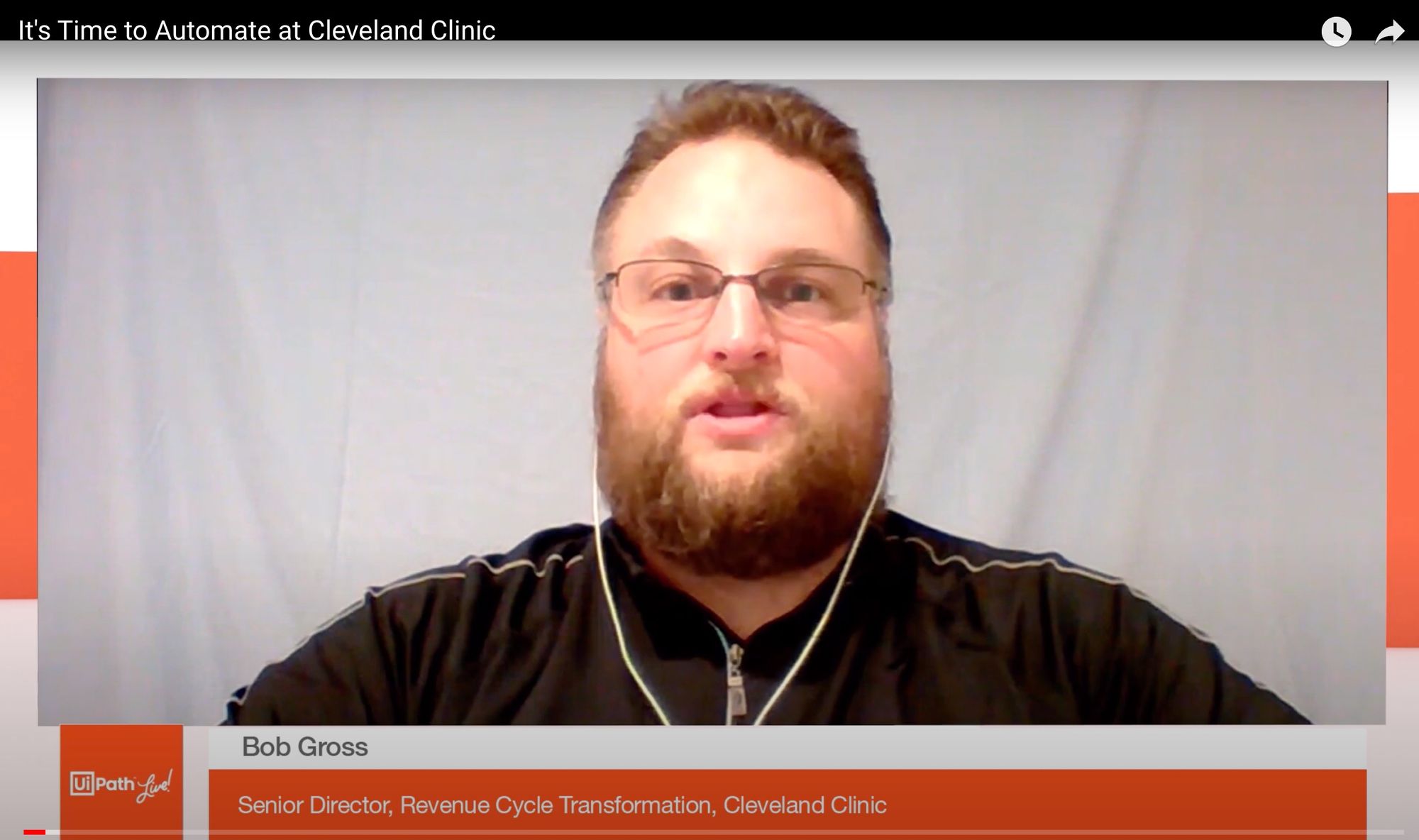 You're the Senior Director of Revenue Cycle Transformation at the Cleveland Clinic, one of the largest and most respected hospitals in the world. You oversee revenue cycle which basically involves all the processes outside of the patient and physician interaction so scheduling with the patients, check-in and registration for an appointment, coding and billing processes around patient insurance, and customer service.
In March 2020, COVID-19 pandemic hit and Cleveland Clinic was approved as a testing site for patients. However, the lines at these testing sites become very long as patients that come to get tested need to be verified by staff as a new or existing patient in the electronic healthcare system (EHR) Epic and then print a label for the test kits. This manual process for registering and verifying patients was taking 8-9 minutes per patient and was contributing to the 6 hour wait times.

Luckily, you've overseen Ui Path automate two processes in insurance verification and claim auditing at the Cleveland Clinic and you have a colleague who took a RPA course with Ui Path academy.

Your team is able to create a bot in Ui Path in 48 hours that takes patient data, checks to see if the patient is already in Epic, and then selects the printer closest to the test kit to print out the label. What took 2-3 minutes now takes the Ui Path bot 14-16 seconds.

You're incredibly happy as the wait times go down for the testing sites, your colleagues don't have to manually enter data and can focus on getting patients tested, and remove potential room for human error.

UiPath's Product
At a high level, UiPath claims to provide an end-to-end automation platform.
What this means is Ui Path provides tools from UiPath Studio which allows RPA developers to build automations, UiPath Robots which imitates human behavior to execute processes and scripts created from UiPath studio, to UiPath orchestrator which tracks and logs the robot activity to make sure the bots are working properly
Ui Path's breaks out their platform into the following sections:
1. Discover Tasks and Processes to Automate:
Ui Path offers various products to help companies figure out which processes and tasks to automate.
Automation Hub basically allows companies to give employees a central way to crowdsource automation ideas. For example, Iulia Istrate is an AP Specialist and has generated some ideas around automating invoice processing and on-boarding of employees -- other colleagues can then upvote ideas that resonate with them for the automation center of excellence (CoE) to prioritize.
Task Capture basically allows users to record tasks that they're doing by clicking a "record" button like in the example below of a worker capturing the process of entering data into an account document in SAP. A company can then take the tasks captured and send it to the RPA development team to build and automate this task.
Process Mining allows customers to get a birds-eye view of all the processes involved in, say, invoice processing and to figure out what parts of the process can be automated.
Task Mining similar to task capture, Task Mining allows customers to record the exact steps and time it takes to complete a task and doing so silently in the background. Ui Path offers analyzer which then figures out which task could be automated and provides a "RPA score" for what tasks should be prioritized for automation.
2. Build Bots:
Ui Path offers Studio which gives business users who don't code and advanced RPA developers the platform to build automation using a no-code editor.
StudioX is aimed at business users looking to automate task for themselves and their immediate teams
Studio is for RPA developers looking to build more complicated automation scripts
StudioPro is for advanced RPA developers with a more advanced editor that includes testing and more complex functions.
Additionally, Ui Path offers
Document Understanding: can be used within Studio to scrape data from PDFs and documents using OCR to enable teams to process documents more quickly as part of their automation steps.
UiPath Marketplaces: Think of it as similar to the Apple App Store where companies and developers can share pre-written code and templates for, say, automation for the tasks around Google Calendar, Docs, Drive, Sheets, etc. It's interesting to note there are quite a few download (194K for the find recently modified file in a directory) but still very few reviews. I'd imagine marketplaces will be a big driver for RPA developers moving forward as a lot of the tasks are likely similar from company to company.
3. Manage Bots:
Orchestrator basically allows companies to manage and check to see the bots are running properly and on schedule. Below is a screenshot of the mobile app version of orchestrator which shows you that there are 25 jobs running, 32 robots, and you can also see the average time it takes each job.
AI Center allows RPA developers to include machine learning models like, say, image classification into their automation models with a simple drag and drop.
Test Suite allows teams to run programmatic tests to make sure the RPA workflows are working on mobile, desktop, SAP and making sure the values match what the script intended for.
Data Services allows customers the ability to define data categories upfront and pulling data from other data silos like your database, ERP or CRM system into Ui Path for the purposes of automation. I'd imagine this is particularly helpful when an automation script relies on various data sources like websites, legacy systems, etc.
Insight is the dashboard that executives purchasing Ui Path looks at. Insight shares how much money and hours have been saved because of Ui Path and likely what executives use to create or increase budget for Ui Path's product.
4. Run Robots:
Ui Path provides, attended bots, unattended bots and hybrid bots which are simply a mix of attended and unattended.
Attended robots are basically robots that run with a human worker. We can think of the insurance claims processing example below as using attended robots since we still need to review to make sure the robots end output makes sense.

Unattended robots are used when RPA scripts can run in the background and a human doesn't physically have to be present. An example is an unattended bot that is monitoring emails and folders for invoices and automatically scraping the data and entering the data into SAP and then sending you a notification when the task is complete.
5. Engage
Ui Path Apps is a no-code app builder that allows companies to build simple interfaces on top of the automation scripts built in studio. I'd imagine it's much easier to build a simple to user interface to run the RPA scripts than having to get an admin to run the RPA scripts every single time in Orchestrator.
Assistant will set reminders and kick off automation scripts and allows users to intervene if needed.
Chatbot allows UI Path customers to interface with various applications through a simple chat interface. For example, an executive can type in the request to get all opportunities in North America that are open from Salesforce and the chatbot would send back the query versus having to open up Salesforce.
Action Center is where all the tasks that require human decisions that the bots can't answer live.
Business Model

Licenses (57% of revenue): Ui Path primary business model is selling licenses through annual and multi year subscription contracts that are priced per number of users using Ui Path and the number of automations (bots) running on Ui Path.
A Forbes article said Ui Path bot could cost up to $15,000/year and this blog post claims average yearly license is roughly ~$66,000/year per customer and bots could range from $1,200-$8,000/bot/year in addition to the cost of studio ($2000-$3000/seat/year) and orchestrator ($20,000/year).
Ui Path notes in their S-1 that some of their licenses are perpetual licenses (one-time purchase of a license) and it seems it depends if the customer is deploying UiPath bots on-premise or in the cloud.
Company also notes they've been offering a SaaS version of Ui Path called Automation Cloud which would allow customers to use the product without having to set up and configure their own infrastructure which is costly to manage.
Maintenance and Support (38% of revenue): The company provides maintenance and support likely for the customers who choose to deploy UiPath on-premise and need occasional updates and support with newer releases.
The relatively large amount of maintenance and support revenue suggests most of UiPath's customers are hosting or running UiPath on-premise and the Automation Cloud SaaS product is on the earlier side.
Services and other (<5% of revenue): A small part of UiPath's business is customer education and technical services likely around their Ui Path academy. I'd imagine the business made the strategic decision to keep this part of this business as small as possible and outsource the training and implementation to their channel partners and consulting partners.
Annualized Renewal Run-Rate (ARR): it's worth noting that UiPath focuses on the metric annualized renewal run rate which is simply annualizing the invoice amount from the subscription and maintenance revenue, or the recurring revenue parts, but does not include revenue from support, perpetual licenses (one time licenses), and services.
Go-To-Market
Ui Path has two main GTM channels: direct sales and channel partners
Direct Sales & Importance of Enterprise: Most of UiPath's revenue comes from large customers -- 75% of revenue from customers with >$100K ARR and 35% of revenue from customers >$1m ARR. The business splits up their sales org into enterprise sales that focuses on large businesses, high velocity inside sales that focuses on landing smaller and mid-sized customers, and a global strategic sales team focusing on large global accounts. The company also has a team focused on renewals and identifying up-sell opportunities for these sales teams. In their S-1, PATH points out their focus on enterprise customers.
Channel Partners: A big part of Ui Path's rapid growth was their early and now current strong partnerships with consulting firms like Accenture, Capgemini, Deloitte, Ernst and Young, etc. Given that consulting firms have large contracts with enterprises to make processes more efficient, UiPath is a natural partner by providing the software to enable the consultants to be successful. The economics are compelling for the partners: this article claims that sometimes the consultants would keep as much as 80% of the overall bot-related spend for setting up Ui Path in these enterprises. Currently UiPath has over 3,7000 global and regional system integrations, value-added resellers and business consultants.
Some additional observations on UiPath's GTM:
Product Led Growth at Ui Path & Community Edition: UiPath, like most enterprise software companies, is moving towards allowing users to try before they buy and to self-service the product to increase the time to value. You and I can sign up for UiPath's community edition, download UiPath studio, and start designing some workflows to automate. It's important to note that the ability to download UiPath studio only works for windows (file is .exe) currently. The community edition is free for small businesses, universities and individuals and Ui Path also offers a free trial for the enterprise edition bundled with training from Ui Path academy. It's been fascinating to watch enterprise software companies like Snowflake, UiPath, and Crowdstrike offer ways to users to try and before they buy as they've clearly seen the benefits of product-led growth, faster time to value versus booking a demo with a sales rep.
Heavy S&M Spend relative to R&D: Ui Path spends 63% of revenue on Sales and Marketing, making it the 5th highest S&M as % of revenue among all high growth SaaS companies. The tradeoff is that Ui Path spends a lot less on R&D as a & of revenue: PATH spends 18% versus the median 27% by high Growth SaaS.
A lot of room to grow still in North America: in the filing, the company talks about how customers located in the United States represented 36% of our total ARR and that there's still a lot of room to grow there.
Landing and expanding is a big part of their go-to-market: company claims in their S-1 a big reason for their high net dollar retention of 145% (January 2021) comes from short time to value and then helping customers identify additional processes to automate which increases the number of robots and paid seats for Ui Path. It's very impressive some of the examples they list in the S-1 of companies starting with <$100k contract and then expanding to >$1M contract within a year or so and how ARR grew 81x for their top 50 customers over the close of UiPath's history!
Market Opportunity
Automation is a large and growing market: In the S-1 filing, PATH cites an IDC estimate of the intelligent process automation market at $17 billion by the end of 2020 with a 4 year CAGR of 16% to $30 billion by the end of 2024.
The company claims their global market size with the "fully automated enterprise" vision is actually much larger at $60b of revenue, implying Ui Path has 1% penetration at ~$600m ARR.
There's growing interest in robotics engineering: "Robotics Engineer" is one of the fastest emerging job roles globally, with LinkedIn reporting a 40% compound annual growth rate in job postings from 2015 to 2019. A quick search on Glassdoor and Ziprecruiter shows a RPA developer can get paid anywhere from $54,000 to $109,000.
A few trends that UIPath benefits from
Increase in Cloud Based Applications: In the filing, company states that companies are spending hundreds of billions buying software applications, and to manage the hundred and thousand of SaaS applications, companies will need to consider products like Ui Path that can orchestrate and automate task across applications.
Increase in cost of employees: company claims that cost of skilled human capital is growing due to rising demand which means it's important for companies to automate tedious and mundane tasks to retain their best workers so they can focus on higher-level thinking and work.
Competitive Landscape
As the RPA and automation market has grown, so have the number of players.
Horizontal RPA Providers: Ui Path direct competitors are Automation Anywhere ($378m revenue in 2019) and Blue Prism ($194m revenue in 2020 growing 46% year over year). On LinkedIn, Automation Anywhere has 3,600+ employees whereas in their S-1, Ui Path claims to have 2,863 employees. It's unclear where AA's revenue is other than the figure from 2019 but given the increase in headcount in the last year, its suffice to say AA is growing.
RPA Offered by Software Systems:
SAP RPA: it's worth noting that a large number of cases studies by Ui Path point to automating workflows that involve SAP but SAP announced their own RPA offering, which makes since given at $27B revenue SAP has every incentive to keep their customers using their software products to avoid any churn.
Microsoft Power Automate: One of the biggest threats to UiPath is Microsoft Power Automate (previously known as Microsoft Flow). It currently sits as a close challenger to UiPath according to Forrester's RPA market landscape. What's particularly challenging for UiPath is Microsoft Power Automate product is cloud-native (no need to install onto your computer whereas you would need to for Ui Path studio), its focus on both API and interface integration, and the product is incredibly cheap relative to UiPath. Microsoft Flow costs $15/user/month for unlimited flows and $40/user/month for unlimited flows and attended bots. Further, given most enterprises workflows involve Microsoft Office (Excel, Outlook, Word, etc), Microsoft is able to have the deepest integrations with their own automation suite. Microsoft's acquisition of Softmotive in May 2020 apparently accelerated their RPA and automation strategy. The Microsoft Power Automate interface doesn't look too shabby:
Business Processing Management (BPM):
The lines between BPM and RPA are blurring in my opinion: Appian, Pega, and Celonis all position themselves as RPA solutions as well. Appian, which saw its stock price 4x in 2020, had $129m revenue in 2020 up 40% -- it's worth noting that UiPath added the equivalent amount of revenue or $127m net new ARR in just 6 months.
Cloud Native API Workflow Automation:
Service Providers:
A big part of the RPA ecosystem are the system integrators and consultants that enable customers to adopt products like Ui Path. These service providers are the ones coding and setting up the processes -- Ui Path isn't in the business of implementing each of these bots and scripts for all their customers.
Business Performance & Benchmarks
Here are the key takeaways from UiPath's business metrics
UiPath is one of the fastest growing software companies ever: The business is currently $580.4 million growing 65% and went from $1m ARR to $100m ARR in 3 years and $100m ARR to $580m ARR in the course of 2.5 years! The business currently is the #5 fastest growing SaaS company at 65% y/y.
However, growth rate is decelerating: after growing 108% y/y in January 2020, the business declined to 65% y/y and net new ARR, or the change in ARR from one quarter to another, has stayed roughly flat.
But the tradeoff is UiPath is now profitable: The company burned $380m of free cash flow in the fiscal year ending January 2020 but generated $25m of positive free cash flow in FY January 2021. A part of this were layoffs that took place towards the end of 2019 -- note how much operating expenditures fell 18% from $794m in FY21 to $652m in FY22 whereas revenue grew 80% during the same time period.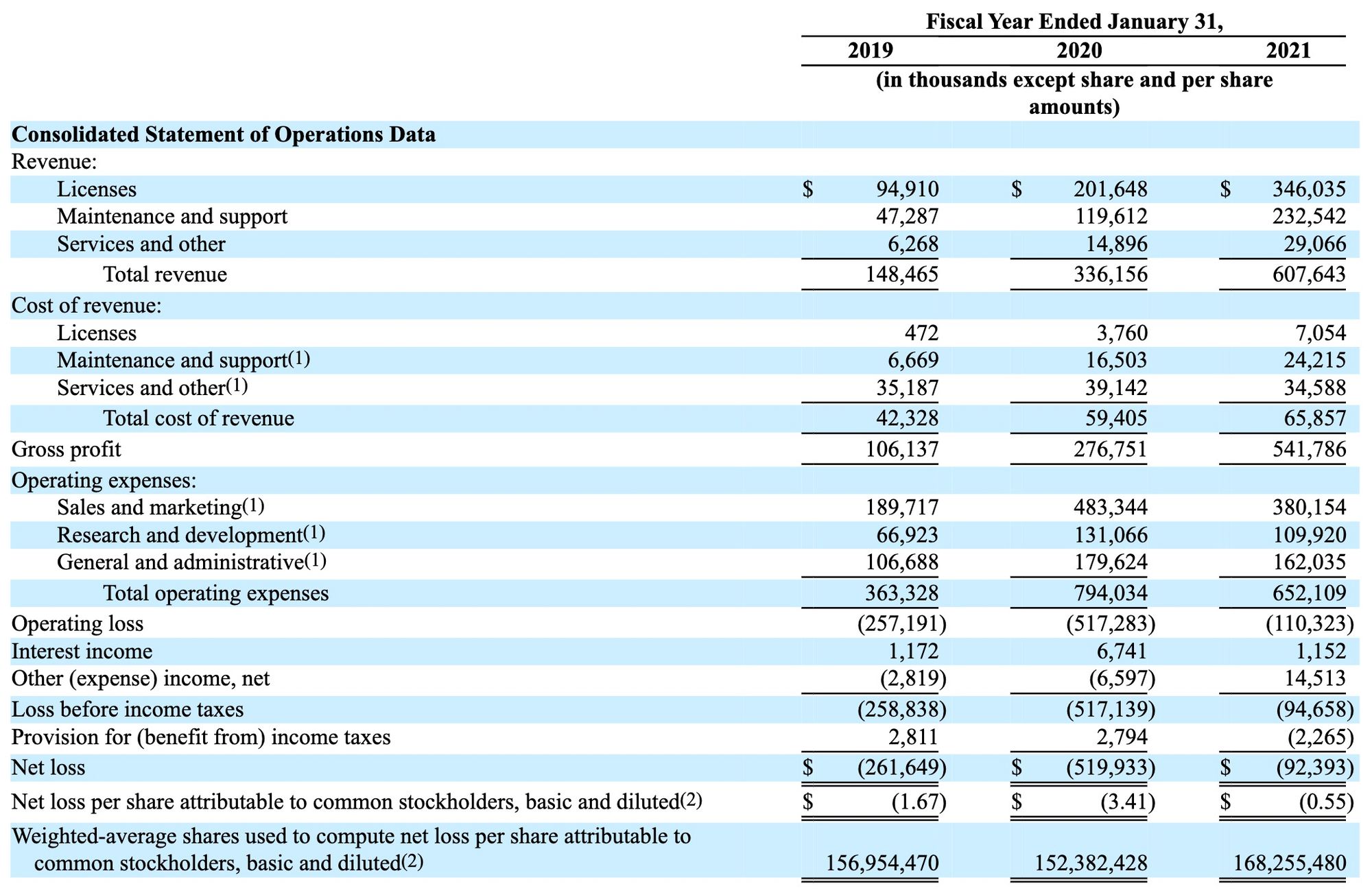 Best in Class Net Dollar Retention Driven by More Robots and Usage: the land and expand strategy is clearly working as Ui Path's 145% net dollar retention is the 3rd highest among all Public SaaS companies (and Agora's NDR is high but also at a much smaller revenue scale of $133m ARR). Ui Path's explanation in various case studies is that companies find more and more processes to automate as they use the product and buy more seats and robots.
UiPath almost never loses customers: The company states a dollar-based gross retention rate of 97% as of January 31, 2021. Ui Path calculates the metric as "the percentage of ARR from all subscription customers as of the year prior that is not lost to customer churn". This is very impressive: customers are clearly getting value of Ui Path's robots and reminds me of Crowdstrike's 98%+ gross dollar retention rate.
Highest Gross Margins for High Growth SaaS: at 89% GAAP gross margins, UI Path has the highest gross margins among our high growth SaaS companies. It's worth noting that given the dynamics of ASC606 where UI Path is selling licenses and some perpetual licenses, the gross margin number may be slightly inflated as ASC606 can tend to recognize these license contracts more upfront.
Heavy S&M Spend relative to R&D: Ui Path spends 63% of revenue on Sales and Marketing, making it 5th highest S&M as % of revenue among all high growth SaaS companies. The tradeoff is that Ui Path spends a lot less on R&D as a & of revenue: PATH spends 18% versus the median 27% by high Growth SaaS.
Average ARR per customer is quite high: UiPath's ARR per customer (ARR/customer) is roughly ~$72,000 which is quite high. This isn't surprising as their go-to-market focuses primarily on large enterprises and 80% of the Fortune 10 and 63% of the Fortune Global 500 are UiPath customers. Additionally, some of the largest and fastest growing companies in the world like Adobe, Crowdstrike, Chipotle, CVS Health, and Chevron are customers.

Valuation
UiPath raised $750M in their Series F back in February 2021. At the time, they were doing ~$580M in ARR, and raised at 35B post-money valuation. Accounting for cash on the balance, the enterprise value/ARR for UiPath is roughly 57x which would make UiPath the 2nd most expensive Public SaaS company right behind Snowflake and not too far behind from the multiple Databricks fetched in their most recent round.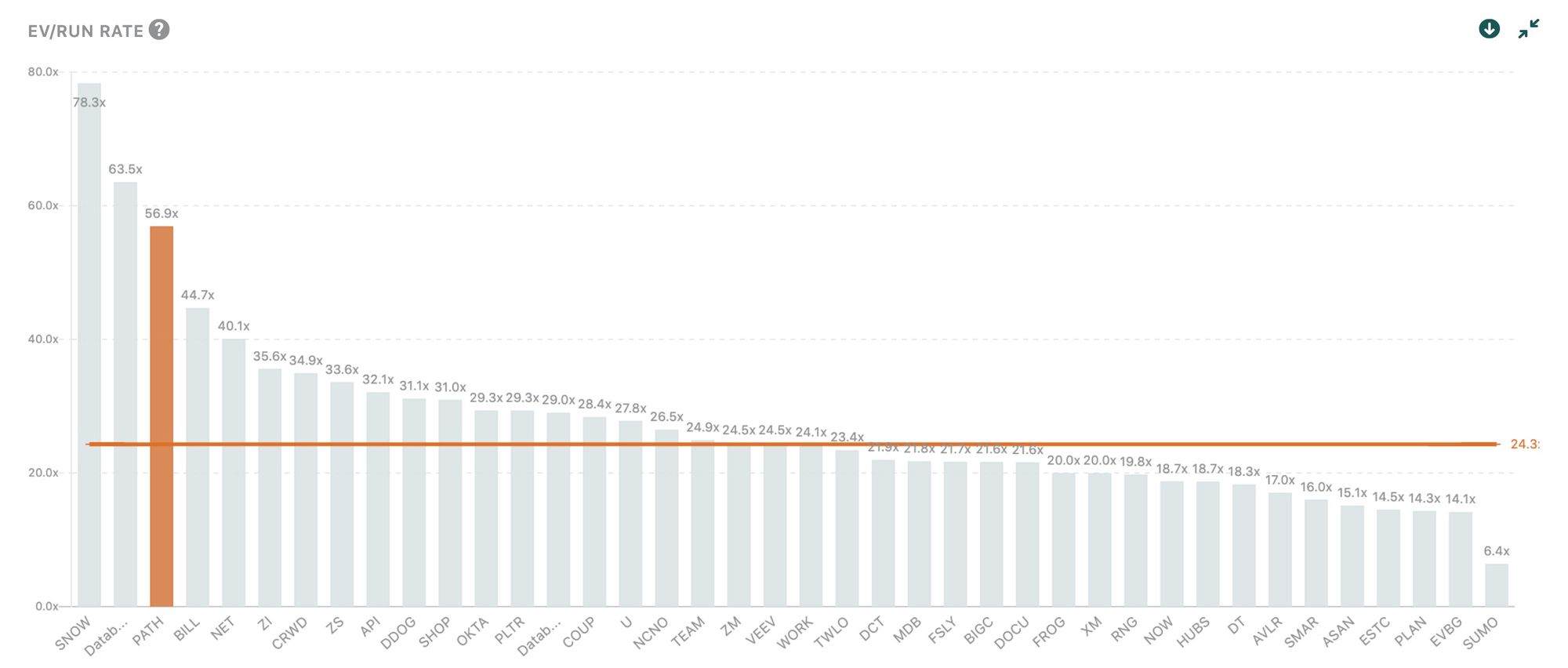 The 57x EV/ARR multiple is much higher than peers – when we look at the scatter plot of ARR growth rates (which would exclude Snowflake which is consumption based pricing) and EV/Revenue Run Rate, we see that UiPath has the highest valuation that's well above the line.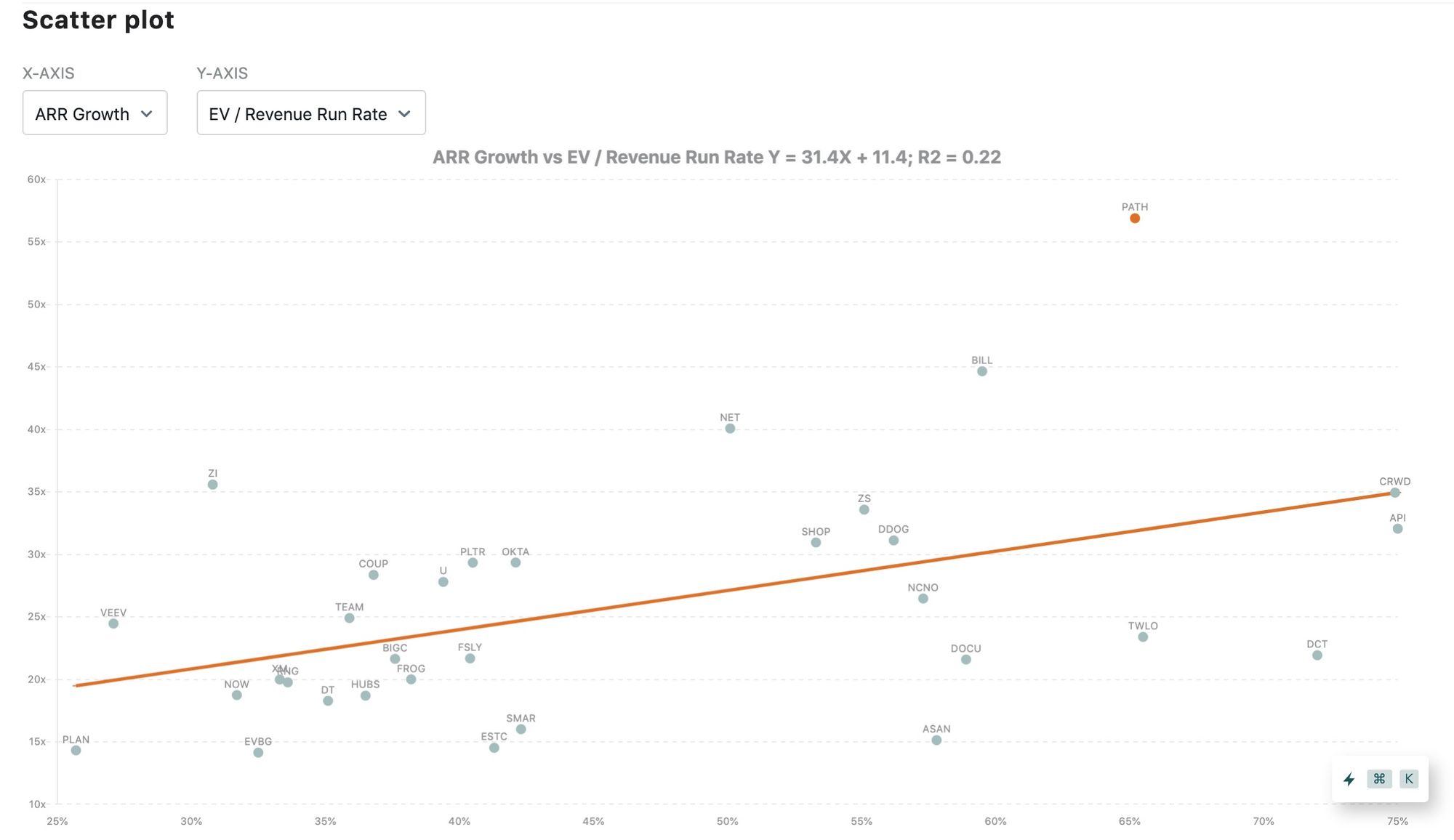 Conclusion
Daniel Dines and UiPath had humble beginnings in 2005 as an outsource tech company that struggled yet worked their way into becoming a software company and the category leader in a fast and growing market in robotics process automation. It's an impressive story how a founder and team was able to pivot from a consulting business into one of the fastest growing software companies of our time by listening to their customers.
A big learning here for me personally was that consulting firms seemed to play a big part of the growth story as firms like Accenture and EY pushed RPA into their customers as part of digital transformation projects— perhaps a learning is having channel partners is a necessary channel for a company to scale so quickly versus just relying on a company's own direct sales force.
Congratulations to Daniel and the UiPath team!