Unity (U) Q1 2021 Earnings Teardown + Q2 Predictions
Unity is one of the oldest yet fastest growing software companies out there. We break down Unity's business and Q1 2021 Earnings.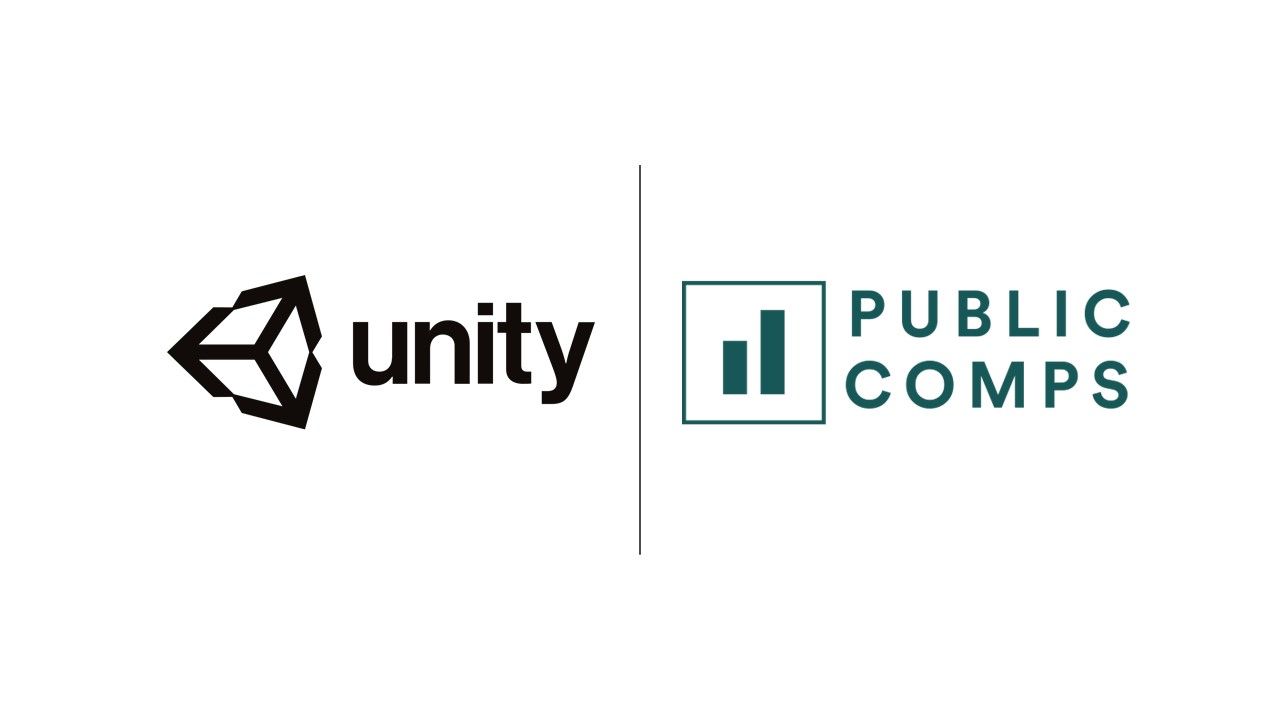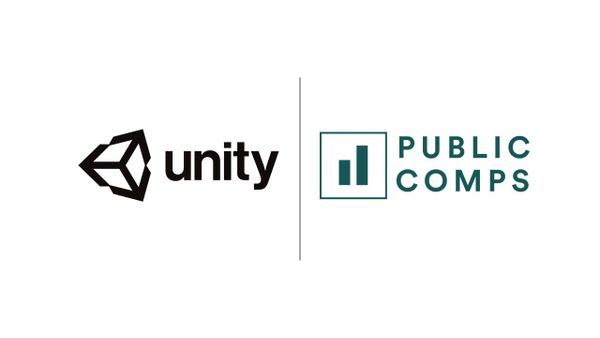 Financial Highlights
$234.8M revenue (+41% YoY)
$70.4M Create Solutions revenue (+51% YoY)
$146.6M Operate Solutions revenue (+40% YoY)
$17.8M Strategic Partnership revenue (+12% YoY)
837 customers generated >$100,000 of revenue (+25.3% YoY)
$939m ARR (+41% YoY)
140% net dollar retention (up from 133% a year ago)
Summary
Despite its inception nearly two decades ago, Unity remains one of the fastest growing B2B SaaS companies, growing at +41% YoY to $939M ARR. Their products are among the stickiest best-in-class SaaS solutions with a net dollar retention of 140%, currently fetching a 29.0x ARR multiple. Unity is very much in "growth-mode": LTM FCF margins are (10%) with 66% and 30% of Q1'21 revenue spent on R&D and S&M as they focus on gaining traction in nascent markets. As end users seek home entertainment from gaming and the imperative to digitally transform legacy industries is strengthened by the pandemic, U is in a strong position to capitalize on the adoption of real-time 3D products. They have made several acquisitions to bolster their core video game development business as well as offerings in adjacent industries, and are continuing to strengthen their dominance (45% market share) in global game development. Management is optimistic coming off of recent momentum, raising revenue guidance to ~$242M (+31% YoY) and ~$1.0B for FY21 (+30% YoY).
Overview
Unity believes "the world is a better place with more creators in it".
The company focuses on providing a comprehensive set of software tools for developers to create and monetize real-time 2D/3D content. However, I think an important distinction should be drawn here. Although Unity is known to be a "video game company", it is more than that. Inherently, a game engine can be used for any kind of 2D/3D content development and is not limited to the scope of video games.
Unity's suite of tools supports 20+ platforms ranging from mobile phones to AR/VR devices, clearly dominating the mobile space with ~71% of the top 1,000 mobile games created with its platform.
Founded in 2004, they are one of the oldest SaaS businesses remaining focused on growth. Although lack of profitability appears striking, the company's transition into hyper-growth mode began only in the latter decade. Since CEO John Riccitiello took the reins in 2014, the engineering headcount has expanded 15x to 1,500 by 2019, U launched its current largest segment Operate Solutions in 2014, penetrated AR/VR platforms in 2016, and targeted industries beyond gaming in 2018. Management continues to aggressively expand through both organic growth and inorganic acquisitions.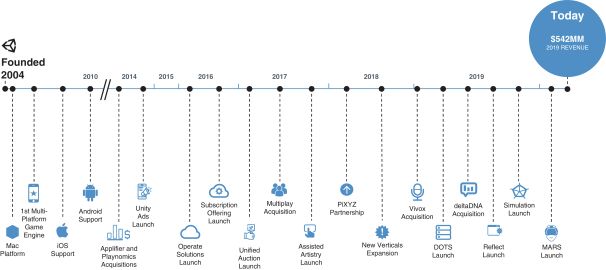 Business Model
Unity provides everything needed to develop, monetize, and optimize applications created on its platform. The company generates revenue via freemium subscriptions, revenue-sharing, and usage-based services.

Create Solutions
Create Solutions products are tools for developers to create content. Primary monetization is via freemium subscriptions, generally contracted annually and billed monthly. Larger enterprises pay for premium tiers.
Core engine platform – Unity's bread and butter; the core game engine that equips developers with tools to create content, games, and other applications
3D Content Tools – Tools for use cases outside of gaming, which are purpose-built for specific industry applications
Support services – Support services consist of consulting, integration, training, custom application and workflow development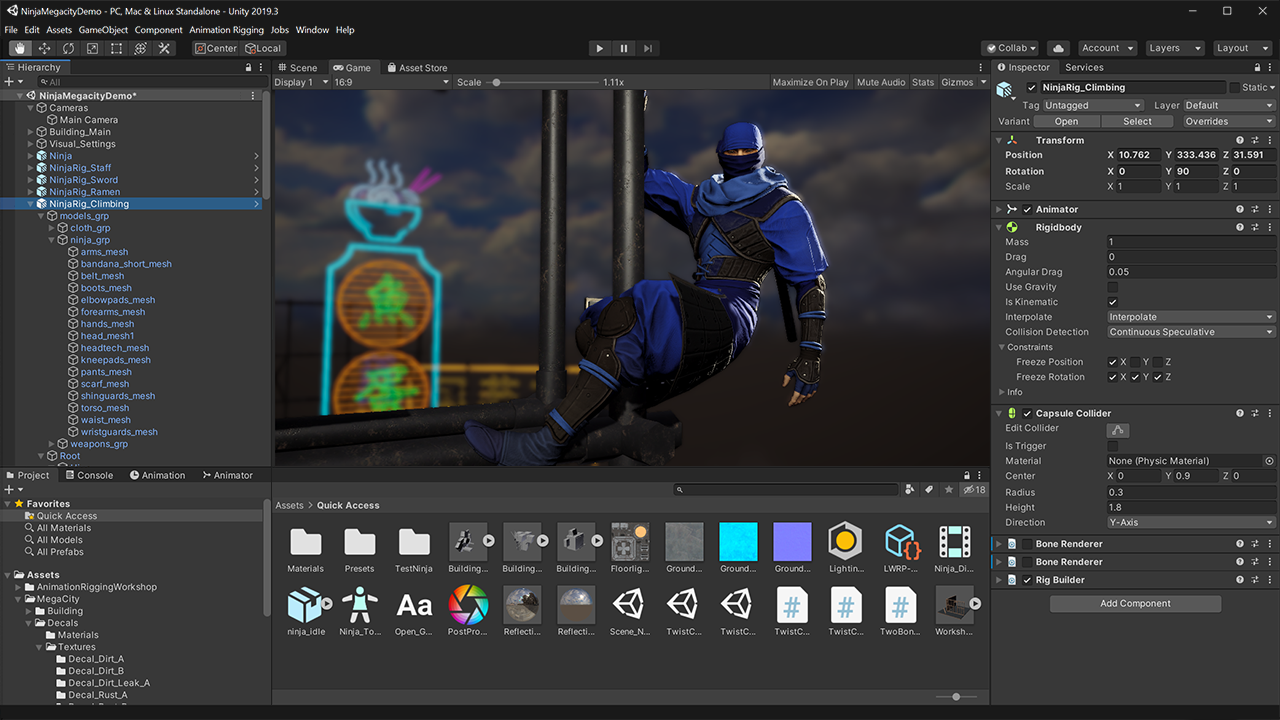 Operate Solutions
Tools to help developers acquire, monetize, and engage customers. Revenue is mainly generated through a revenue-sharing model from advertising services, with a smaller part from supplementary services charged on a usage basis.
User Acquisition products – tools for developers to advertise their applications within the Unity network
Advertising products – Customers that want to monetize their apps sell advertising inventory via "Unified Auction", a bid/ask marketplace for optimizing ad prices, to Unity's network of advertisers
End user cloud-based services – Hosting services, voice chat services, and Unity's data analytics platform all built to support the ongoing operation of games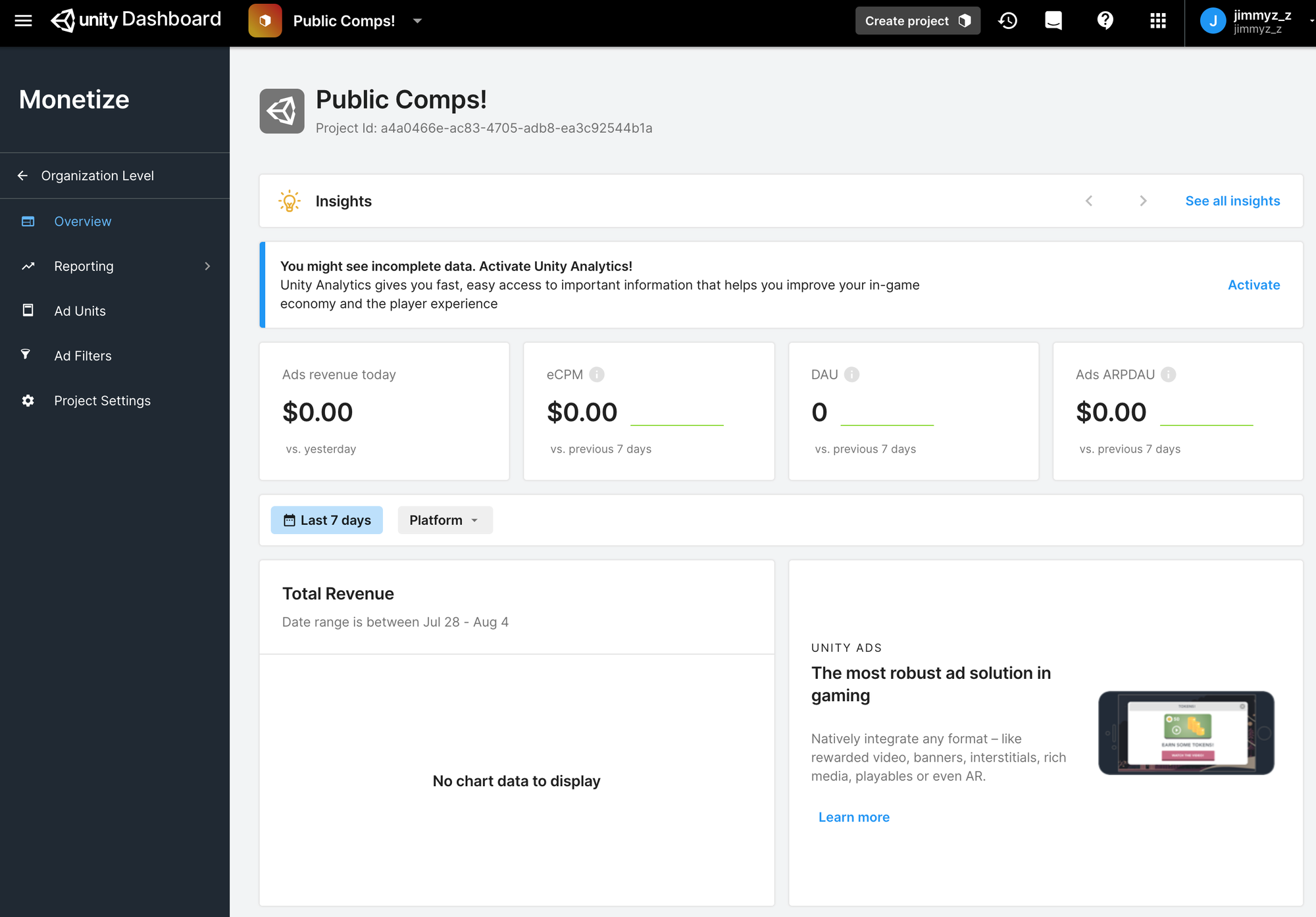 Strategic Partnerships & Other
Strategic partnerships – Partnership contracts with operating systems, AR/VR devices, game consoles, and other technology providers so that Unity-built software can be supported across 20+ platforms
Other revenue – Unity takes a piece of transactions that occur in its Asset Store, a marketplace for creators to sell digital assets and tools used for content development
Why Unity Wins
Global game development is a concentrated industry with Unity and Epic's Unreal Engine consisting of 65%+ market share, largely due to significant barriers to entry and switching costs for developers.
Unity is the clear leader by market share in mobile game development (50%+ market share) and AR/VR content tools (60%+ market share). Unreal's engine orients towards big-box game development and has a stronger presence among PC / console platforms.
Although Epic Games is seen as a direct comparable, it's worth noting that Unity is a pure-play 3D content development company and Epic is not (only ~2.3% of Epic's total revenue was "engine revenue" in 2019). When the discussion is about Epic, I think about Fortnite; when it's Unity, I think about my parents (who refuse to even think about video games) raving about Pokémon Go – experiences made possible through Unity's platform.
1. Complete end-to-end content development
Unity is the only pure-play game development company that is end-to-end in nature. Tools are offered for customers at every stage of game development, leading to significant cross-selling opportunities between all business segments. This will be further strengthened as Unity becomes the go-to platform for emerging paradigms such as AR/VR.
The game development industry is mature, and Unity is able to leverage its market leader position to provide additional value to its end users via data analytics. 50%+ of the top 1,000 mobile games on the Apple App Store and Google Play Store, 93% of the top 100 game development studios by revenue were built on Unity's platform, and over 50 billion in-app events are recorded per day across the 20+ platforms supported. Additionally, Unity is able to mitigate the risk of regulation surrounding customer privacy as relevant advertisements can be delivered without the need to collect data outside of in-app user activity.
"So all of the people there are already using the core engine. If they're successful with their game, let's say there's 200 million game developers out there – 500,000 of them are successful and they built their game, and the game is finished and it's ready to be sold on the app store. The next extension is I need to advertise for this game. There's maybe like 1,000 of them that are super organic hits and they just go at the top of the absolute.
But for everyone else, they need to find a way to actually market that game somewhere. So using the Unity advertising platform is just a very natural extension, a very natural kind of cross-sell." – Global Sales Manager
2. Ease-of-use
Unity wins with their ease-of-use products built to be user-friendly for developers. In the interest of its core belief that "the world is better with more creators in it", U emphasizes the democratization of game development to all users. Substantial R&D investment in their UI/UX in tandem with a freemium model lets Unity acquire customers with minimal friction and grow symbiotically as their customers scale, clearly shown by its exorbitant NDR rates. "Customers contributing more than $100,000 of revenue" also grew (+25.3% YoY), further demonstrating Unity's success in scaling its existing users.

"Our best talent is quite experienced with Unity, and this helps us keep a stable, reliable workflow. Unity's also very user-friendly, so the less-experienced developers can quickly get up to speed." – Technical Director
3. Data Oriented Technology Stack (DOTS)
Processing efficiency is one of the most crucial aspects for 3D graphics development, allowing for GPU devices and standard processors to be fully optimized during usage. Unity and Unreal use C# and C++, respectively, which are both object-oriented programming languages not fully optimized for modern graphics. For the past four years, Unity has been at the forefront of developing its data-oriented technology stack, which recompiles code to be data-oriented. Designed for the world of multi-threading that modern GPUs perform, applications built with Unity's DOTS can achieve substantially faster performance and efficiency relative to the status quo.
Highly complex and graphics-intensive games need to be run smoothly, and compact devices need to run applications with limited processing power. As a result, Unity is in a great position to support, enable, and capitalize on AR/VR technology because devices must be compact and sustain a long battery life to be viable.
Market Opportunity
The market for game creators is huge and steadily growing: The market opportunity for Create Solutions and Operate Solutions within gaming is estimated to be $12B as of 2019 across over 15M creators, growing to over $16B in 2025
And Unity is proactively targeting larger markets. In industries beyond gaming, the opportunity is estimated to be an even larger opportunity at $17B based on the number of architects, designers, engineers, and other use cases. However, the market is still very much unpenetrated as legacy industries are more gradual to adopt new technologies
Future TAM expansion is promising: AR/VR and the digitization of legacy industries have historically remained ahead of their time, but the combination of COVID-19 and substantial hardware development during the past decade has pit the world closer than ever to the next "wave" of innovation. Unity believes there is "an opportunity multiple times larger than the ~$29B market opportunity served today", and is establishing its brand equity in huge untapped industries through aggressive R&D/S&M
"The time it takes to create real-time experiences from a BIM model has historically not been swift. With Unity Reflect, it's easy for any architect or designer to move a BIM model and data into Unity. This is a game changer for our industry." – AR/VR R&D Lead
Key Metrics & Benchmarks

• ARR growth is among the fastest software companies: ARR is currently $939M growing at 41% YoY, and has grown from $465M ARR from the past 3 years at consistent rates of 35%+ YoY. Unity continues to aggressively invest to maintain growth, however management expects to begin to seek profitability within FY 2023.
• Best-in-class net dollar retention: Unity has consistently posted NDR rates of 130%+ driven by the quality of both content and monetization products. They are the clear go-to engine for mobile game development, and their moat is further strengthened by the switching costs associated with the industry.
• R&D spend remains substantial: At the same time, Unity is hyper-focused on new customer expansion: they are making substantial investments to break into new industries with R&D spend at 66% of Q1'21 revenue. Traction is gaining as Unity establishes its brand equity beyond gaming, among the construction, retail, and art industries.
Q1'21 Earnings Takeaways
1. There is an ongoing secular transformation from linear 2D to real-time 3D. Unity is at the forefront of it.
Hardware processing capabilities are more powerful than ever and the potential of modern graphics is limitless. Unity is capitalizing – they are the only high-scale solution for creating and operating real-time 3D. This is the tenth quarter of consecutive 30%+ revenue growth.
"We believe it's inevitable that a large portion of the world's creators will, over time, become primarily real-time 3D creators. The role of interactivity through 3D in real time is so much greater than with alternative forms of media. Our goal is to enable these real-time 3D creators or to use a popular phrase, 'Enable, empower much of the metaverse.' - CEO John Riccitiello
2. Prioritization of growth continues as R&D investment rises in mobile, AR/VR, and industry-specific products.
Non-GAAP operating loss posted at ($23.4M) from ($13.4M), expecting to break even within fiscal year 2023 on a non-GAAP operating income basis. The focus of R&D is on long-term plays as Unity seeks to expand into different verticals and improve gaming products.
"We're always looking at the long term. We want to create value long term. As a result, we strive to do both, enhance our existing portfolio and invest in new products in gaming and verticals. And we will do that, creating leverage as we improve margins over time." – CFO Luis Visoso
3. Presence in industries outside of gaming remains nascent, but growing.
Brand equity is a large aspect of why Unity has been able to maintain a 50%+ market position in mobile for the last decade, which is currently lacking in their target industries outside of gaming. Take construction, for example. The main hurdle is not because of competition. It is to do with the lack of customer awareness and adoption, which demands taxing S&M and R&D spend. Unity is well-positioned: they have made great strides in penetrating the market, and are demonstrating the viability of real use cases.
"At this point, growth is driven by case-by-case penetration with our tools for architecture and construction companies. We continue to work closely with innovators like Skansa, the fifth largest construction company in the world. We recently signed JE Dunn, a $5B top 25 construction company, for a site license with VisualLive. And we have other wins at AEC that we're not allowed to release, I wish I could." – CEO John Riccitiello
4. Large AAA (i.e. blockbuster production) studios are renewing their focus on mobile gaming, and need to adapt their technology stack.
Unity has seen increased engagement from AAA studios both for AAA games as well as the mobile games they're building on AAA intellectual property. Household AAA franchises (i.e. Call of Duty) are engaging Unity to build their stack on mobile, without the need of starting from scratch. Furthermore, cross-platform games are becoming increasingly popular in the gaming industry, and Unity is ready.
5. Unity's customer base is becoming more diverse.
Per initiatives to expand into industries outside of gaming, Unity is gaining traction in establishing brand equity in household appliances, home improvement, healthcare, and aerospace and government. Customer adoption seems to be highest with Unity's "Simulations" products. No one customer accounts for >10% of revenue.
6. Unity is well-positioned to manage the increasingly privacy-aware advertising business.
Apple is letting end users opt out of IDFA (Apple ID for Advertisers), a random device identifier used to collect data for personalized ads, but Unity is prepared. Because of their scale and depth, Unity is able to collect an enormous amount of in-app end user engagement data without violating privacy issues. IDFA is expected to materially and adversely impact the advertising industry, but Unity's "data moat" reduces their downside.
Concluding Thoughts
Unity is repeatedly the dominant player for best-in-class developer + advertiser solutions because of substantial R&D in 1) the seamless integration of content and monetization, 2) UI/UX, and 3) advancement of engine technology. They have built a clear defensible moat in game development, and there remains enormous markets to be tapped as the pandemic continues to induce digital acceleration.
The company has historically proven its ability to adapt to new paradigms of compute over Unreal, capitalizing on the shift from PC to mobile over the last decade. We are now closer than ever to the next wave of compute. And Unity is ready for it: they stand at the forefront of technological disruption in virtually all industries.
Q2 2021 Predictions
A few things I'm looking out for:
Impacts of Q2's broader reopening of the economy on end user engagement (via Operate Solutions revenue)
Effect of headwinds related to Apple's opt-out policy for IDFA (ID for Advertisers) implemented in April 2021
Engagement from AAA (i.e. blockbuster production) studios for 1) AAA games and 2) mobile games built on AAA intellectual property (e.g. Call of Duty)
Penetration in markets outside of gaming, namely AEC (architecture, engineering, and construction), art, and manufacturing
Aggregate revenue growth relative to growth of customers generating >$100,000 of revenue
Predictions ahead of Q2 earnings:
A broader reopening of the economy during Q2 may negatively impact US revenues due to reduced end user engagement
Going into Q2 there is a clear focus on top line growth: open headcount roles for marketing are +68% from 3 months ago and sales +108%, which may be explained by Unity's recent plans to focus "sales efforts on targeting cross-selling opportunities"
Headwinds from IDFA may be material but overestimated as Unity doesn't solely rely on "personalized advertising"; highly relevant "contextual advertising" can be delivered to customers through in-app data collected across Unity's network
Thus, these variables may result in broader potential Q2 revenue outcomes within a range of $235M - $245M (+28% to +33% YoY)
Any feedback/thoughts/requests would be greatly appreciated! Feel free to reach out: jimmy@publiccomps.com!
Jimmy Zhou, Public Comps Team (@jimmynzhou on Twitter)