Weekly Dashboard 1/29/2021: Atlassian $TEAM Q2 FY21 Earnings
Atlassian's Q2 fiscal year 2021 earnings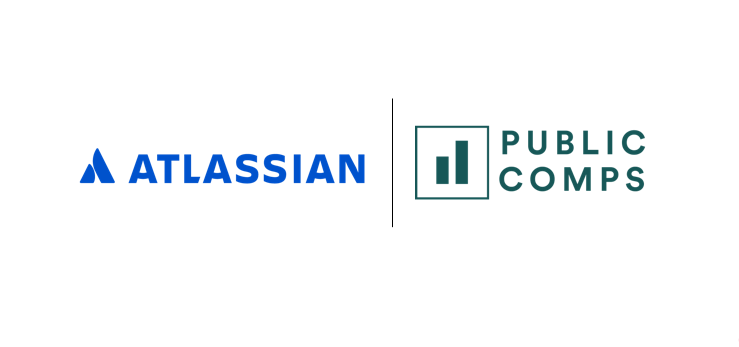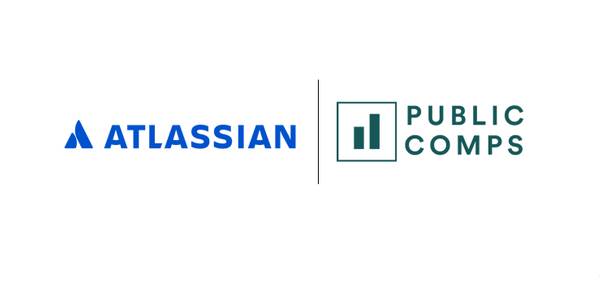 👋 Public Comps Customers 👋
This week we break down Atlassian's recent quarterly earnings.
First, a quick snapshot of top 10 SaaS valuations:
This week saw many SaaS names drop, here are the top 10 weekly share price movements, courtesy of Jamin Ball: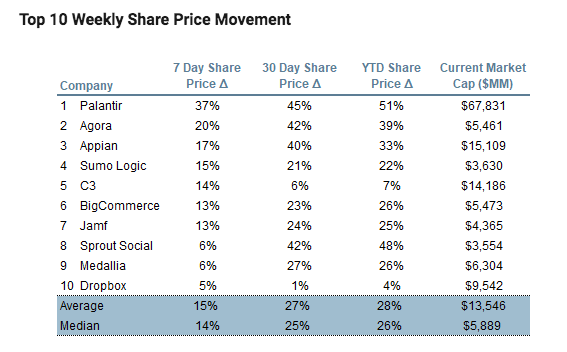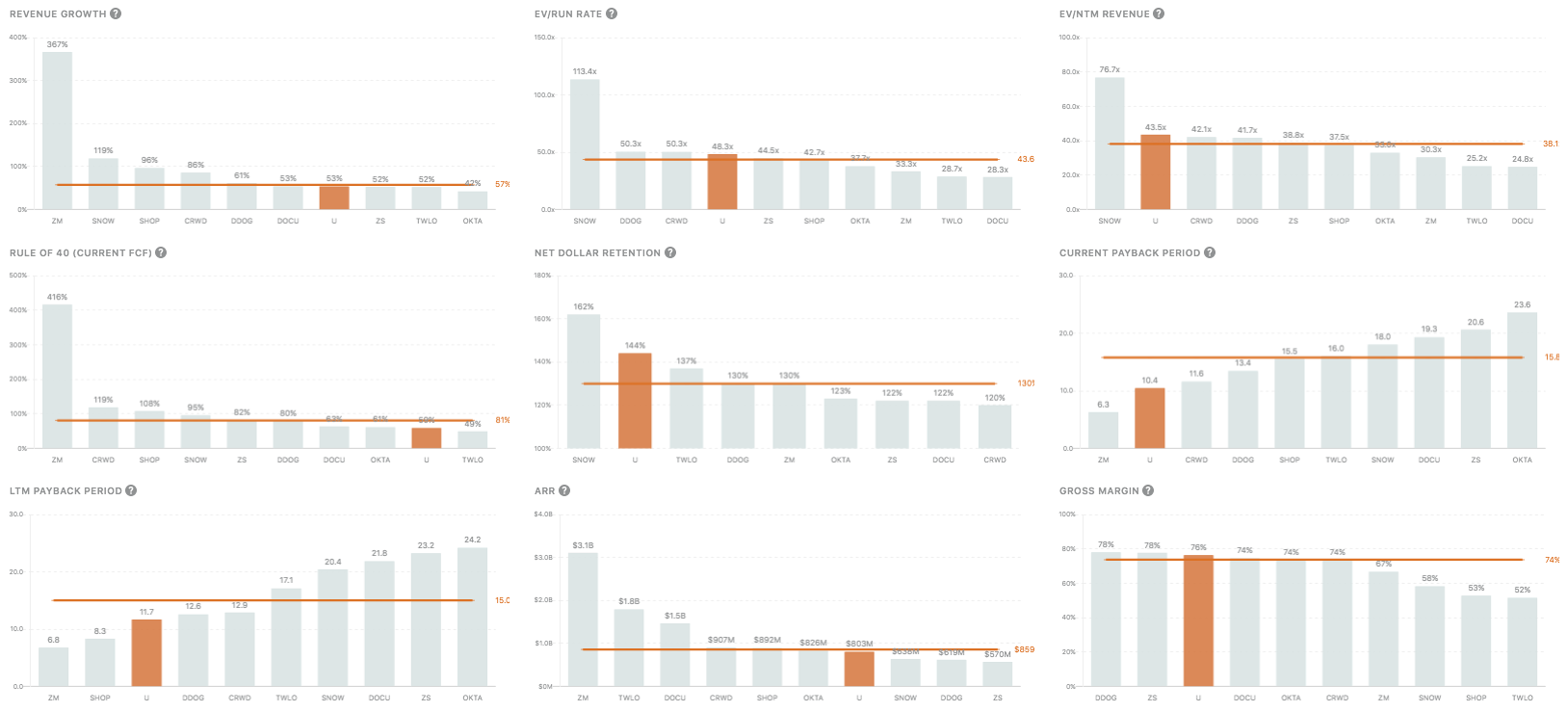 We've added Unity and dropped Elastic from the top 10 SaaS! Going forward, the top 10 SaaS basket is purely a discretionary call on our end. Our selection criteria for it are category leaders that stack up among the best-in-class SaaS metrics (net dollar retention, payback period, rule of 40).
At Public Comps, we believe that we're still in the early innings of cloud penetration and during the next decade of innovation, category leaders will grab a disproportionate share of the addressable market from having better unit economics📈.
👀 One of the projects we're working on now is an automated SaaS index for users to invest in baskets of the best SaaS stocks.
👉Sign up for our waitlist to automatically purchase our automated SaaS index!
Summary
Revenue grew 23% YoY to $501 million while SaaS revenue grew 36% YoY and maintence revenue grew 12% YoY.
🔥Added 11,617 net new customers bringing total to 194,334.
🔥Free cash flow of $179.8 million (36% margin).
Reported "better than expected server activity" as customers purchased additional license capacity, with demand primarily driven by partners in EMEA and APAC.
Atlassian has been one of the major players in enterprise software and the developer tools space for many years. As both an investor and developer, I've been impressed with their platform and the friction they remove in delivering a unified cloud-based collaboration platform.
Company Overview
Atlassian's mission is to "unleash the potential in every team". The company sells software to help teams organize, discuss and complete their work. Atlassian's products were designed to help developers collaborate with other non-developer teams involved in software innovation.
Atlassian's products include Jira for team planning and project management, Confluence for team content creation and sharing, HipChat for team messaging and communications, Bitbucket for team code sharing and management and Jira Service Desk for team services and support applications.
Atlassian's highly profitable model is the paragon for every SaaS company. By being one of the first developer-focused companies, and leveraging their strong network-effects, they created a highly efficient go-to-market. They focus on enabling a self-service, low-friction model that makes it easy for new users to try, adapt, and use their products.
Product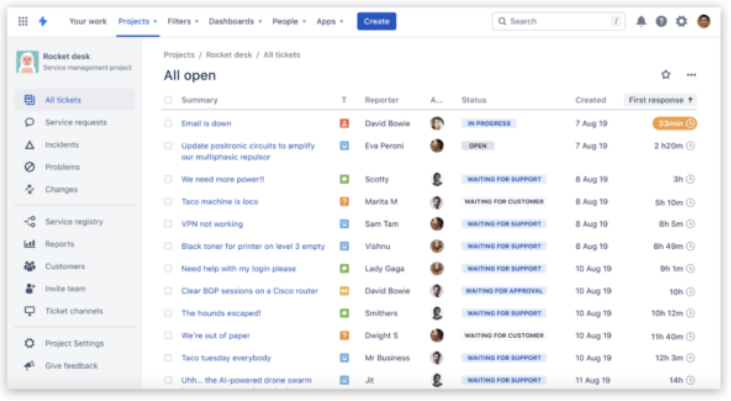 In our current state of remote work, collaboration software for engineering teams is mission-critical. Atlassian sells software that allows customers to power their most important work: R&D, product launches, information security, and HR operations.
In Jira Software Cloud, 54% of users are technical, 46% are non-technical. In Jira Service Desk and Confluence, it's 52% technical and 48% nontechnical. Atlassian helps teams across functions work together in a digital world, and it all starts with developers.
Their flagship product, Jira, is a service management tool that integrates several capabilities into one solution: service desk, incident management, real-time-communications, and configuration and asset management.
The launch of Jira Service Management (JSM) represents a holistic solution for teams in IT service management (ITSM). By serving IT teams, Atlassian claims its able to increase their own TAM in the technical teams market from 45 to 100 million users.
Market Opportunity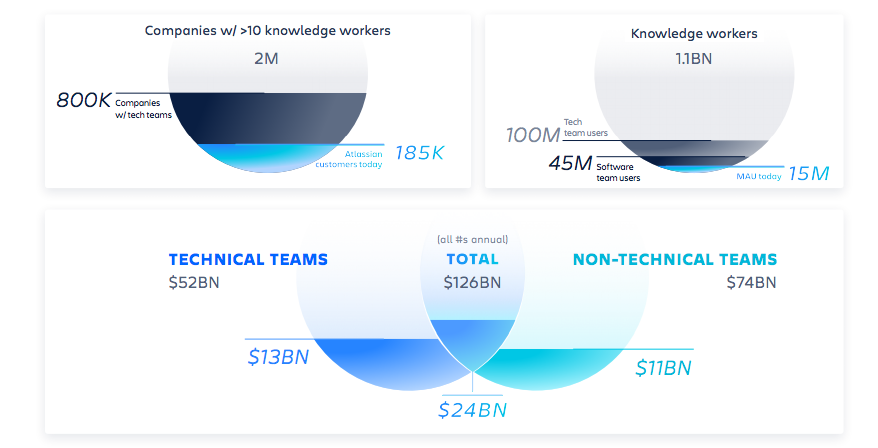 TAM - Atlassian reports that the annual global technical and knowledge worker markets is worth $126 billion in annual revenue according to IDC. This is composed of $52 billion for technical teams and $74 billion for non-technical teams. Both markets are growing 9% per year, several times the rate of global GDP.
Users – Today Atlassian has over 15 million MAU on cloud products. That's just the tip of the iceberg when compared to the 45 million software team members, 100 million technical team members, and 1.1 billion knowledge workers in the world today.
Customers – Atlassian has over 185,000 customers today. Atlassian states that there are 800,000 companies globally with technical teams large enough to be Atlassian customers as well as 2 million companies with 10 knowledge workers or more.
Annual addressable opportunity = $24 billion. Atlassian's addressable opportunity is large and getting larger within that global market. The stated $24 billion in annual addressable opportunity is based on today's products and prices. Interestingly, Atlassian claims that they've grown that opportunity by a compound annual rate of 35% over the past four years.
Q2 Fiscal Year 2021 Earnings Highlights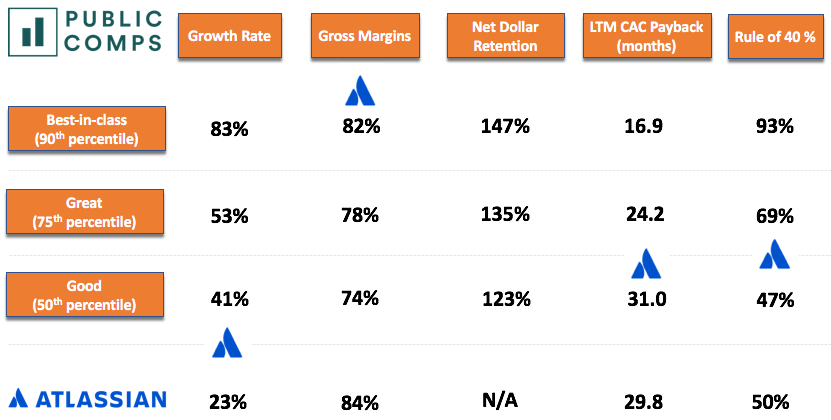 Atlassian doesn't report net dollar retention, but noted in their 2020 analyst day that they had a 121% cloud net expansion rate and it was 130% for medium and large customers.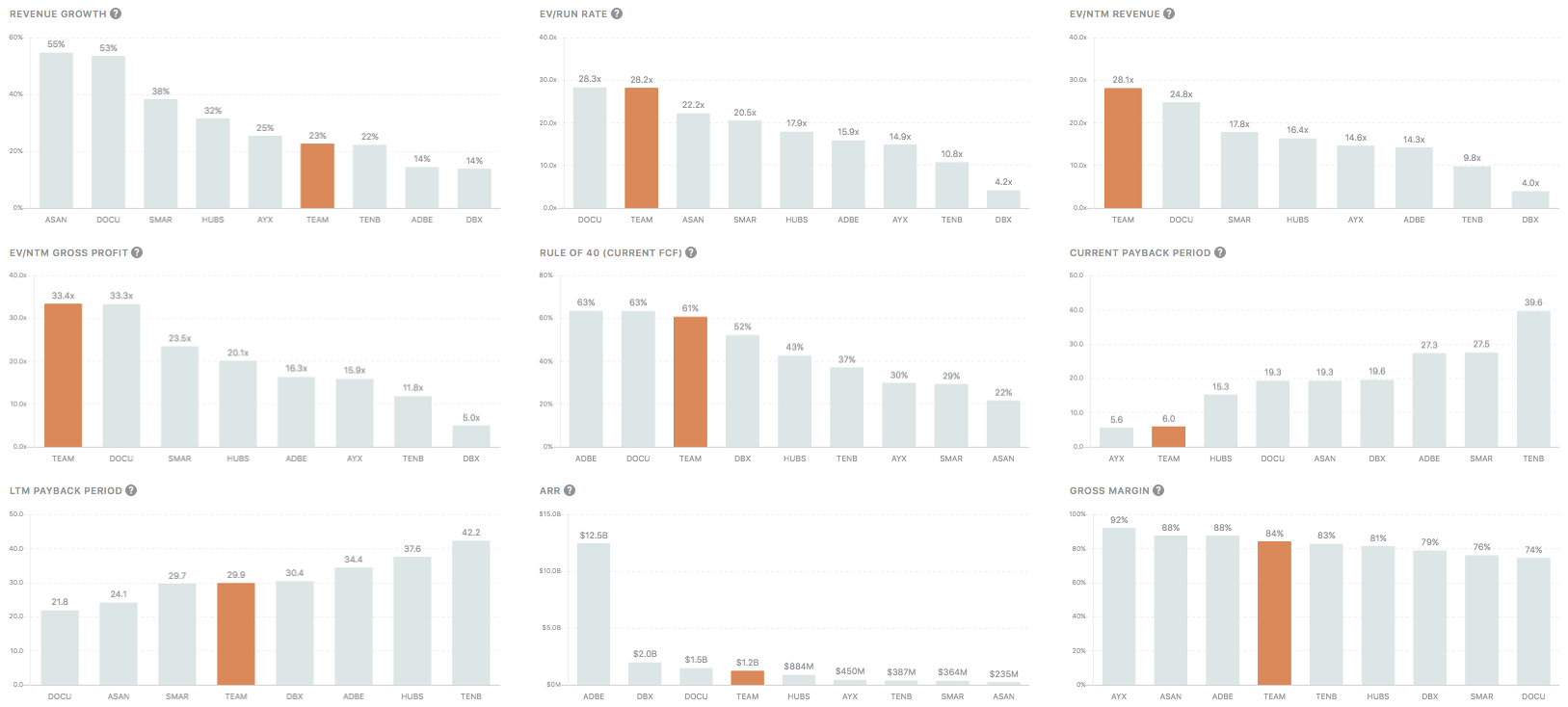 Revenues (from earnings)
Subscription revenue was 310.7 million, +36% YoY
Maintenance revenue was 131.3 million, +12% YoY
Perpetual license revenue was 22.1 million, -24% YoY
Other revenue was 37.3 million, +9% YoY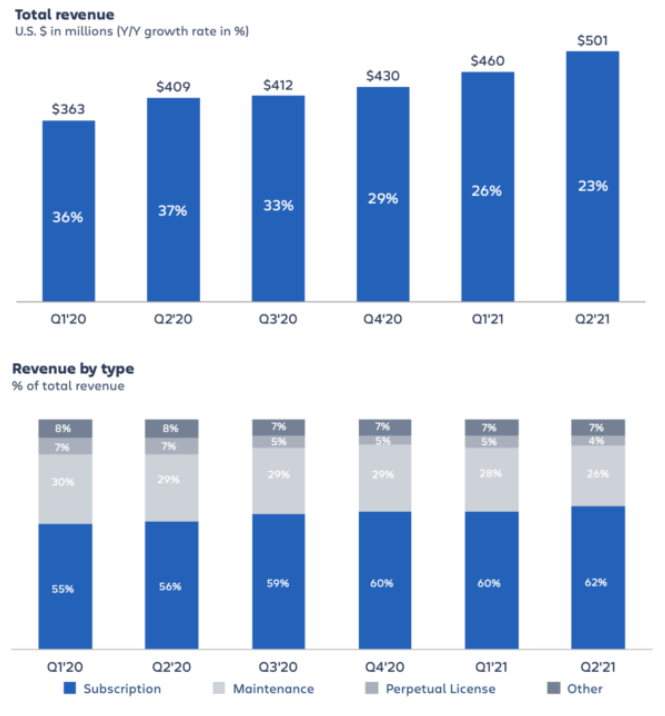 As Atlassian's customers migrate from on-prem to cloud, their perpetual license revenues decrease. Their actual cloud segment comes from the subscription revenues.
Margins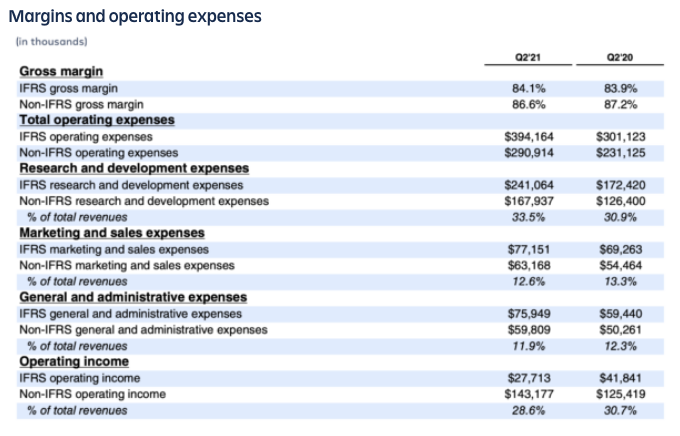 Atlassian is one of the most efficient B2B SaaS companies. Their 15% S&M margin (12.6% non-GAAP) is the lowest out of all public high growth SaaS!

They've historically had one of the best payback periods, a strong sign of why first-mover advantage in developer tools that have network effects often wins.

Customers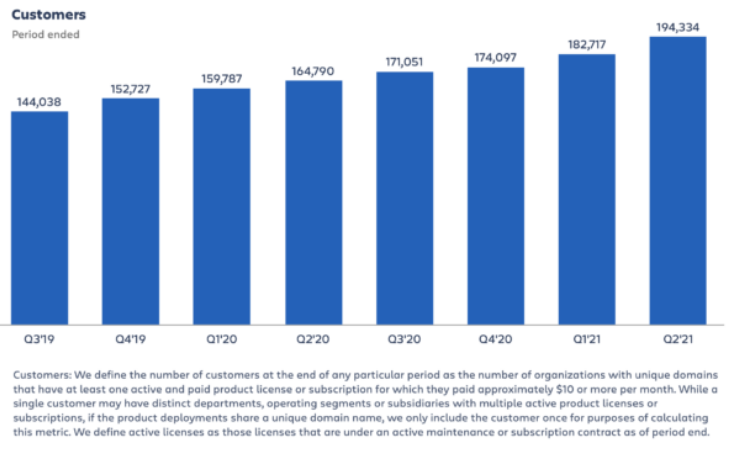 Atlassian added 11,617 net new customers (+6.3% growth QoQ and +17.9% YoY).
Valuation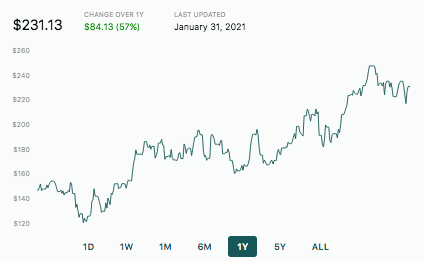 Despite only growing top-line at a modest 23% YoY, Atlassian currently trades at 28.1x NTM revenues because investors love the competition positioning and its highly efficient sales motion. Atlassian boasts an LTM FCF margin of 27%.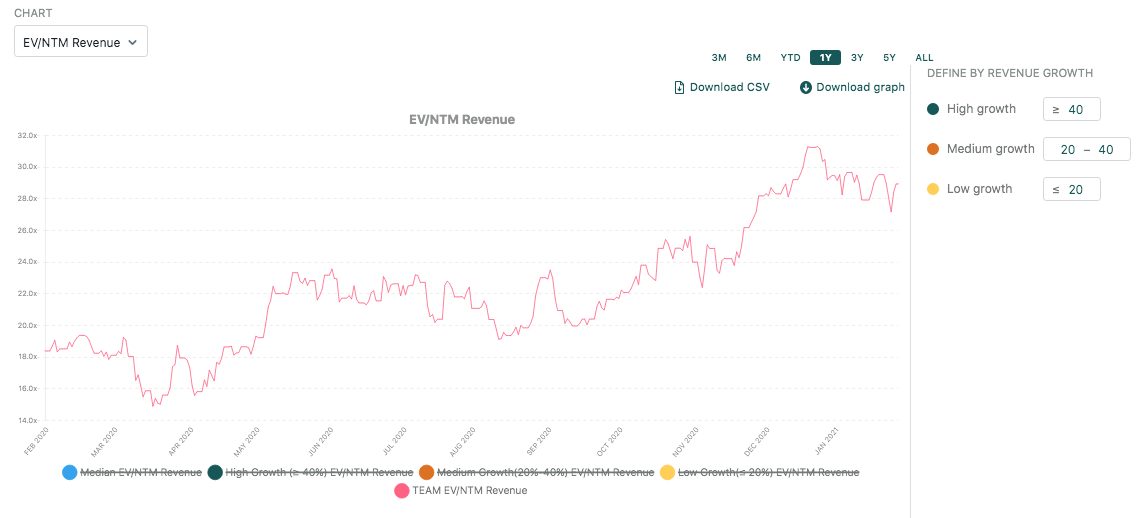 Key takeaways from earnings call
Improved churn - Management noted that they saw improved churn in general across most of the product base.
"Churn has improved nicely as the recent quarters have gone by. Yes, you're right, we did see some challenges back in Q4 of fiscal '20. But as we've seen, our churn improve as we've seen our customer count go for this past Q2, we've really seen those improvements right across our verticals and again right across the different sizes of customers that we serve." - CFO James Beer
2. Large enterprise migrations - Cloud enterprise adoption is coming in ahead of expectations.
"We've seen the demand higher than we thought, but it's still very early days in terms of this pipeline demand for large customers, as Mike talked about, and also demand for specific enterprise product. And so, at this stage, there is nothing to say different like we think and we're pretty -- we're really happy with, and I guess it's playing out as we expected in terms of the migrations like -- so there's nothing there that I would change in our forecasts". - CEO Scott Farquhar
3. Large-scale enterprise adoption can lower gross margins in the short term.
"As we have indicated in prior calls, we would expect, particularly as the larger customers, the largest server and data center customers move over to the cloud that we would see increased hosting costs and we've spoken also about how we have added to our support capabilities so that we are ready to help those customers moving over to the cloud. I would expect those to be in place for the next few years, consistent with the timeframes that we've talked about for our larger customers moving over to the cloud. And so I would expect some downward pressure on gross margins." - CFO James Beer.
4. The pull forward in revenues is from customers expanding their licenses. They expect relatively modest pull-forward activity ahead of the price increases that will apply to data center.
"We've given our customers more time, more advance warning of the price increases. And second, of course, not only is there a price increase both for the server and the data center business scheduled to be put into place next week, but at this time, we're also end of life the server business, we've made that announcement. And so really what played out more so in Q2 is you can think of it as pull forward at some level, it's a different type of pull forward so that that we've seen in prior years because the pull forward has been customers adding to their license count, expanding the size of their current licenses ahead of the moves that we're making around server end of life." - CFO James Beer
5. Management is "increasingly confident" in the economics of the free edition strategy, and optimistic about conversion into paid edition.
"while I noted earlier that for fiscal '21, we would continue to see this [growth of free cohorts] as a net revenue headwind. But as we watch the cohorts, we see the trend lines are quite clear. And that gives us confidence about the future of this initiative. I think it's an excellent example of how we've taken a long-term view. We've made decision to take a short-term headwind for the long-term benefit down the track." - CFO James Beer
"we spend a lot of time trying to track active usage and looking at how we can make sure the customers are getting value out of those free editions. We firmly believe philosophically, if they're getting value once they hit that 10 user stage, they will pay and continue to be a long-term Atlassian customer so marching up that edition here." - CEO Mike Cannon-Brookes
Albert Wang, Public Comps Team
albert@publiccomps.com
https://twitter.com/albertwang23
Like this analysis? Subscribe to the newsletter here where we send out investment memos, market maps and analysis on the broader SaaS market.
Disclaimer: The author owns stock directly in CRWD, TWLO, DDOG, FB, ZM, COUP, FSLY, BABA, TDOC, BILL, DASH, SQ, ANGI and SE. Public Comps (SaaSy Metrics LLC) provides financial and industry information and analysis regarding public software companies as part of our weekly dashboard, our blog, and emails. Such information is for general informational purposes only and should not be construed as investment advice or other professional advice.