Weekly Dashboard 11/20/2020: Cloudflare Q3 2020 earnings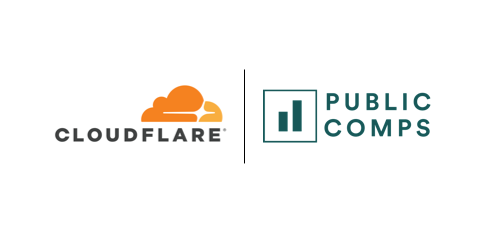 👋 Public Comps Customers 👋
Vaccine optimism complemented by worries of the pandemic worsening and devastating rural areas of the country made markets mixed this week. We break down NET's Q3 2020 earnings.
1️⃣ SaaS Stock Prices vs. Benchmarks 📊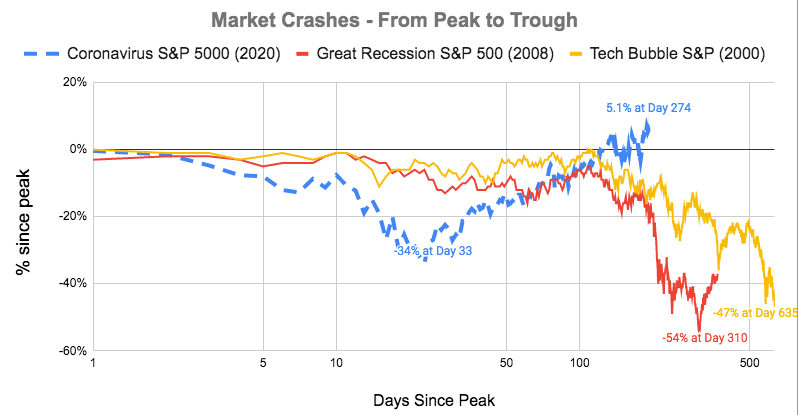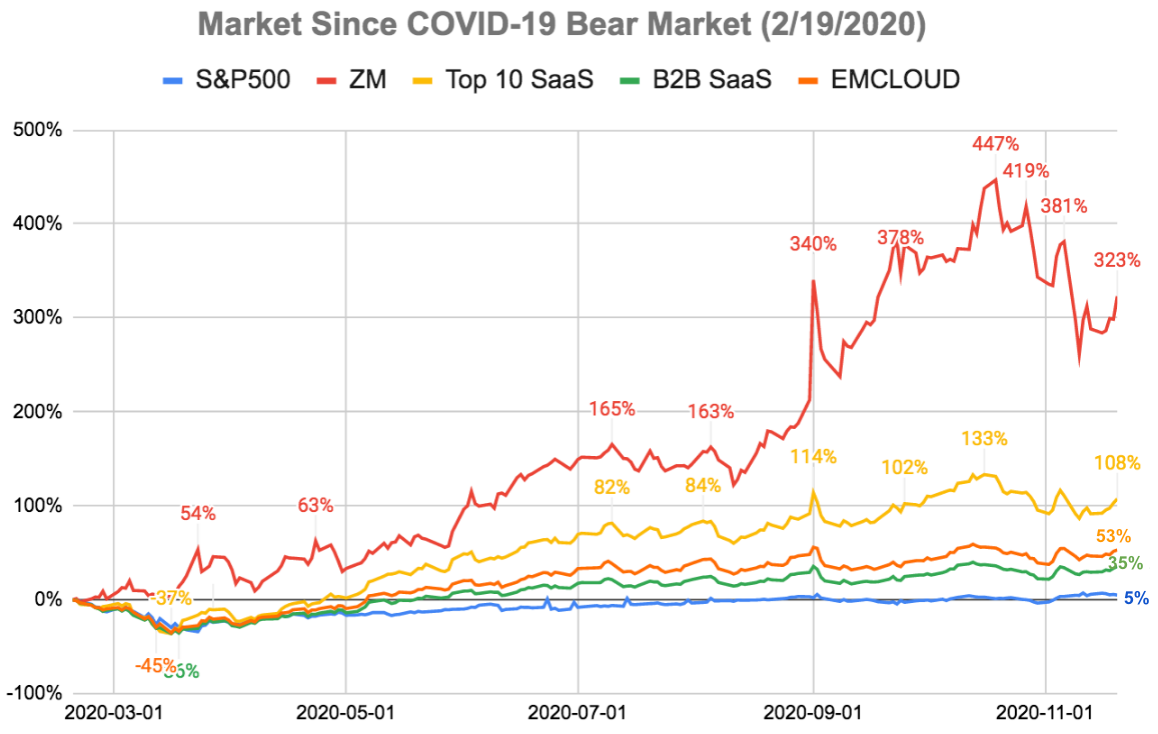 Change since bear market start (2/19/2020):
ZM: +323.1%
Top 10 SaaS: +107.5%
Bessemer Cloud Index (EMCLOUD): +53.1%
B2B SaaS: +35.5%
S&P 500: +5.1%
Change in the past week:
ZM: +8.9%
Top 10 SaaS: +8.3%
Bessemer Cloud Index (EMCLOUD): +4.4%
B2B SaaS: +4.7%
S&P 500: -0.8%
Market update 📈: The past two weeks have been mixed, with good news on the coronavirus vaccine front offset by worries of a worsening pandemic in rural areas of the country. Energy shares outperformed as oil prices rose on hopes for an end to the pandemic in 2021, as well as signals that OPEC and other major oil exporters would delay a global production increase planned for January. Tech re-bounded after a rough week last week during the rotation to value. Meanwhile, the healthcare and utilities sectors lagged.
Last Monday, Moderna reported early data showing that its mRNA vaccine was 94.5% effective in preventing coronavirus infections while also appearing to prevent severe disease in the few test subjects who did contract the virus. Investors seemed further encouraged that Moderna's vaccine confirmed the efficacy of the mRNA approach also used by Pfizer in partnership with Germany's BioNTech.
2️⃣ Median B2B SaaS EV/NTM Revenue Valuation Multiples 🔥
High Growth SaaS: 25.6x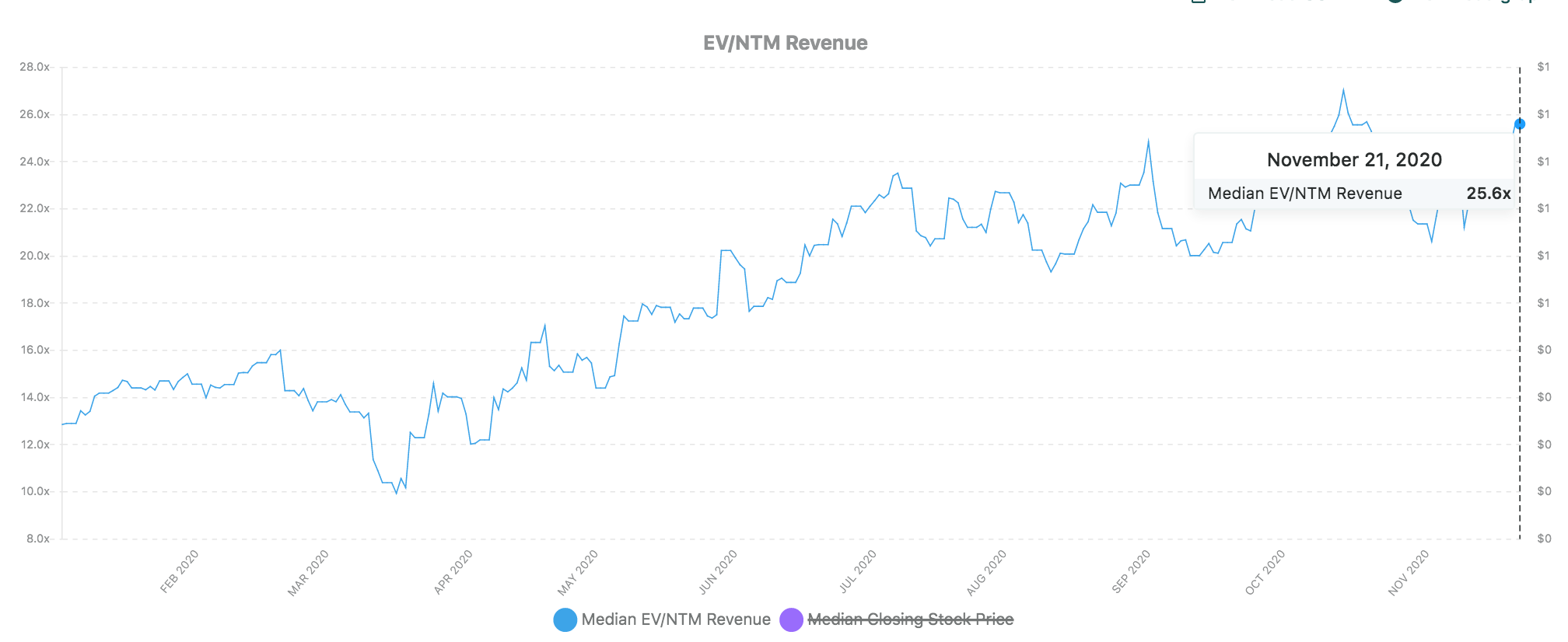 All B2B SaaS: 13.3x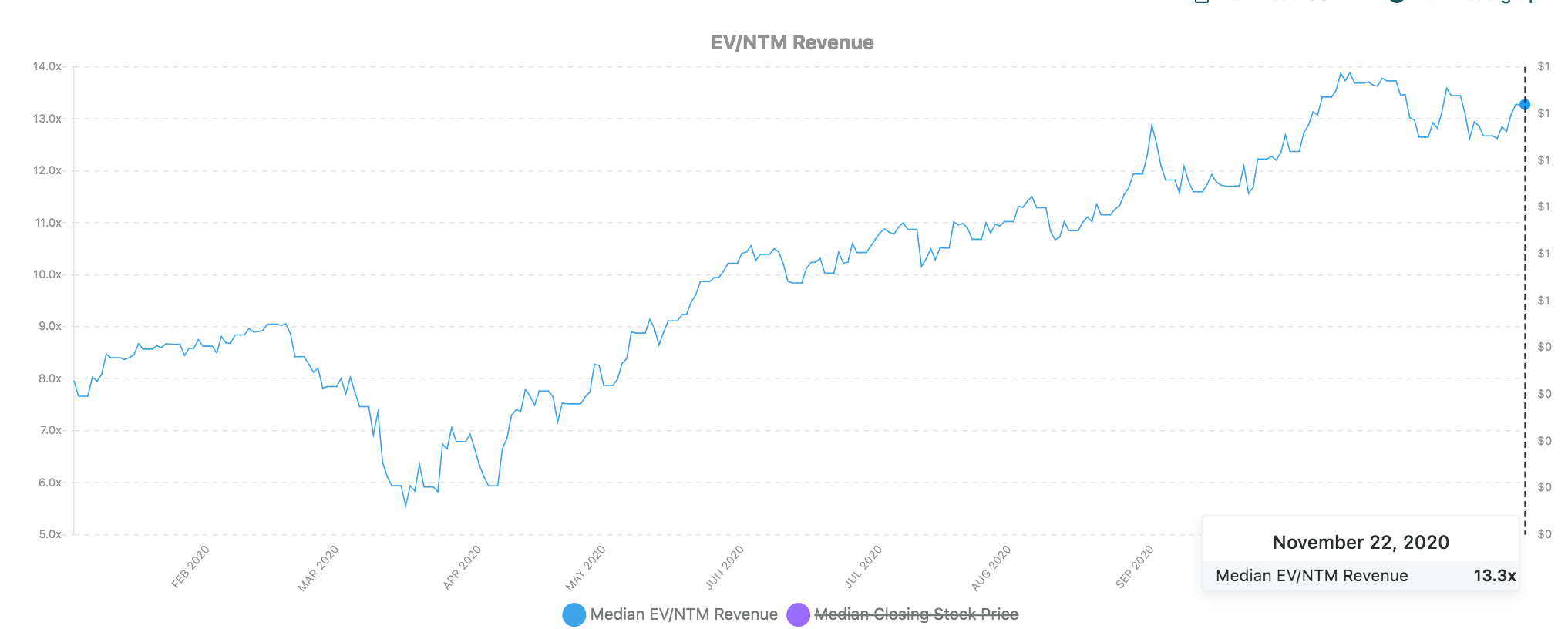 3️⃣ SaaS Earnings - Cloudflare (NET) 💸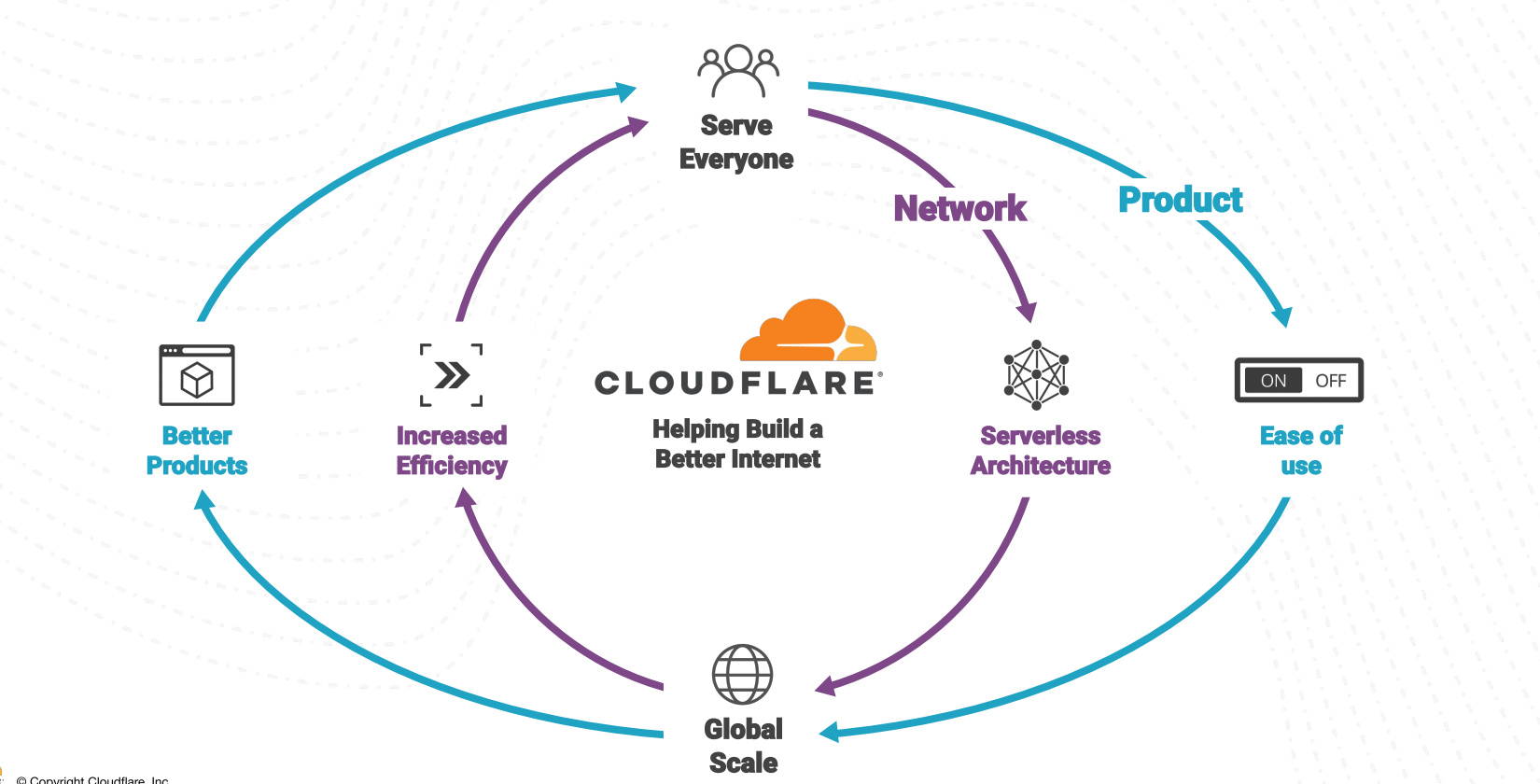 Company Overview:
Cloudflare is a leading cloud platform for managing the security and performance of resources on the Internet, and have become a top Content Delivery Network (CDN). They offer content & networking services to SaaS providers, web apps and sites. Cloudflare has built a vast global network to help deliver content to users as quickly, securely and reliably as possible.
Growth Strategy: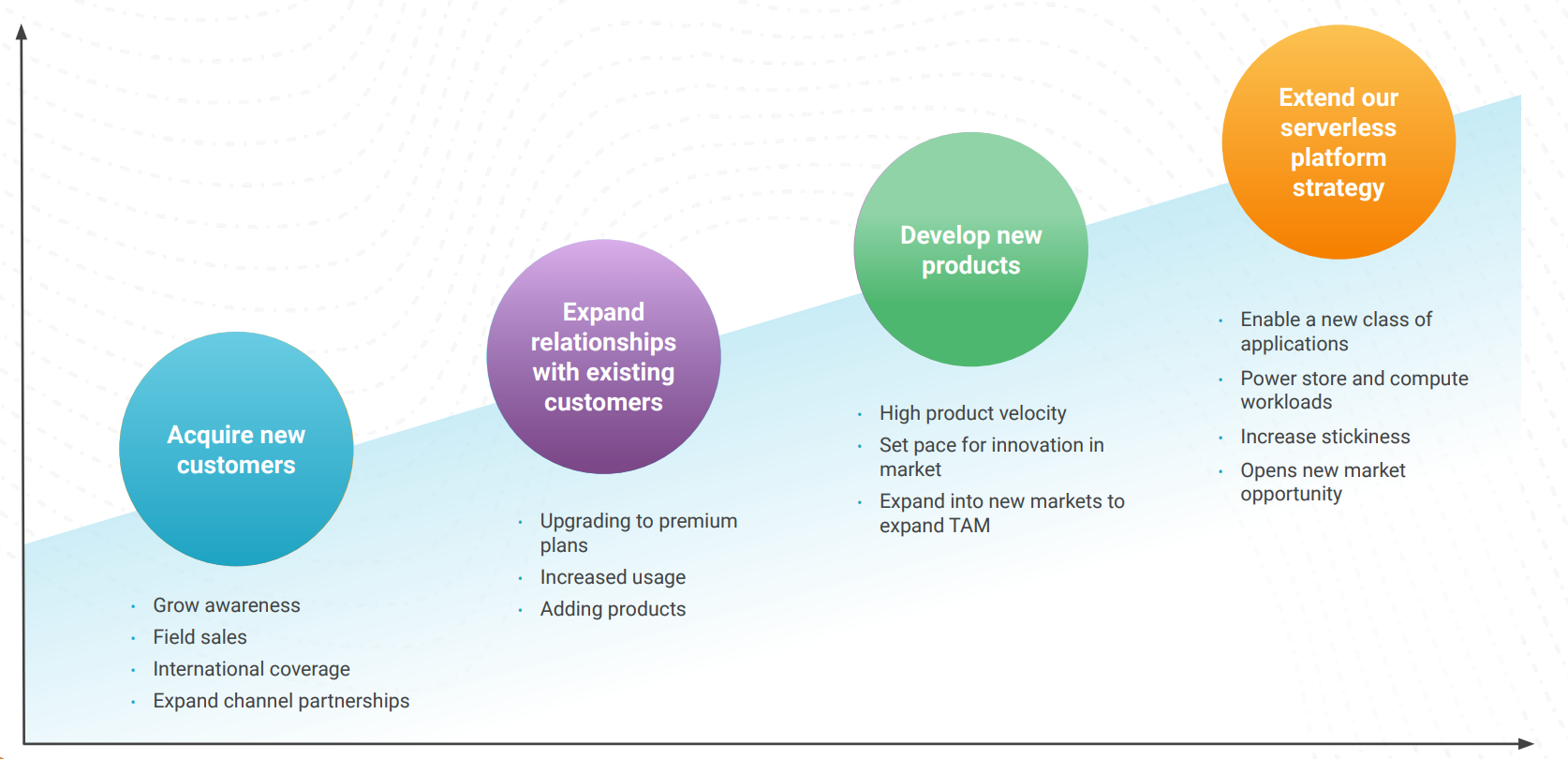 Industry Overview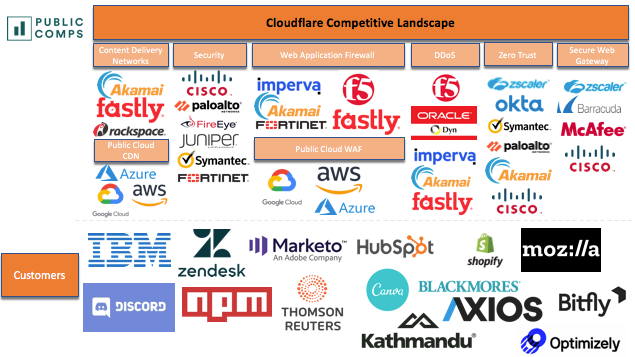 Earnings Call Highlights: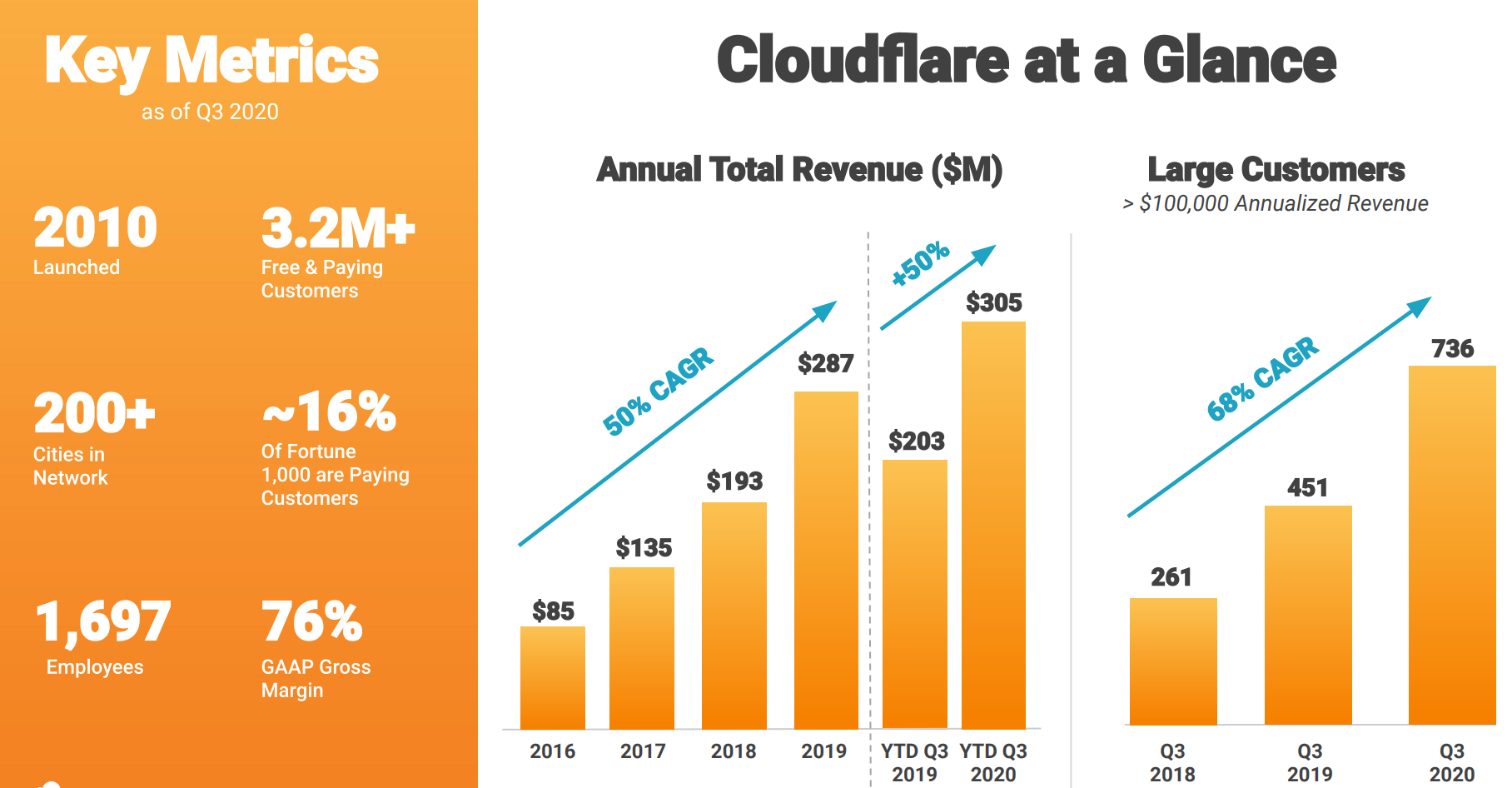 NET won their first $10 million customer on an annual run-rate basis: that customer was a Fortune 500 software company and started in 2016, initially signing a $60,000 per year contract.
Success with GTM efforts and large enterprise customers: About half of new revenue in the quarter came from new logos and about half from expanding relationships with existing customers. We're seeing a lot of times where someone will come to us for say, Cloudflare access and gateway, but then realize that they need a web application firewall, DDoS mitigation, and that's really been a differentiator for us versus a lot of the other zero trust vendors that are in the market.
Cloudflare was used during the election: more than half of the battleground states used Cloudflare in order to protect services like voter registration, poll location, precinct reporting, and official results. We worked both presidential campaigns and many of the Federal candidates for Congress. We were able to fend off cyber-attacks and saw no instances in which they impacted the ability of citizens to learn about candidates or to vote. One of the most viewed publications during the 2020 elections use Cloudflare workers to power their elections news platform, and ensure its scale during the unprecedented spike in traffic last Tuesday, as well as Wednesday and today.
Great execution during pandemic: "we were prudent at the beginning of the pandemic, reserving for potential customer allowances and bad debt. And we've worked with a subset of our customers who have struggled during the pandemic, to ensure they always had a reliable network they can afford, knowing to being accommodating today with bias loyalty over the long-term. We've been fortunate that when our customers sort vendors, we've been sorted in the bucket of differentiated must have services. As a result, we've not seen pricing pressure and we've had fewer concessions and less bad debt than we forecast. In our first quarter earnings call we disclosed the customers highly affected by COVID-related challenges, particularly those the macro sensitive industries such as transportation, hospitality and retail represented 8% of our business. In Q2 and Q3, this cohort was 7% of total revenue. We are pleased to see these customers facing COVID-related challenges turn to us as Cloudflare plays a critical role for them, as they accelerate their digital transformation plans. We also disclosed last quarter that we saw customer concessions come in well below the $2 million headwind we anticipated, trending down during the quarter to historical levels. This trend remained consistent in the third quarter with both concessions and bad debt coming in below expectations.
On Cloudflare for teams: "We launched by Cloudflare for teams in January and it happened to be in exactly the right place at exactly the right time, as the world shifted to remote work and needed a scalable cloud based VPN and firewall replacement. Seeing how many businesses were struggling with the shift to remote work, we made the call to make teams free through September 1. We have thousands of companies ranging from small businesses to fortune 500 corporations take us up on our offer. Over the course of Q3, we began conversations with all of them to transition from the free offer to becoming paying customers. We are happy with how that went. 75% of customers transitioned from free to paid accounts that included some great new logos like JetBlue Travel Products, OneTrust and Delivery Hero. For some customers, who are still particularly hard to get by COVID, we allowed them to continue with the free offering until they can get their feet back under them. Teams is a very high margin product for us, so this doesn't cost us much."
On future use cases: Most used cases today have focused on performance. Over time, [we] expect those use cases will pale in comparison to what is a much bigger opportunity, helping customers manage the challenges of compliance. As governments around the world increasingly insist on data localization and data residency, sending all your users data back to AWS feeds for processing will become unacceptable.
US growth outpaced international: particular strengths in the U.S. and EMEA both increasing 58% year-over-year. The U.S. represented 52% of revenue, while our international business represented 48% of revenue, and increased 31% year-over-year.
Key Takeaways:
1. Despite COVID-19, land and expand model is having great results as customers renew/extend their subscriptions.
Year-over-year customer (total & 100k+ ARR) growth accelerated (19.7% -> 24.7%)
RPO growth accelerated as customers renewed/extended their subscriptions: We repeat to observe another strong quarter of new ACV growth, increasing average customer spend, and high sales productivity. In Q3, we observed an acceleration in remaining performance obligations RPO, which was $342 million, representing an increase of 25% sequentially, and 81% year-over-year. A multiyear partnership agreement of $50 million contributed to the growth in RPO this quarter. So, it's not expected to materially contribute to revenue until 2021. Excluding this large partnership agreement, we saw 73% year-over-year RPO growth.
Management referenced that customers wanted a more holistic solution: "If a customer adopts a zero trust networking model, they'll need an access and gateway component, but are exposing more of their infrastructure to the internet, so they'll also need products like web application firewall and DDoS mitigation. We also learned that by leveraging products like Argo Smart Routing and Magic Transit, we can provide a much higher quality of service unmatched by traditional zero trust vendors and delivering on the real promise of SD-WAN."
Payback period improved as revenue saw acceleration: Payback period in the quarter was 13.98 months, down from 21.95 months the quarter before, and 21.06 months a year ago.
2. Platform is seeing rapid traction and growth:
Number of developers using the platform (deploying code) grew from 15k a year ago to 27k today.
3.2 million total free & paying customers, represented an increase of 40% year-over-year.
In Q3, Cloudflare reached 100,000 paying customers adding roughly 4800 sequentially. It also had another record quarter of large customer additions (paying customers with greater than $100k in annualized revenue), added roughly 100 large customers sequentially and 285 large customers year-over-year.
3. Management vision is playing out as they remain focused on removing friction and sustaining its rapid pace of product execution
The rapid product deployment continues: this is headlined by Cloudflare One which provides a unified set of tools for a Zero Trust solution, giving organizations a one-stop-shop to do things like: 1) secure every connection, as remote employees can get the same protection they'd expect from a corporate firewall no matter where they are working from; 2) protect against Zero-Day attacks Cloudflare's remote browser isolation technology creates a gap between a user's browser and endpoint, protecting devices and networks from exploits and attacks. 3) integrate with the security solutions you're using, Cloudflare seamlessly connects with leading identity platforms like Okta, Onelogin, and Ping Identity, and endpoint protection platforms like CrowdStrike, VMware Carbon Black, Tanium, and SentinelOne to verify identity and assess device health before granting access to applications; 4) Monitor and manage your network with a single pane of glass: With Cloudflare's firewall features, businesses get a comprehensive view of all data flows globally. Now businesses have a bird's eye view of what's happening on their data centers, branch offices, clouds, and endpoints and then use that intelligence to mitigate intrusions and threats quickly across the entire network.
Management's done a great job of combining Cloudflare for Teams (Gateway + Access) with other Cloudflare products, bundling it into Cloudflare One, and adding a range of existing and new products and features to expand the usability and scope of this cybersecurity platform.
From founders' letter: "We built Cloudflare's platform from the ground up with a full understanding of our audacious plan: to literally help build a better Internet. We didn't run separate networks to provide our different products. We didn't use expensive, proprietary hardware. We didn't start with one product and then attempt to Frankenstein on others over time. Our platform was purpose-built to efficiently deliver security, performance, and reliability to customers of every size from day one." — and its still day one at Cloudflare.
Its clear that Cloudflare is accelerating growth, and riding at the inflection point of several S-curves (CDN, Security, DDoS, Zero Trust), this itself is a de-risking event as one of the biggest drivers of tech failure is falling demand, which is less likely to happen at the inflection point.
Stay safe everyone,
Albert Wang, Public Comps Team
albert@publiccomps.com
Like these weekly dashboards? These are for Publiccomps.com customers only but you can have your friends subscribe to the newsletter here where we send out investment memos, market maps and analysis on the broader SaaS market.

Views expressed in theses emails are ours and ours alone and don't represent that of our previous or current employers. Public Comps provides financial and industry information regarding public software companies as part of our weekly dashboard, our blog, and emails. Such information is for general informational purposes only and should not be construed as investment advice or other professional advice.
Full disclosure: I own CRWD, TWLO, SHOP, LVGO, FB, MSFT, FSLY, DDOG, ESTC, AYX, SMAR, PLAN, ZM and BILL.