Procore S-1 & IPO - Teardown
We go through Procore's S-1 and use Publiccomps.com data to benchmark Procore vs other high growth SaaS companies.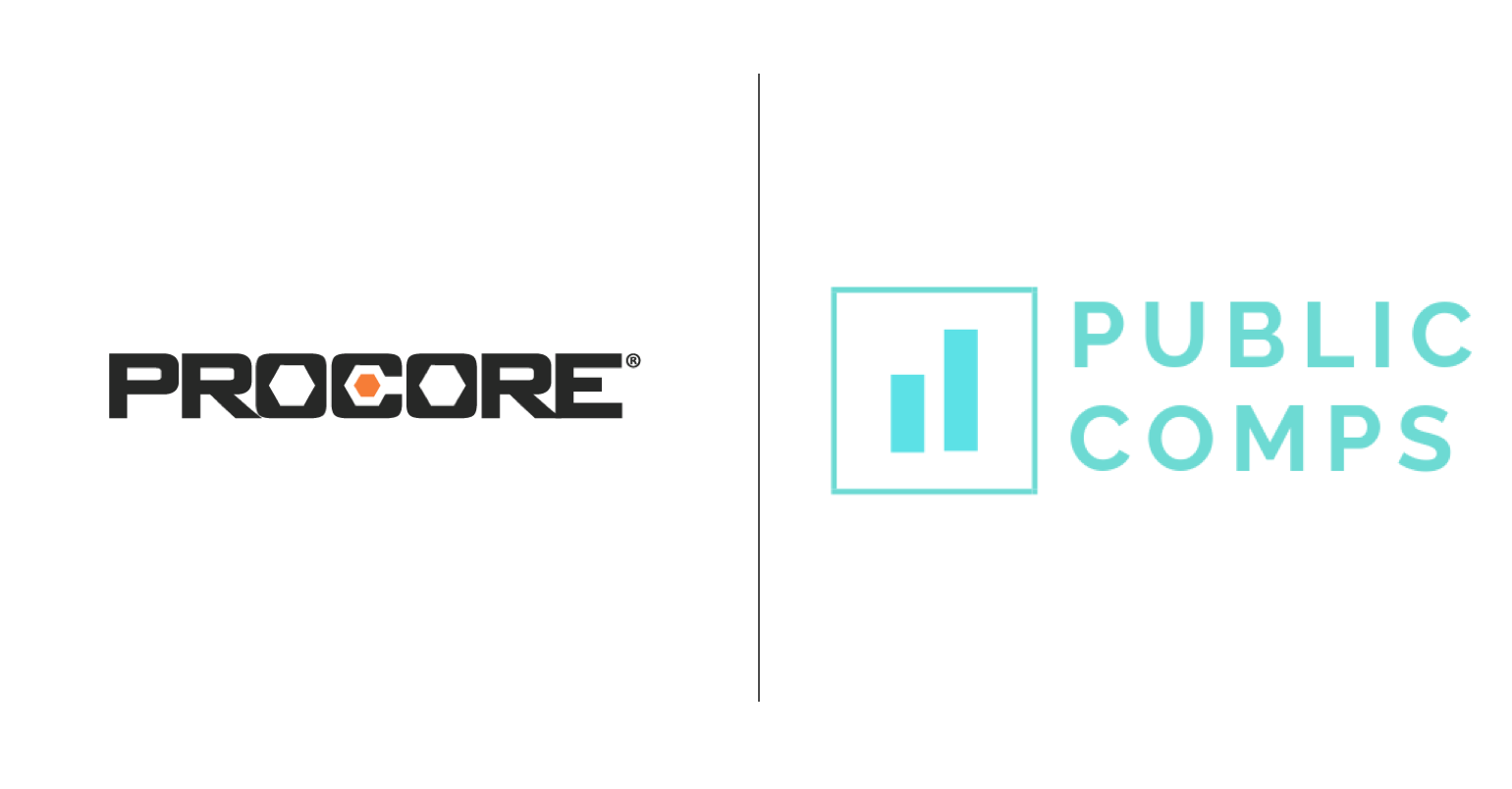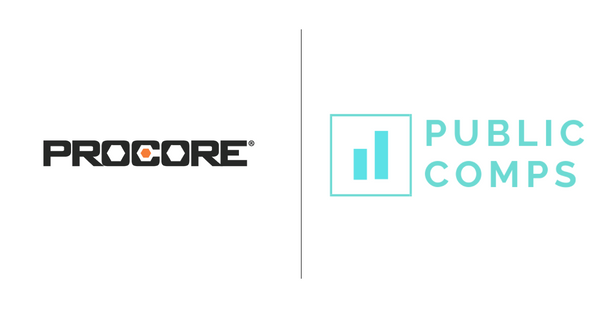 In this post, we summarize Procore's S-1.
Our philosophy at Publiccomps.com is that numbers don't mean anything by themselves. So in this blog post, we benchmark Procore's metrics against other SaaS peers and walk through the business's different products, the construction market, the key metrics, and how we think the business will be valued in the public markets by leveraging Publiccomps.com's valuation multiples.
Summary of Procore S-1
Procore ("PCOR"), a provider of construction management software, just filed for a $100m IPO with Goldman Sachs leading the IPO.
The business was founded in 2002 and took 18 years before going public. That's the longest time for a recent growth SaaS IPO!
The company's product spans from preconstruction, project management, resource management to financial management.
Company went from 4 products in 2017 and currently has over 13 products including an App Marketplace.
Boston Children Hospital is a customer of Procore and used Procore for its $3b 10 year construction project. Procore replaced BCH's in-house expensive  and custom-built systems and boxes full of paper invoices, contracts, documents and RFPs.
Procore claims to have just 2% of the total number of customers available based estimated addressable customers.
The business is $339m ARR growing 55%, making it the #9 fastest growing Public SaaS company. Procore has an average ACV of ~$40k
Business has strong retention metrics with 117% Net Dollar Retention and 95% gross retention rates.
The business burned $186m historically and at $339m ARR implies a 1.8x cash efficiency. >1.0 is considered best in class!
$4b valuation implies 11.7x EV/ARR --  our analysis shows that Procore will likely trade between $4.5-$6b enterprise value when it goes public.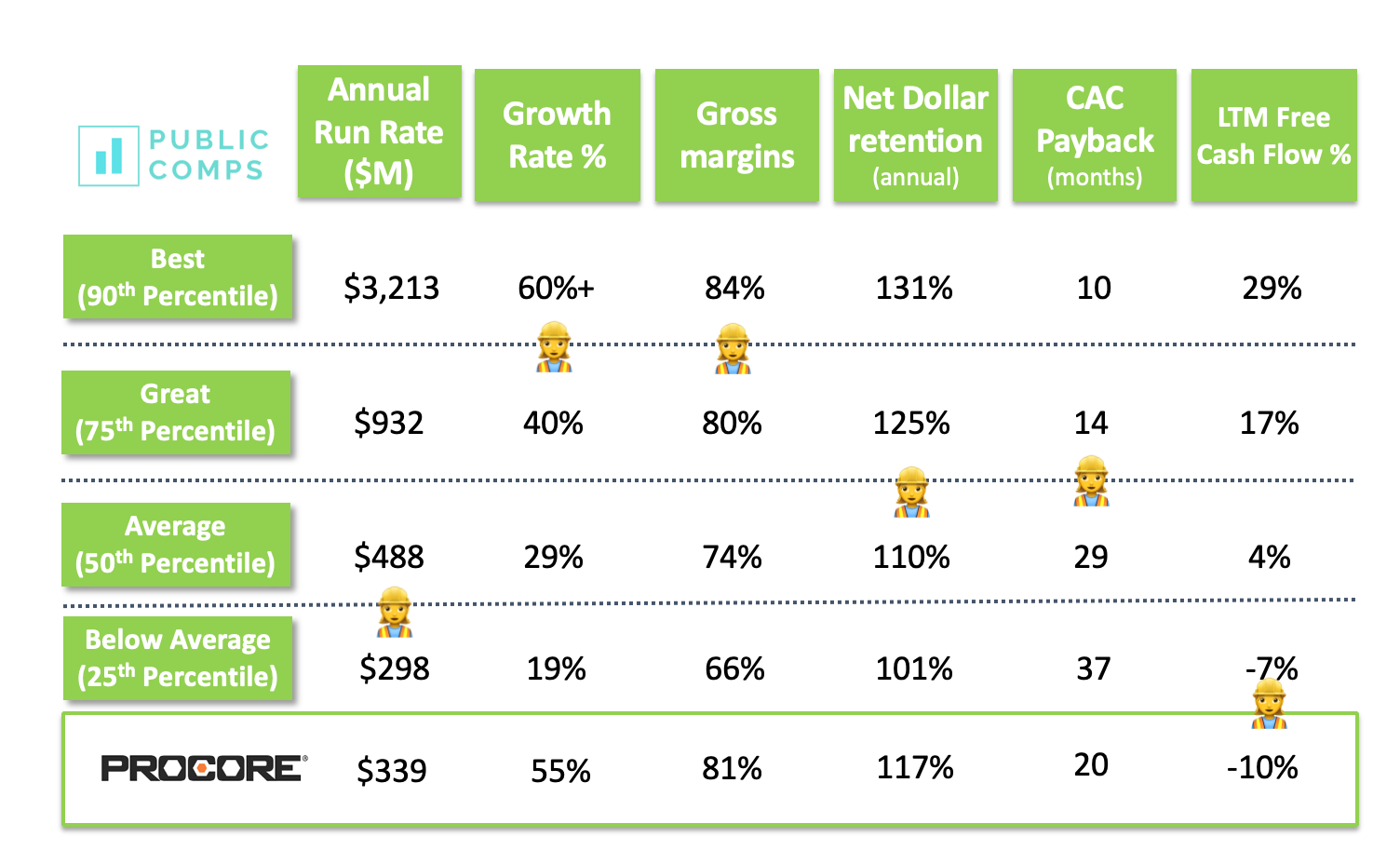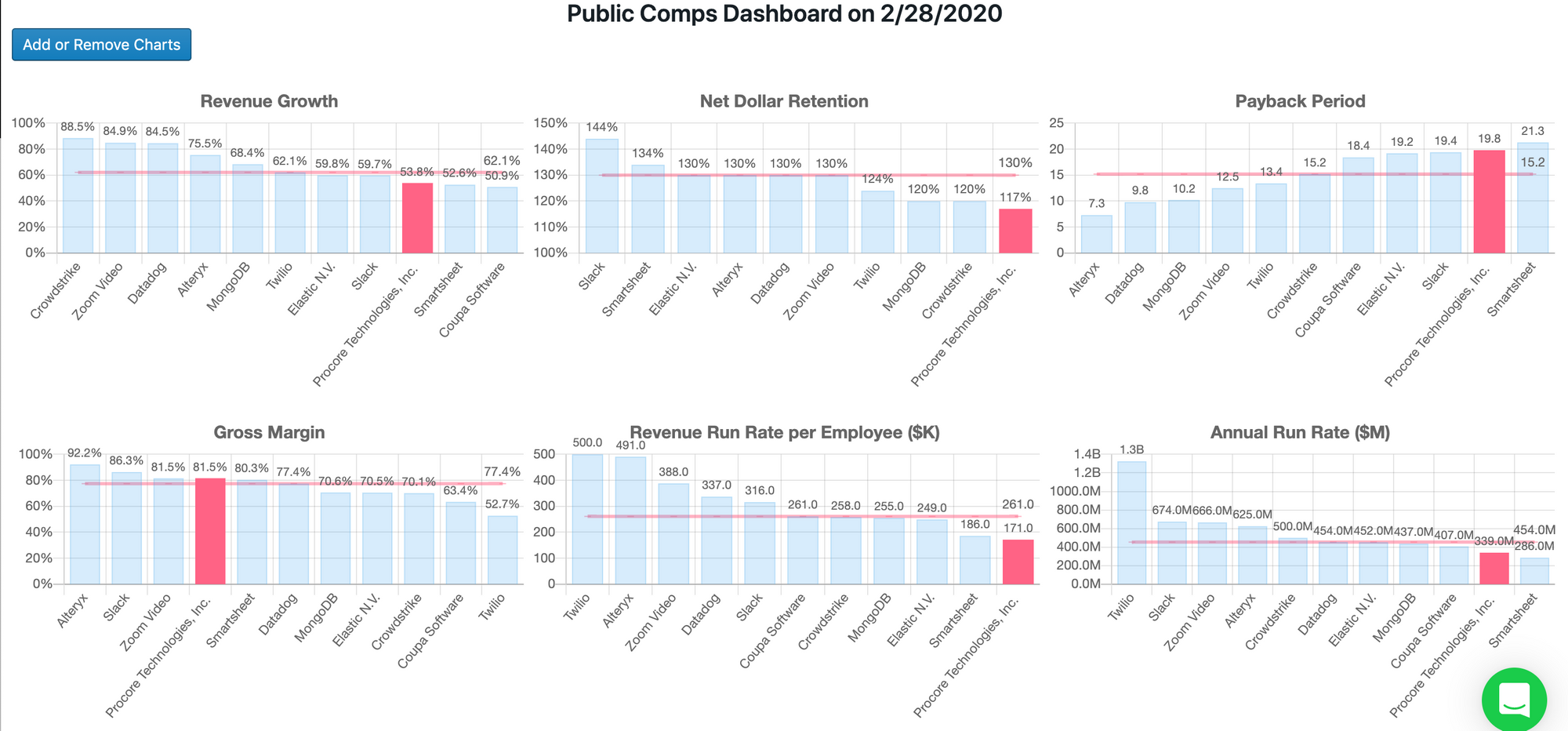 Overview
Founded in 2002, Procore provides cloud-based SaaS project management tools for construction companies. Procore's customers range from small businesses managing a couple million dollars of annual construction volume to global enterprises managing billions of dollars of annual construction volume. Their customers are owners, general contractors, and specialty contractors operating across the commercial, residential, industrial, and infrastructure segments of the construction industry.
The founder "Tooey" Courtemanche built Procore after his frustrating experience with his own home construction project. He was surprised how difficult it was to get information on the progress of a project or budget plans. He named the business Procore because he believed the business would enable people in the construction industry to focus on their PROfessional CORE competencies (their craft)
Procore states multiple times in its S-1 how the proliferation of mobile devices and ease and accessibility of WiFi enabled Procore to service field workers that were working at the job sites. Note that in the "Story of Procore" how the business really started to take off after 10 years since launch in 2012 due to mobile and WiFi.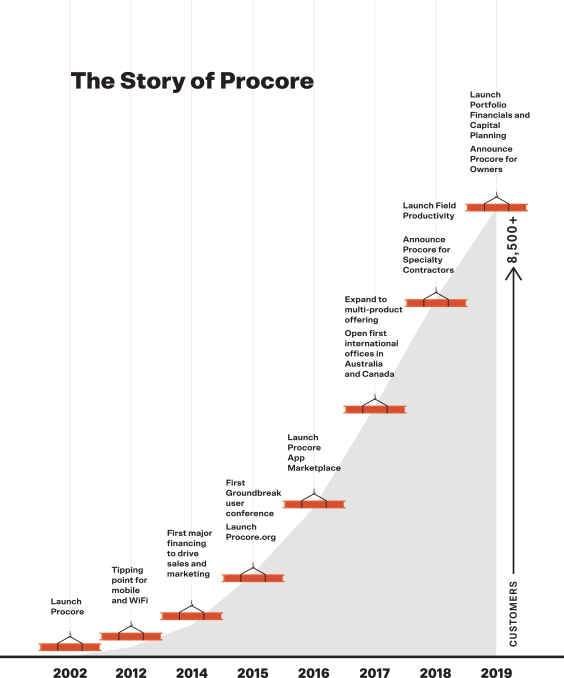 Product
Procores products are offered via a cloud-based SaaS product. Customers can access Procore's products on computers, smartphones, and tablets through any web browser or on mobile .
The business has 4 main products: preconstruction, project management, resource management, financial management and analytics. We include the different product lines and descriptions from the S-1 below.
Preconstruction
Prequalification: Procore Prequalification streamlines the process of selecting specialty contractors and vendors for construction projects, connecting all stakeholders involved in the process in one place. Customers can easily send out requests for documentation to potential partners, which are then collected, standardized, and aggregated within the Prequalification product. From there, customers can evaluate which partners have the capability, capacity, and resources to be hired for their project. Customers can also access and store financial data, increasing project team visibility without compromising confidentiality.
Bid Management: Procore Bid Management organizes the complex bidding process, from bid package creation to bid award, allowing customers to track and assess the significant volume of bids that are typically submitted to work on a given construction project. Bid Management also provides vendors with a single location to access bid package details, files, and communications to simplify the bid submission process.
Project Management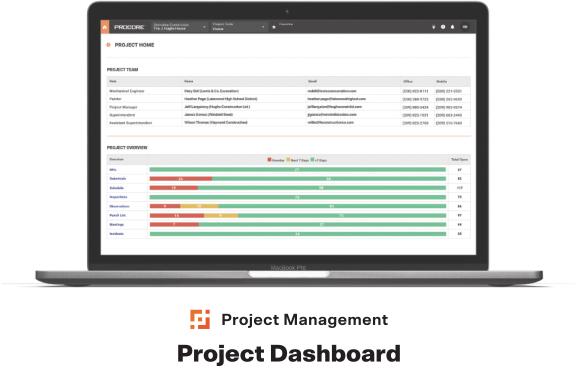 Project Management: Procore Project Management provides every team member on a construction project with real-time access to the information they need via a single, accurate, up-to-date source. Project Management centralizes and facilitates collaboration on schedules, specifications, submittals, drawings, RFIs, and outstanding tasks. Users have the ability to log critical information, track project progress, and escalate issues for approvals from the correct team members. Project Management is designed to increase transparency and accountability across the entire project team, reducing litigation risk and the shifting of responsibilities.
Quality & Safety: Procore Quality & Safety allows field teams to continuously record, monitor, evaluate, and improve procedures in order to maximize compliance with safety regulations and quality specifications. Additionally, the product helps users identify, understand, and proactively resolve the causes of issues and risky behaviors before they result in an injury or accident.
Design Coordination: Procore Design Coordination helps users identify and resolve conflicts in a building's structural and systems plan before construction begins, thereby reducing the need for change orders during construction. Our product improves the virtual design and construction process so all necessary stakeholders can work collaboratively with the team designing the 3-D building model.
Building Information Model: BIM enables users in the field to view and collaborate on 3-D models, which allow construction teams to more efficiently construct buildings. Users can access project models with an easy-to-use navigation interface that ties 3-D models to drawings that field teams are comfortable using. Field workers have real-time, constant access to the BIM model, improving decision-making and quality of work.
Resource Management
Field Productivity: Procore Field Productivity enables specialty contractors to track hours worked and quantities installed in real-time so they can make daily decisions that help keep projects on schedule and within budget, while maximizing profitability. In using Field Productivity, customers are also creating a detailed record of historical productivity rates, which streamlines the time-intensive payroll process for smaller contractors and can also be leveraged in order to more accurately bid for future jobs.
Financial Management
Project Financials: Procore Project Financials is a robust solution for managing the financial health of a construction project. Customers can track, forecast, and manage project costs, budgets, and change orders with reliable data drawn from the field. These real-time insights help customers facilitate more accurate communication, generate faster approvals, and reduce financial risk.
Invoice Management: Procore Invoice Management expedites the invoice creation, collection, review, and approval process across stakeholders. Our products allow customers to automate the creation of invoices while helping to ensure accuracy and reduce delays in payment. By streamlining the payment process, Invoice Management helps to reduce schedule delays arising from disruptions in cash flow.
Portfolio Financials: Procore Portfolio Financials is purpose-built for owners, enabling these stakeholders to track and approve expenditures across their portfolio of construction projects.
Capital Planning: Procore Capital Planning enables owners to track, analyze, and forecast budgets across an entire portfolio, with a focus on long-term planning. Our product aggregates project cost data, enabling our customers' to update capital plans in real-time and inform their forecasts.
Accounting Integrations: Procore Accounting Integrations integrates with our customers' accounting systems to minimize manual data entry and reduce errors created through double entry. Accounting integrations sync project information between the field and office so informed decisions can be made using up-to-date project and cost data.
Procore Analytics
Procore Analytics: Procore Analytics product gives customers the ability to generate deep insights across data aggregated from across all projects, various products, and integrated accounting software. Customers can track trends and conduct analysis using approximately 100 pre-built reports, all of which are customizable to suit individual customer needs.
Business Model
Procore sells products on a subscription basis for a fixed fee with pricing generally based on the number and mix of products a customer subscribes to and the fixed aggregate dollar volume of construction work contracted to run on its platform, which they refer to as annual construction volume.
Unlike most other SaaS pricing models, Procore allows for unlimited users and does not charge a per-seat or per-user fee. This pricing decision has helped with expanding Procore's usage within customers: in 2019, on average, each customer invited over 170 project participants.
Procore went from four products in 2017 to 13 products today. As of December 31, 2019, 59% of Procore's customers subscribed to 3+ products but only 41% of customers subscribed to 4+ products. The business believes customers will adopt more and more products over time which will drive up-sell.
Construction Market
There's a lot to like about the construction industry.
Construction is one of the largest industries: Annual world-wide construction spend is expected to grow from $10T in 2017 to $14T 2025.
Favorable tailwinds due to population growth and urbanization: Global population growth coupled with ongoing urbanization is driving the need for more construction.
Contractors are in need of better tools: 80% of contractors surveyed in a USG Corporation and U.S. Chamber of Commerce survey believe that they will use some newer technology by 2022.
Tools are needed to reduce non-optimal work: Time spent on non-optimal activities such as dealing with mistakes and rework, looking for project data, and handling conflict resolution cost the U.S. construction industry an estimated $177.5 billion in labor costs in 2018.
Large Market Opportunity for Procore: claims market is $9.2b annually and at $338m ARR, implies 3% penetration.
Competition
Company states  the market is in its early phases of maturity and technology adoption as many companies in the construction industry still rely on a combination of rudimentary workflows, including manual paper-based methods, email, fax, and spreadsheet-based processes.
In-House or Customized Projects: Boston Children Hospital is a customer of Procore and used Procore for its $3b 10 year construction project. Procore replaced BCH's in-house expensive  and custom-built systems. I suspect a lot of other Procore's customers decided to switch from their homegrown systems to Procore.
Aggregated construction management tools: Oracle (acquisitions of Primavera Systems, Aconex, and Textura), Autodesk (acquisitions of PlanGrid, Assemble Systems, and BuildingConnected),  Trimble (acquisitions of Viewpoint and e-Builder).
Note: Procore does integrate with some of these products such as Autodesk's BIM software and Oracle's Primavera scheduling tool.
Accounting Software Vendors: ComputerEase Software, Foundation Software, Jonas Software. The providers offer accounting software and supplement their solutions with project management tools and other offerings, which are often bundled with their accounting solutions as lower-value add-ons. The project management tools offered by these software vendors have historically not been a primary focus of theirs. Procore customers can integrate with these accounting solutions via Procore's App Marketplace.
Point solution software vendors: in various categories, including analytics, bidding, BIM, compliance, and scheduling, among others. These providers offer solutions targeted at solving a particular problem for a specific type of stakeholder. Many of the point solutions these vendors provide integrate with our platform and are available in Procore's App Marketplace.
Go-To-Market
Direct-Sales: Procore primarily sell subscriptions via their direct sales team. The field sales teams focuses on the large accounts while the inside sales teams focuses on the lower end of the market.
Upsell: The install base team focuses on renewals and account expansion – as of December 31, 2019, out of 13 available products, 59% of their customers subscribed to three or more of our products which presents itself upsell opportunity.
Marketing: Procore generate leads for  sales team through a combination of content marketing, public relations, advertising, sponsorships, digital marketing, partner marketing, social media, community initiatives, and events.
Community: Procore builds a community around construction with its industry-focused blog site Jobsite, online user community forum Procore Community, and  annual construction industry conference Groundbreak.
Certification: Business also offers certified continuing education courses, training programs, online content libraries, and free software to universities, trade unions, and non-profits
Key Metrics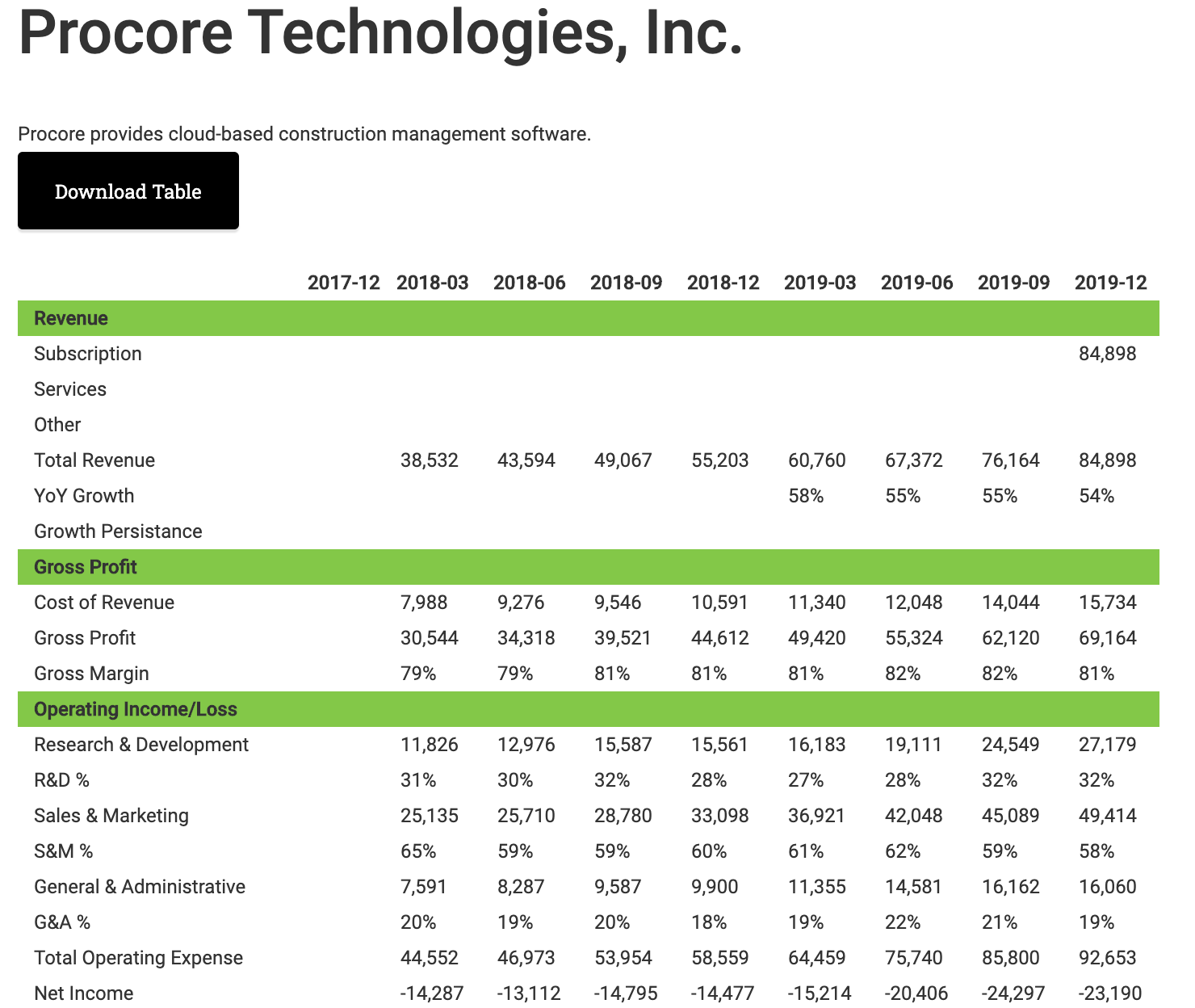 Revenue: Business generated revenue of $112.3 million in 2017, $186.4 million in 2018, and $289.2 million in 2019, representing year-over-year growth of 66% in 2018 and 55% in 2019
Customers: Procore had 4,310 as of December 31, 2017, to 6,095 as of December 31, 2018, to 8,506 as of December 31, 2019, reflecting year-over-year growth rates of 41% in 2018 and 40% in 2019.
>$100k ACV Customers: The number of customers that contributed more than $100,000 of ARR grew from 230 as of December 31, 2017, to 412 as of December 31, 2018, to 655 as of December 31, 2019, reflecting year-over-year growth rates of 79% in 2018 and 59% in 2019.
Average Annual Contract Value: $339m ARR with 8,506 customers implies ~$40k ACVs.
Net Dollar Retention: Net retention rate was 125% as of December 31, 2017, 121% as of December 31, 2018, and 117% as of December 31, 2019.
Gross Retention Retention: we were pleasantly surprised that Procore released its gross retention rate which is basically 1 - Annual Churn %. Gross retention rate was 94% as of December 31, 2017, 94% as of December 31, 2018, and 95% as of December 31, 2019.
International Revenue: In 2019, 11.3% of revenue was generated from customers outside the United States.
Free Cash Flow: Business had -$35m FCF in FY2019 which implies -10% FCF % up from -23% FCF % in FY2018.
Operating Margins: Business had -29% operating income margins in FY2019 up from -49% Operating Income % in FY2017 and -30% Operating Income % in Fy2018.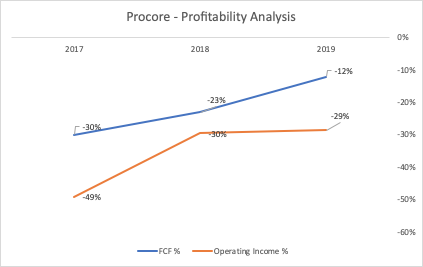 Net ARR:  Procore added $35m Net ARR in Q4'19 which is flat from $35m Net ARR in Q3 '19. The business is growing at 54% YoY in Q4'19 down from 58% YoY in Q1'19.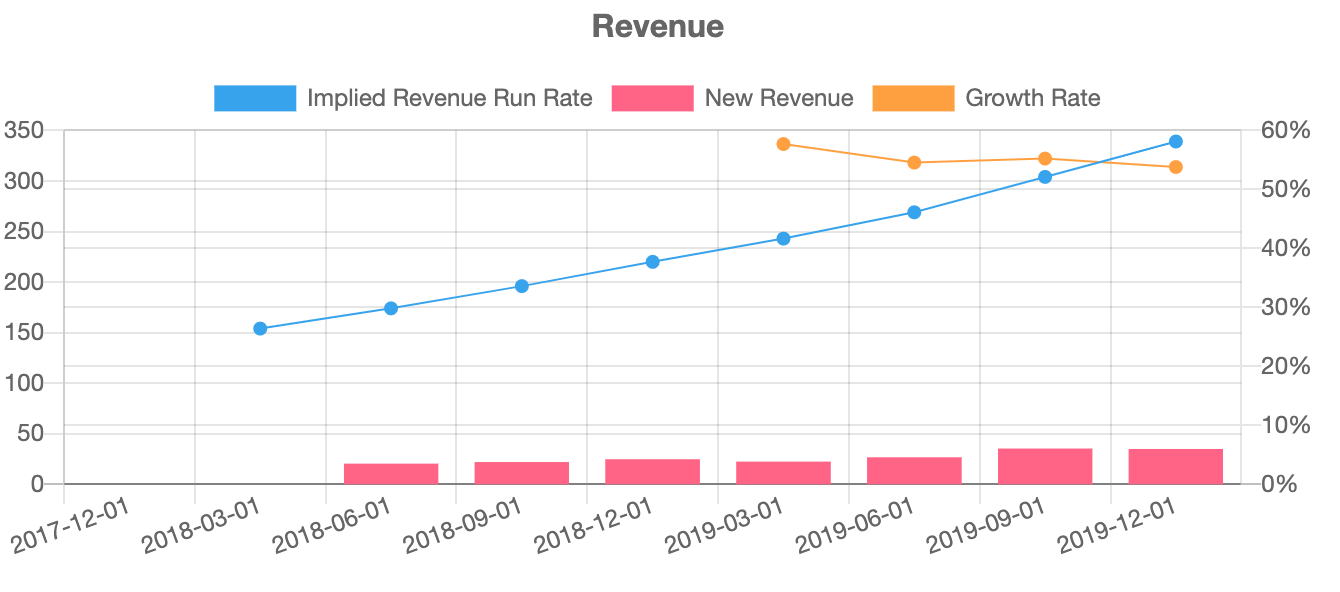 Payback Period: Payback Period using the CAC Ratio of [(Net ARR Current Quarter)/(S&M Previous Quarter)]*Gross Margin implies payback period is going up – Q4'19 it was ~20 months up from 17.5 in Q4'18.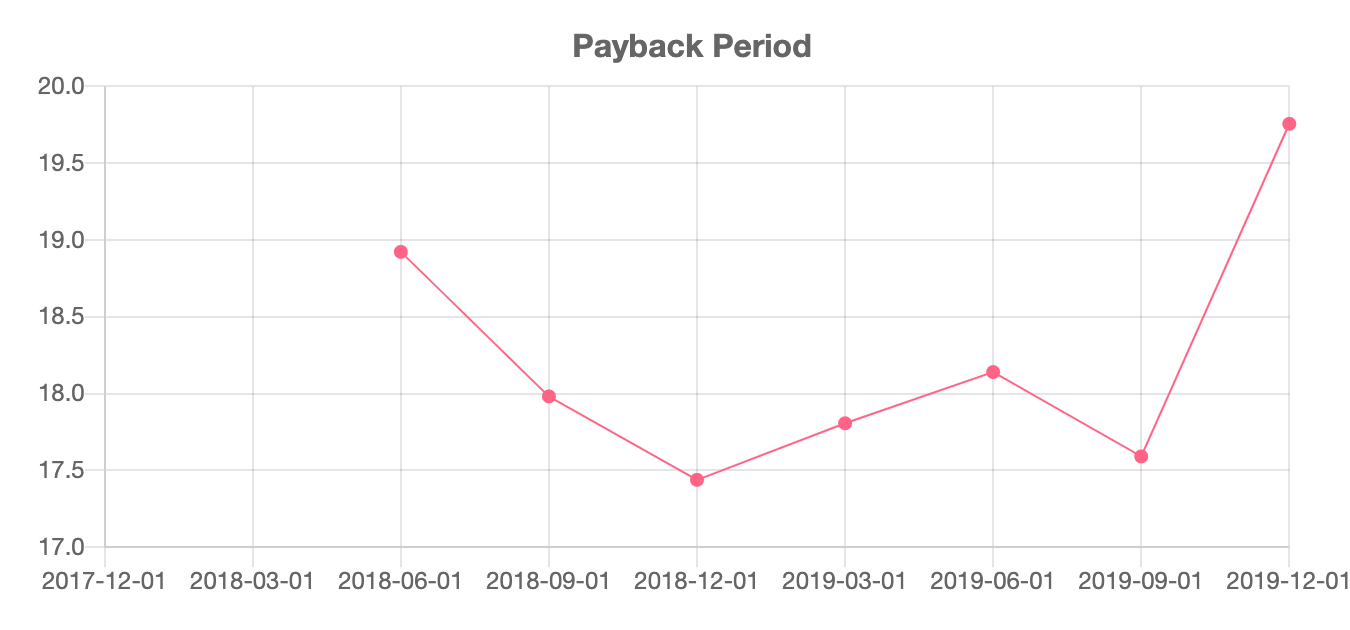 Valuation Analysis
We take two different approaches to estimate what Procore will likely trade at in the public markets. One approach is estimating what we think ARR (Annual Recurring Revenue) will be 4 quarters from now and the other is estimating what NTM (Next-Twelve-Month) revenue will be 4 quarters from now. The former we use our Publiccomps.com estimated NTM ARR multiples and the latter we use Zacks.com NTM revenue estimates from analysts to determine how to appropriately value the company.
Using NTM ARR: At $339m ARR growing 55% YoY and relatively strong SaaS metrics, Procore – in our opinion– will likely trade similarly to Docusign, Alteryx, Smarsheet, Coupa at 10-12.5x EV/NTM ARR range which are also growing roughly in the 40-50% YoY range.
If we assume Procore grows 35-40% YoY in the Next Twelve Months (companies tend to decay at 85% of the growth rate of the previous year), we get to $457m - $474m ARR. Applying the 10-12.5x EV/NTM ARR * $457-$474m ARR gets us to ~ $4.5b-$6b enterprise value.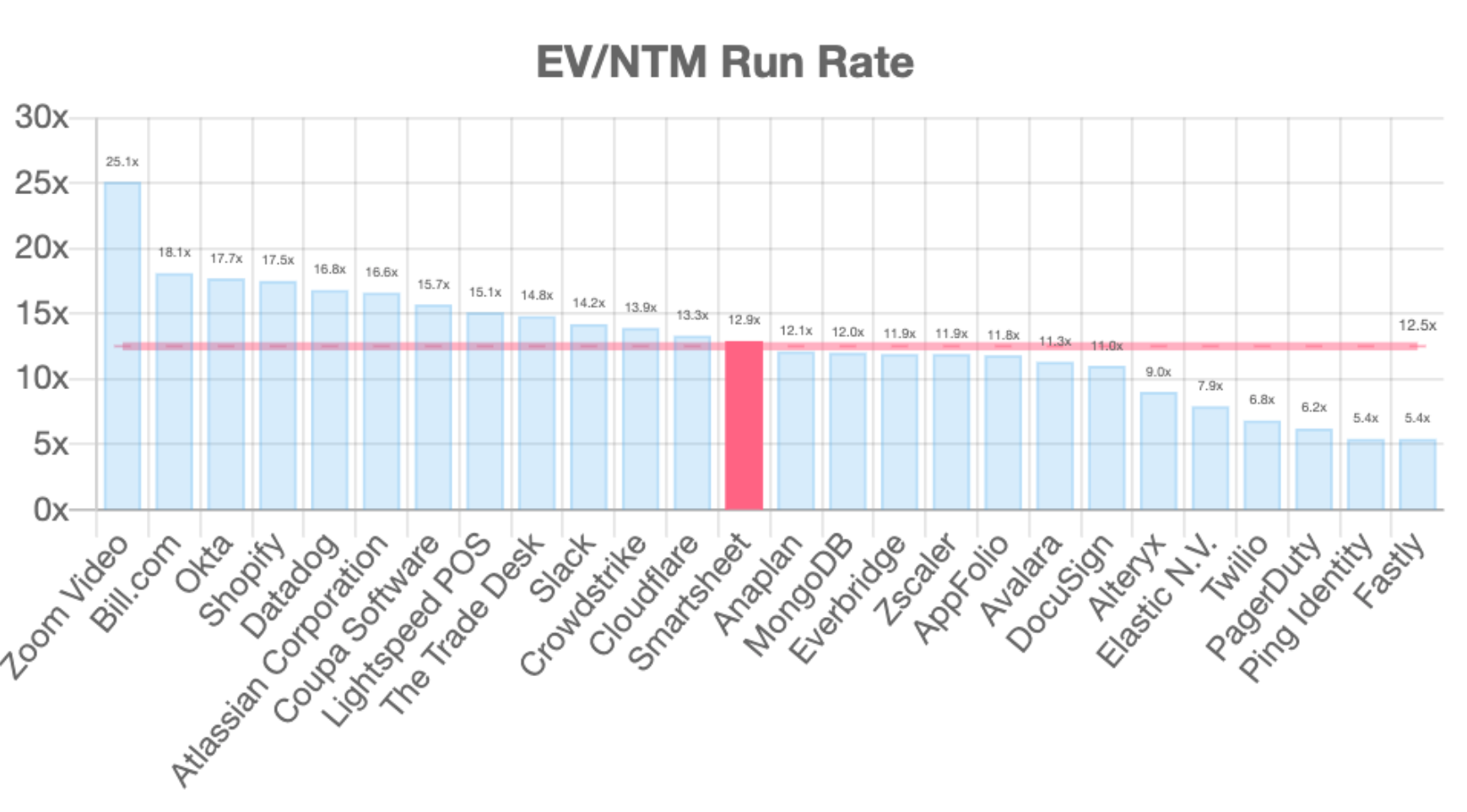 Using NTM Revenue from Analyst Estimates: Procore's FY2019/LTM revenue is $289m and growing 55% YoY. Assuming roughly 35-40% YoY growth for FY2020, Procore gets to $390m - $404m NTM Revenue. Median EV/NTM Revenue from analyst estimates is roughly 16.2x and again using the Alteryx, Docusign, Smartsheet and Coupa estimates, we get a range of 12.8x - 17.3x EV/NTM Revenue.
Procore $390m-$404m NTM Revenue * 12.8x-17.3x EV/NTM Revenue = $4.9b-$6.9b enterprise value.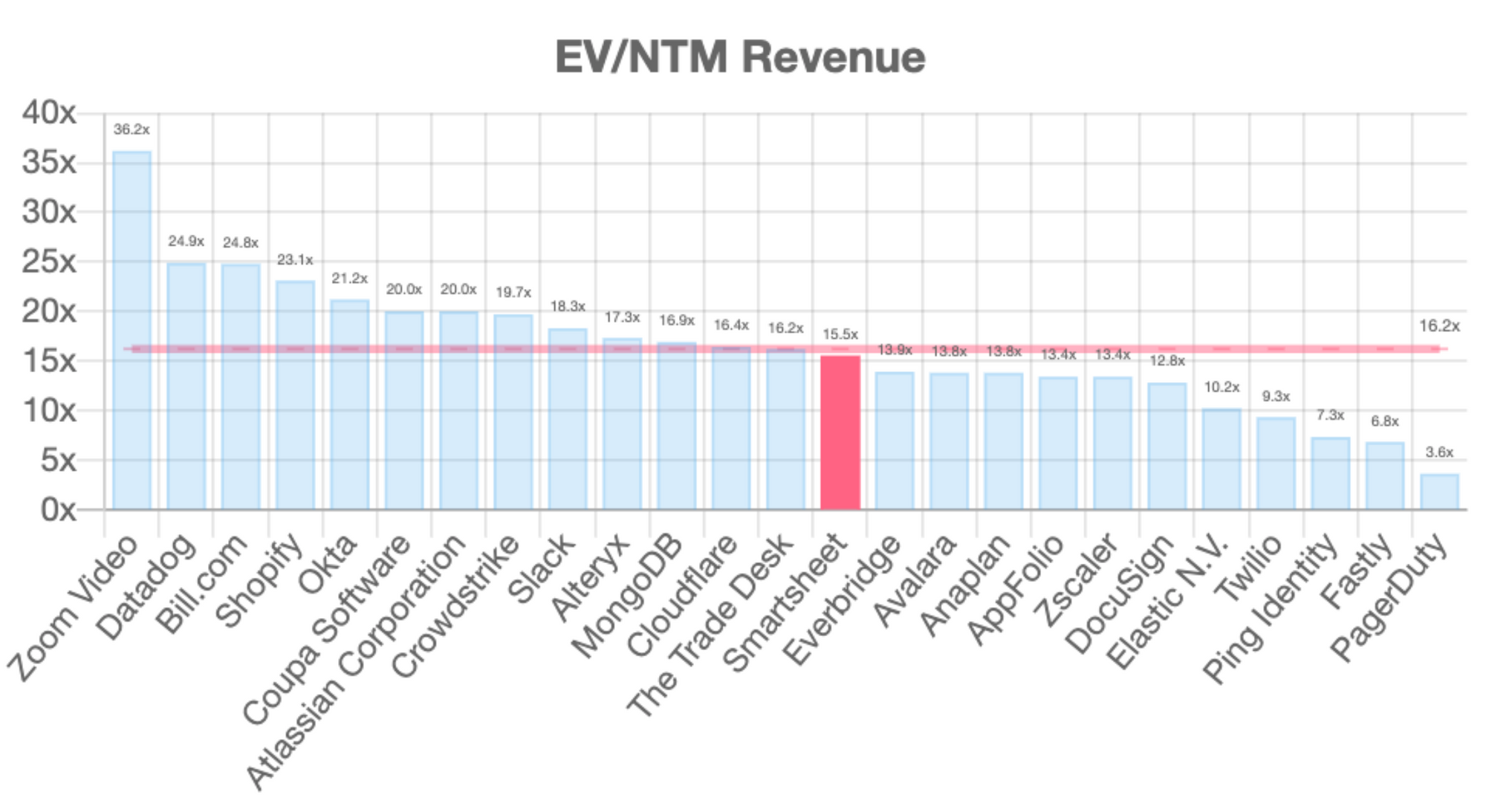 Both estimates are up significantly from the $4b that Procore was rumored to go public at and up significantly from the $3b round from Q4'18– potentially a 2x in <2 years for Tiger Global.
Concluding Thoughts
Procore's IPO is a reminder that software is still eating the world and just getting started in construction. Construction spend is forecasted to be $14T in 2025 and is one of the largest industries in the world. The business estimates they have 2-3% market penetration at $339m ARR! Procore claims 10% of revenue is international today and it seems like that will only grow overtime.
What's incredible is that Tooey and his team have been working at Procore for nearly 2 decades and really hit an inflection in 2012 – 10 years after founding the business. Procore's success is a testament to Tooey and the Procore team's persistence and ability to execute for 18 years and counting.
This is a really interesting case study that debunks the myth that 1) it's impossible to build software businesses in construction 2) you can only build a large enterprise software business in San Francisco (let alone Santa Barbara) 3) you have to build fast and get to IPO quickly in SaaS.
Congratulations to Tooey and the Procore team!