Public Comps Weekly Dashboard 8/11/21: Unity (U) Q2 2021
Public Comps Dashboard 8/11/2021 and breakdown of Unity Software (U) Q2'21.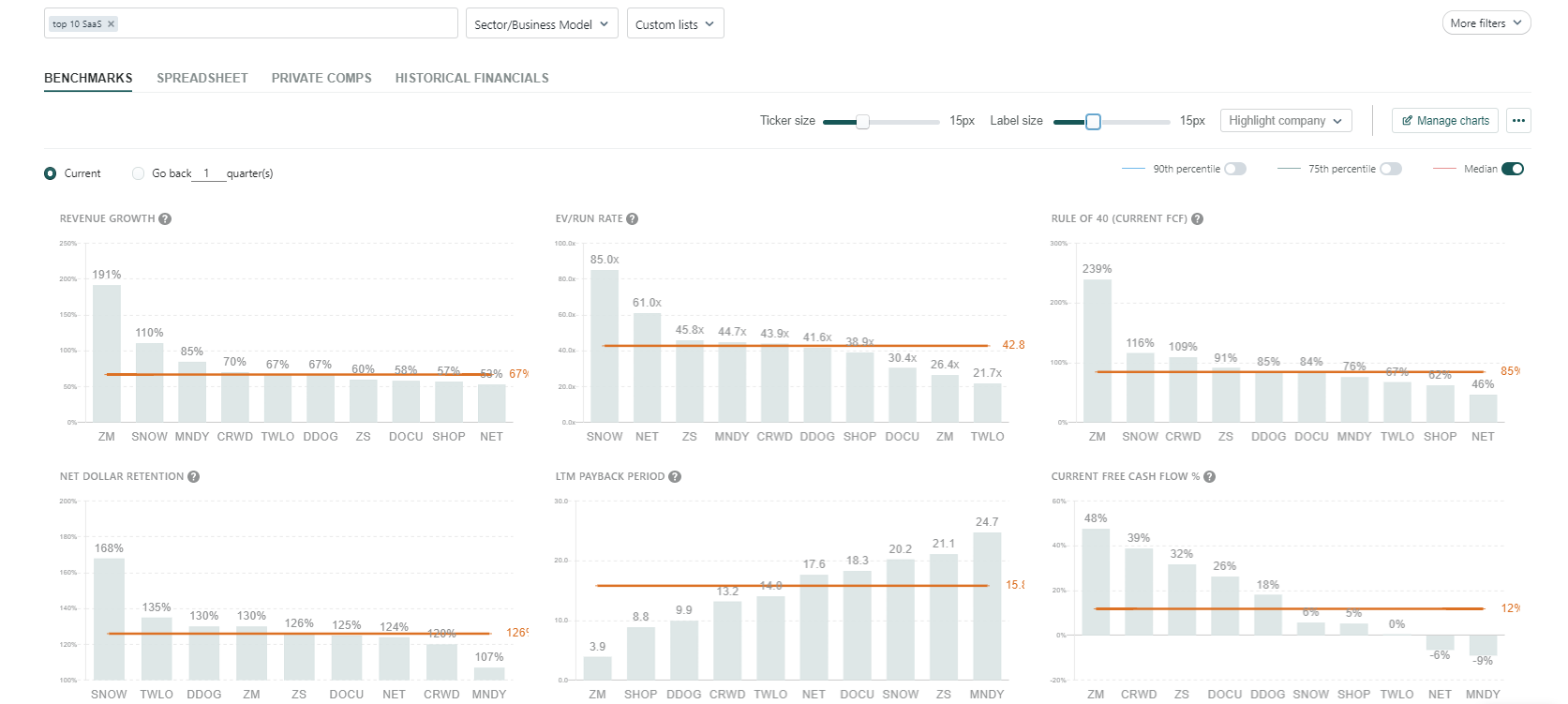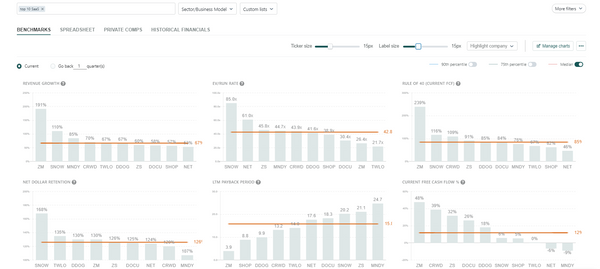 👋 Public Comp-ers! 👋
Jimmy filling in this week! Exciting earnings season for SaaS this month: we start with Unity (U) Q2 earnings reported yesterday. U shares closed 13%+ today behind a strong quarter 💪
Feel free to check out the Unity teardown we did last week for a refresher on the business 🔥
1️⃣ Public Comps Top 10 SaaS Dashboard 📈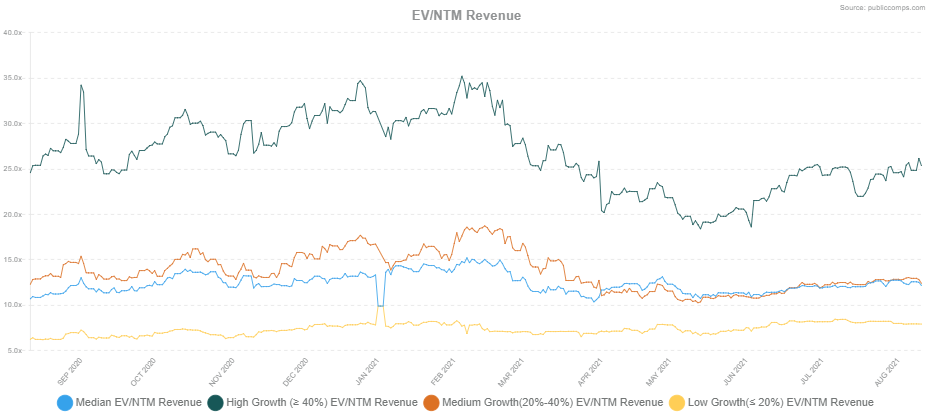 SaaS multiples gradually rising ahead of a big earnings month: EV/NTM revenue multiples for high growth companies (defined by >40% YoY rev growth) floated upwards to a 25.5x multiple, at levels well under highs we saw at ~35.0x at the beginning of 2021.
2️⃣ Unity (U) Q2'21 Earnings 🎮
Financial Summary
$273.6M Revenue (+48% YoY, guidance beat ~17%)
$72.4M Create Solutions revenue (+31% YoY)
$182.9M Operate Solutions revenue (+63% YoY)
$18.3M Strategic Partnerships revenue (+9% YoY)
140% net dollar retention (up from 133% one year ago)
888 customers generated >$100,000 of revenue (+24% YoY)
Unity acquires Parsec, a remote desktop tool, in an all-cash $320M transaction
Q2 2021 was a monster quarter from Unity, blowing past guidance (which was +30% YoY for Q2) and at last reaching a $1B run rate. Important to note: Operate Solutions (U's advertising business) was the main driver, posting an astounding +63% YoY, and Create Solutions experienced a relative slowdown only up +31% YoY (relative to Q1'21 +51% YoY).
Impacts from Apple ID for Advertisers (IDFA)
As predicted, headwinds from Apple's opt-in policy for personalized advertising were overestimated, demonstrating the value of in-app data powered by Unity's network. In fact, IDFA was quite the opposite for Unity, which is unsurprising given how proactive management has been. If you follow Unity, you'll hear time and time again: over 50 billion in-app events are recorded per day across 20+ platforms. It's a statistic that we'll hear continue to grow if Unity's businesses are able to scale and offer more value to advertisers via its contextual advertising.
And the tailwind may be secular. Last week, Zynga (leading social game developer & a Unity customer) commented on how they're navigating IDFA. They don't think it's a negative; rather, game developers must now adjust and find new tools to advertise / monetize, and Unity has done a great job at adapting. We're starting to see a shift in the industry where advertisers must adapt to new networks, and it's not limited to the short-term.
"In the long term, we don't see it as a negative. It is something that we just have to adjust for, and we have started to do that by looking at different networks. We've started to buy on networks that we weren't buying on before because they have done a good job improving their products — As an example, Unity is a network that has done a good job adjusting to IDFA." — Frank Gibeau, CEO of Zynga
Unity's Acquisition of Parsec
It's clear that M&A is still a main driver of growth for Unity for a few reasons: 1) add to best-in-class products; 2) gain market share in emerging industries; 3) cross/up-selling their subscriptions.
Speaking of inorganic growth, Unity yesterday announced their acquisition of Parsec, a "remote desktop and streaming technology company", for $320M in an all-cash transaction. Important points:
Parsec enables developers to work together remotely, leveraging high performance processing power via cloud. Can be seamlessly integrated with Unity's developer tools.
Major cross-selling opportunities. Parsec customers: companies in verticals outside of gaming, namely art & design. Unity customers: developers seeking platforms to collaborate remotely & effectively. The subscription bundling opportunities are substantial, meanwhile Unity gets access to untapped markets outside of gaming.
Independently, Parsec's subscription business is small, yet still phenomenal: +150% YoY revenue and ~200% NDR – a clear opportunity for Unity to drive shared momentum via subscription bundling.
Key takeaways from the session
1) Operate Solutions numbers are astounding (+24.8% QoQ to $183M!) as a result of diligent preparation for IDFA. Unity's advertising network grows in value.
"While we saw strong performance across the board, I want to especially call out the outstanding work from the Operate team. As I mentioned last quarter, we were well prepared for Apple's privacy changes, and as a result of excellence in execution, we build market share for this quarter. We're proud to help customers thrive during the uncertainties of our platform change. Our advanced analytics, context, and insights are proving to be a competitive advantage." — CFO Luis Visoso
2) PCs and console games took over with multiplayer products. Unity believes the same is happening with mobile + social games.
"Mobile is lagged back partly because they're not on broadband networks and they haven't had the CPUG performative technology to support it. That's changing. Social games and mobile games are becoming multiplayer. And with that, we see a very substantial opportunity for Unity because we're a leading provider of the back-end resources, the operating resources enabled multiplayer and multi-user gaming." — CEO John Riccitiello
3) AR/VR hardware is starting to see traction in regards to hardware, and Unity is making gradual moves to be the key beneficiary.
"We're getting really excited about AR/VR because they are starting to see traction on the selling of hardware… Based on what I see coming from hardware players, I think this is about to happen. Not tomorrow, but over the course of the next 3 to 4 years, we're going to see a sizeable market in AR/VR" – CEO John Riccitiello.
4) Management is optimistic about the synergies Parsec customers have with Unity customers, and vice versa.
"And so, my sense is that this is one of those Goldilocks fields where we can pull them into customers, they can pull us into customers, and we can bundle and gain penetration with customers that we both share with significant penetration. And with Benjy and Chris, I met, I mean, I wish it was half as smart as they are when I was their age. They're just killing it with deep insight and just execution that I stand back and marvel at. I feel really, really good about this one." – CEO John Riccitiello
5) M&A will continue to play an active role in Unity's future driving R&D and expansion into new markets.
"And we closed the acquisition of Interactive Data Visualization, Inc., the popular SpeedTree Environment Creation Suite in July. The acquisition enables deeper integration of SpeedTree to the Unity ecosystem, enhancing artists authoring workflows and environments creation capabilities. This is another great step to enable artists with Unity. In summary, we're very pleased with our performance and prospects. We're building a sustainable business with massive scale opportunities" – CFO Luis Visoso
Valuation
Although Unity is posting consistent +30% top-line growth YoY (their 11th consecutive quarter), slightly on the lower end relative to top 10 SaaS, U trades at 28.0x NTM EV/Rev. Investors believe in the position that U has established with its core products, and see value in paying a premium for the long-term story of expansion into AR/VR + enormous applications outside of gaming.
Conclusions & Looking Forward
Short-term, I'm optimistic about Q3 revenue growth. Guidance from management is targeting ~$262.5M rev (+31% YoY), which seems a bit conservative given Unity's recent initiatives: 1) uptick in headcount roles for marketing & sales (+152% and +108% respectively) from 6 months ago; 2) secular tailwinds from IDFA as advertisers adjust; 3) the pace at which Unity is growing via R&D + acquisitions. It wouldn't be surprising for Q3 to be another material revenue beat within a range of $275M to $290M (+37% to +44% YoY).
If truly achieved, AR/VR will have huge implications on the metaverse & disruption of legacy industries such as construction. The potential upside is clear – Unity will be the building block for a new digital revolution. It's now a question of whether the moat that U continues to carve in game development & advertising will be enough to sustain itself to penetrate emerging markets.
3️⃣ Last call on beta testing! 🔎
We released a beta version of Public Comps in GSheets a few weeks ago! We're making a last call for beta testing - if you're interested in checking it out feel free to shoot us an email! We'd love to onboard you and get your feedback.
4️⃣ Special tool highlight: CommandBar 🔥
If you are working on a web app, CommandBar (@commandbar on Twitter) is a must! CommandBar adds a magical "cmd+k" widget to any web app:
1) Lets users search to discover any feature in your app
2) Super fast command execution your power users will love
3) De-bloat your UI
CommandBar's ability to surface our app's full capability in one placed has had some awesome effects — overall user engagement has increased since we added it in, and we're seeing more users convert to paid after finding a premium feature through CommandBar. Not bad for something that took ~45 minutes to set up!
​
That's it for this week. As always, don't hesitate to shoot over a message for any feedback or if you'd just like to chat!
Cheers,
​Jimmy Zhou (@jimmynzhou on Twitter)
​
Like these weekly dashboards? These are for Publiccomps.com customers only but you can have your friends subscribe to the newsletter here where we send out investment memos, market maps and analysis on the broader SaaS market.
Views expressed in these emails are ours and ours alone and don't represent that of our previous or current employers. Public Comps provides financial and industry information regarding public software companies as part of our weekly dashboard, our blog, and emails. Such information is for general informational purposes only and should not be construed as investment advice or other professional advice.