Public Comps Dashboard: 2021 Year-in-Review
Year-in-review of 2021.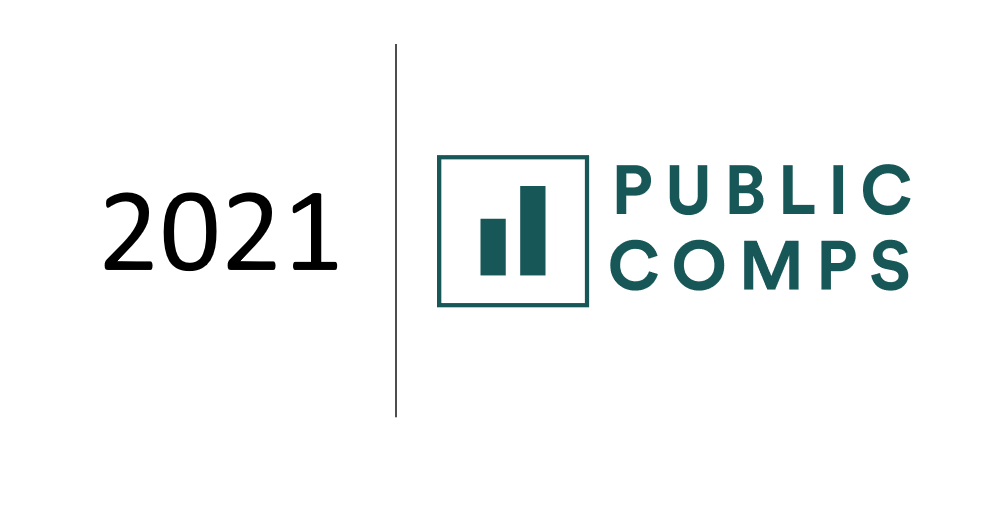 Happy New Year from Jimmy and Aneesh! What a year it has been for the entirety of B2B SaaS, and one that has undoubtedly remained tumultuous all throughout.
Unsurprisingly, the abundance of winners has drastically decreased relative to the onset of the pandemic in 2020 as S-curves mature, which deflates overall cloud software returns. Gains are swept away as investors wrangle over the implications of a rapidly emerging omicron variant and the escalating pullback of monetary policy as concerns of inflation flag the Fed.
1️⃣ SaaS 2021 By the Numbers 📈
Index changes from the beginning of 2021
S&P 500: +29%
Bessemer Cloud Index: -1%
B2B SaaS EV/NTM Revenue Valuation Multiples
2021 year end:
High growth SaaS: 24.5x
Medium growth SaaS: 11.1x
Median growth SaaS: 11.7x
Low growth SaaS: 6.3x
2020 year end:
High growth SaaS: 28.5x
Medium growth SaaS: 14.7x
Median growth SaaS: 12.7x
Low growth SaaS: 8.0x
2️⃣️ Performance by Sector 🔥
We took a look at the state of software back in late Q2 2021 where we outlined the sectors that continue to ride structural tailwinds from COVID-19. Here's how their respective category leaders have performed over in 2021:
Cybersecurity

Data / Dev Ops

Workflow Management

Evidently, this year was an extremely volatile run for B2B SaaS given the nature of the broader macroeconomic climate, and I suspect the next year will not be very different. Cloud software became essential, and the businesses that have structurally accelerated to be mission-critical will continue to dominate.
Notes from Jimmy
B2B SaaS businesses have experienced corrections over the past two months, and certain names have proven to sustain growth better than others.
Snowflake: +19.3%
Unity: -3.0%
Zoom: -48.8%
Palantir: -20.7%
Amplitude: -3.5%
From the time of initial coverage, my long-term views have largely remained the same, and I'm excited to closely follow the implications of performance heading into 2022. Next year will be an important time to closely follow B2B SaaS since almost every software stock will not be a winner like we saw in 2020 (reminder: only 14 out of the 108 companies we tracked ended the year down...).
Cloud software companies have been highly volatile in the short-term due to the uncertainty around the macroeconomic climate, but I believe recovery can be expected as investors re-rate prices based on their inherent fundamentals. And finally, I'm particularly excited to cover crypto, SaaS, and fintech in 2022! As always, feedback and requests on content is always welcome and appreciated.
Notes from Aneesh
Like many other SaaS and payment companies, the last 6 weeks have been brutal as many of the gains in 2021 have been wiped away.
Marqeta: -41.0%
Monday.com: +68.4%
Coinbase: -23.5%
Confluent: +55.3%
Crowdstrike: -1.1%
BigCommerce: -36.0%
Since the initial writeup, my long-term outlook hasn't changed much with the current prices of Marqeta, Coinbase, and BigCommerce being attractive entry points. While the short term is highly uncertain, the last 6 weeks have brought about a non-fundamental depression in evaluation that should lead to a recovery with these businesses having strong fundamentals and a great growth outlook. Monday.com and Confluent have had a fantastic run since their public offering earlier this year and I expect continued execution from these tier 1 SaaS names. Lastly, incredibly excited to dive further into crypto, payments, and marketplaces in 2022 so please let me know suggestions on what to cover next!
3️⃣ Public Comps Top 5 Most Viewed Articles
The five most-viewed articles on the Public Comps blog according to page views:
It's no surprise our most viewed articles are the S-1 & IPO Teardowns which had a momentous year. In 2021, around 2,300+ companies have gone public raising $450B+ with software heavyweights like UiPath, Coupang, Robinhood, Coinbase, Toast, GitLab and others gaining heavily on the opening bell. Through November, IPOs traded up 12% on average according to Dealogic but by the end of the year traded 9% below their IPO price.
In 2022, we expect to see iconic companies like Reddit, Instacart, Chime, Discord and potentially Stripe hit the public markets. Look out for our future S-1 Teardowns on those!
4️⃣ Product Updates
The biggest changes in the Public Comps product in 2021. Feel free to email us your product suggestions at any time!
GSheet Plugin
We thank all the beta testers for the tremendous feedback they have given us on the GSheet Plugin.
CommandBar
CommandBar is the keyboard power user's dream allowing users to navigate throughout the entire Public Comps interface without touching the mouse. To get more information about a company just type command/control+K then the ticker or company name and choose whether to view the company financials or company metrics. We will be adding more commands throughout 2022. If you want to learn more about our friends at CommandBar please visit CommandBar.com.
Earnings Calendar
Never miss SaaS earnings again! We will continue to update our earnings calendar in 2022 and add more information over the coming months.
That's it for this week. As always, never hesitate to shoot over a message (reply to this email) for any feedback or if you'd just like to chat!
Cheers,
Jimmy Zhou (@jimmynzhou on Twitter)
Aneesh Tekulapally (@aneesh_tek on Twitter)
Like these weekly dashboards? These are for Publiccomps.com customers only but you can have your friends subscribe to the newsletter here where we send out investment memos, market maps and analysis on the broader SaaS market.
Views expressed in these emails are ours and ours alone and don't represent that of our previous or current employers. Public Comps provides financial and industry information regarding public software companies as part of our weekly dashboard, our blog, and emails. Such information is for general informational purposes only and should not be construed as investment advice or other professional advice.