Public Comps Weekly Dashboard 8/22/21
Public Comps Dashboard 8/22 and analysis on Marqeta Q2 '21 Earnings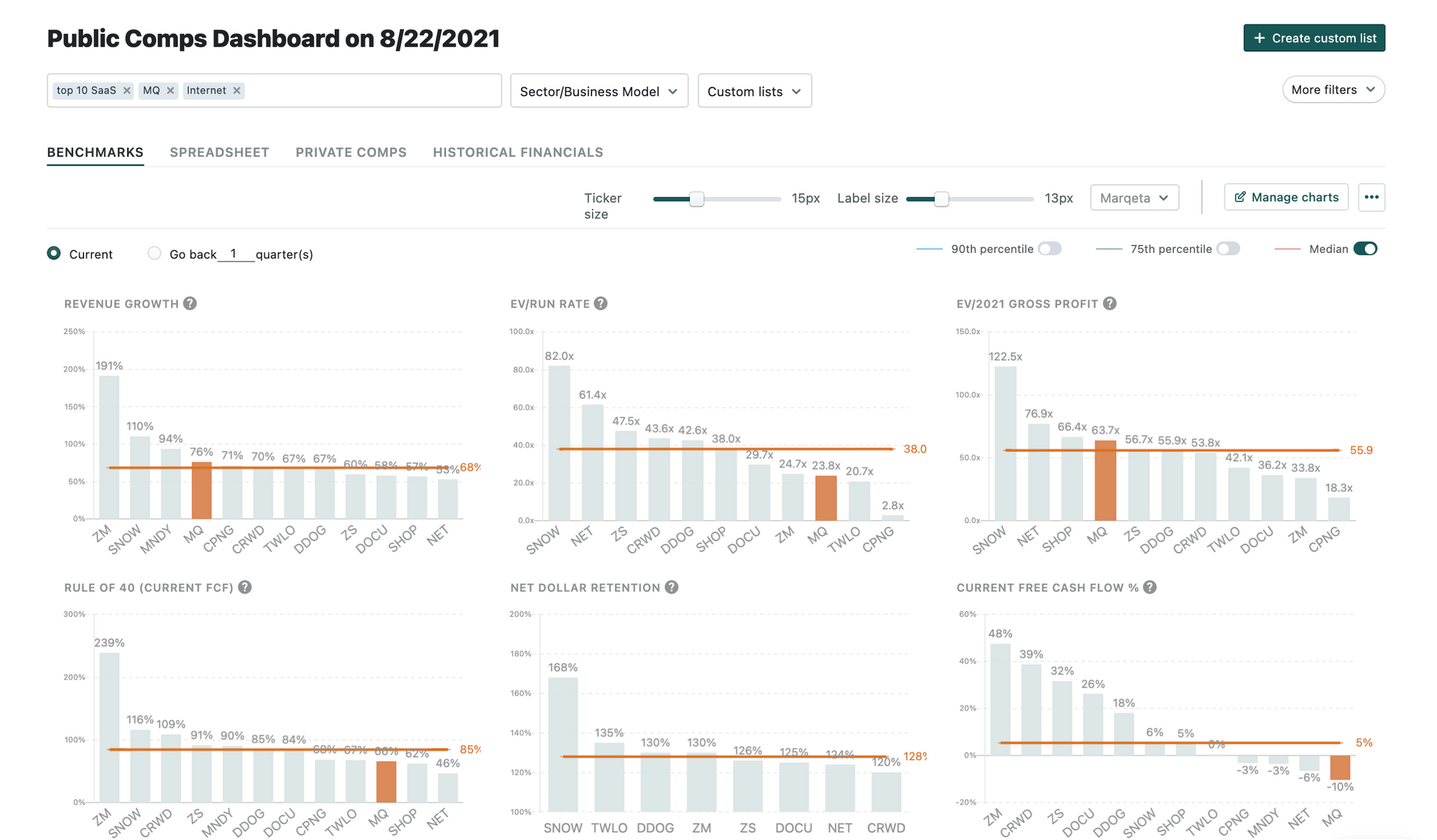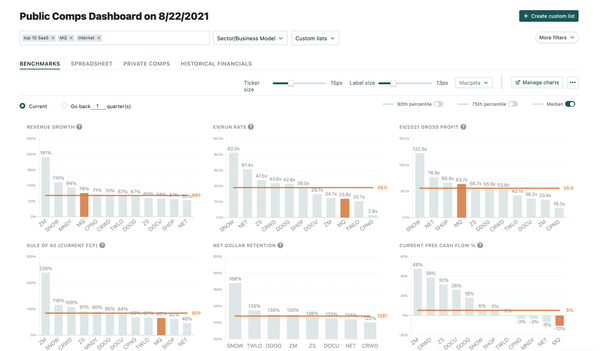 👋 Public Comp-ers! 👋
Aneesh filling in this week! Lots of exciting earnings this month with Marqeta $MQ reporting its first earnings as a public company. Marqeta shares were down 8.9% in after-hours trading Wednesday following the earnings report.
Feel free to check out the mini Marqeta S-1 teardown we did a few months ago for a refresher on the business 🔥
1️⃣ Public Comps Top 10 SaaS Dashboard 📈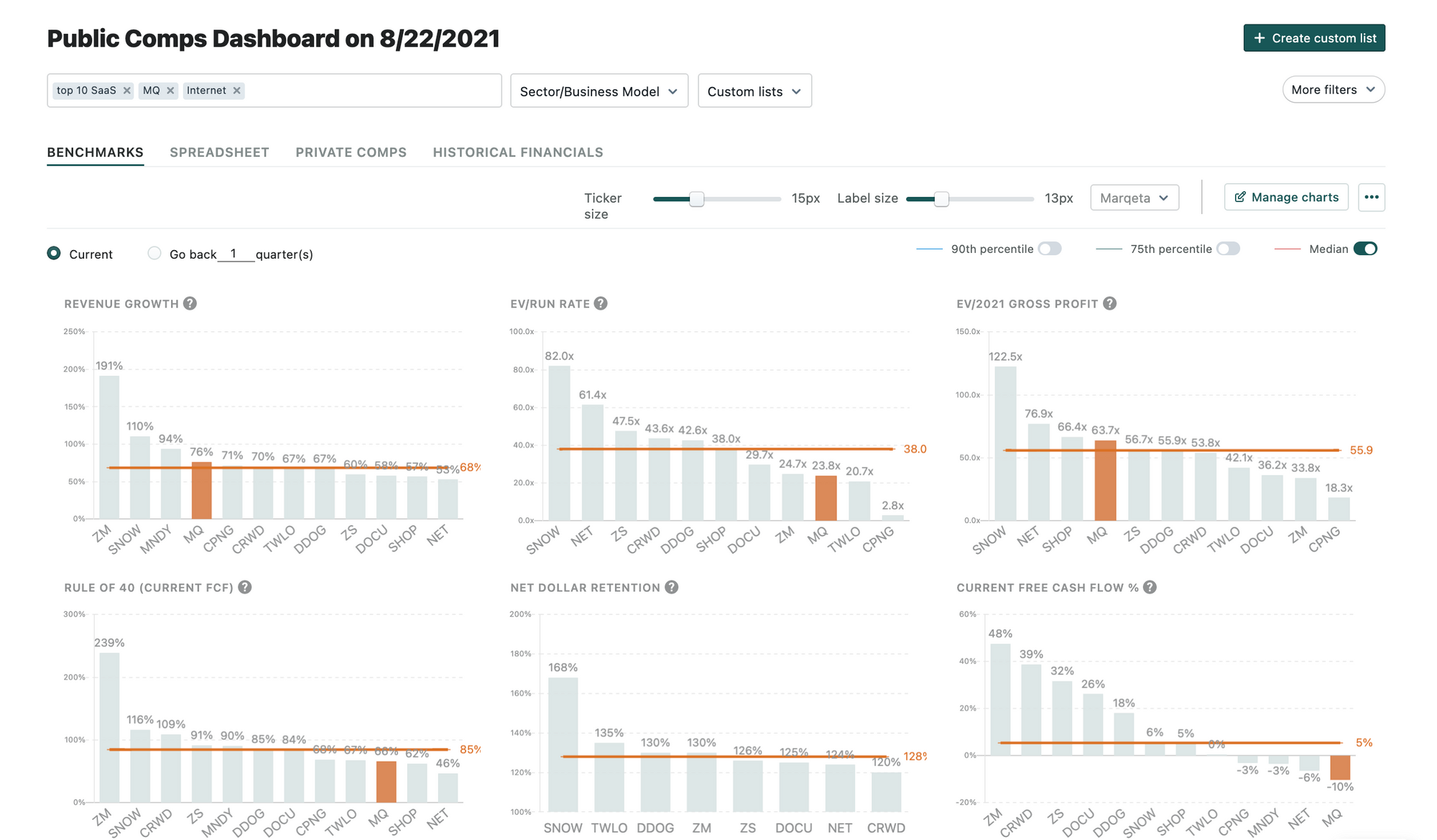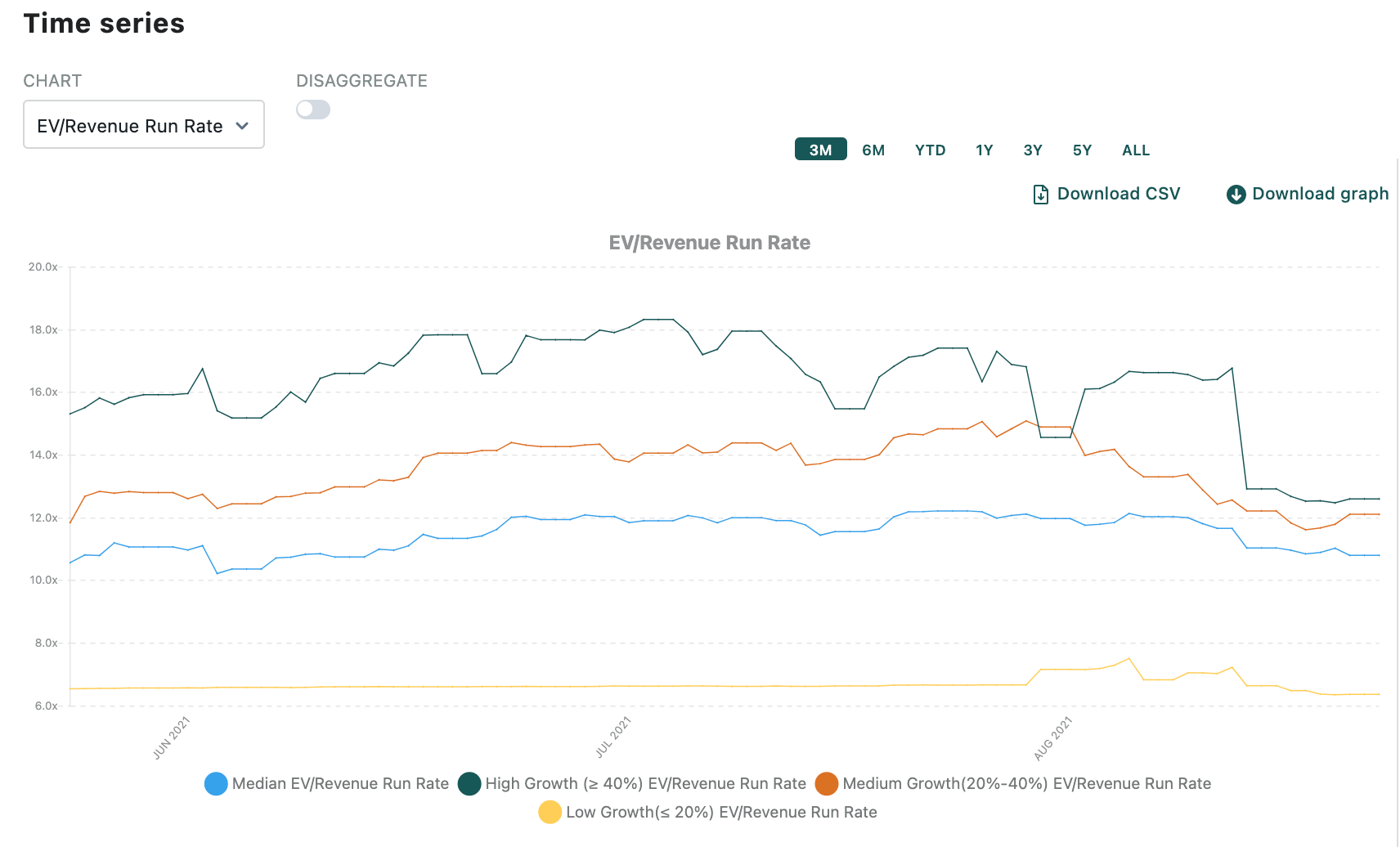 High growth SaaS multiples continue to trend lower: EV/ARRR (Quarter Revenue * 4) has remained relatively constant for the majority of June and July but has fallen sharply since August 12th with high growth companies defined by >40% y/y growth having a 12.6x multiple. It's interesting to note that medium growth and low growth multiples have held steady in the same period, indicating that company earnings for high-growth companies with lofty priced-in expectations have underwhelmed. This is somewhat expected given that companies have to battle COVID-19 quarters that dramatically catalyzed earnings for many best-in-class software names.
2️⃣ Marqeta $MQ Q2'21 Earnings 💳
Financial Metrics
$27B TPV (+76% YoY)
$122M Net Revenue (+76% YoY)
$95M Net Revenue from interchange fees (+68% YoY)
$23M Net Revenue from processing fees (+121% YoY)
350% net revenue growth from BNPL providers
100% net revenue growth from expense management providers
$47M Gross Profit (+70% YoY, 38% margin)
-10.6M Adjusted EBITDA (-8.6% margin)
Financial Metrics Notes
Outperformance on top-line values is driven by both digital banking and BNPL customers that mitigated tougher comparables from on-demand delivery customers.
Digital banking vertical benefited from the tax season filing deadline shifting further into Q2, from April 15 to May 17. Management believes that the filing delay resulted in more spending shifting into the second quarter as people receive their refunds later. Net revenue growth would have been in the low 60s to mid-60s without this change.
Management cites that gross margin decreases were driven by card network fee growth and these fees will fluctuate since they vary significantly merchant, NCC code, transaction type, card-not-present, and other factors. Management states that Q1 '21 had a higher gross margin due to an annual recurring incentive payment from the networks.
Customer Notes
Google chose Marqeta to power the launch of a digital card for Google Pay balance users, allowing them to instantly use their balance through a virtual card tokenized in Google Pay.
Expanded relationship with Square. The new Square Banking checking product is powered by Marqeta.
Extended agreement with Affirm until 2024.  
Earnings Call Takeaways
1. Marqeta continues to capitalize on structural changes in the ways companies need configurable payment services.
Barriers to adoption in card issuing have been dramatically removed with Marqeta enabling pure-play tech companies to create sophisticated card platforms in a few weeks. Using a legacy provider like Fiserv or TSYS would result in large upfront fees, long-term ambiguous deal structures, and a prolonged development time.
Unlike legacy companies where developers are afterthoughts, Marqeta is developer-centric resulting in much faster development times that result in immediate ROI for customers.
2. Marqeta is dominating the BNPL space showcasing that it's the only provider with the capabilities and unit economics that customers need
With 350% net revenue growth from BNPL providers, net revenue is slowly diversifying away from Square which comprised 70% of net revenue as noted in the S-1 filing.
Marqeta has shown its ability to completely dominate an entire market segment showcasing that it's the only card-issuing platform that enables entirely new financial capabilites.  
"Affirm, Klarna, Afterpay, Sezzle, they really drive experience and they don't build one product, they build multiple products on our platform. I think, that's number one. Second is through multiple geographies. So we know how to operate inside of not only different regulatory environments, but different technology environments, different operational environments. This is very, very complex and experience is key. We have over 11 years of experience doing this. And just like we had built out in the beginning, we talked about this on the road show. When we think about commerce disruptors, Buy Now Pay Later, or BNPL, is right there. And our goal has always been to dominate a vertical. Go in, land and expand winners, get the experience and go ahead, operate these businesses at scale."  - Founder and Chief Executive Officer Jason Gardner
3. Credit issuing drastically increases the serviceable addressable market and will serve as a growth driver for the next few years
Marqeta is the only modern issuing platform that enables the creation of programmable prepaid, debit, and credit cards. Goes to show that Marqeta is still the clear-cut leader in card issuing as modern competitors like Stripe and Adyen haven't the same capabilities for credit cards.
Large expansion opportunity in the US particularly with 50% of consumers using credit cards.
"We wanted a better experience for consumers and businesses. We wanted them to be able to create just like the promise of APIs and when we started our business, is to create cards that either can disrupt entire industries or solve large problems at scale. They couldn't do that with cards that were just -- look like everyone else's cards delivered by banks. So we thought the same way with credit. What does the credit card of the future look like? And how can they go and build that? So we have a fairly large team here at Marqeta focused on that product. We believe that product in the coming quarters will expand. We'll have more to announce there, but certainly excited about credit. And then, there's a number of other areas in regards to not only issuing and processing but card products and the associated processing that goes around a lot of the tools and things certainly around program management." - Founder and Chief Executive Officer Jason Gardner
4. International expansion will catalyze TPV growth as customers like DoorDash and Klarna expand into new markets.
International markets represent 2% of the business indicating that there is a greenfield opportunity internationally. Marqeta is able to expand into these international markets by piggybacking of exisitng customers like DoorDash, Klarna, and Uber entering new markets.  
"Modern card issuing is certainly a global phenomenon in towns, cities, countries, continents, the ability for customers to accept payment cards, whether online or offline, is continuing to grow around the world. And we see absolutely no change in that. In fact, we're going to see it increase because we're seeing, obviously, massive reductions in cash. This is international, specifically a huge opportunity for Marqeta in the future. Our business has been global for a long time. We've been transacting in basically every country that you can transact in, in the world. The secular trends we've been discussing apply every major market, not just the U.S. And moving from cash to card, as I mentioned, and then from card to mobile, is really a worldwide phenomenon."  - Founder and Chief Executive Officer Jason Gardner
Q3 '21 Financial Projections
Keep in mind numbers are projected lower for Q3 due to the tax season filing deadline shifting further into Q2.
$114M to $119M Net Revenue (+38% YoY)
-$16M to -$13M million adjusted EBITDA
40% t0 45% gross margin target
Expect Q3 revenue growth to be driven by digital banking and BNPL offerings.
Future Outlook
Marqeta is largely a bet on enabling novel capabilities through a modern programmable card issuing platform. TPV and net revenue growth for the next several years will be all about legacy and new companies creating use cases for programmable cards as well as Marqeta's ability to sign up "whales" like existing customers Uber and DoorDash. Given that retention figures for Marqeta's card issuing platform is extremely high, landing and expanding within new customers will serve as the primary catalyst for revenue growth. Marqeta's long-term outlook is largely ambiguous given that many use cases for Marqeta programmable platform haven't been created yet.
3️⃣ Last call on beta testing! 🔎
We released a beta version of Public Comps in GSheets a few weeks ago! We're making a last call for beta testing - if you're interested in checking it out feel free to shoot us an email! We'd love to onboard you and get your feedback.
As always let us know if you have any questions or comments!
Cheers,
​Aneesh Tekulapally (Twitter: @aneesh_tek)