Top 5 SaaS Tools Every Startup Should Use in 2020
We're a two person SaaS start up that's growing quickly and we pay for 25+ different SaaS tools. Here's our top 5 favorite tools that we can't live without.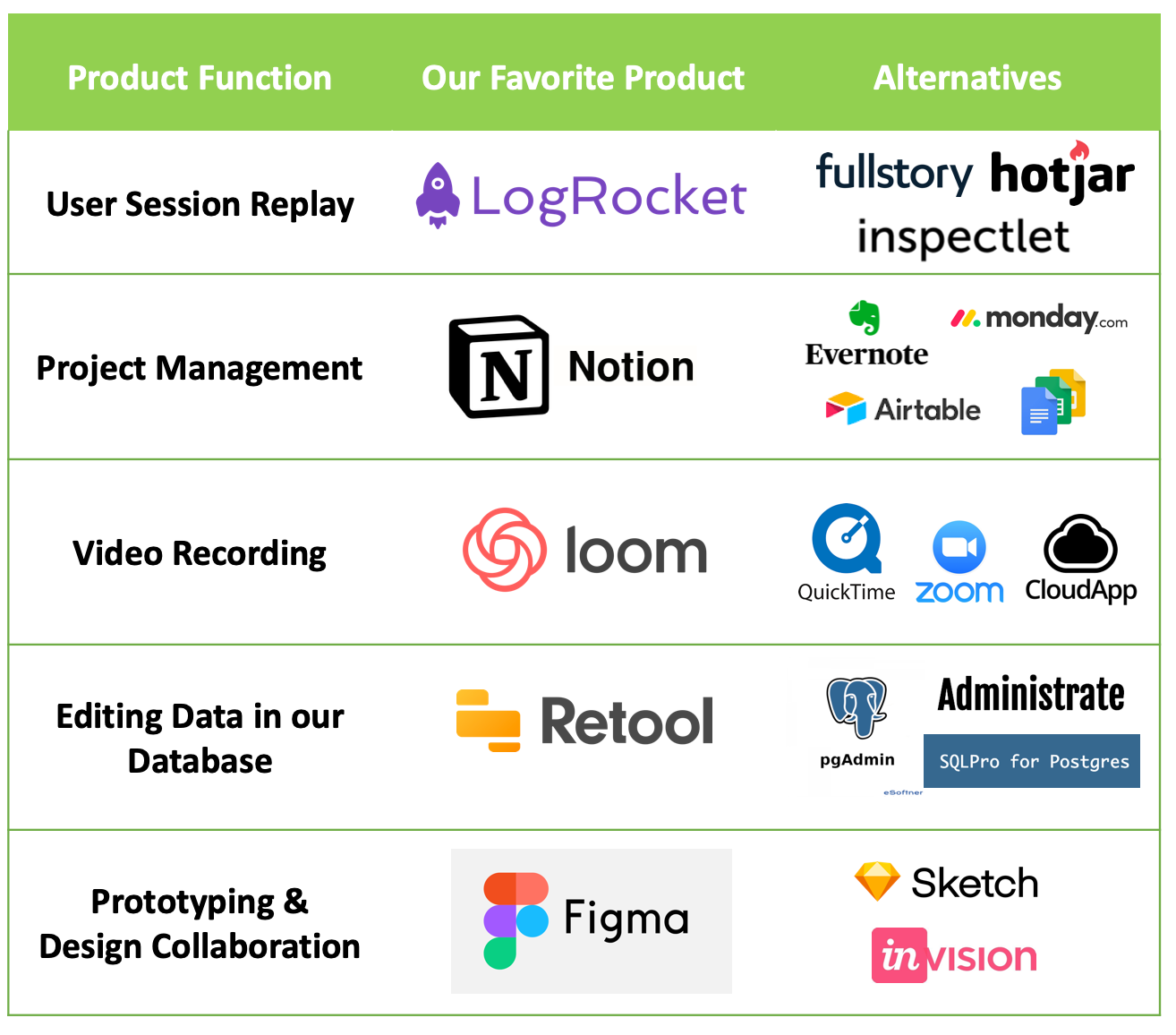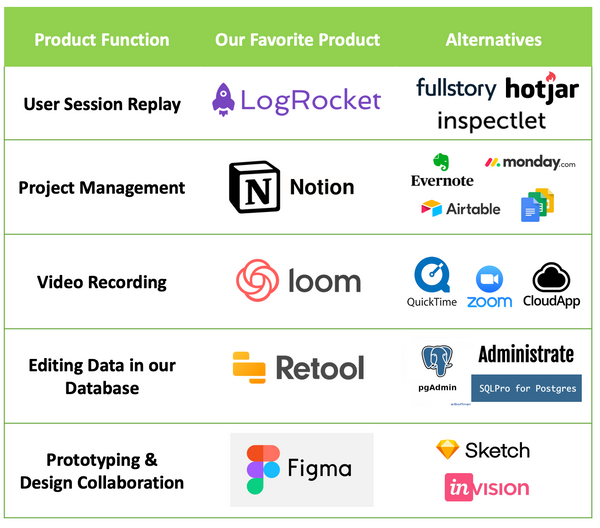 As first time founders of Publiccomps.com, Howard and I are always looking for ways to spend less time doing manual work and to be productive so we have more time to focus on talking to customers, building product, and growing our business.
Here are the 5 SaaS tools that we love most and that we think every startup should use in 2020. It helped us scale to over 60+ customers and we hope it can help your start up too!
1. Logrocket

Problem: A problem we ran into early on is when something breaks on our front end or something is slow to load, why does that happen and what causes it to happen? Also, we were figuring out how users are using our product.
Why Logrocket is awesome: My cofounder found Logrocket as a great solution to recreate bugs that our customers face when using Public Comps. The product basically allows us to replay a video of customers using our product. Additionally the product tracks product metrics so we can see who uses the product most often in the last month or so and what are the most common errors. It was especially helpful when we saw a user spamming our product and we found out the user was trying scrape our product 🤔. We also integrated Intercom with Logrocket so we can identify who the user is and easily communicate to them on Intercom when they have a bug or error.
Alternatives: Other session relay solutions like Hotjar, Full Story, Inspectlet or Exception Trackers like Bugsnag, Sentry, Rollbar. Also an alternative is talking to a customer and asking them to recreate the error in person or via Zoom.
Pricing: Free up to 1,000 events/month and then $99/month for up to 10,000 events.
2. Notion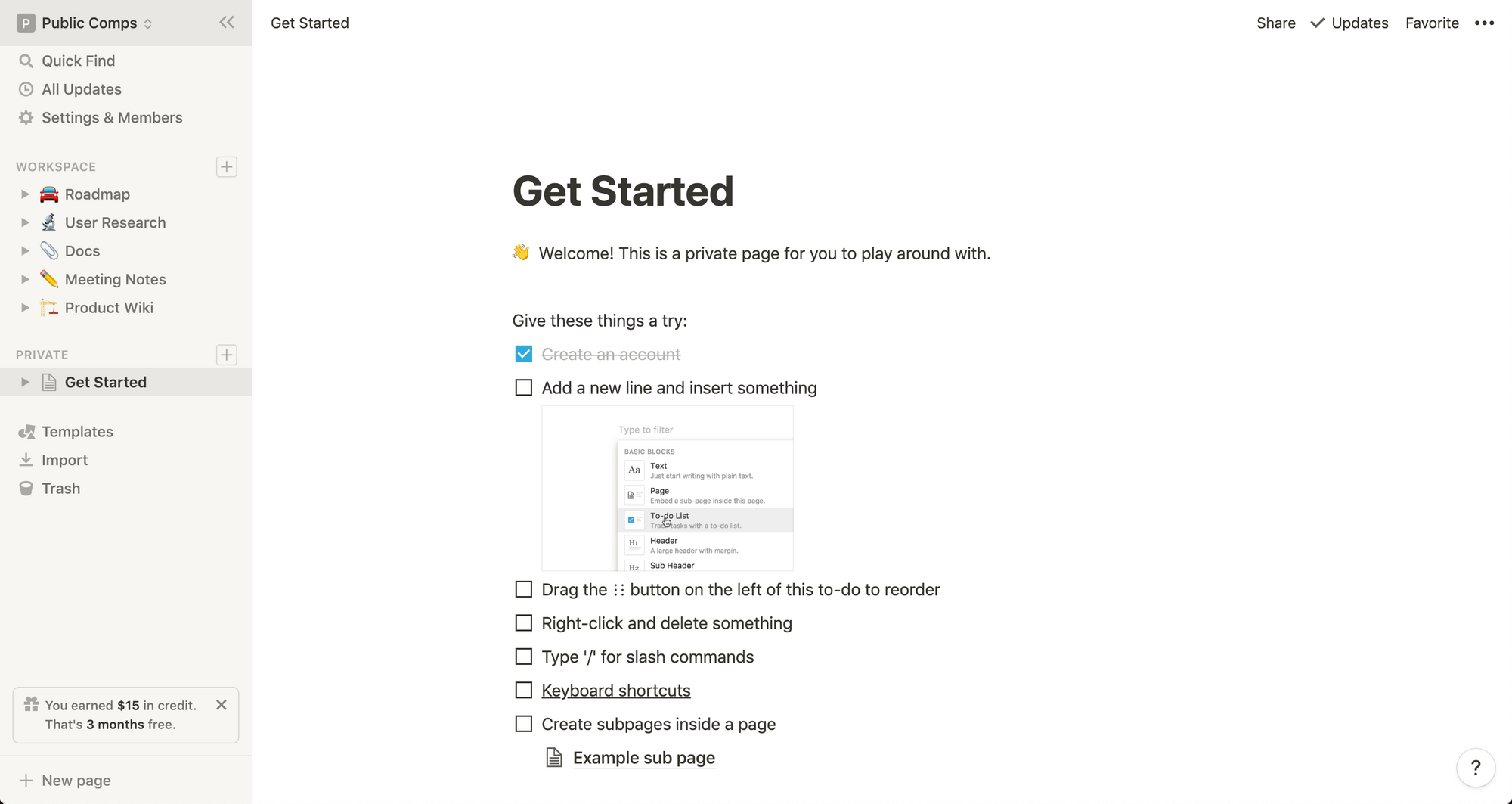 Problem: I used to store customer and meeting notes on the Note app on my iPhone and Mac or Evernote but always found it not intuitive or easy to share to notes with Howard. Also, Evernote was buggy sometimes and just made it annoying to use as a workspace for our start up.
Why Notion is awesome: Howard and I now live in Notion. Our customer call notes are stored there and we manage our sprints on there as well. We have a note called "Customer Promises" that we review to remind us what matters to our customers and who they are. Notion is just beautiful to use – we can use them for checklists, Kanban boards to manage tasks, nest our customer notes under a section, etc
Unlike Evernote, the shared workplaces allows me and Howard to share notes seamlessly in a beautiful way.
Notion is becoming the standard for startups. I've even heard stories from founders on how they use Notion to plan trips, workouts, and even dates!
Alternatives: Google Doc, Evernote, Airtable, and Monday.com
Pricing: Starts at $8/team member/month.
👉Use my promo code for $10 in credits!

3. Retool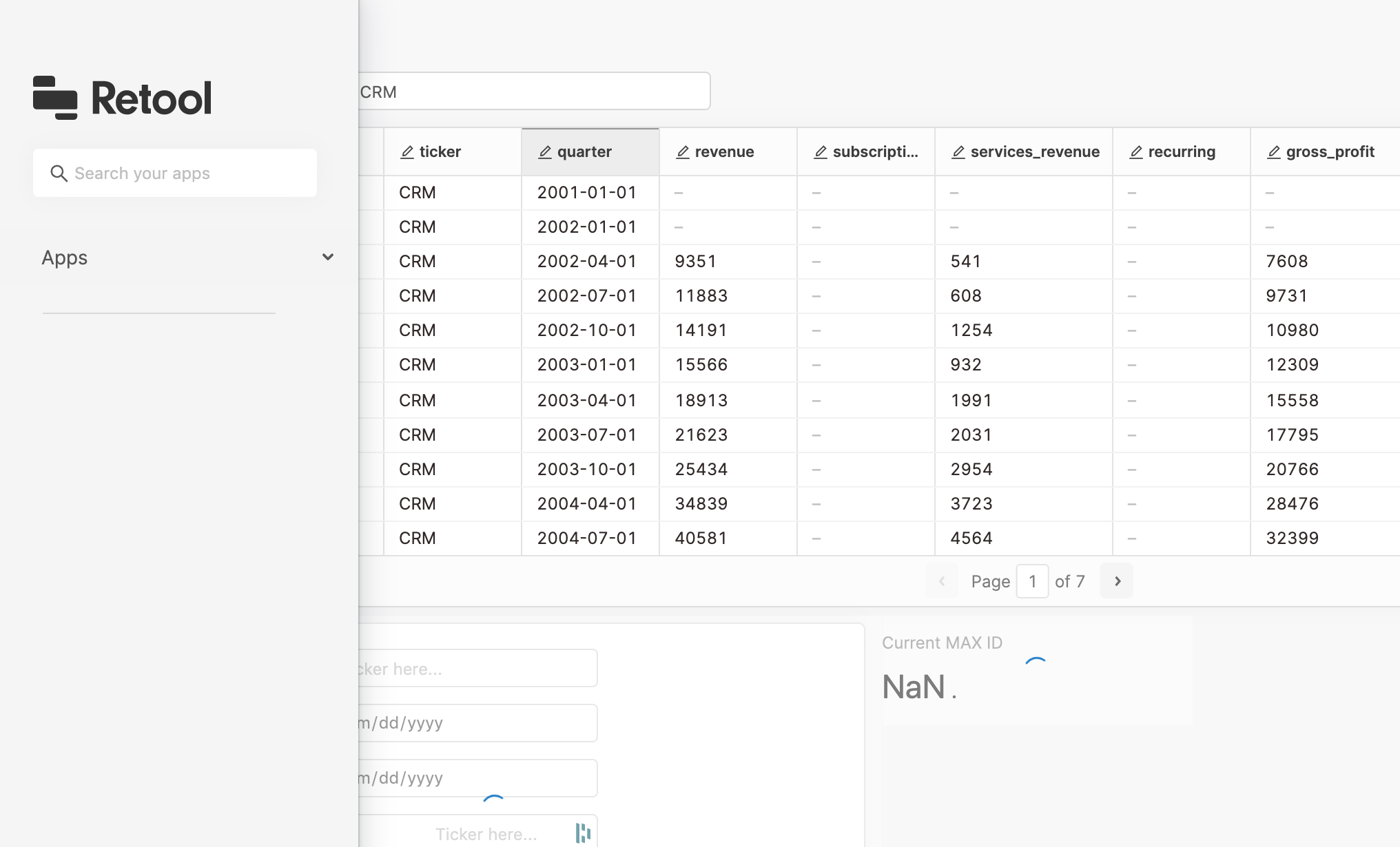 Problem: We have data on public companies in multiple tables and reviewing and editing the data in our Postgres database can be a pain. My wish was to have a spreadsheet like interface that I could use to edit data in our Postgres database without having to write SQL or relying on our admin tool.
Why Retool is Awesome: Retool makes it super easy for us to be able to edit our data in a spreadsheet like interface. When entering data on say a Public Company, instead of going page by page and updating quarter by quarter, Retool allows us to build a simple front end to edit the data and do bulk updates.
Alternatives: Building your own internal tools yourself, PGAdmin if you're using Postgres, Administrate, etc or just using a traditional SQL editor like SQLPro.
Pricing: Starts at $0/month for creators only and $10/month/user for >1 creator.
👍Shout out to David Dworsky for on-boarding us and teaching us out how to remove gnarly commas when inputting data.
4. Loom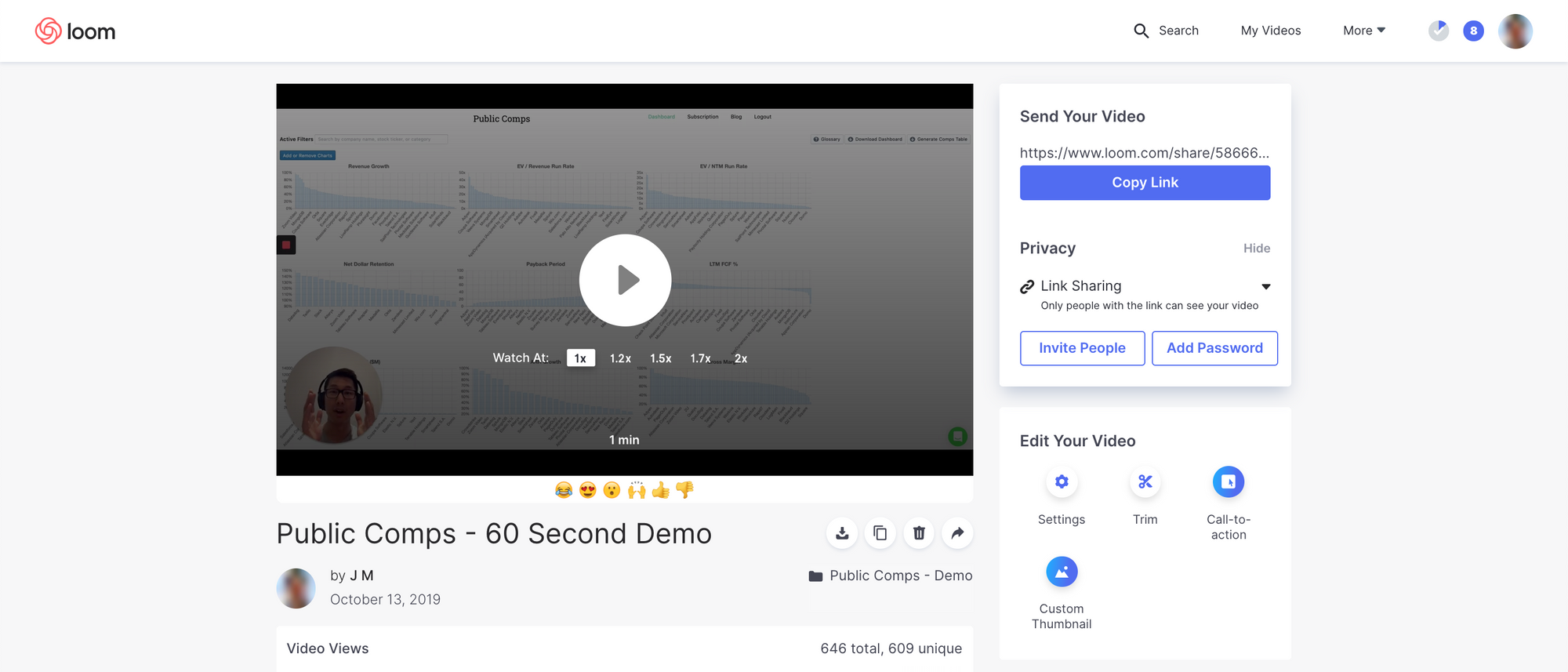 Problem: A big part of our business is QA and training our teammates on how to collect data and to verify the data that we are scrapping is correct. This involves having to do a lot of tedious explanation and writing long emails.
Why Loom is Awesome: Instead of writing out what to do, with Loom I can record a video and share the link almost instantly. I'm a big fan of the analytics as well and the ability to trim videos and do light editing.
Alternatives: Writing emails, recording with QuickTime and uploading the video, or scheduling a Zoom meeting. Cloudapps is also another screen recorder.
Pricing: Starts at $10/month/user
5. Figma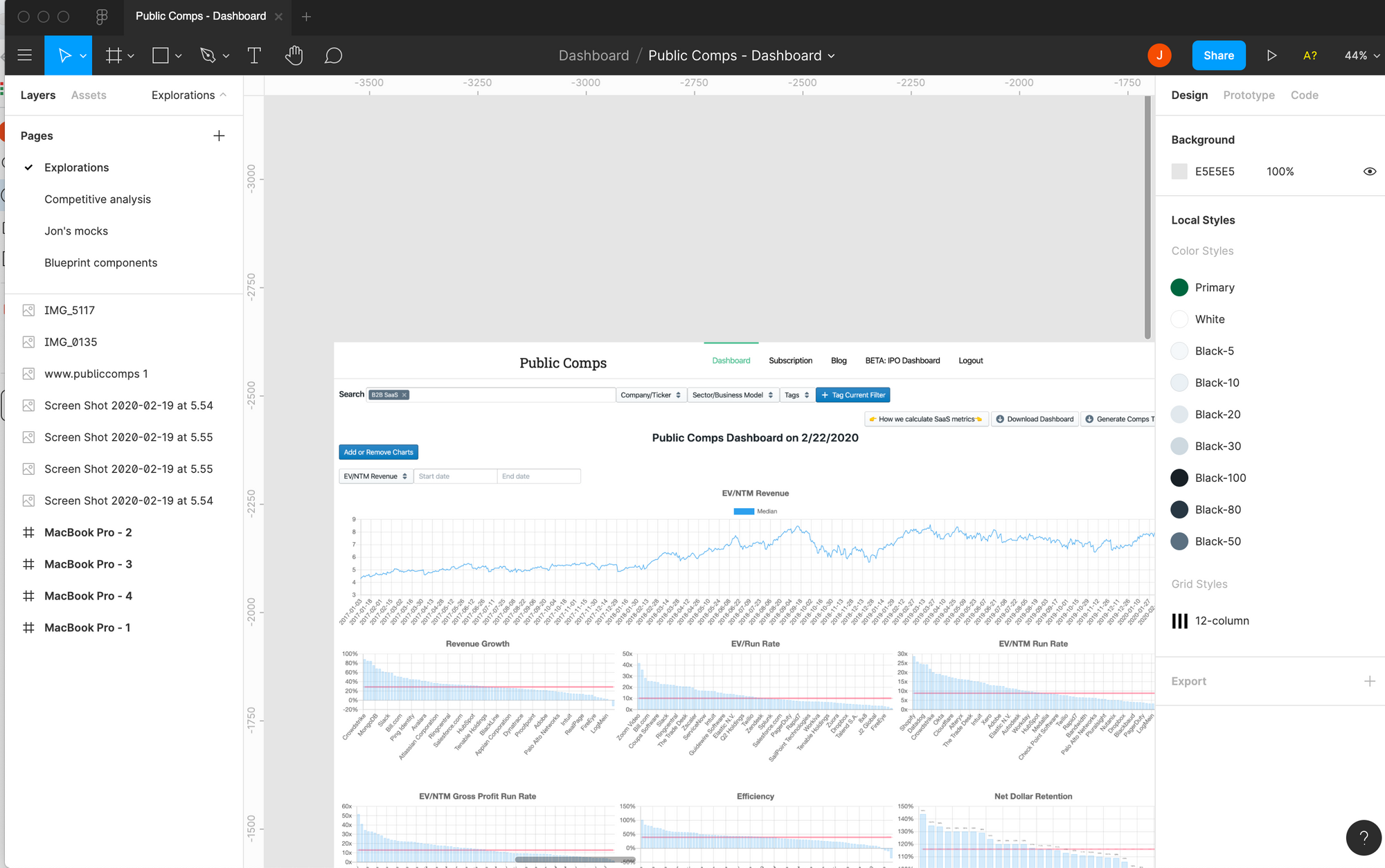 Problem: I'm not a designer by trade but every time I have product ideas, I can either verbally tell my founder the idea or try sketching it out in Powerpoint or on paper. However, the hand sketches are not always reproducible and isn't always easily interpretable by Howard 😂.

Why Figma is Awesome: Figma makes it really easy to build a prototype and run it by customers or my team. Now whenever I have a product idea from talking to a customer, I try sketching it out in Figma and sharing with them the prototype.
Alternatives: Sketch, Adobe, PowerPoint, Balsamiq which are all great solutions but Figma is especially awesome because it's free and super easy to use.
Pricing: Free for up to 2 editors and 3 projects and thereafter it's $15/month/editor.
Runner Ups (Other Top SaaS Tools)
Here are 5 other SaaS tools that we love using that we may write more about in a separate post if there's interest.
Intercom: Intercom has allowed us to close customers via messaging and has been one of the few products that has generated us revenue. Customers prefer to message vs send emails or do phone calls. Intercom is nicely integrated with Logrocket so if there's a bug, we can easily replay the error and fix it for them all in Intercom. Simply an amazing product.
Ghost.org: we use Ghost to manage our blogposts. The editor is just like Mediums and they have a ton of integrations which makes it easy to get analytics and combine with our Convertkit campaigns easily.
Convertkit: we switched from Mailchimp to Convertkit and we've seen or open rates go up. I just don't believe in fancy email templates – simple emails that are easy to read is the way to go.
Privacy.com: we don't have a corporate credit card (not a venture backed software start up!) so we use Privacy.com to generate a virtual card everytime we make a purchase. Here's my referral link for those interested to get $5 in credit!
Webflow: we use it along with our designers to build our home page. It's simply amazing because I can use it to do copy edits and export the HTML, Javascript and CSS code for Howard to then push to our servers.
Intello: how does one manage all the SaaS applications that we pay for? That's where Intello comes in. We can track our spend on these applications through Quickbooks but need to keep track manually via a spreadsheet. Intello provides a SaaS application for us to get a birds eye view of how much we're spending and how actively we're using the SaaS products.