Public Comps Dashboard 8/29/2021: B2B SaaS Update + Snowflake (SNOW) Q2 FY2022 Earnings
Update on the current state of B2B SaaS and Snowflake Q2 FY22 earnings teardown.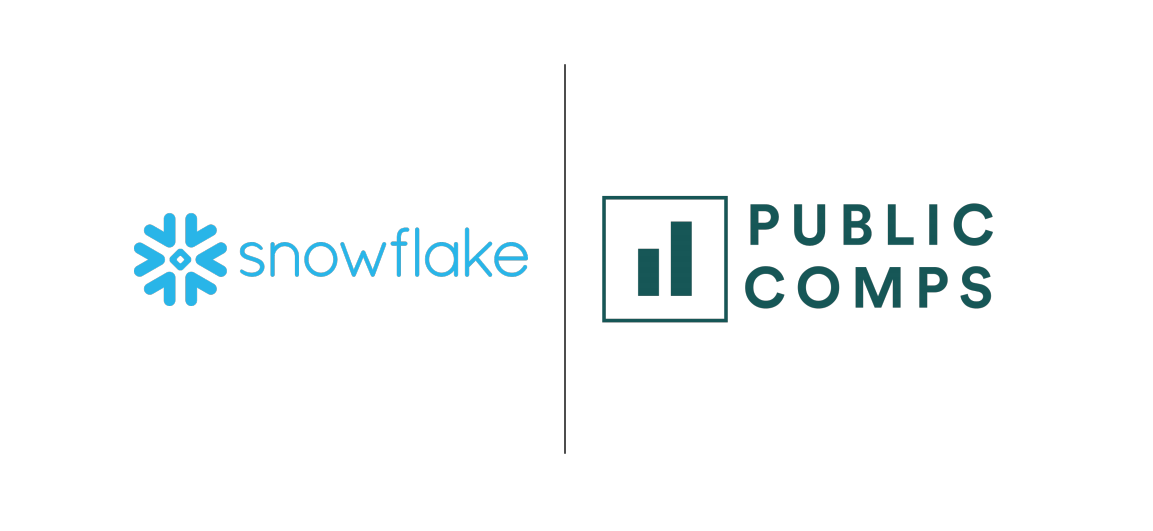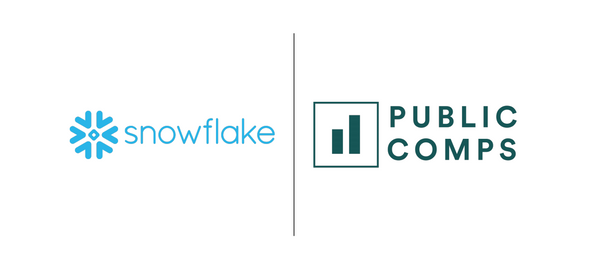 👋Public Comp-ers!👋
Jimmy here! Tons of exciting earnings this month, and we're already at the end of August 🙏
This week we're taking a look at Snowflake Q2 earnings ❄️
Hint: they crushed it.
1. State of Software Update 📈
But first, a quick update on the software environment: the leading companies, verticals, and growth trends.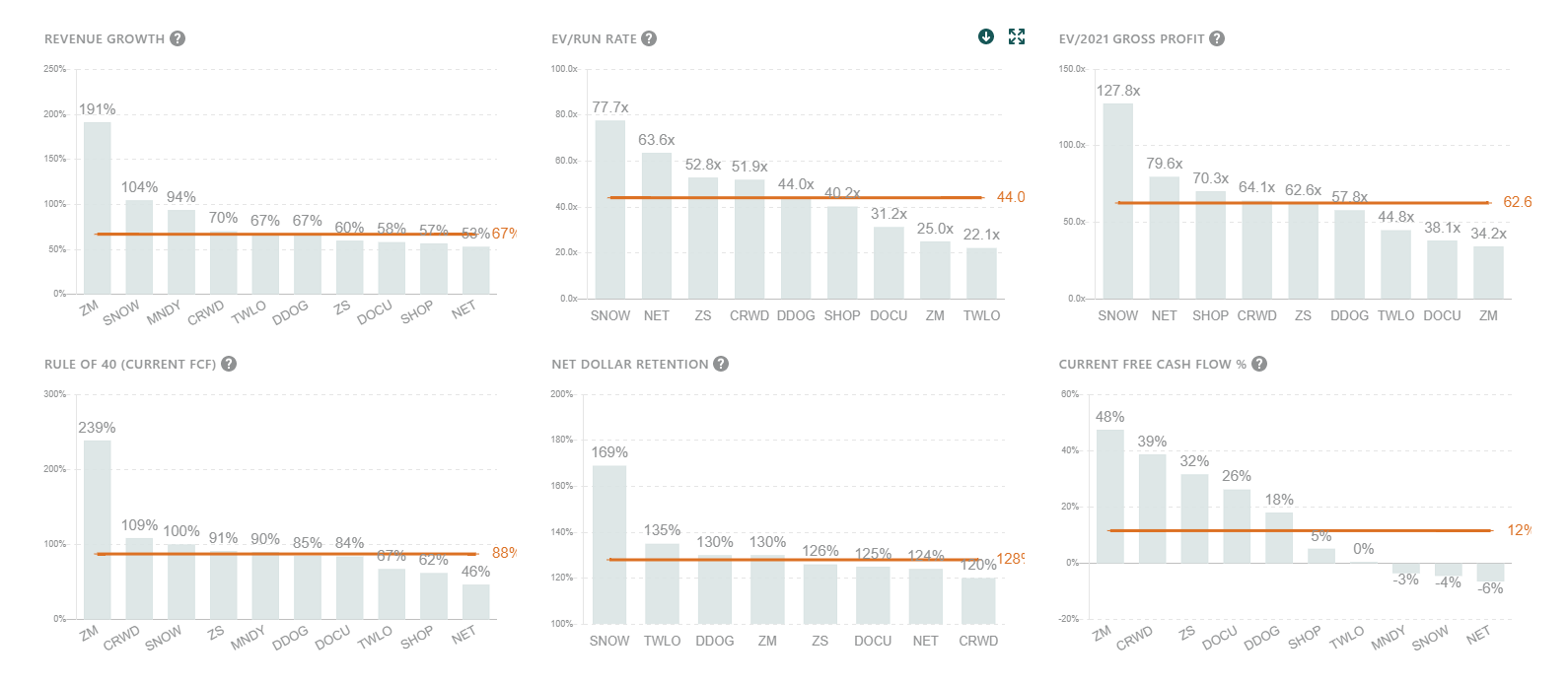 We did a post back at the end of 2020 as a year-in-review where we outlined the state of B2B SaaS. The trends have largely remained the same, with a few additions and newly-listed players.
1) Remote workplace productivity; 2) data / dev ops; 3) cybersecurity, and their respective category leaders remain megatrends within software.
I'll dive into sector, category leaders, and financials of each.
Cybersecurity

From the SolarWinds attack (2020 US federal breach) to the recent 2021 Microsoft Exchange breaches, security solutions remain pertinent as environments become increasingly digitized and privacy-sensitive.
Multiples are well above average high-growth (defined by >40% revenue growth) SaaS of 25x to 30x NTM revenue.
Crowdstrike leads cybersecurity by growth and size, offering a cloud & AI-based SaaS platform that detects, prevents, and responds to cyber-attacks on customer endpoints. CRWD is followed by Cloudflare, ZScaler, and SentinelOne, which are a mix of players offering endpoint / web security solutions.
Data / Dev Ops

Database and deep analytics tools were catalyzed during 2021 as all companies were positively pressured to become data-driven.
Observability adoption has also quickly increased as developers sought to optimize their systems to handle scale.
Productivity software

Perhaps most unsurprisingly, productivity software continues to benefit from the now ostensibly secular tailwind that is remote work. MNDY, a "Work OS" enabling customers to customize their own work software, went public in June and is up 99.7% relative to its day one open price.
Asana also went public late last year, another work management software provider, trailing behind Monday.com's rapid growth. Multiples in productivity software are mixed (yet still in-line with high-growth SaaS), with investors paying a premium for MNDY's best-in-class growth rates and TEAM's profitability.
Note the lack of analyst NTM revenue estimates for MNDY/TEAM, which I instead approximated based on management guidance. TEAM also does not report NDR, but noted a 121% cloud net expansion rate in their FY21 investor day. For medium/large-size customers it was 130%.
2. Snowflake $SNOW Q2 FY 2022 Earnings ❄️
Jon did an awesome job tearing down Snowflake's S-1 in detail (including a helpful competitive landscape) back when they filed for their IPO in August 2020 🔥
This week's teardown is separated in three parts: 1) business overview; 2) Q2 earnings; 3) future outlook.
Business Overview
What does Snowflake actually do?
Snowflake (~$88B market cap) is "pioneering the Data Cloud".
Main product: the Cloud Data Platform. Simply put, it allows their customers to load massive amounts of data from various sources into a central "data warehouse", which is a type of database optimized for efficient data analysis. Customers are then able to use data analytics & visualization tools like SQL or other integrations like Tableau or Looker that Snowflake offers.
The result?
Meaningful business insights driven by enormous amounts of data, which historically took too long using transactional databases.
They're leveraging public cloud storage and compute (AWS, Azure, GCP), which makes it 1) extremely scalable; 2) fast; 3) low maintenance.

Business model
Snowflake does not charge like traditional SaaS companies do (i.e. per seat, monthly/annually). Instead, customers are billed based on usage either via: 1) on-demand or 2) upfront billing. Volume discounts are given for #2.
Pricing is broken out by three different functions:
Storage (e.g. run on AWS S3). Charged monthly fees based on average terabytes per month stored in Snowflake.
Compute (e.g. run on AWS EC2). Much more expensive - customers buy credits and are charged based on computing power used. Billing is by the second.
Cloud services: fees for the coordination of Snowflake's product.
Market opportunity
Management claims the opportunity for their cloud data platform is huge: $81 billion as referenced in their S-1, largely driven by the shift from traditional on-premise databases to cloud alternatives. They calculate their TAM in three steps:
Found the number of companies worldwide, across all industries, that have 200+ employees
Segmented the above companies into 5000+, 1000-4999, and 200-999 employees
Apply the average annualized revenue they're getting from their customers in each category to the companies found
Q2 FY22 Earnings
Product rev: $254.6M (+103% YoY; guidance beat by >10%)
Non-GAAP gross margin: 73% (up from 63% in FY20)
Operating profit: -$21.9M (-8% margin)
Adj FCF: $23.4M (1% margin)
NRR: 169%
RPO: $1.5B (+122% YoY)
Total customers: 4,990 (+10.1% QoQ; +60% YoY)
$1M customers: 116 (+11.5% QoQ; +107% YoY)
Financial Metrics Commentary
Consumption outperformance was driven by an increasing focus on vertical customers. Note that "focus" is not product-driven; Snowflake only has one platform, and it's a horizontal product. Rather, it's to do with use cases and their sales strategy on specialized segments. Financial services, technology, and healthcare customers led growth.
Existing user growth remains phenomenal. Net revenue retention figures are the highest SNOW has even seen at 169%, albeit bolstering levels above 160% for the past three quarters. It's largely driven by long-term, larger customers. SNOW just added 10% of the Fortune 500 companies in the last 12 months that have still relatively small accounts... I'm expecting long-term existing user growth to persist.
"Non-GAAP" gross margins - which just adds back SBC and intangible amortization to profits - are expanding. Management cites main drivers: 1) larger customers buying enterprise plans that is more "software rich"; 2) higher-than-expected compute over storage revenue; 3) better pricing agreements with public cloud vendors.
RPO grew by +122% YoY which seems like a deceleration when compared to seemingly phenomenal growth of +206% YoY last quarter. This looks concerning, but Jamin Ball at Altimeter Capital does a great job at explaining why it has more to do with the way RPO is calculated than business performance. The tl;dr is that Snowflake began offering incentives to sales reps to sell multi-year deals in Q2 last year, which clouded the RPO number for a few quarters (contract length is not factored into RPO).
About 56% of RPO ($840M output; for perspective, full-year FY22 rev guidance is $1.065B) is expected to be recognized in the next 12 months. New bookings were led by technology and financial services customers.
New Snowflake Data Cloud initiatives
Snowpark - New feature for developers to build data pipelines. Data needs to be checked for errors and/or transformed in a data pipeline before it can be loaded and analyzed in a data warehouse like Snowflake. Snowpark is their way of allowing developers to build these "pipelines" in their language of choice - e.g. Java, Python, Scala, all within Snowflake's platform. Snowpark is in its early stages (they're currently only available where AWS regions are operating), but is expected to have more support and expand to Azure and GCP regions in the future.
"Powered by Snowflake" - Program launched in June to help companies build applications on top of Snowflake's platform. There's currently 80 "Powered by" partners, including names like Instacart (online grocery delivery platform). They partnered with Snowflake to build an application that their retail partners can use to analyze purchasing data on Instacart.
But there's more. Partners like Instacart are beginning to not even need ingestion of their own data:
Increasingly, application providers are enabling their apps to operate directly against their customers' Snowflake accounts, meaning no data needs to be copied or replicated, simplifying data governance while accelerating the network effect of the Data Cloud - Frank Slootman, Chairman & CEO
This means that Instacart is able to use Snowflake data warehouses from the customers of their application. It's like Snowflake is becoming the Salesforce of customer data, where partners can easily and securely tap into customer data.  
Call Takeaways
1. Customers and third-parties are increasingly buying/selling data on Snowflake's marketplace, which may result in a compelling moat via network effects in the long-term.
1) Customers use Snowflake's platform → 2) data is bought & sold on marketplace → 3) value of Cloud Data Platform increases
Chipotle demonstrated a powerful use case of this. During the pandemic, the team at Chipotle leveraged machine learning models and COVID-19 data to assess risk levels county-by-county. Pretty quickly, they found that the actual ML algorithm wasn't the challenge – it was the COVID-19 data source they were originally piping from that was unreliable and inconsistent. That's where Snowflake's data marketplace stepped in: offering live, ready-to-query COVID-19 data. Combined with internal data, they were able to drive powerful insights... and even ended up ranking No. 1 for health & safety pandemic compliance in mid-2020.
"Not only is it a win that data is readily available for stakeholders, but it's also less of a headache for data scientists." - Mash Syed, Chipotle's lead data scientist
"But there is no doubt that, as I said during the prepared remarks, we have tremendous growth in the data listings that are coming onto the marketplace. And by the way, the reason that they're coming is because they're viewing Snowflake increasingly as a place where they can sell data. And the network effect starts to be induced, and more data begets more data, right, because it becomes a very rich environment after a while." - Frank Slootman, Chairman and CEO
2. Geographical expansion outside of the United States was outstanding, and is an increasing focus for SNOW. Snowflake is set on expanding into China.
Product revenue growth from EMEA and Asia-Pacific outstripped company growth by far, growing +185% and +170% YoY, respectively.
"We have made the decision as a company that we need to move into China." - Frank Slootman, Chairman & CEO
Snowflake's largest customers are demanding that their offerings be available in China, and they are in the process of navigating entry as we speak.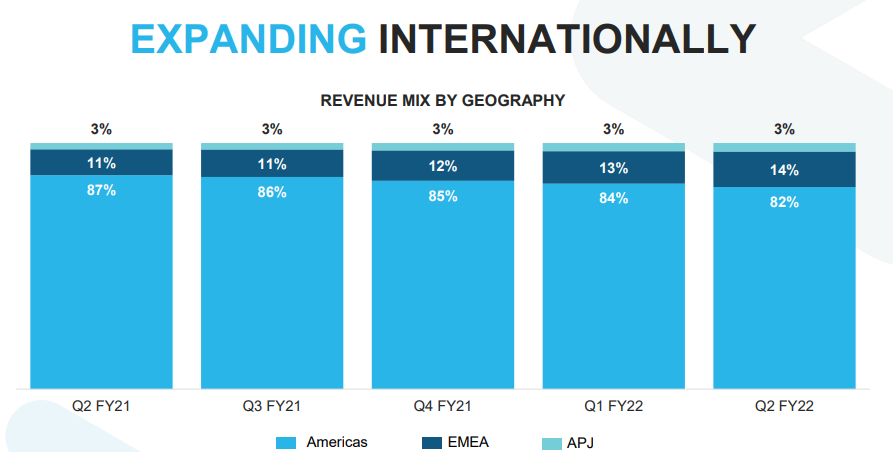 3. Snowflake is increasingly focused on targeting verticalized industries including retail, financial services, public sector, and education.
Snowflake's technology can be leveraged by an enormously broad customer base. Although a horizontal product by nature of being a data infrastructure platform, there are plenty of opportunities and use cases for specific verticals.
"There's a lot of talk going on inside these verticals between entities about, hey, what are the opportunities to apply these technologies to problems that we're all living with? So, that's why verticalization is so important because we can really accelerate our business when these use cases and these opportunities are becoming more broadly shared." - Frank Slootman, Chairman and CEO
4. Snowflake is capitalizing on secular changes within the advertising industry via its data network.
It's an interesting time for the advertising industry as the pressure for consumer data privacy tightens. Advertisers are scrambling for new data networks to target their customers, and management is looking to capitalize.
Snowflake's "data clean room" solutions allow companies to share data with one another within the Snowflake platform. This seems to be an important way that Snowflake is betting on building out its moat, via data collected from its customers.
"The Snowflake data cloud is empowering large media companies, technology providers, and marketers to collaborate with the data assets across the ecosystem. Snowflake's data clean room solutions can enable companies to share and join data without copying or moving their data assets. Snowflake's data cloud powers these data clean rooms with transparency and privacy controls for customers like Disney and NBCUniversal." - Frank Slootman, Chairman and CEO
Valuation
Although no longer trading at the >100x EV/NTM Revenue levels we saw at its peak nearing the end of 2020, SNOW still trades at ~60x NTM revenue, which is well over our top 10 SaaS companies (all of which are growing >40% revenue YoY).
It's an incredible premium that investors are willing to pay for a best-in-class company combined with exorbitantly high revenue growth, net revenue retention, and line of sight to profitability. Seemingly endless tailwinds from megatrends also help: 1) transitions of workloads to public cloud; 2) big data for businesses; 3) ubiquitous need for analytics in an increasingly digitalized world.
Q3 FY 2022 Projections
$289.5M to $298.9M (+95% YoY to +100% YoY)
72% to 76% non-GAAP gross margin
5% to 9% adjusted free cash flow
The key drivers for top-line growth I see for Q3:
Customer acquisition of Fortune 500 companies remains successful. Their accounts remain small (huge growth potential).
Total hiring by employee headcount is +60% YoY; S&M grew +38% YoY. Focus on driving continued growth in vertical industries (including those shuttered and opening up by the pandemic) will drive top-line growth.
3. Product Update: Earnings Calendar 🗓️
Never miss your favorite tech company's earnings again! We've updated our earnings calendar for the month of August, and we'd love to hear your feedback!
That's it for this week. As always, don't hesitate to shoot over a message for any feedback or if you'd just like to chat!
Cheers,
Jimmy Zhou (@jimmynzhou on Twitter)
Like these weekly dashboards? These are for Publiccomps.com customers only but you can have your friends subscribe to the newsletter here where we send out investment memos, market maps and analysis on the broader SaaS market.
Views expressed in these emails are ours and ours alone and don't represent that of our previous or current employers. Public Comps provides financial and industry information regarding public software companies as part of our weekly dashboard, our blog, and emails. Such information is for general informational purposes only and should not be construed as investment advice or other professional advice.